Got Some Fragments and Earn $GODS
When the Daily Play & Earn game system started, I came back to play again and improved my performance as I play more than one game every day and want to get as much coins as possible, although I don't aim to sell those coins, I just want to Forge More cards.
I played yesterday and managed to win 4 matches so today was the day I could get over 100 Fragments so I had to be more serious on that day too and my first match started today with a good victory as Burnished Bull managed to smash opponent in the last match.
Look at another good thing I was able to progress in the level as I reached level 22 and I was able to get more stars and now I have more than four and a half thousand and I also have a good number of Flux will help me as I mentioned to you in Forge cards.
Daily Community Fragments So far more than 400,000 is a big number and this indicates the intense competition between players as this new system of profit showed the return of all contestants to the game again and I think more new players will join, so the game is in an excellent boom.
Also, this new update was reflected in the style of play, as I see that now the competition has become very difficult and you do not find anyone who leaves the match and withdraws as it was previously, but the fighting continues until the last cards.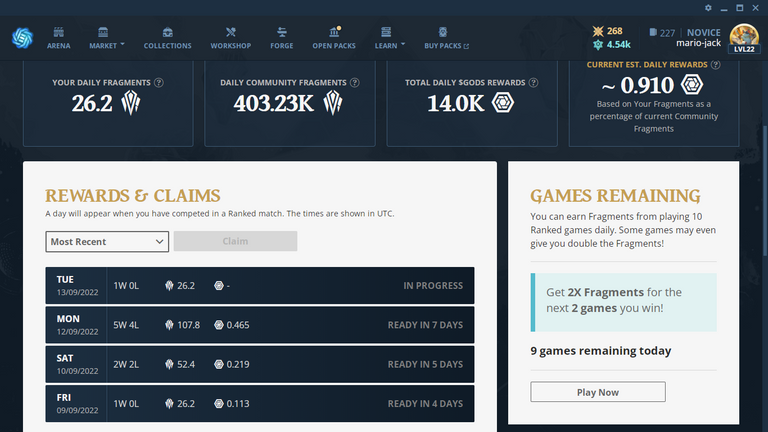 I'm super excited and wait to have claim appear and I think next week I'll be more active when I get some coins from the game for the first time and do Forge for the first time too I missed a day this week but I think I can make up for it in the coming days.
The great thing about this game is that I discover more and more things in the game system in general, as well as the Ethereum network system, which I have not dealt with much before, such as Metamask and others, so this is an enjoyable experience.
As for the competition and the matches, I am making great progress, but I have to improve my level and diversify the style of play because I rely heavily on War Deck because I can achieve victory through it, and this is what I want in the current period, but in the future I have to know all the options in the rest of the Decks.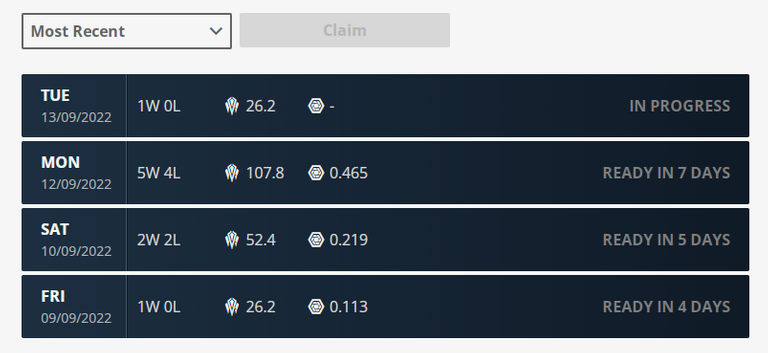 ---
Special Thanks for your Help and Support

Best Community
❤️

---
---
---