My Hive & Splinterlands Financial Report #6 - July 2022 (GER/ENG)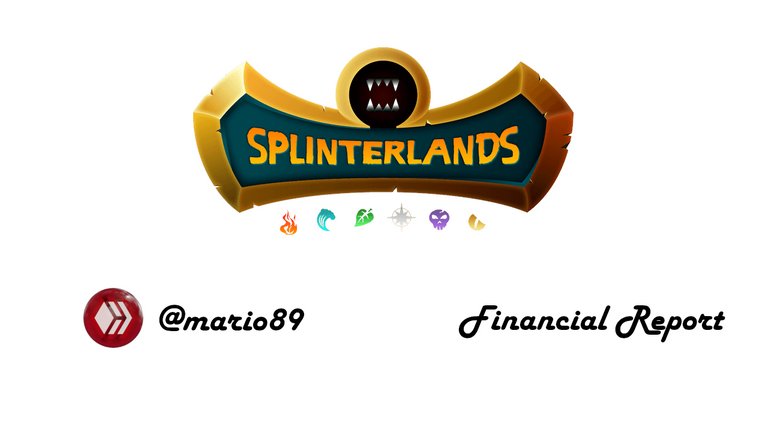 Intro
Der Juli ist schon wieder vorbei und damit Zeit das Portfolio zu überprüfen. Alle Zahlen und Kurse sind vom 31.07.2022 um ca. 09:10 Uhr.
July is already over again and thus time to review the portfolio. All figures and prices are from 31.07.2022 at about 09:10.
---
My Portfolio 31.07.2022- 09:10 a.m.
Assets Splinterlands
Amount
Price $
Value $
SPS Staked
3,545
0.061930
219.54
SPS Liquid
5,597
0.061930
0.39
DEC
26,685.472
0.000590
<td15.74
Packs
183
1.781567
326.03
Voucher
19.541
0.475981
9.30
Credits
103.200
0.001
0.10
Legendary Potion
53
0.04
2.12
Alchemy Potion
3
0.05
0.15
Card Value mario89
94,180 CP
-
907.74
Card Value maw89
3,025 CP
-
18.60
Assets Muterra
Amount
Price $
Value $
MUT
0.00
0.00
0.00
Maldives
0.00
5.00
0.00
Mutees
90.00
1.00
90.00
Tamer
2.00
---
5.00
Assets Hive
Amount
Price $
Value $
Hive
11.223
0.535
6.00
HP
422.938
0.535
226.27
HBD
17.120
0.91
16.70
Assets Hive-Engine & Others
Amount
Price $
Value $
SPT
6,040.600
0.000951
5.74
LEO
57.291
0.084877
4.86
BXT
1.791
1.181313
2.12
Workerbee
2.000
1.070773
2.14
BEE
70.128
0.251644
17.65
SWAP.HIVE
0.000
0.535
0.00
Assets Diesel Pools
Shares
---
Value $
SWAP.HIVE : SPS
71.416
---
13.73
SPS : SPT
1,058.765
---
10.81
PKM : SPS
144.02
---
8.65
HIQS : BEE
15.807
---
6.09
BEE : SWAP.HBD
8.568
---
7.70
PLN : SWAP.HIVE
22.741
---
10.15
FLOWER : PLN
10.072
---
1.91

| Summary | Value |
| --- | --- |
| Overall $ | 1,935.35 |
| Invested Capital $ | 2,247.73 |
| Profit/Loss $ | -312.38 |
| Profit/Loss in percent | -13.90 |

---

Biggest Changes

Splinterlands

In meinem Hauptaccount in Splinterlands erhöhte ich durch einige Kartenkäufe und vor allem durch das Öffnen von Packs die CP um 28,705 auf nun 94,180 CP. Somit kann ich in Modern in Gold spielen und auch in Wild muss ich mir nur ein paar CP mieten um Gold spielen zu können, was ich aktuell auch mache.

Meinen Zweitaccount stattete ich auch mit ein paar weiteren u.a. legendären Karten aus und komme dort mittlerweile auch auf 3,025 CP. Durch die CP-Delegation aus meinem Hauptacc kann ich hier Wild Bronze 1 und Modern Silber 3 spielen.

Im Juli habe ich alle CL-Rare-Summoner auf Level 3 gebracht, befinde mich also weiterhin auf dem Weg Richtung Silber max. Es fehlt mir noch ein Grandmaster Rathe, um ihn auf Level 2 zu machen.

In my main account in Splinterlands I increased the CP by 28,705 to now 94,180 CP by buying some cards and especially by opening packs. So I can play in Modern in Gold and also in Wild I only have to rent some CP to play Gold, which I currently do.


I also equipped my secondary account with a few more legendary cards and have now reached 3,025 CP. Due to the CP delegation from my main account, I can play Wild Bronze 1 and Modern Silver 3 here.


In July I brought all CL rare summoner to level 3, so I am still on the way towards silver max. I am still missing a Grandmaster Rathe to make it to level 2.

---

Pack Opening

Nachfolgend die besten Karten aus meinen letzten geöffneten Packs. Insgesamt habe ich Karten mit einem höheren Wert als die geöffneten Packs bekommen.

Below are the best cards from my last opened packs. In total I got cards with a higher value than the opened packs.

---

Conclusion and Goals

Ich habe im vergangenen Monat erneut frisches Kapital investiert und komme mittlerweile auf ein Gesamtinvestment von etwa 2.250 Dollar. Der Portfoliowert notiert ca. 300 Dollar darunter, d.h. ich habe aktuell einen Buchverlust von -14% stehen. Dafür, dass im Kryptobereich derzeit so gut wie gar nix geht, finde ich diese Entwicklung ok. Letzten Monat war es noch ein Minus von -12.36%. Ein Grund dafür kann u.a. auch sein, da ich 2x hintereinander jeweils 135 Packs auf HE verkaufte um mir dann wieder 110 neue Packs in SL zu kaufen. Das waren insgesamt zwar 50 Packs und 20 Voucher Verlust, dafür musste ich aber kein neues Kapital investieren und habe jetzt trotzdem genügend Packs um bei allen zukünftigen Aidrops mindestens einen sicher zu bekommen.

Ich habe ja schon vor längerem Mal angekündigt, dass ich zukünftig weniger investieren will. Das hat bis dato nicht so ganz geklappt 😅. Jetzt geht es aber mit meinem Bauvorhaben endlich weiter, die Rohbauauschreibung ist fertig und dieses Jahr geht es dann auf der Baustelle dann auch los. Daher werden erstmal andere Investitionen getätigt und der Zufluss in Hive und SL wird vorrübergehend nahe 0 gehen.

Morgen ist übrigens wieder der erste des Monats, d.h. HPUD! Ich werde auch wieder mitmachen und ein wie gewohnt 10 Hive aufpowern.

I invested fresh capital again last month and now have a total investment of about $2,250. The portfolio value is about 300 dollars below that, i.e. I currently have a book loss of -14%. For the fact that in the crypto area currently goes as good as nothing, I find this development ok. Last month it was still a minus of -12.36%. A reason for this can also be, among other things, because I sold 2x in a row 135 packs on HE to buy me then again 110 new packs in SL. That was a total loss of 50 packs and 20 vouchers, but I didn't have to invest any new capital and now I have enough packs to get at least one for sure on all future Aidrops.




I have already announced a long time ago that I want to invest less in the future. That hasn't quite worked out so far 😅. But now I'm finally moving forward with my construction project, the tender for the shell is ready and this year I'll be starting work on the construction site. Therefore, first other investments are made and the inflow in Hive and SL will temporarily go close to 0.


Tomorrow, by the way, is again the first of the month, ie HPUD! I will also participate again and a as usual 10 Hive aufpowern.

Du spielst noch kein Splinterlands? - Mit dem folgenden Link kannst du das Spiel kostenlos ausprobieren:

https://splinterlands.com?ref=mario89

Falls du Spaß am Spiel findest und das Spellbook kaufst, bekomme ich einen kleinen Betrag von Splinterlands als Belohnung. Für dich entstehen dadurch keine Nachteile. Melde dich danach bei mir und du bekommst von mir Unterstützung bei deinen ersten Schritten im Spiel.

You don't play Splinterlands yet? - With the following link you can try the game for free:

https://splinterlands.com?ref=mario89

If you enjoy the game and buy the Spellbook, I will get a small amount from Splinterlands as a reward. There will be no disadvantages for you. Contact me afterwards and you will get support from me for your first steps in the game.

---

Alle Bilder in diesem Blog mit Spielinhalten sind von splinterlands.com und peakmonsters.com
Keine Anlageberatung - keine Verkaufs- oder Kaufempfehlung.

All pictures with gaming content in this blog are from splinterlands.com and peakmonsters.com
No investment advice - no sale or purchase recommendation
Mostly translated with www.DeepL.com/Translator (free version)
---
---