Splinterlands Season 1 with new rewardsystem (GER/ENG)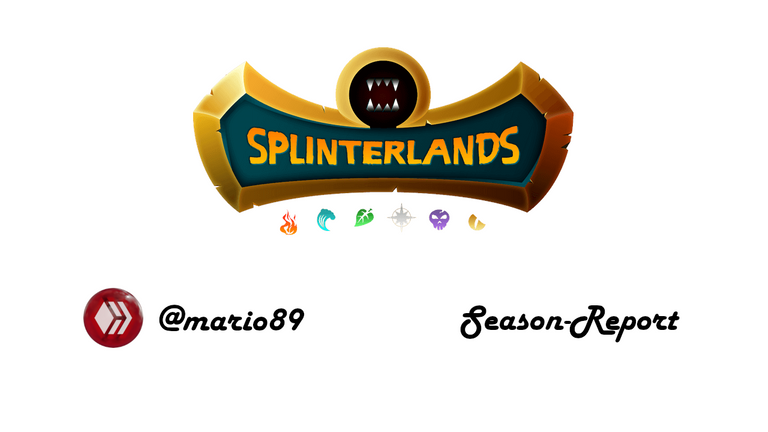 Intro
Gestern endete die erste Saison mit dem neuen Rewardsystem.
Yesterday ended the first season with the new rewards system.

Ranking and Match
Ich startete die Saison wie gewohnt in Bronze 1 und kämpfte mich schnell in Silber 2, was ich mit eigenen CP auch spielen konnte. Da der Mietmarkt so wahnsinnig billig war, mietete ich mich dann als das Rating passte in Silber 1 und blieb auch die ganze Saison da.
I started the season as usual in Bronze 1 and quickly fought my way into Silver 2, which I was able to play with my own CP. Since the rental market was so insanely cheap, I then rented myself as the rating fit in Silver 1 and stayed there the whole season.
---
| # | Result |
| --- | --- |
| Silver Rank | 2686 |
| Rating | 2516 - Silver 1 |
| Rating High | 2722 |
| Ratio (Win/Loss) | 1.20 (295/246) |
| Longest Streak | 8 |
Ich habe es mal wieder geschafft, mein max. Rating um +76 zu übertreffen, büßte aber dafür bei der W/L-Ratio um -0,07 leicht ein.

Ansonsten ist mir während der Saison aufgefallen, dass man in Silber auf weniger Bots traf als in den vergangenen Saisonen und auch, dass in Silber 1 wesentlich stärkere Gegner unterwegs war, was aber dem Spielspaß meiner Meinung nach definitiv zu gute kam 🙂.
Once again I managed to exceed my max. rating by +76, but lost slightly in the W/L ratio by -0.07.


Otherwise, I noticed during the season that in Silver you met fewer bots than in previous seasons and also that in Silver 1 was much stronger opponents on the road, but in my opinion this was definitely good for the game fun 🙂.

Tournaments
Ich nahm an 13 Turnieren teil, wobei ich leider bei zwei Turnieren vergessen hatte meine Teams in Runde 1 und bei einem Turnier in Runde 2 ein zu reichen 😡 - schon wieder. Sonst ist mir das nie passiert, nun zum zweiten Mal in Folge.
I participated in 13 tournaments, but unfortunately I forgot to enter my teams in round 1 at two tournaments and in round 2 at one tournament 😡 - again. Otherwise this never happened to me, now for the second time in a row.
---
| Tournament | League | Editions | Placement/#entrants | Ratio (Win/Loss+Draw) | Prize | entry fee |
| --- | --- | --- | --- | --- | --- | --- |
| Archipelago Modern Bronze Invitational | Bronze | UDC | 87/139 | 0.83 (5/6/0) | 3 SPS | 2 SPS |
| Scarred Hand Bronze Beginner Cup | Bronze | C | 127/283 | 0.83 (10/12/0) | 2.7 SPS | 2 SPS |
| Darastrix Modern Bronze Beginner Training | Bronze | UDC | 115/256 | 0.83 (10/12/0) | 4 SPS | 2 SPS |
| Spring Training Weekly Silver NFT | Silver | Open | 51/100 | 0.80 (4/5/0) | 3 DEC | 3 DEC |
| Silvershield Academy Beginner Training | Silver | UDC | 124/191 | 0.83 (5/6/0) | 10 SPS | 2 SPS |
| Scarred Hand Beginner Silver Cup | Silver | C | 157/226 | 0.57 (4/7/0) | 2 SPS | 2 SPS |
| Splinter Mammoth Spring Training | Bronze | Open | 141/162 | 0.06 (1/16/0) | --- | 1 DEC |
| Scarred Hand Bronze Beginner Cup | Bronze | C | --- | --- | --- | 2 SPS |
| Darastrix Modern Bronze Beginner Training | Bronze | UDC | 99/139 | 0.57(4/7/0) | 4 SPS | 2 SPS |
| dCROPS Alha Pack Contest | Bronze | RUDC | --- | --- | --- | 10 DEC |
| Beginners's Tourney X Giveaway #20 | Bronze | RC | 32/81/td> | 1.60 (8/5/0) | 50 DEC | 50 DEC |
| Archipelago Modern Bronze Invitational | Bronze | UDC | 47/120 | 0.47 (7/15/0) | 7 SPS | 2 SPS |
| Scarred Hand Beginner Silver Cup | Silver | C | 100/134 | 0.38 (3/8/0) | 6 SPS | 2 SPS |
---
---