The Lion's Residence | Meet The Greek Boss Trumpman

Hello Lions and Cubs.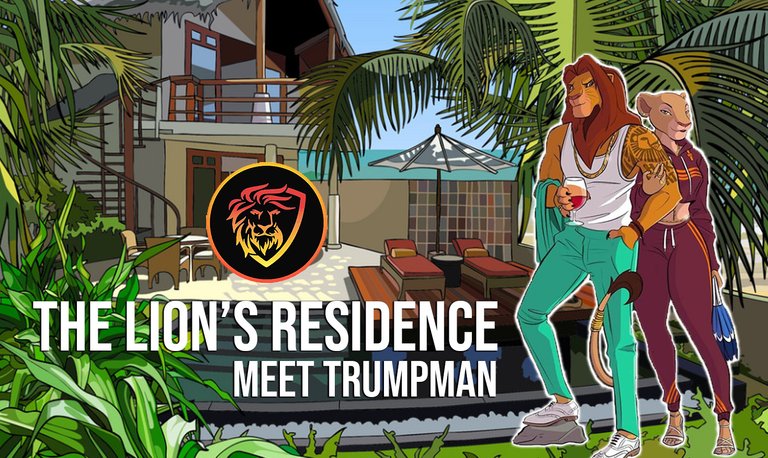 Here we are with another episode of THE LION'S RESIDENCE.
A light social read about our community members and our leadership.
My previous guest was @rob23 and after a long absence ,i come back with @trumpman.
Yeah a strong comeback I know.
Let's meet the Greek Boss of Leo and Hive.
Located: ??????
Leo: @trumpman
Twitter : @AriaKourada
e-mail: ???????
Hive: https://hive.blog/@trumpman

Years in the Crypto world:
4 years, started by putting 100$ on BTC and then stumbled upon steemit while browsing bitcointalk
Post Mainly about:
These days mostly posting on leofinance.io, shilling my bags or posting about shit coins or other random shit. I also occasionally post on cinetv.io about the movies / series I watch!
Field of expertise:
Prediction of LEO and CUB price in 6 months:
10$ and 3$...total random numbers pulled out of my ass
Favorite Cryptos:
Travala! I post regularly about it so go read my posts. Or just fomo
Favorite Quote:
Favorite Super Power:
Wolverine's claws. They are sexy
Why someone should Join LEO? :
Best place to earn free crypto! You get both Leo and hive! And you get to learn new shit every day and maybe even network if you follow the right authors!
Any Advice to Leo Newcomers?:
Comment meaningful shit on the trending posts to get noticed and get votes on your shit. Don't suck dick, just be yourself.
Have you ever been Scammed (short story):
No. I may be a dumb fuck but I have good instincts..
They told us kids are happiness
Yep. And plenty of anxiety.
Leo is fallen from 1.2$ to 0.25$ what are you thinking:
Meh. I'll just hodl. Has worked fine all this time :)
Something about Greeks and Crypto ?
Plenty of opportunities to make it if you put the effort and time. Will ya?
A message from you to Khal :
Aftermath
Trumpman is an outspoken straight forward hard motherfucker.
I like him because he supports the community - newcommers and he personally supported me tons of times.
He always has something new to offer in the various communities he is involved and he has a signature style of writing that I fancy a lot!
Thanx, a lot Trump! And welcome to the Father's club!
Who is next
Now it is time to Vote for my next Guest!
Trumpman has the Lion's Vote and asked for his nigga @belemo
Who is your pick?
Let me know what you think about the project in general.
Feel free to send me ideas for questions you would like me to ask in the next interviews. I hope you enjoyed this episode!
Have a great weekend!
Previous Interviews:
@dalz
https://leofinance.io/@mariosfame/the-lion-s-residence-or-who-is-dalz
@Nealmcspadden
https://leofinance.io/@mariosfame/the-lion-s-residence-or-meet-nealmcspadden-our-minister-of-public-relations
@scaredycatguide
https://leofinance.io/@mariosfame/the-lion-s-residence-or-meet-scaredycatguide
@rollandthomas
https://leofinance.io/@mariosfame/the-lion-s-residence-or-meet-rollandthomas
@rob23
https://leofinance.io/@mariosfame/the-lion-s-residence-or-meet-rob23
================

U can find me :
Hive: https://hive.blog/@mariosfame
NFT Showroom : https://nftshowroom.com/mariosfame/gallery
3speak: https://3speak.co/user/mariosfame
Twitter: https://twitter.com/mariosfame1
Giphy: https://giphy.com/channel/mariosfame?view=grid
Pinterest: https://gr.pinterest.com/famemarios
Reddit: https://www.reddit.com/user/mariosfame
Facebook: https://www.facebook.com/ioannidis.m/
Instagram: https://www.instagram.com/mariosfame
COINBASE Control – Hold – Manage your Crypto
https://www.coinbase.com/join/ioanni_e1
BINANCE Trade Crypto Live
https://www.binance.com/en/register?ref=L7KYPGTN
Posted Using LeoFinance Beta
Posted Using LeoFinance Beta
---
---