[Eng/Esp]My painting for Today was inspired by a swan couple swimming in a beautiful landscape/Mi pintura del Dia de hoy fue inspirada en una pareja de cisne nadando en un bonito paisaje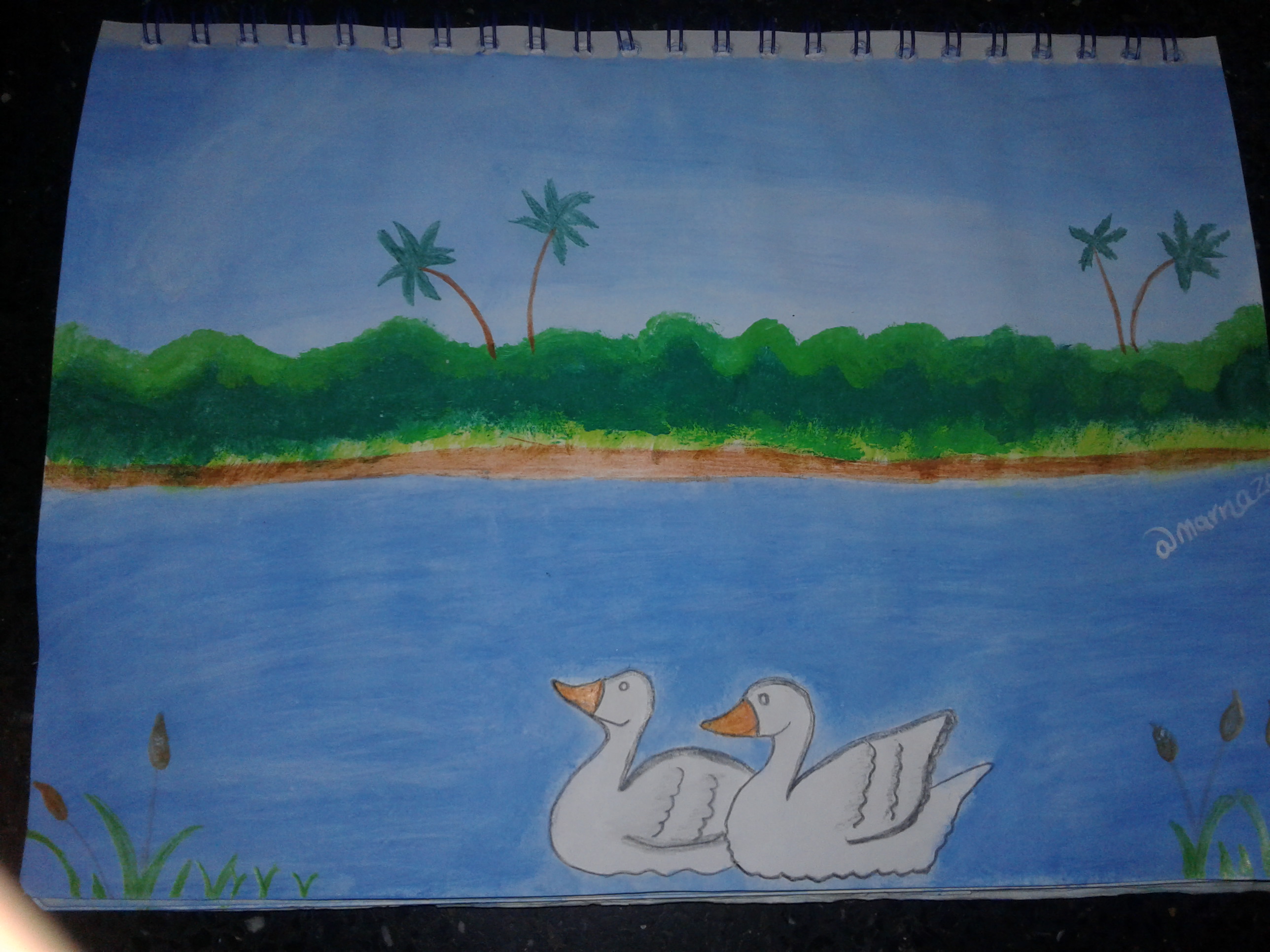 Hello Great community, a pleasure to greet you again
Hola Gran comunidad un gusto volver a saludarles
My painting for Today was inspired by a swan couple swimming in a beautiful landscape
Mi pintura del Dia de hoy fue inspirada en una pareja de cisne nadando en un bonito paisaje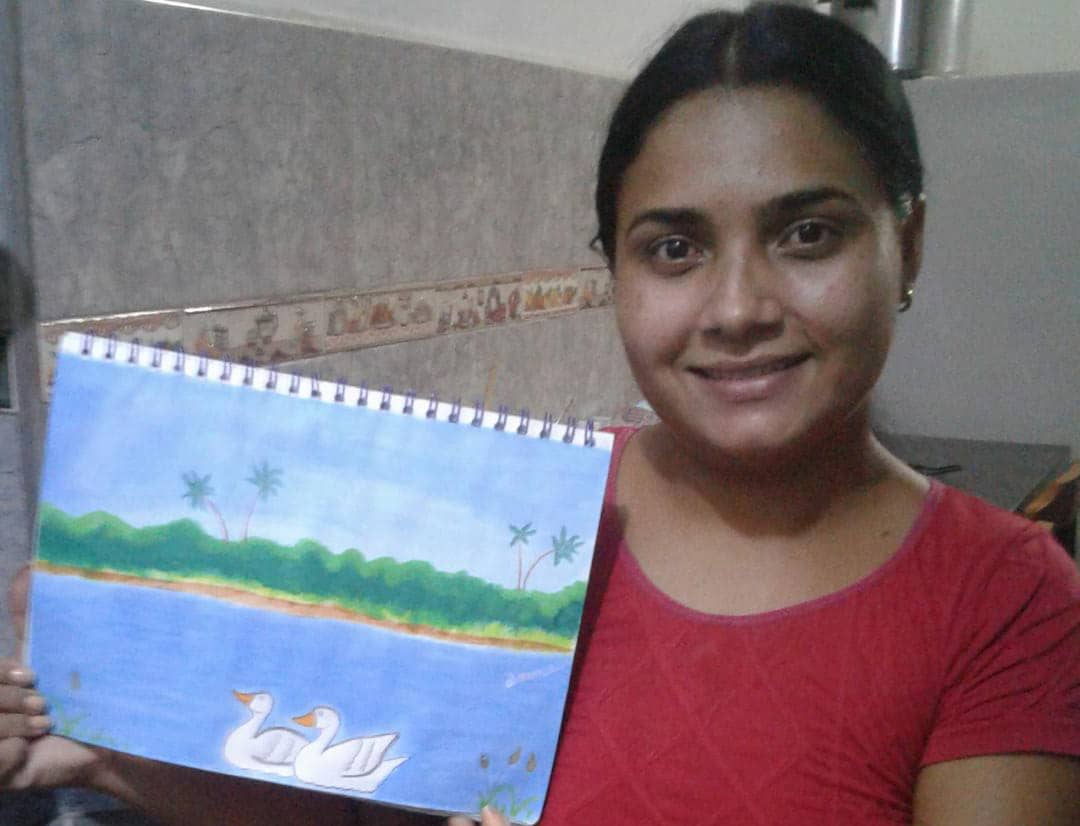 Materials you use:
Materiales que use:
-White watercolor
-Blue watercolor
-Green watercolor
-Yellow watercolor
-Brown crayon
-Orange crayon
-Black crayon
-Dark green crayon
-Light green crayon
-Brushes
-Pencil to write
-Block to draw
-Acuarela blanca
-Acuarela azul
-Acuarela verde
-Acuarela amarilla
-Crayon marron
-Crayon naranja
-Crayon negro
-Crayon verde oscuro
-Crayon verde claro
-Pinceles
-Lapiz para escribir
-Block para dibujar
The first step I did was to mix blue with white paint to get a light blue tone and with a thick brush I painted the sky.
In parts I put white paint on it and smudged it.
El primer paso que hice fue mezclar pintura azul con la blanca para sacar un tono azul claro y con un pincel grueso pinte el cielo.
En partes le colocaba pintura blanca y la difumine .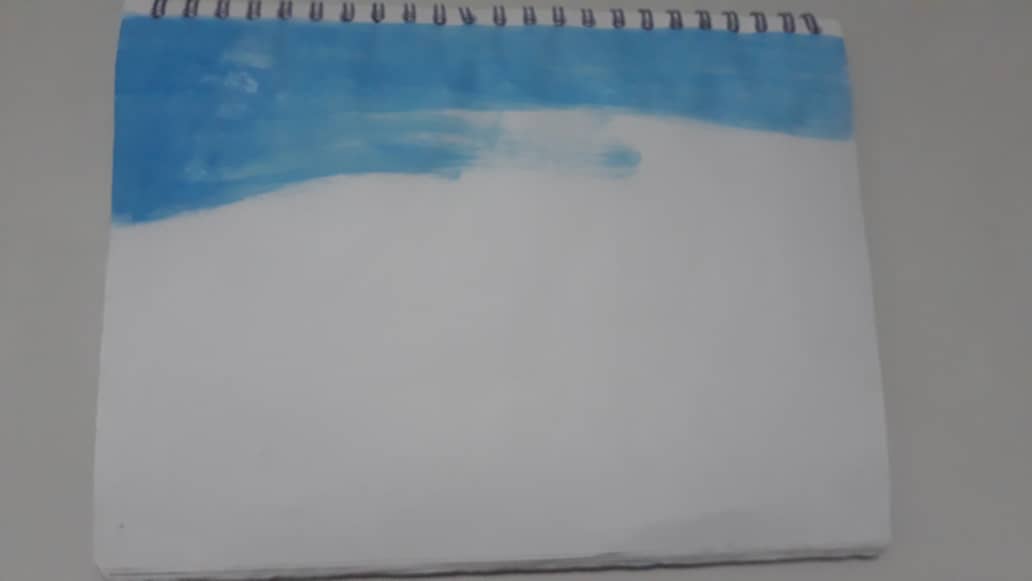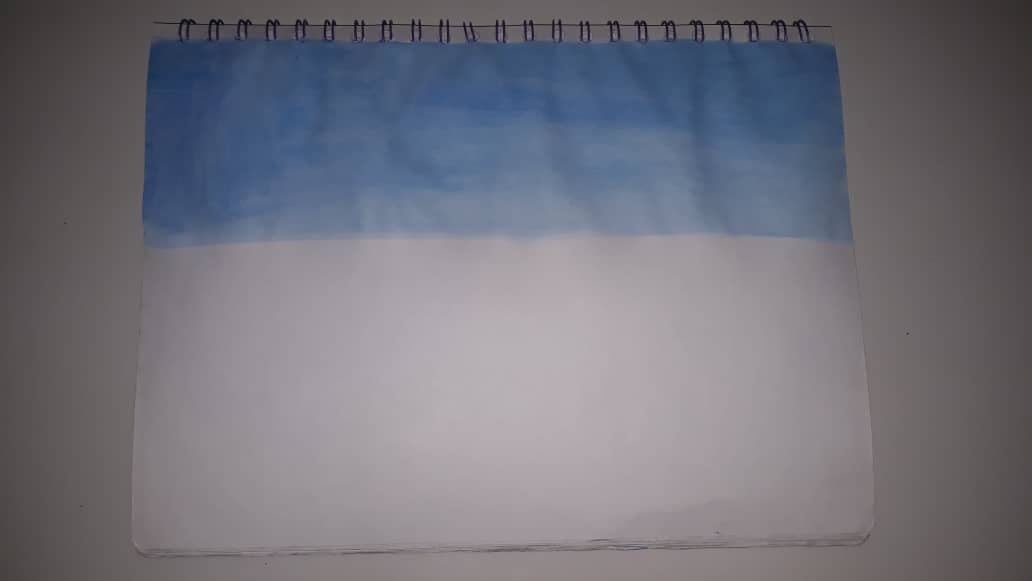 I mixed dark green paint with yellow to bring out the apple green tone and draw a line in the middle of my block to make small mountains, then I was increasing the tone in darker green.
Mezcle pintura verde oscuro con amarillo para sacar el tono verde manzana y trace una linea en el medio de mi block para hacer pequeñas montañas, luego fui aumentando el tono en verde mas oscuro.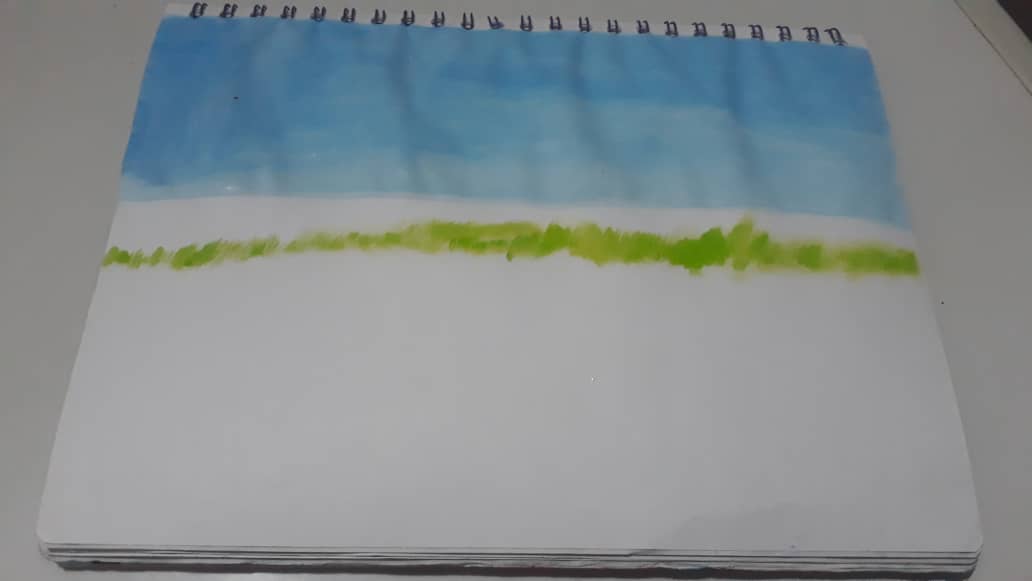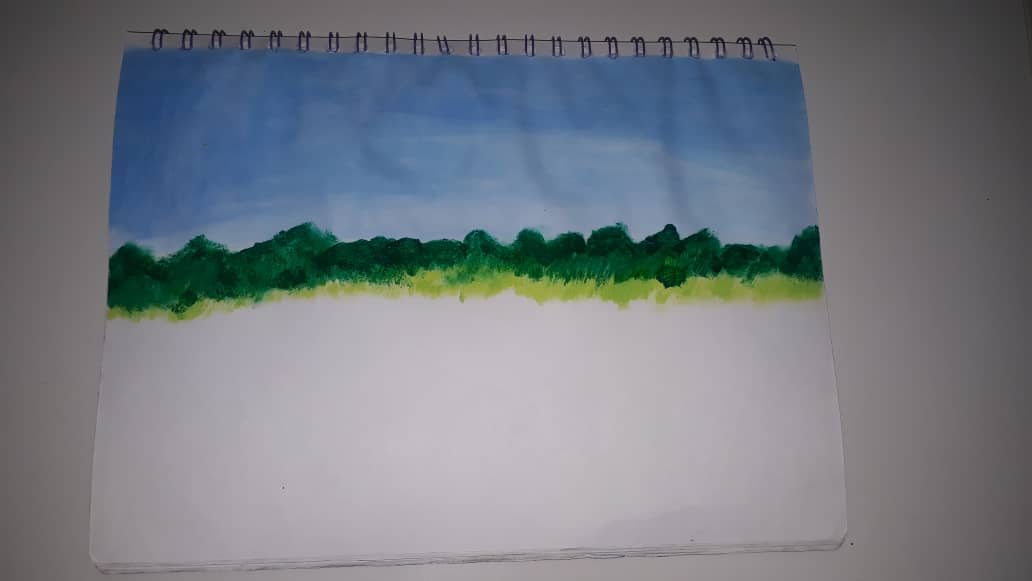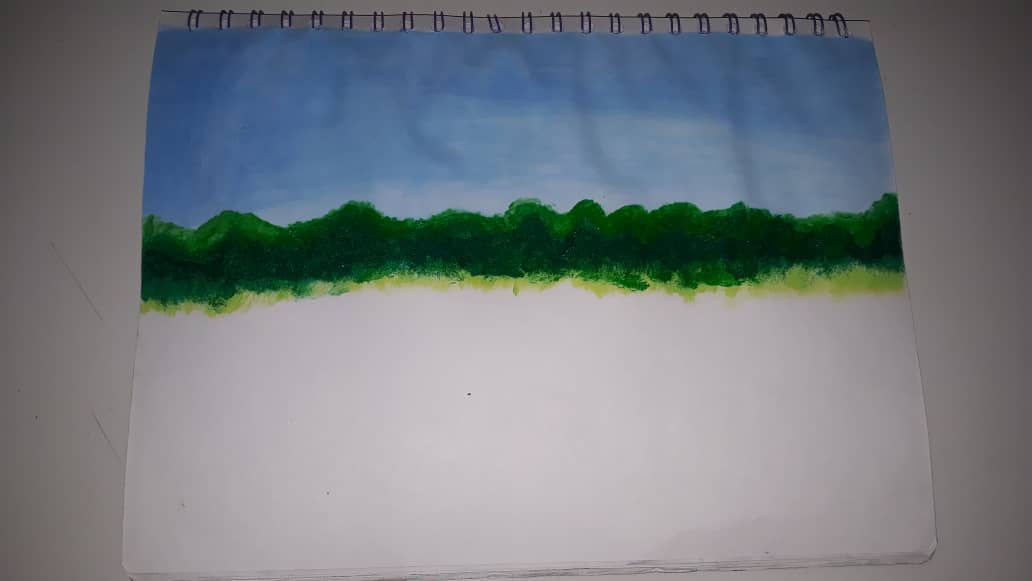 I drew the cinemas with the black crayon and then I painted the sea and in several parts above the blue color I put white paint and in the center of my pad under the green I painted the sand with brown crayon.
Dibuje los cines con el crayon negro y luego pinte el mar y en varias partes encima del color azul coloque pintura blanca y en el centro de mi blokc debajo del verde pinte con crayon marron la arena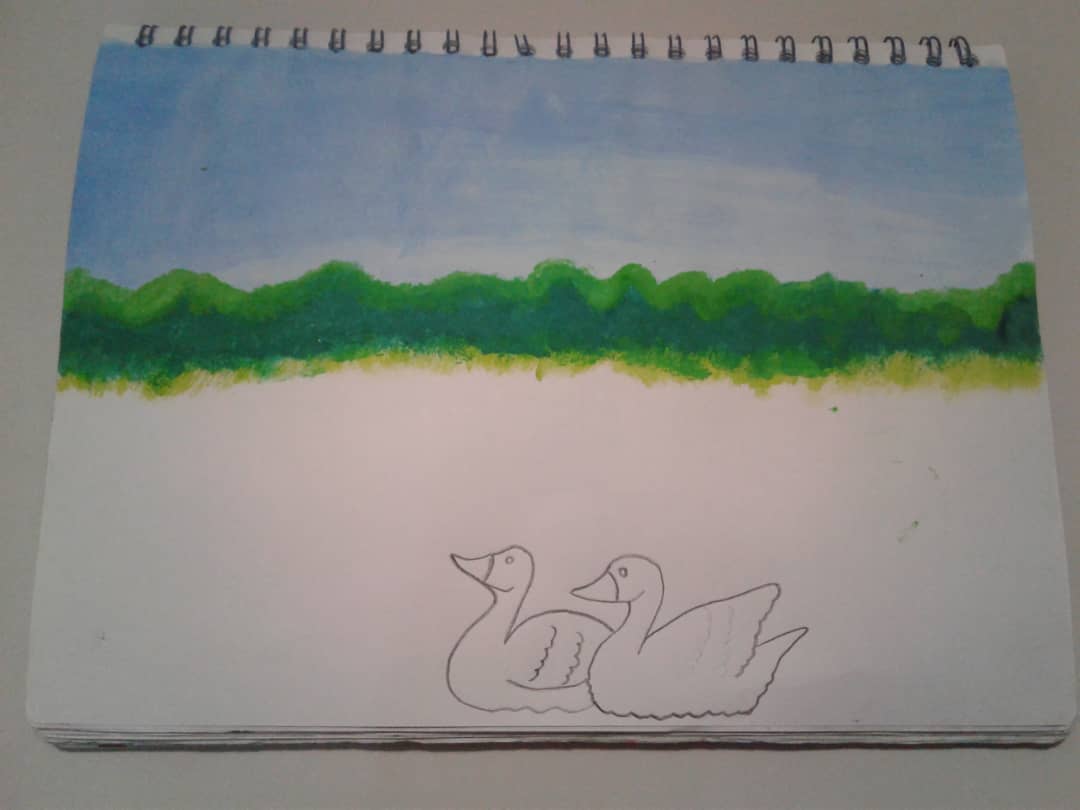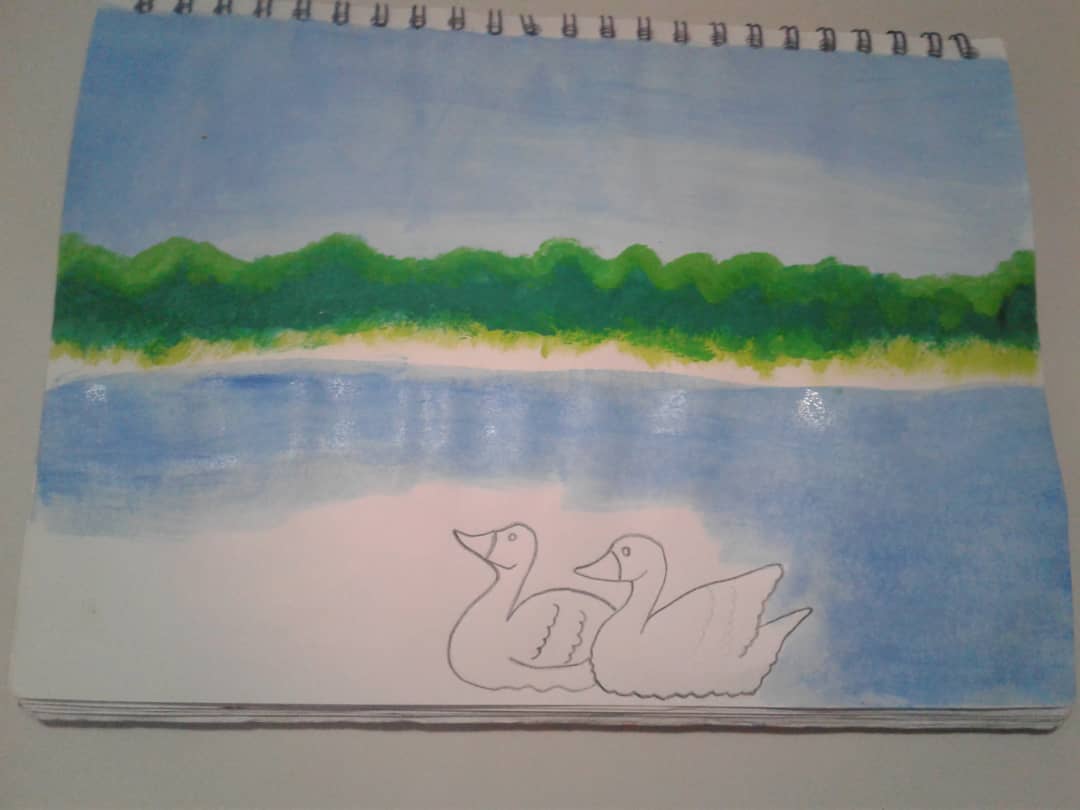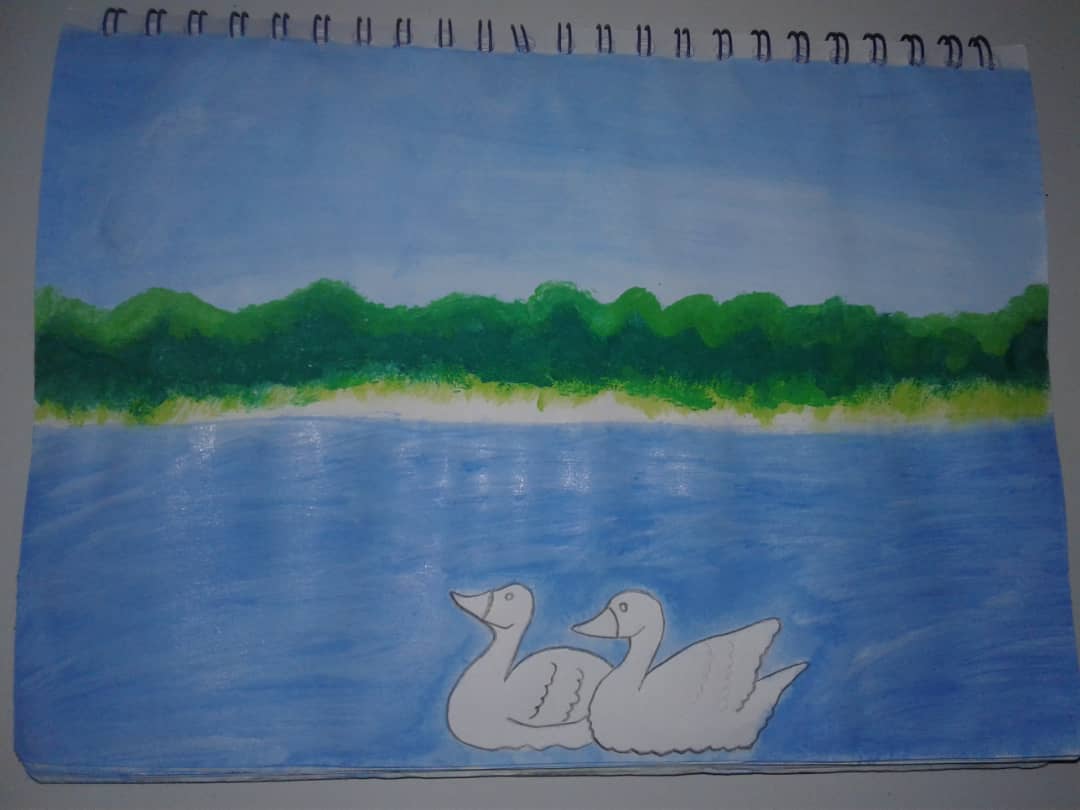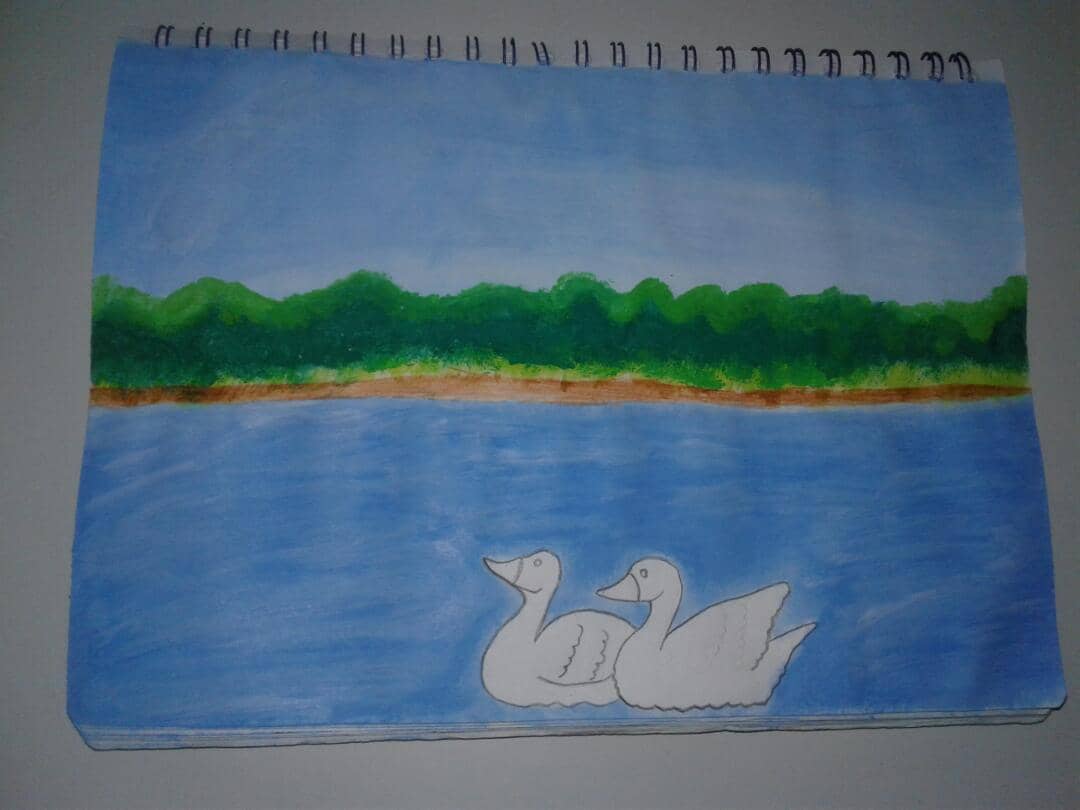 With the orange crayon draw the beaks of the swan and use a little white paint with a thin brush to paint them then shade with the black crayon.
Con el crayon naranja dibuje los picos de los cisne y use un poco de pintura blanca con un pincel delgado para pintarlos luego sombree con el crayon negro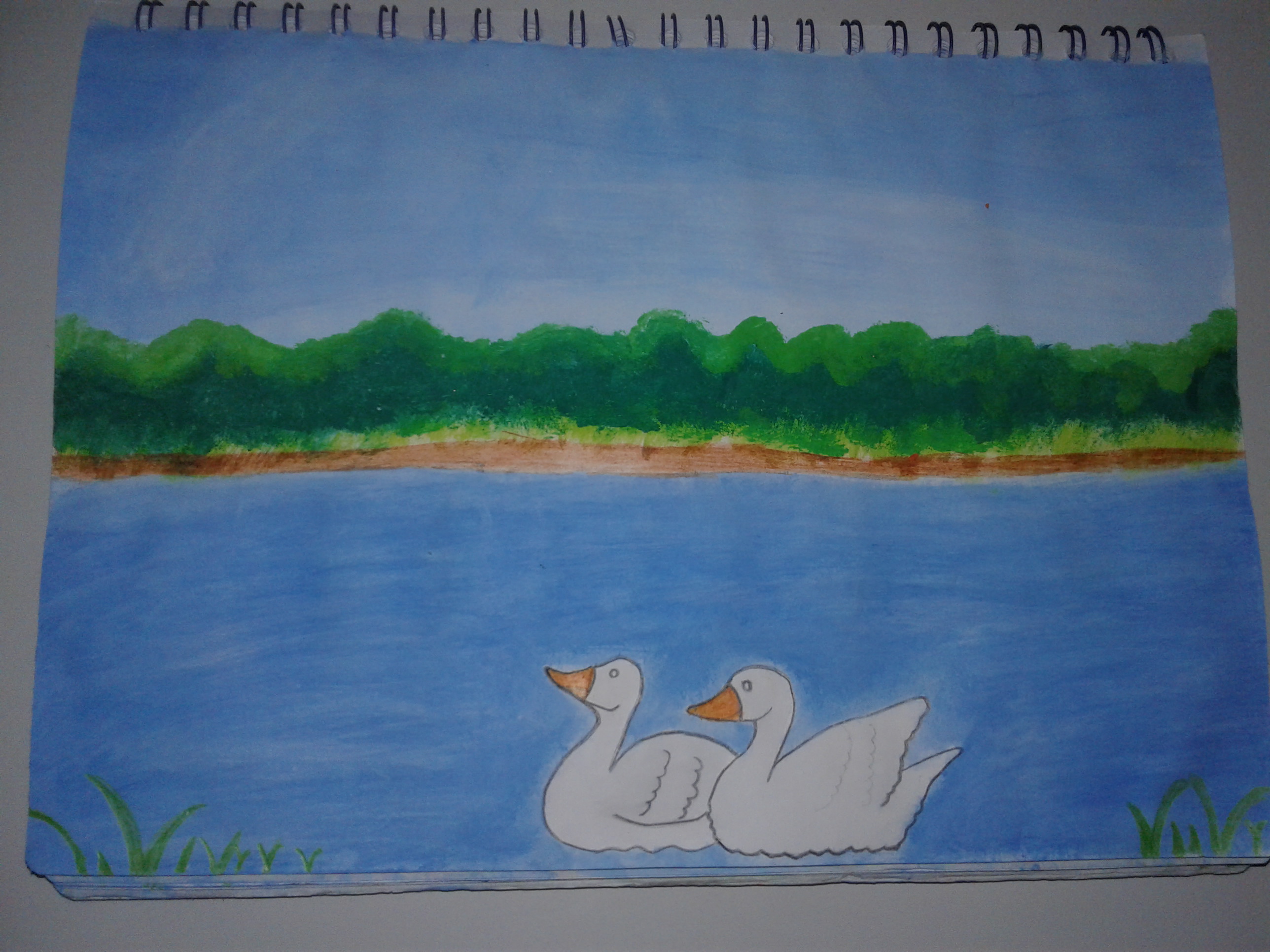 With the light green crayon I drew the herbs and made its flowers with the brown and orange crayon.

Con el crayon verde clara dibuje las hiervas y le hice sus flores con el crayon marron y naranja.

To finish in the background draw 4 palms, paint them with the brown crayon and the leaves with the dark green crayon.
Para finalizar en el fondo dibuje 4 palmas, las pinte con el crayon marron y las hojas con el crayon verde oscuro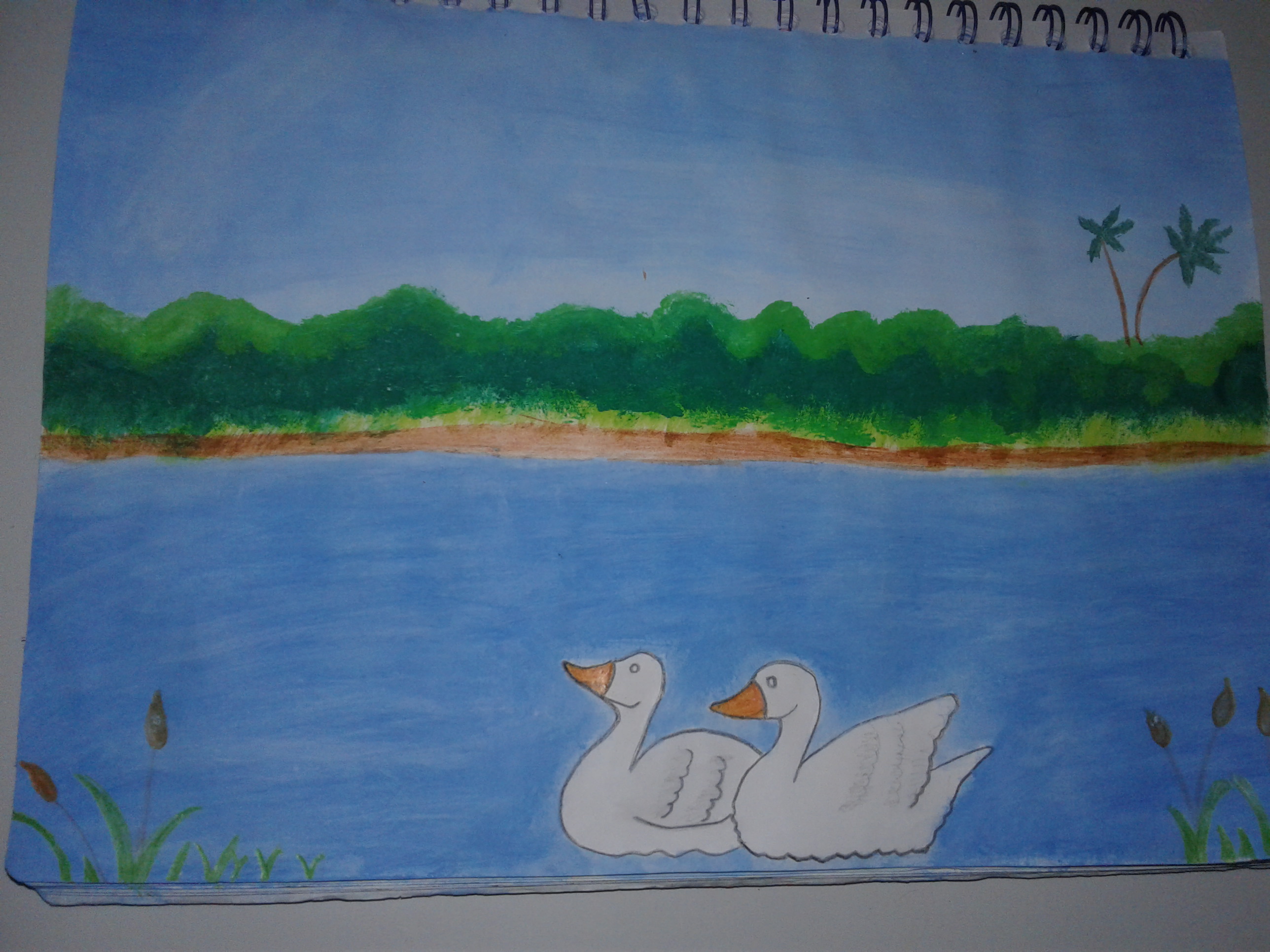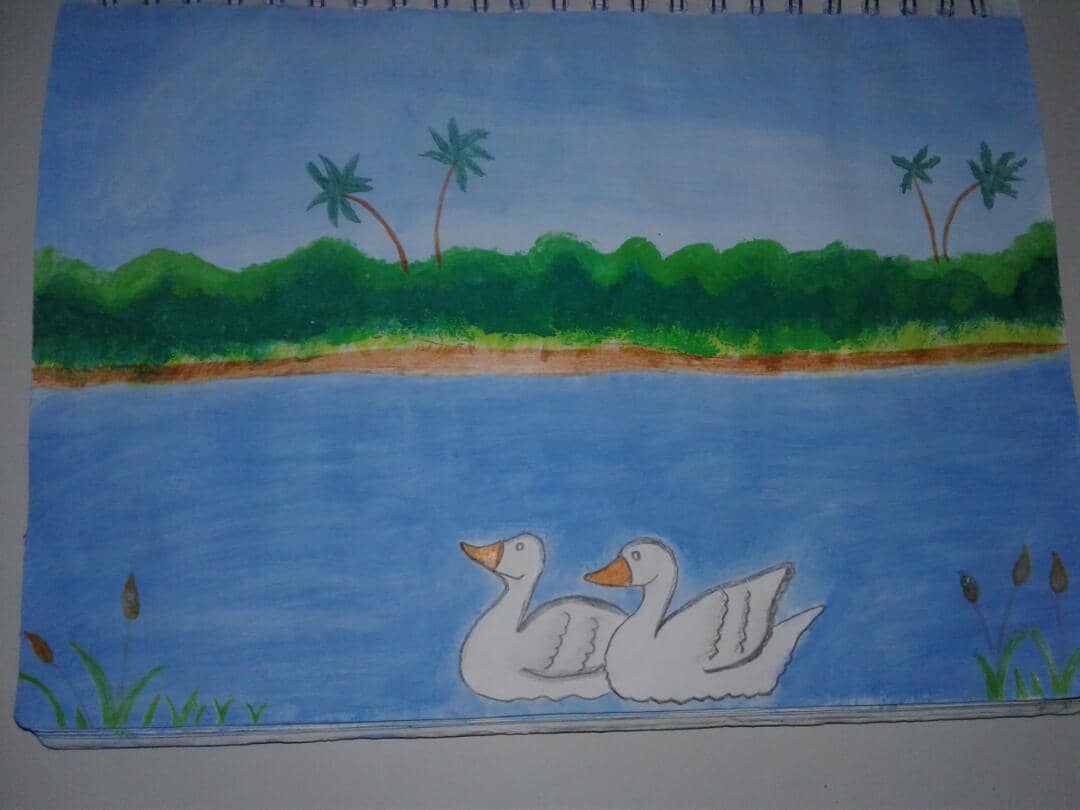 Thanks for taking a moment of your time to read my post.
Gracias por tomarse un momento de su tiempo para leer mi post
Until next time.
Hasta la proxima
---
---