La moneda con canas
La mosca naranja,
lleva una moneda bicolor,
es colombiana,
de mil pesos, creo yo.
The orange fly carries a bicolor coin, it is a Colombian coin, of a thousand pesos, I think.
Un algodón que por ahí va,
intenta a la mosca atrapar,
esta sus alas suelta sin pensar
y corriendo se va.
A absorbent cotton that goes around tries to catch the fly, the fly releases its wings without thinking and runs away with its legs.
La moneda queda sola,
y el algodón la toma,
como cabello se posa,
para adornarla como ninguna otra.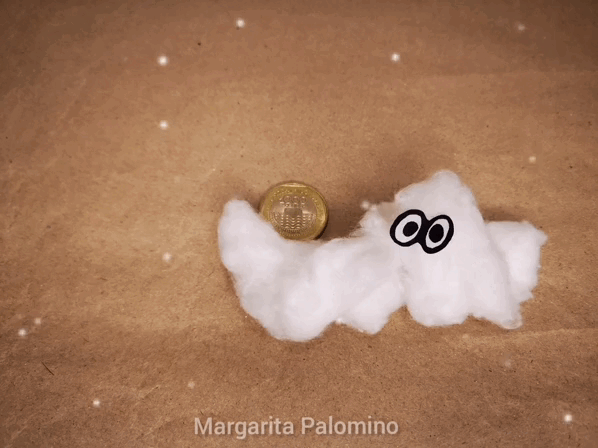 Una moneda con canas,
con una gran cabellera blanca,
ahora sonríe con gracia
mientras la mosca,
la atrapa,
para volver a llevarla.
A gray-haired coin with big white hair, now smiles gracefully as the fly catches it, to carry it away again.
---
Créditos
Stopmotion y cuento original de
Margarita Palomino

---
---