THE WOLF TOY ENG-ESP

ENGLISH VERSION
Hello! My name is Mariano and I am from Buenos Aires, Argentina.
I introduce myself, I am dedicated to collecting action figures in street stall sales and fairs.
This is the first time I have written a post here on my blog, and I will tell you about this figure that I got from a mutant wolf.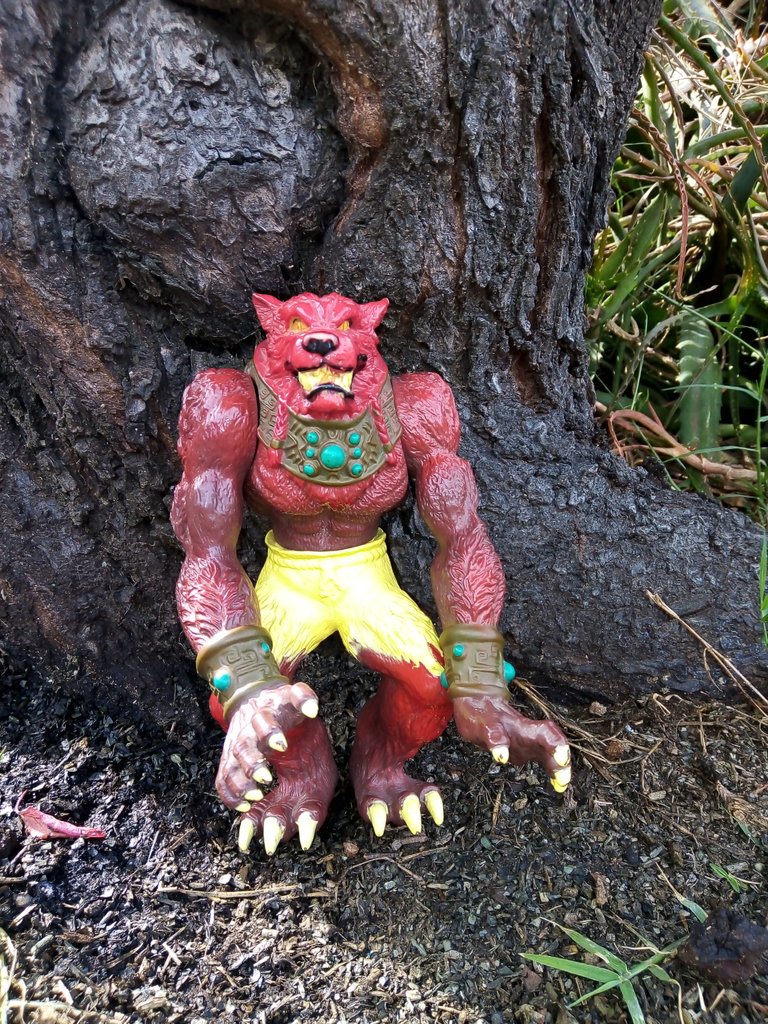 It was at a large fair that takes place near my house on Saturdays; it's called the Solano fair; they throw the blankets on the floor and you can collect a lot of different things.
The fair is quite large and if you start to go around and look at each stall sometimes when I realize it, three hours passed between walking and looking at the stalls and blankets.
I saw this figure and the colors, the expression it has, the size of the figure and the shades of red caught my attention; articulates the arms and waist.
When I saw the figure, I asked the price and at that moment they told me $ 200 Argentine pesos and I offered him $ 150; Haggling is common at fairs; he told me that he would not accept so I kept looking in the fair but the figure had caught me, I thought that I could not let pass this oportunity; I kept looking other sellers' stuff but I thought and yearned for that wolf figure; I thought someone else was going to buy it and maybe when I come back, I will found that the figure was sold out; something that happens sometimes for not deciding at the moment.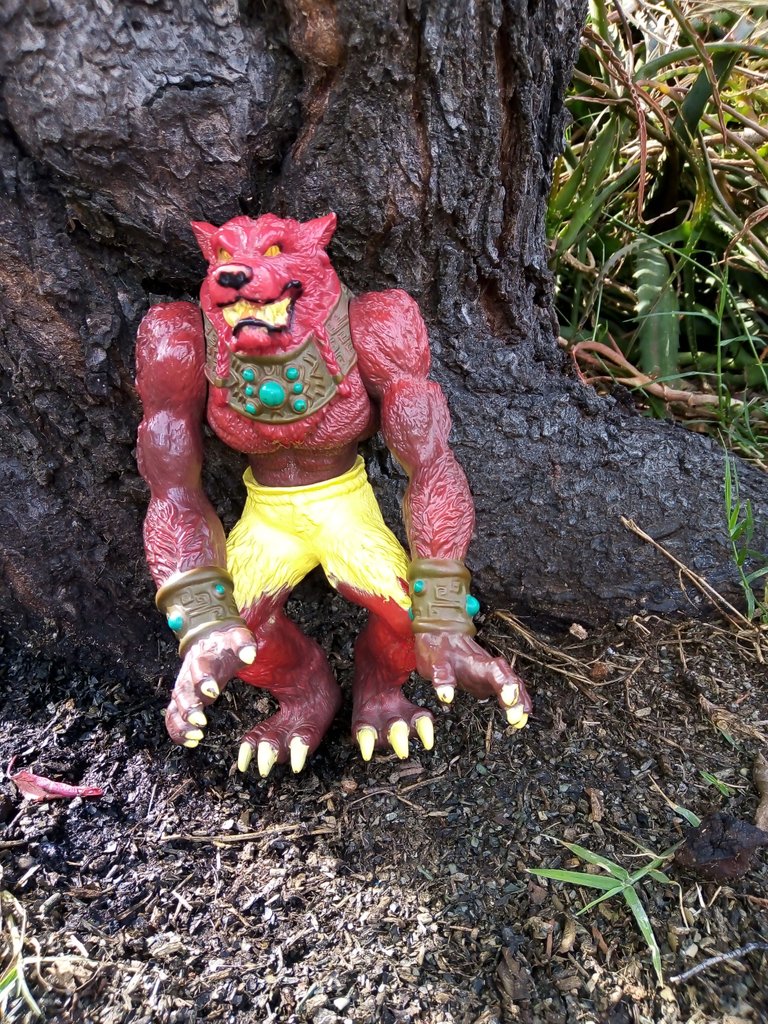 I kept going around until I made up my mind and went back to the post. When I returned there was another person and I told him that I wanted to buy it and when I am about to pay him he tells me it is $300 pesos, but I tell him that they had told me $ 200 and I consult the other seller and he recognized that he had come before and gave in to the previous price. So I could have the figure and in this case I came back and did not miss the opportunity to have this extravagant wolf in the collection.
Well I hope you liked the story of this figure.
Tell me if you like to see more about my figures from my collection and my tours collecting toys at fairs in Buenos Aires and I will present you another action figure in my next post.
Best regards, Mariano !!!
VERSIÓN EN ESPAÑOL
El lobo
Hola! Mi nombre es Mariano y soy de Buenos Aires, Argentina.
Me presento, me dedico al coleccionismo de figuras de acción en ventas de puestos callejeros y ferias.
Esta es la primera vez que escribo un post aquí en mi blog, y les contaré sobre esta figura que conseguí de un lobo mutante.
Fue en una feria grande que se hace cerca de mi casa los días sábados; se llama la feria de Solano; tiran las mantas en el piso y de un montón cosas variadas podes conseguir o como le digo yo "cirujear".
La feria es bastante grande y si te pones a recorrer y mirar en cada puesto a veces cuando me doy cuenta pasaron tres horas entre caminata y mirar los puestos y mantas.
Esta figura la ví y me llamo la atención los colores , la expresión que tiene, el tamaño de la figura y las tonalidades que tiene de rojo; articula los brazos y la cintura.
Cuando ví la figura, pregunte el precio y en ese momento me dijeron $200 pesos argentinos y le ofrecí $150 ; Es común el regateo en las ferias; me dijo que no aceptaba entonces seguí mirando puestos pero la figura me había atrapado, por dentro decía que no la podía dejar pasar; seguía mirando puestos pero pensaba y anhelaba la figura; decía la van a comprar y quizá vuelvo y se la llevaron; cosa que pasa a veces por no decidir en el momento.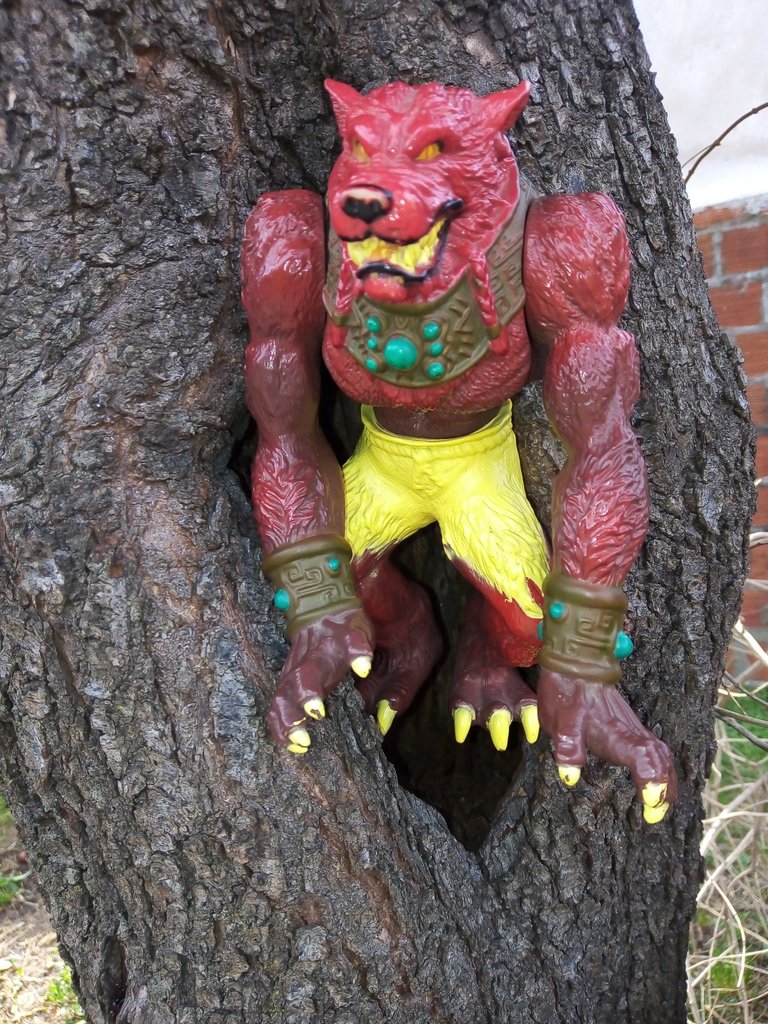 Seguí dando vueltas hasta que me decidí y volví al puesto . Cuando volví estaba otra persona y le digo que me la llevo y cuando le estoy por pagar me dice son $300 pero le digo que me habían dicho $200 y consulto al otro vendedor y me reconoció que había venido antes y cedió al precio anterior. Así pude tener la figura y en este caso volví y no deje pasar la oportunidad de tener este lobo flashero en la colección.
Bueno espero que les haya gustado un poco la historia de esta figura.
Comentame si te agradan ver más sobre mis figuras de mi colección y mis recorridos recolectando juguetes en ferias de Buenos Aires y te presentaré otra figura de acción en mi próximo post.
saludosss atentamente mariano!!!
The wolf
---
---