The Beauty Of Hive In The Crypto-Verse

We can't neglect the fact that almost everything to ever exist in the crypto-verse right is also open to all Hive users without them running around the Crypto -Verse to find such opportunities. In the last 2 years of Hive's existence, we've gone from the social part of Hive to other segments of the crypto-verse.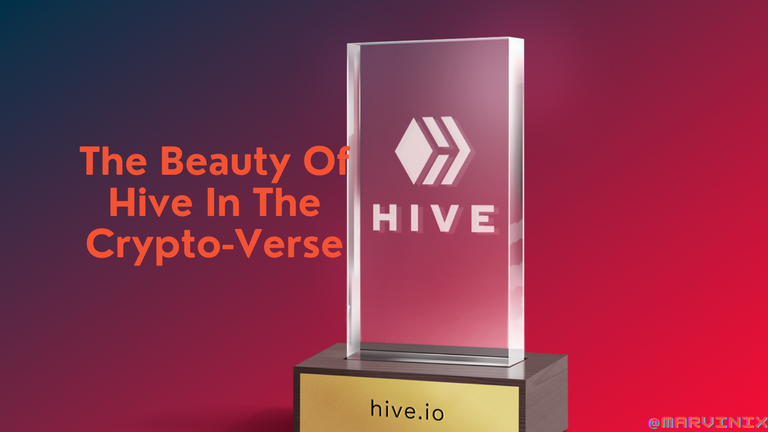 Made using canva
This is Nft to Nft gaming to defi , to threads and importantly, having various layer 2 community token coexisting together, with Hive token being the Mother-chain. Something that rings a bell is BTC and other alts, we've moved from there to here without stopping one thing for another. However, this doesn't mean we've been able to achieve success with every breathtaking project.
But if you define success as finding solution and simple ways to improve better then Hive has indeed surpassed expectations and every added development is an added edge that keeps the boat running and stronger for any violent wave it encounters.
The beauty of Hive existing in the crypto-verse is that we are here to have it all with a catalyst that everyone is familiar with which is- connecting every part of the crypto-verse. That's how Hive moved from just having social community to defi's to nfts to Nft gaming and other parts I might have missed here. The interchangeable process of trading Hive tokens to buy an Nft in order to access a particular feature in an Nft game is incredible. This process goes two ways. Thereby, bringing ease of access and interconnectivity to the crypto world where anyone can phase from one part to the other with ease.
Before I end the whole beauty thing. It should be noted that when we rinse and repeat all these process and add the bliss of time to the math, we are one way from replicating all that may/might ever exist in the world of cryptocurrency. And that is the imperfect beautiful portrait of Hive that we all would love to be a part of years from now.
Thanks for reading
Posted Using LeoFinance Beta
---
---