SHARE YOUR BATTLE Weekly Challenge! HILL GIANT
Hi Guys! It's me again masterzarlyn28 in the hive! For today's blog let's talk about Splinterlands Weekly Battle Challenge! This time the theme is from the Earth Element - Hill Giant. We'll be talking the stats of this common card monster, the rules during the battle, opponents and my team line up and lastly the strategy on how I win this battle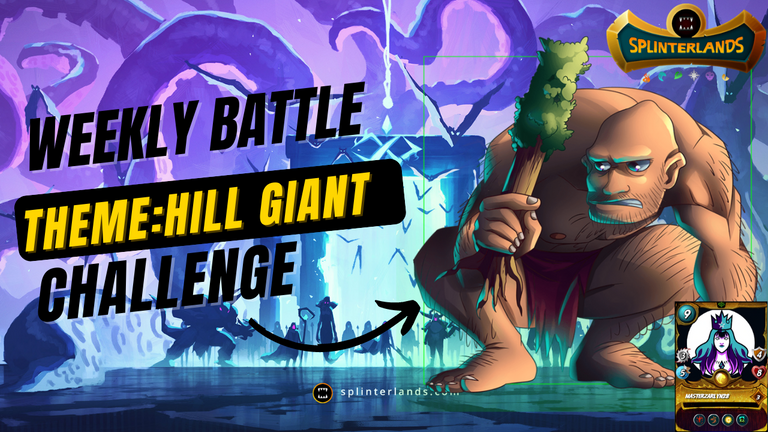 ---
~~~ HILL GIANT LORE ~~~
Hill Giants live in the Talus Bluffs on the outskirts of the volcano known as the Mountain of Ash. They are nomadic people that travel from hilltop to hilltop following herds of deer and cattle. Though they are intimidating, Hill Giants are typically more far more inquisitive of other cultures and seek to learn from them rather than attack.
However, if they need to defend themselves, they attack by ripping boulders from the ground and are able to hurl them up to a mile. The people of Praetoria are glad to have them on their side against the Chaos Legion.
With a mischievous grin, the monstrous Gurlk flung the horse-sized boulder across the river, skipping it seven times. He turned to face the other competitors, noticing their frowns. A wide smile curled on his face and he let out a bellowing laugh.
Reference: https://splinterlands.com/?p=card_details&id=370&gold=false&edition=7&tab=lore
~~~ HILL GIANT STATS ~~~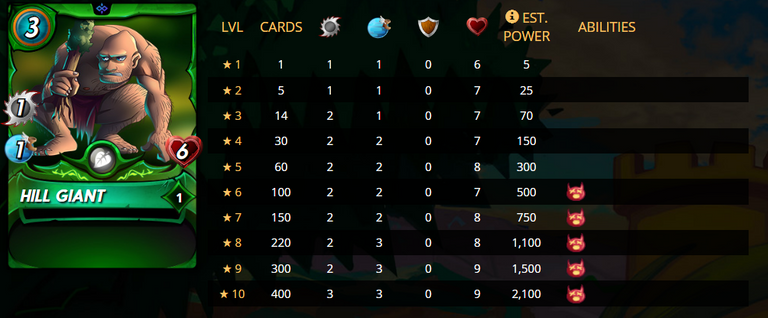 (NOVICE TO BRONZE LEAGUE)
Level 1 to 3 : As the level increases the stats also increases which add up a 1 melee damage and health power. For a 3 mana card monster, basic stat is 1 melee damage and speed then a 6 health power.
(SILVER TO GOLD LEAGUE)
Level 4 to 6 : At level 4 additional 1 speed and for the 6th level it now have an ability which is Stun and can be used in the new focus which is DISABLE.
(GOLD TO CHAMPION LEAGUE)
Level 7 to 10 : It reaches to 3 Melee damage, 3 speed and 9 health power! Times 3 increase for speed and damage and a 50% increase on the health for its max level.
Hill Giant is a common monster card under chaos edition and belongs to Earth Element group. It is a very useful monster when it comes to low mana cap battle since it only have 3 mana and a must monster when it comes to reverse speed. Its ability can disable the opponents attack in one round and it is such a big help when you encounter a team with a large attack damage.
~~~ HILL GIANT PRICE ~~~
FOR SALE CARDS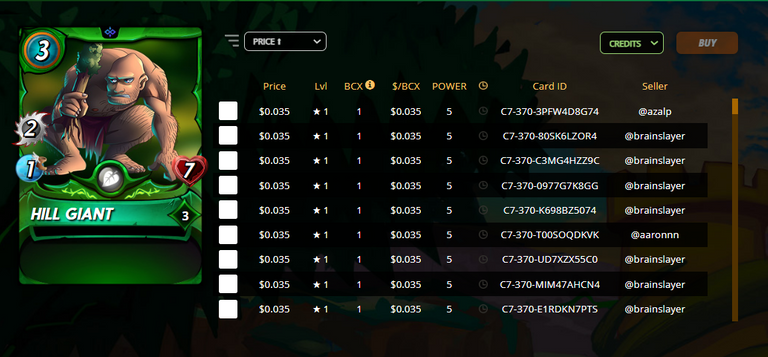 FOR RENT CARDS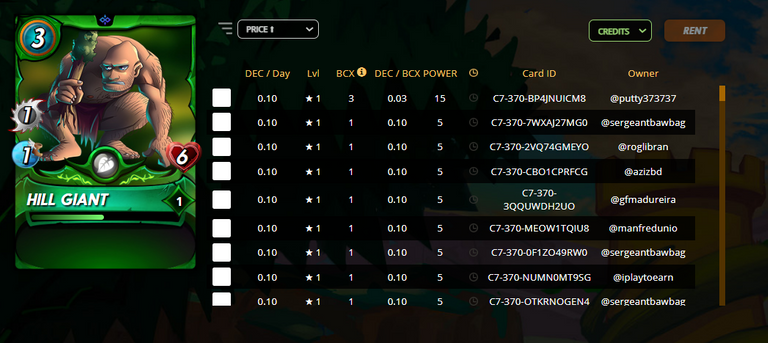 🚦THE RULE SET 🚦
MANA CAP: 15
ELEMENTS: WATER AND EARTH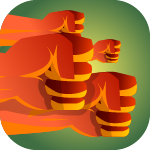 All Monsters have the Knock Out ability.
Use a monster with Stun ability. There is a 50% chance that your monster with Stun will be able to stun enemy monsters, but if successful, all your monsters will deal double damage to that stunned opponent.
---
All Monsters have the Divine Shield ability.
Monsters that normally have this ability do not get it twice. The trick to win in this ruleset is to fill all 6 slots of your line up and use monsters with Blast and Double Strike. Use a monster or summoner that has Resurrect to use this ruleset at its maximum potential.
Source: https://splintercards.com/rulesets
⚔️ MY TEAM ⚔️
For the low mana cap, I used my lowest mana summoner which is Lyanna (3 mana summoner) which adds 1 health for my mosters. Then, I select a low mana monster from 1 to 3 mana to enjoy the holy protection rule. I was able to fill 5 slots in this battle with different abilities such as sneak, opportunity, and scattershot. Most of my monsters are melee attackers and only 1 range was able to join the team. Lyanna is a good fit summoner here since all of my selected only have low health and not all do not have armor.

⚔️ OPPONENT'S TEAM ⚔️
Opponent team chose the high and strong summoner which is the Sacred Llama but the disadvantage of it is that it can only use few card since this summoner cost 7 mana and he only have 8 mana left for its monster. In this case, he only fill 2 slots, 1 mana card Chaos Agent and the Pelacor Mercenary.

⚔️ CARD POSITION ⚔️
FIRST POSITION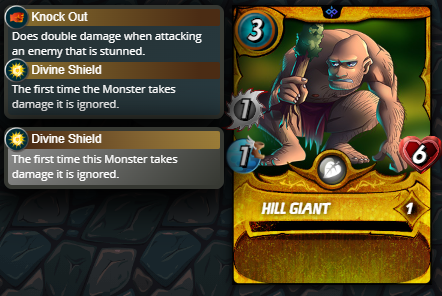 As the monster with the highest health, I used Hill Giant as my tank since it has an added ability from the ruleset which is the Knock Out and divine shield.
---
SECOND POSITION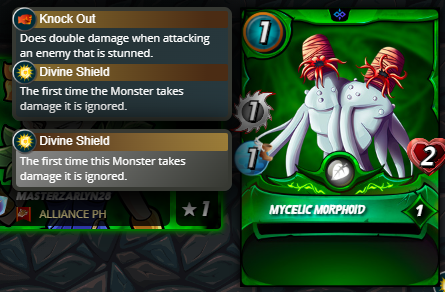 Support tank incase the first monster dies. For just 1 mana you can already have 1 melee damage and speed and with a 2 health power.
---
THIRD POSITION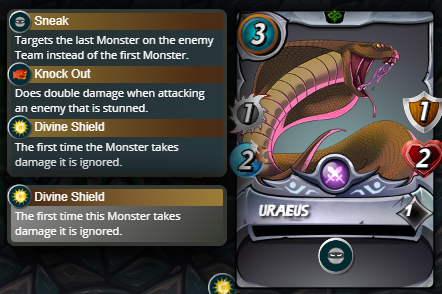 It followed by a sneaky monster Uraeus that attacks monster in the back line.
---
FOURTH POSITION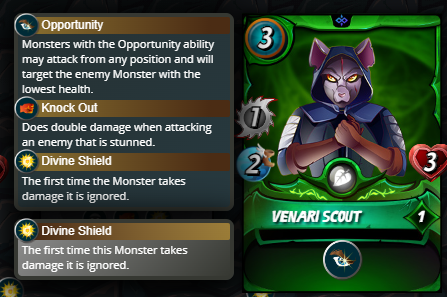 Another support monster which finished off monster with the lowest health!
---
FIFTH POSITION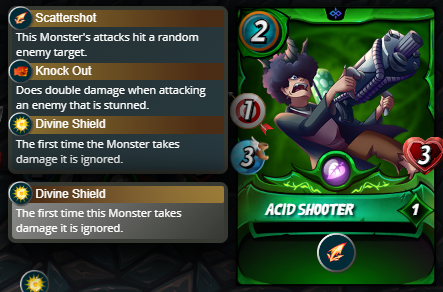 For the last position, I put a ranged attack monster with a scattershot ability that hit a random monster with a speed of 3.

⚔️ BATTLE ⚔️
At round 1, there is a little damage for both team because of the holy protection in every monster.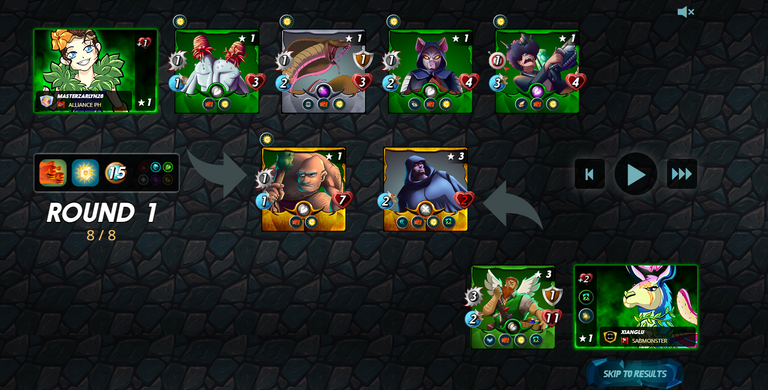 For the second round, Chaos Agent already killed and now the Pelacor Mercenary adds up 50% to its Stats as he is the Last Stand of team. It has a total of 5 Meleed damage , 3 speed and a total of 17 health power!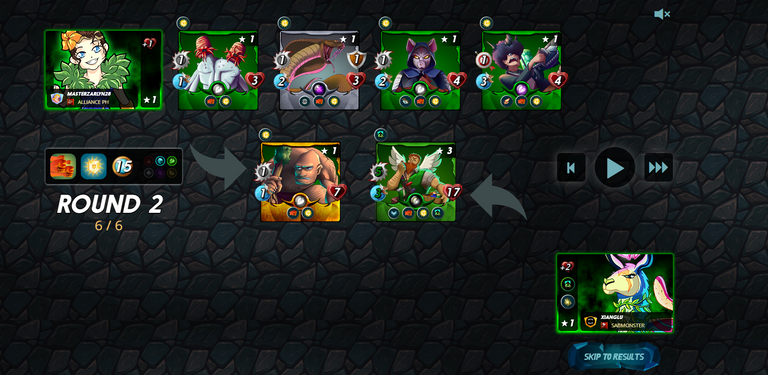 As the rumble continues, Hill Giant got killed and Mycelic Morphoid takes charge as a tank of the team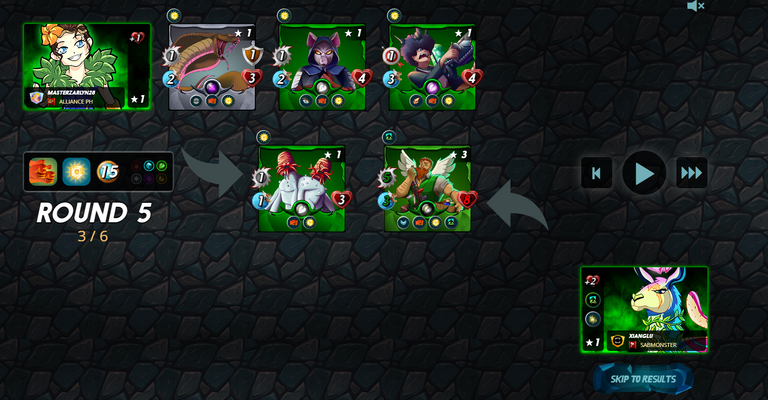 Mercenary remains calm at 1 health power since my team dose only have low speed so he was able to missed the attack of the sneaky and opportunity monster.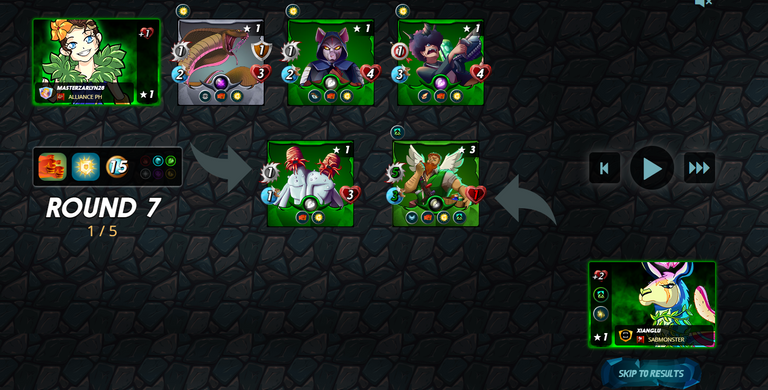 Acid Shooter did not hesitate to wipe off the Last Stand monster of the opponent's team. In just one shot hea was able to damage and killed Pelacor Mercenary.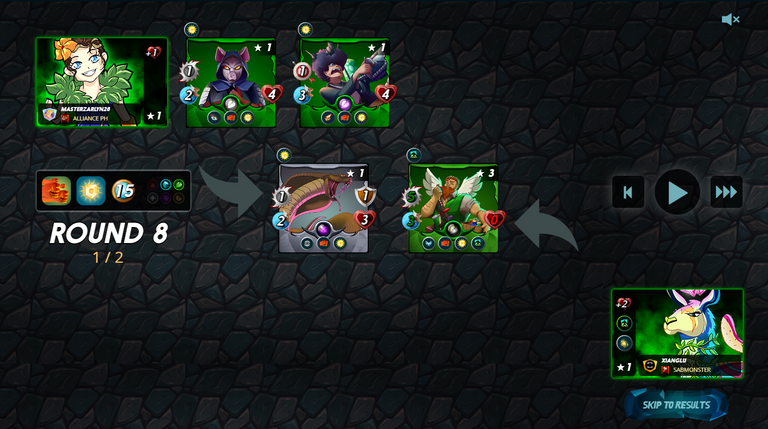 Battle Link:
https://splinterlands.com?p=battle&id=sl_82145b32d18061f39deb497628403654&ref=masterzarlyn28

Did your strategy work?
Yes, my strategy worked because of Hill Giant! Hill Giant is a good tank for this battle as it was able to acquire the attack of the opponent and defend its team with the help of sneak, opportunity, and scattershot monster. These monsters were able to defeat the llama team because of the teamwork they performed during the battle. I was able to enjoy the benefits of the rule which is the divine shield as I was able to fill 5 positions.
What will you try differently next time?
Next time I will try a max level of this card as I can use its ability which is Stun since it is a great advantage in the Knock Out ruleset. I will try to reach higher league in able to use this card and its ability!

That's all for now. Thank you for reading :)
---
---