Hornworms🐛🦠, Flea Beetles 🐞, Aphid🕷️ And Others Raided My Eggplant Farm Within Few Hours || Poor Young Farmer 😭😭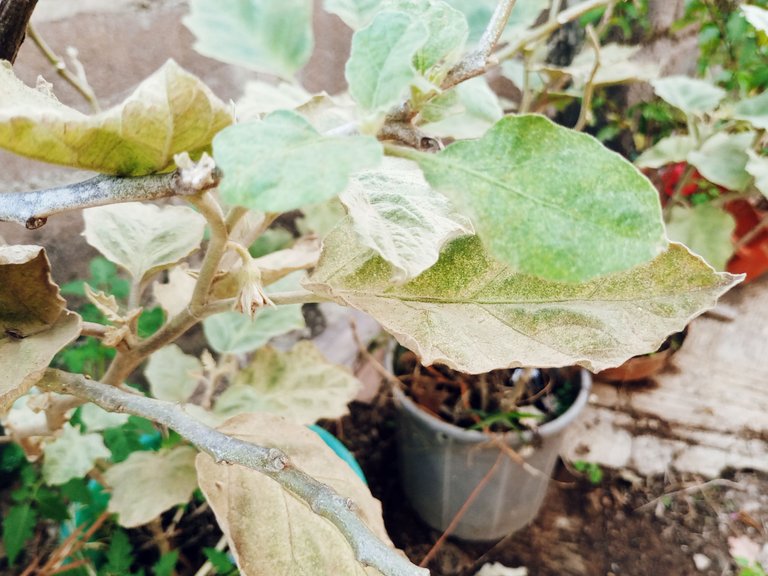 Hello Hivers 💕💞,
Planting of difference crops as a farmer is a very good idea but only one thing I believe even when things are very hard as a young farmer I always strive to grow new seeds. There was one time this year 2021 when I find out that I can really advance my plantains kill into another grade level to bring more about planting carrot inside a mobile seedbed as well as mobile sack. I thought of it twice even more than four times before I proceeded and I can assure you that the Planting of this particular crop into a mobile seedbed attract a lot of the new farmer generation.
A lot of people even within my local environment came into my own farm and learn one thing or the other even though sometimes Farm can be a little bit scanty but to those of them that really want to learn kept on coming and going and I also I kept on revealing the plantain skill secret which I will be revealing as well in my next article. it is good to learn from your past mistakes as well as proceed as the journey begins again. There were a lot of obstacles even along the journey as a farmer not just a farmer but a young farmer who also has his own family. But nevertheless I motivated so many people to go into farming even though it's a very small scale which will help in one way or the other to supplement and also to make things equal to some reasonable extent.
Going into the eggplant family it is easy but also not easy when you grow crop from the seed you begin to nurse it's just like a new born baby in order to groom it the right way yes it takes a lot of time before it reaches some certain stage which will increase the development and Growth at the same time.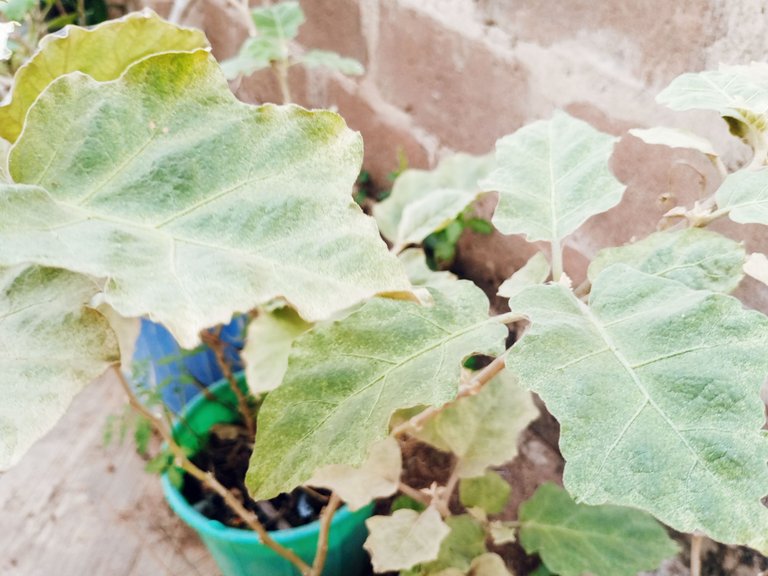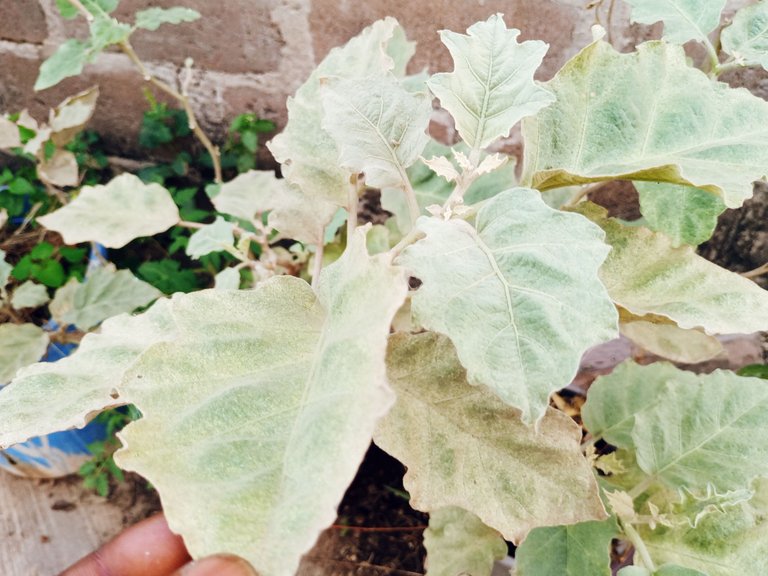 At this point the increase at which the eggplant in my own farm strife 2 maintain it on food absorption is very high at this moment because of the change in weather as well as the high in temperature. It shows some little signs of dead stem which I left it's over because in some cases I have seen they already dead plants that strive up again to grow more than 8 times. So this is the more reason why as a farmer you need to be patient and read your own mind what to do.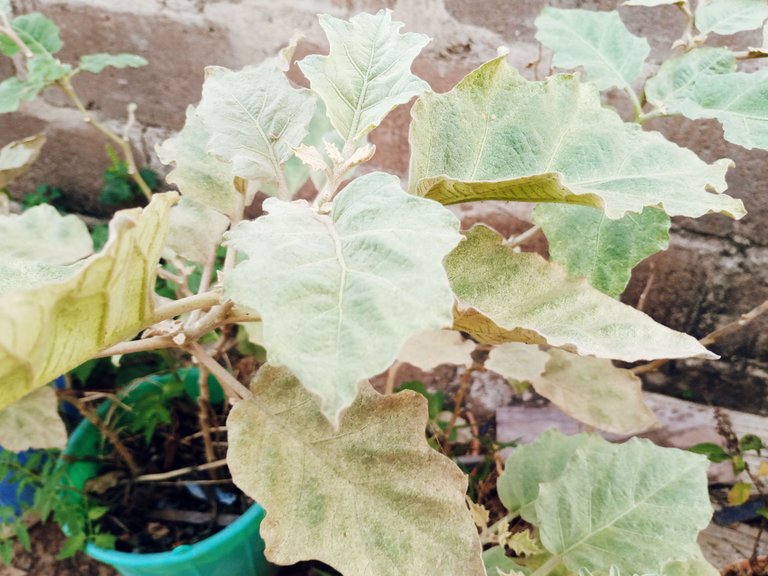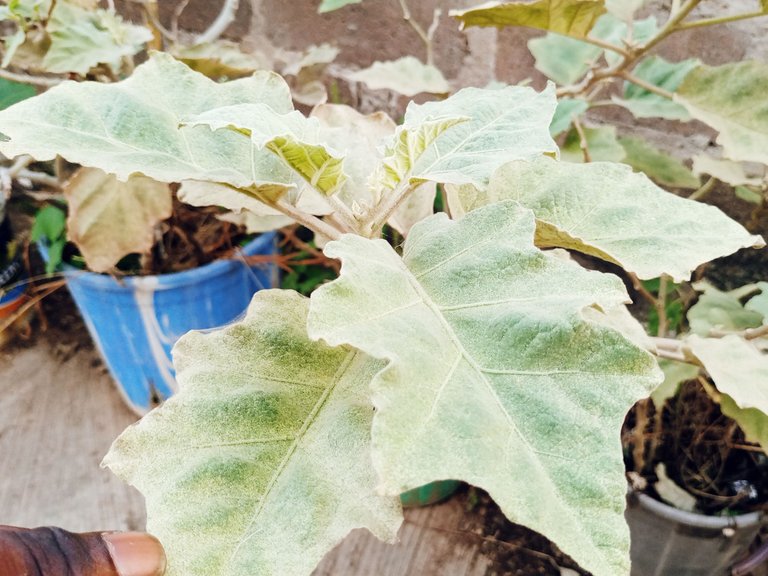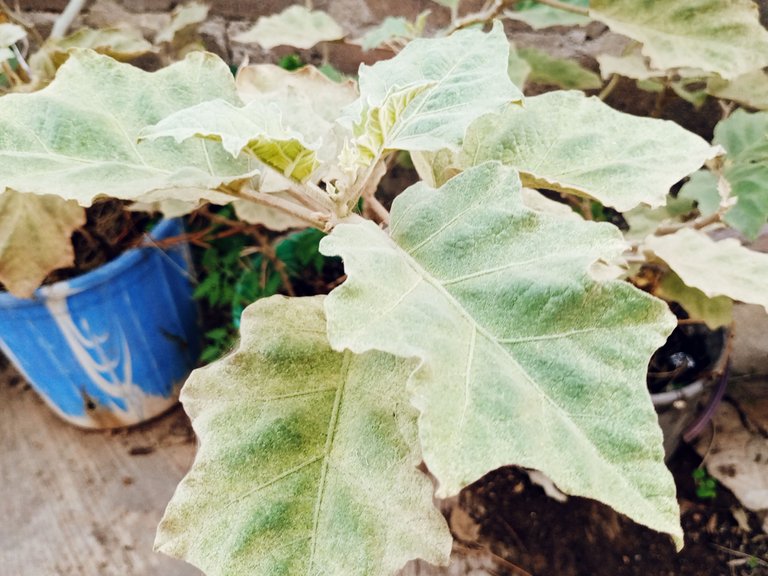 At the moment the leaves are not too Green as expected because of the hot weather and the it's temperature of the atmosphere increase one and half, so it is very normal for it to change into partial green coloration.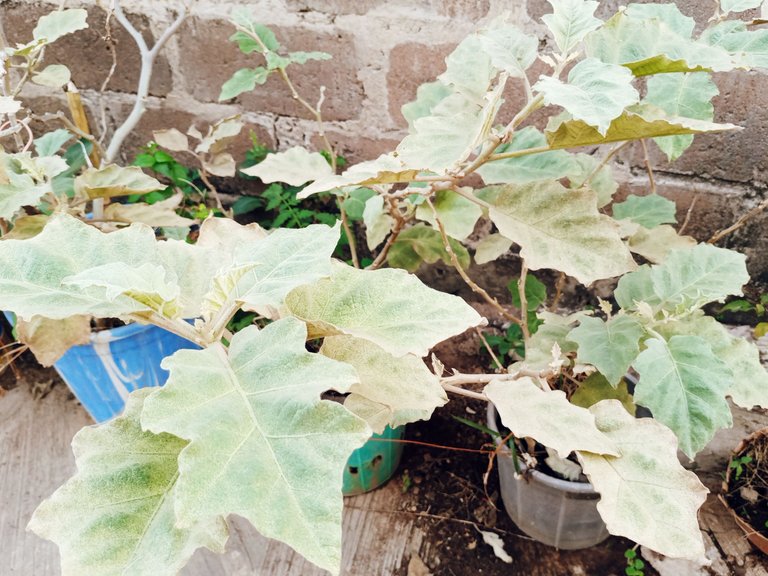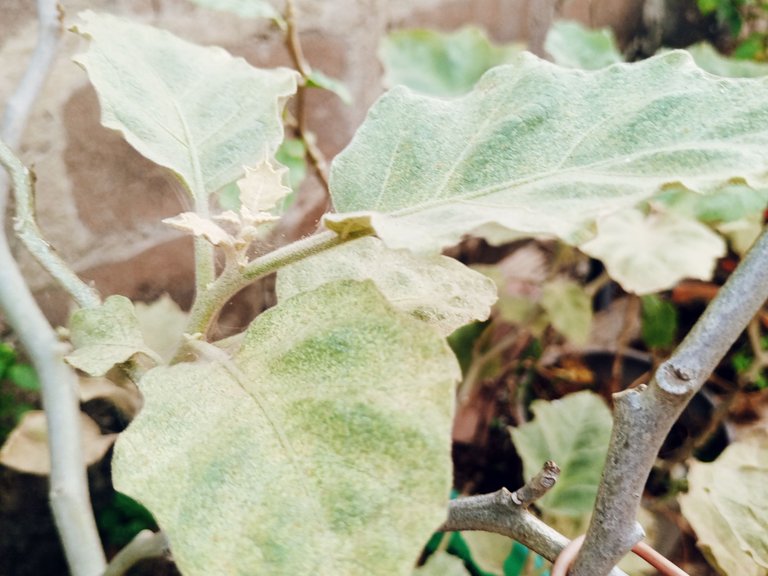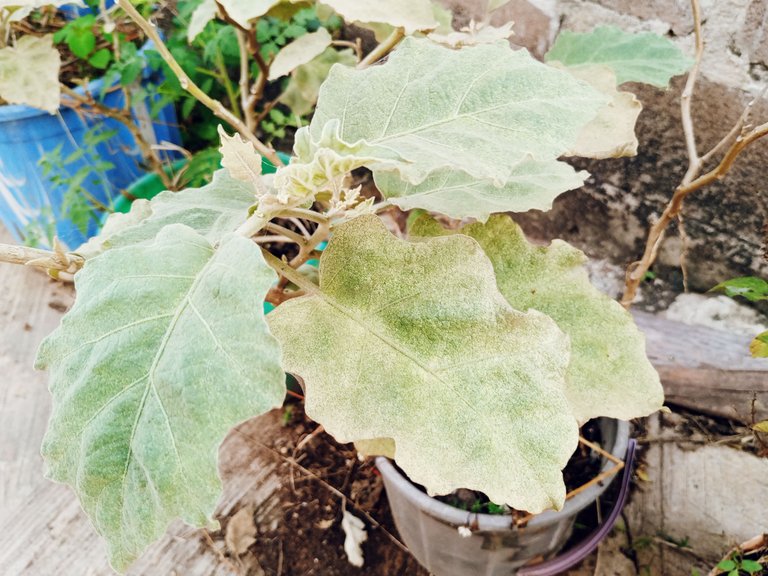 ---
SOME NEW OBSERVATION.
I could not use when I look closely few hours ago I saw differences between when it started regenerating new leaves as we approach the new kind of season. It also attracts these eggplant insects on them all. I saw the traces of the beetle as well. They already ate up some leaves even as small as they are.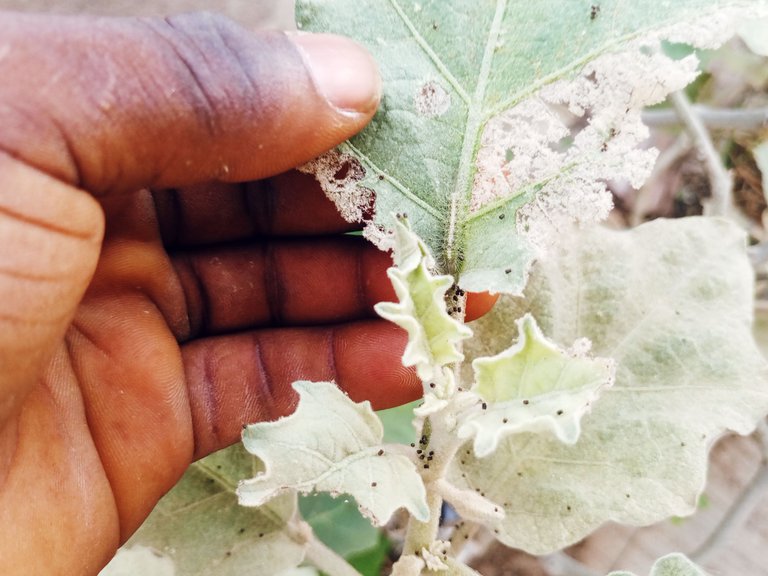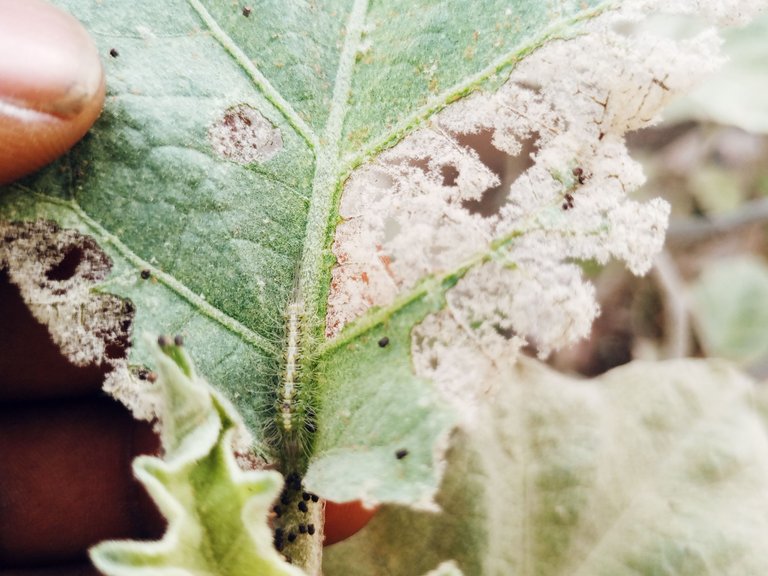 When it comes to some diseases and pest in eggplant we have so many species of beetle such as Flea beetles which attack mostly day leaves , the stem and once in a while the fruit.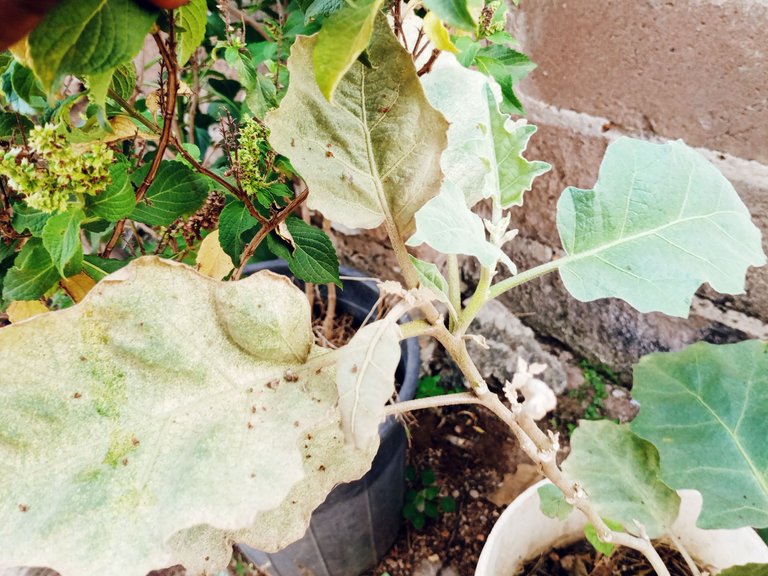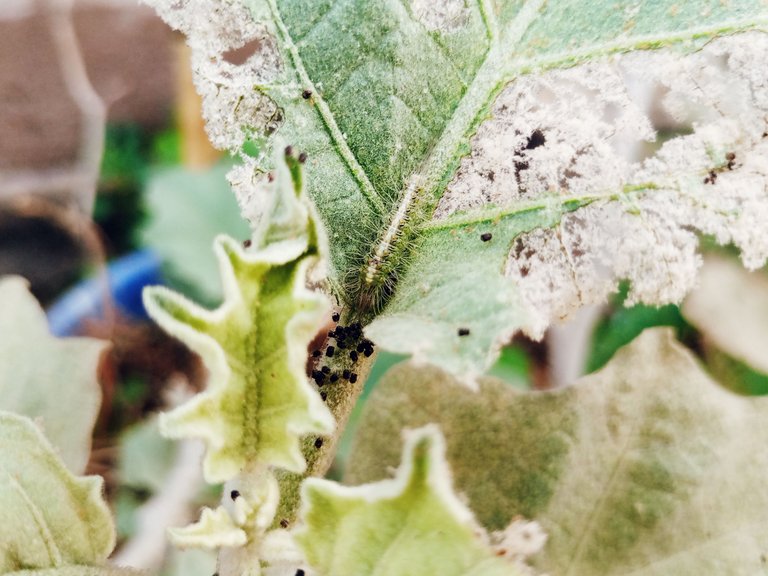 Hornworm is also one of the insect that attack eggplant in a very big way that even care is not taken they will eradicate the Old of your eggplant from within a short period of time a week or more.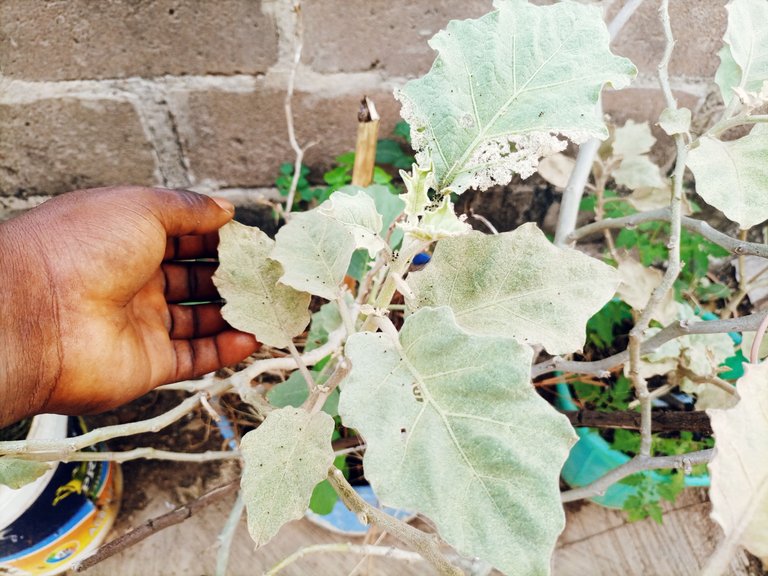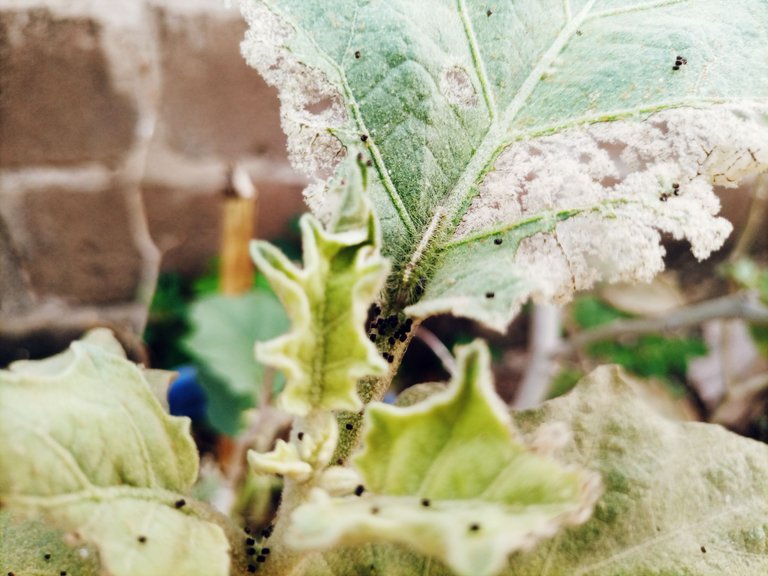 Camera Details. ( Infinix Note 7 )
MAIN CAMERA
Quad 48 MP, f/1.8, # Camera Details. ( Infinix Note 7 )
MAIN CAMERA
Quad 48 MP, f/1.8, (wide), 1/2.0", 0.8µm, PDAF
2 MP, f/2.4, (macro)
2 MP, f/2.4Mobile, (depth)
2 MP, f/1.8, (dedicated video camera) - 128/6 model only
Features Quad-LED flash, panorama, HDR
Video [email protected]
SELFIE CAMERA
Single 16 MP, f/2.0, 26mm (wide), 1/3.06", 1.0µm
Video [email protected]
---
Thanks For Stopping by And checking Out My Blog 📝📖🗒️
---
Original content by me, @mattsanthonyit
---
Please important note▶️, order than any stated link in my post otherwise every other photographs used in my posts are originally taken and owned by me @mattsanthonyit, if you like them and wish to use any of my images please contact me privately. Thanks🔛.
---
🗓️Date Capture: 24/11/2021. 📸Medium capture: Infinix Note5 Smartphone. 🌍Location: Ilorin.Kwara State. Nigeria. 🕰️Time:5:08am ⚡Posted with: peakd.com
---
If you actually like what you see😃😄😉,watch📷📺📸 and read📖📋 I would equally be grateful for an upvote♥️⚡ a very cool comment under my comment box or a reblog 🌀😏 for everyone to see ... and perhaps maybe you would like to follow me for more of my Post to show on your own feeds. Don't miss any of my Post.🔝. Special thanks to all who put big smiles on my face with Auto Upvote for always being supportive to me 💞💯.
Twitter:
Check out Matthew O. Akinlotan [peakd @mattsanthonyit ] (@mattsanthonyit): https://twitter.com/mattsanthonyit?s=09
---
Instagram:
https://instagram.com/officialoluwagb...
---
YouTube:
[https://m.youtube.com/channel/UCPBPk8al3dnLy5xAWnbWT1w
---
Facebook:
( https://mobile.facebook.com/akinlotan...)
---
Hive:
---
⬇️⬇️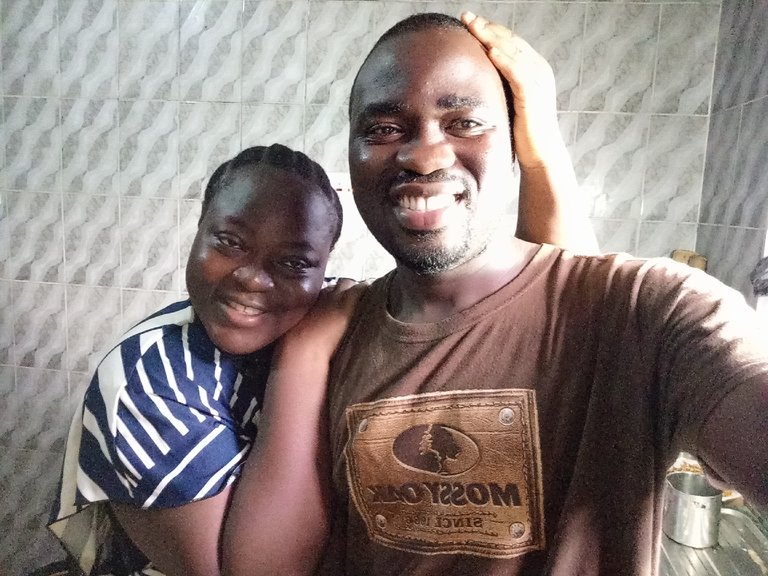 Matthew is a farmer and lover of Hive. HIVE has really helped my life to grow more healthier than I was, HIVE testimony. I'm a Dad, husband and a hustler. Farmer who loves animals, he practice what he preaches . He is also a Photographer, Traveller , Mr Chef ( Loves Cooking) and above all, he is a blogger and a vlogger♣️♠️
---
---