Nothing Is A Waste On My Farm || Recycling Food Waste 🍚 🍚 As Feed For Feeding African Giant Snails 🐌🐌🐌 || Disclaimer NOTE: Don't Feed With Salty Food With My Practical Experience Analysis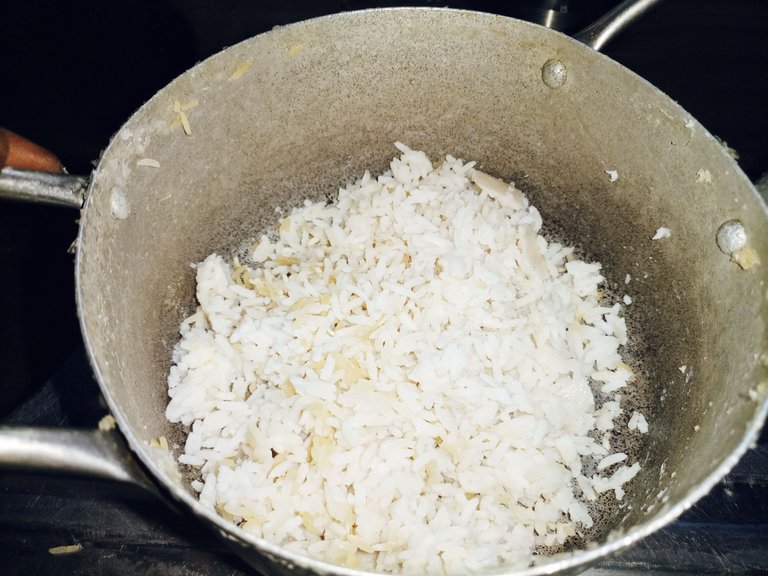 This is a foodstuff from the home which everyone in the own case may dispose into the trash cans despite it is a waste. The home waste can also be used to feed the snails as it shown below. this is the more reason why in my own dictionary nothing is a waste and it's very helpful because nowadays even to eat a 3 square meal may be very difficult but as it is when you notice you have a reminant that's all it can be very useful for your animals out there.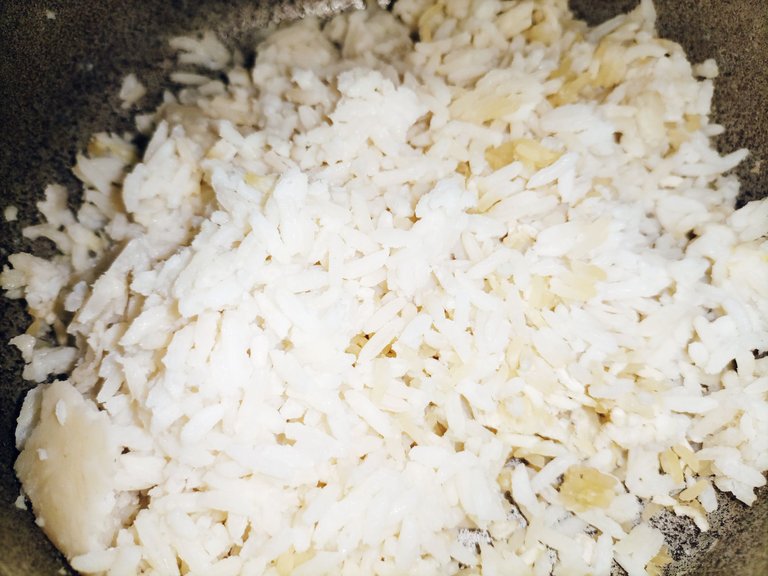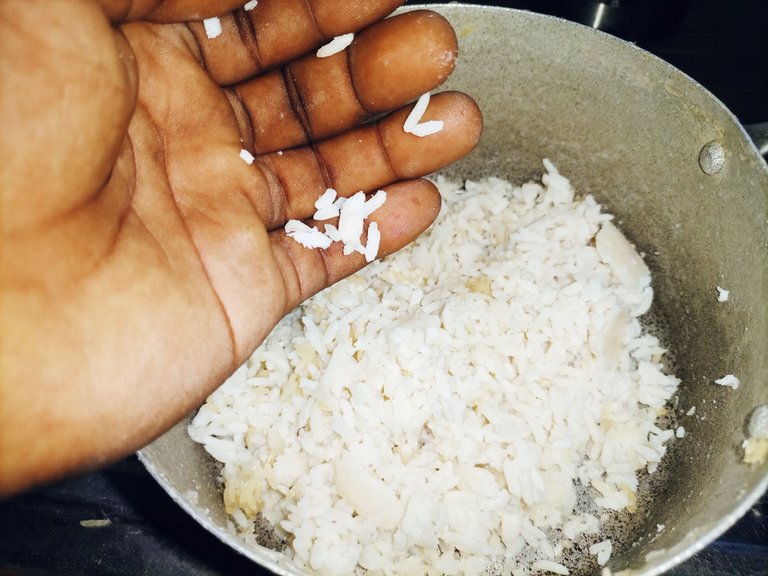 This white rice 🍚 🍚 has been cooked for the past 3 days and I intentionally left it in the pot and I brought it down to the farm where I raise my snails 🐌🐌🐌.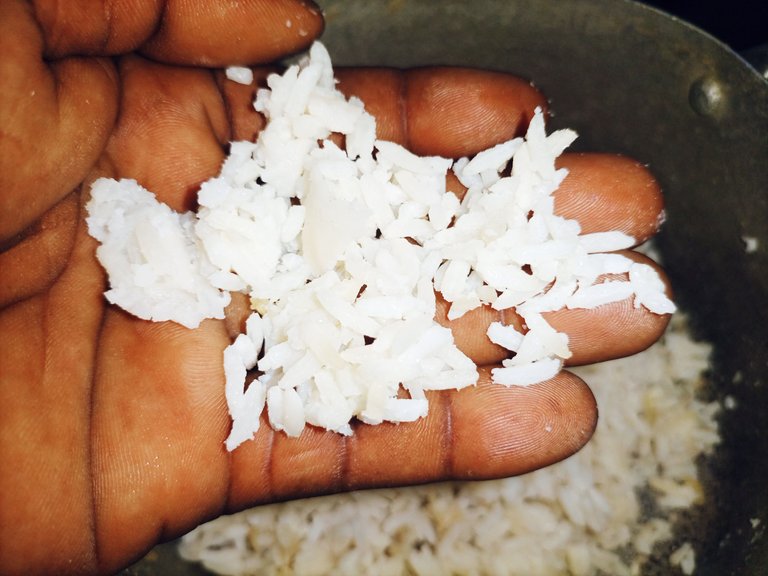 ---
These are the snails which are called the African giant snails. We are still very small but guess what they are growing more bigger each day. so I took these pictures immediately I got there and it was very impressive and also more encouraging.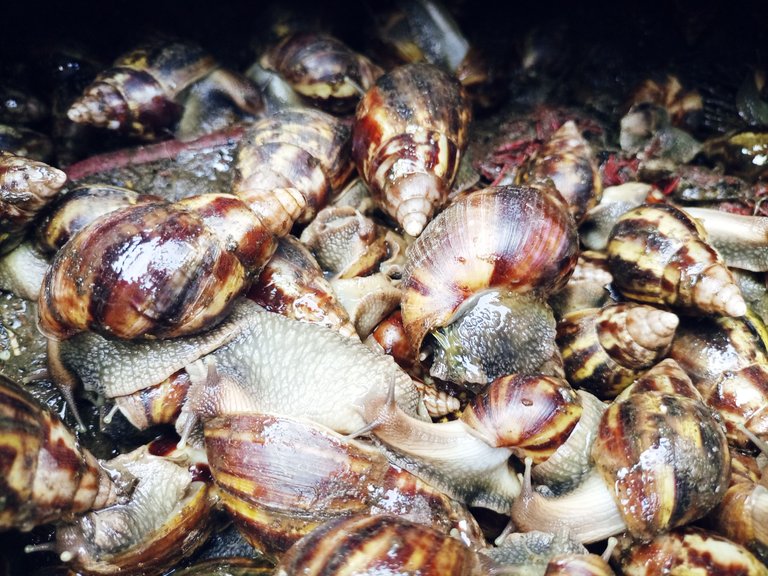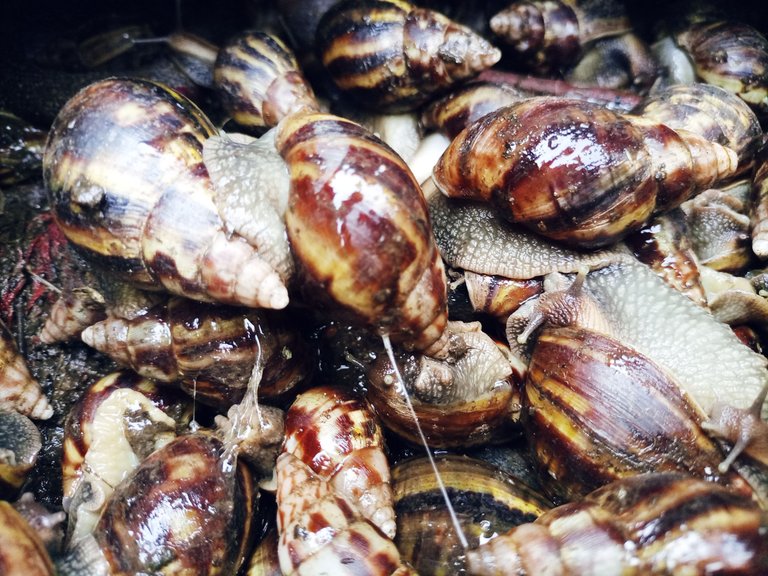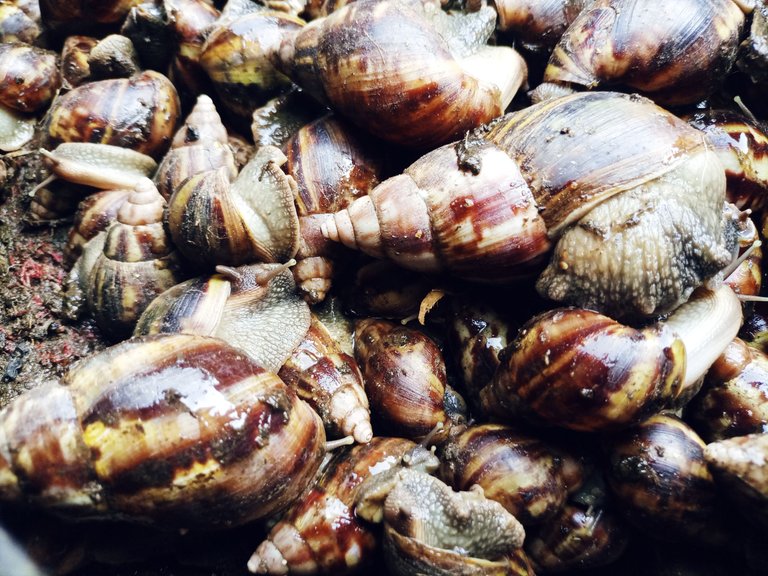 I have the male and also the females in large quantity.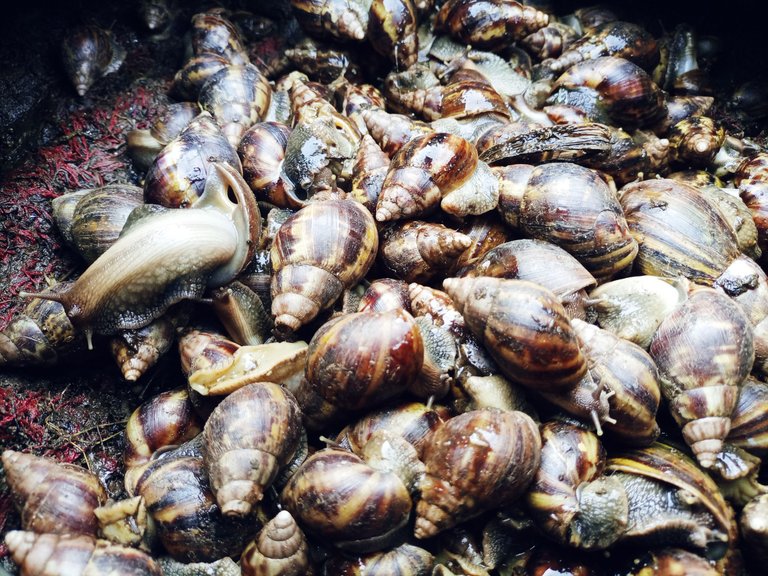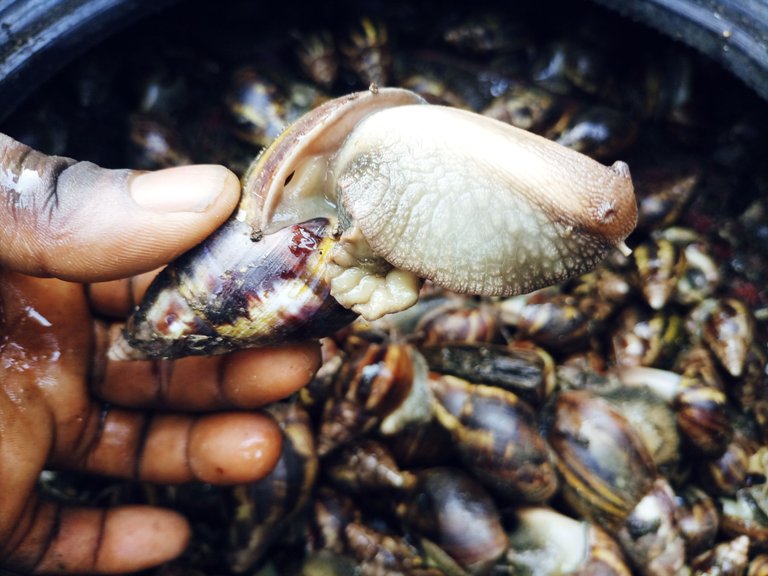 So many people believe agriculture is a very dirty job or a career but I tell you you need to go through some dirty work before earn bigger 😉 just like the agricultural mindsets. and in agriculture it is a place where you get open to so many natural opportunities.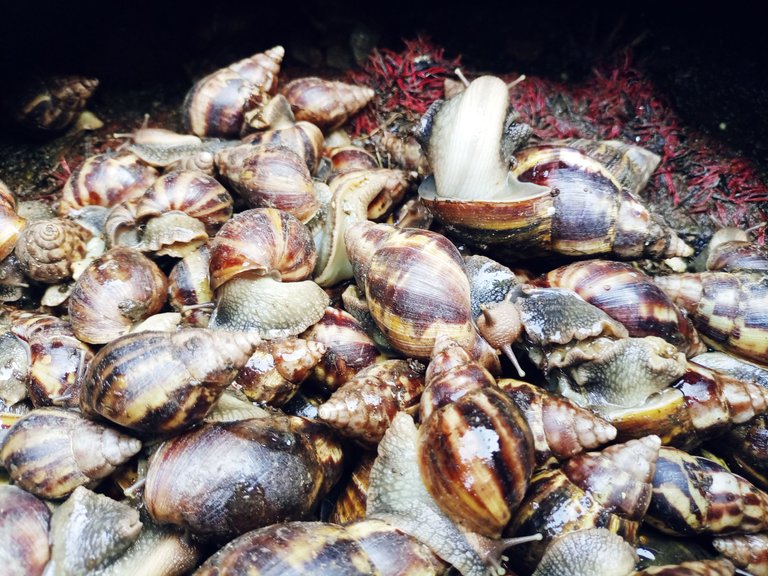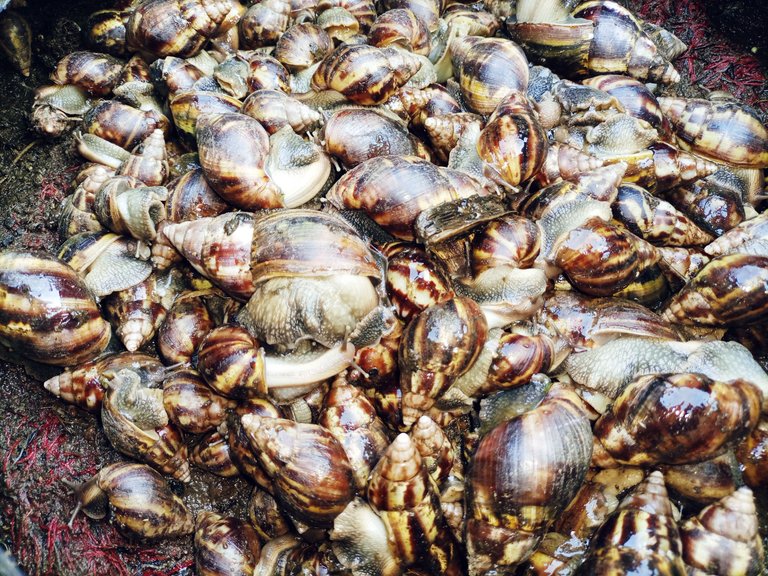 ---
I got to the farm with this white rice with no salt. whenever you want to feed your snail there must not be salt added to their diet at all.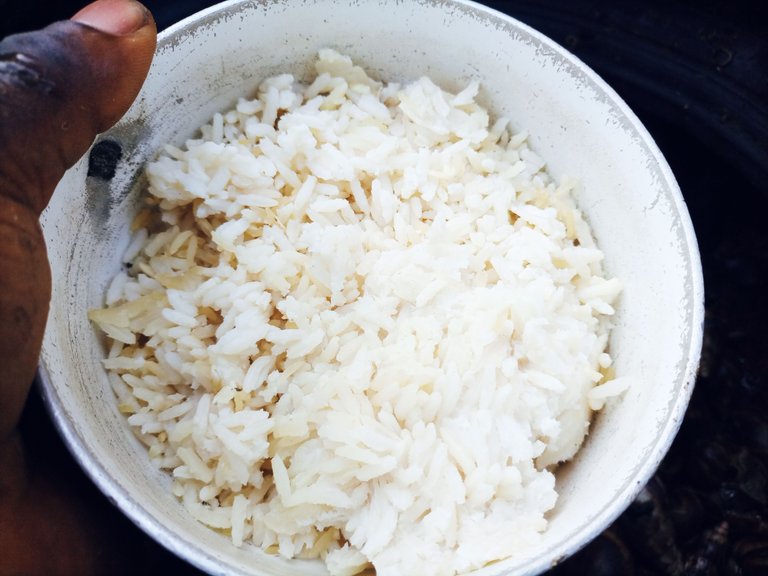 This was when I poured in the white rice to feed the African giant snails slowly and I was being cautioned because so much food at a time to feed the Snail is very dangerous to the health. so you need to do it bit by bit or hang around for some hours to see that they are actually eat and feed on what you gave them.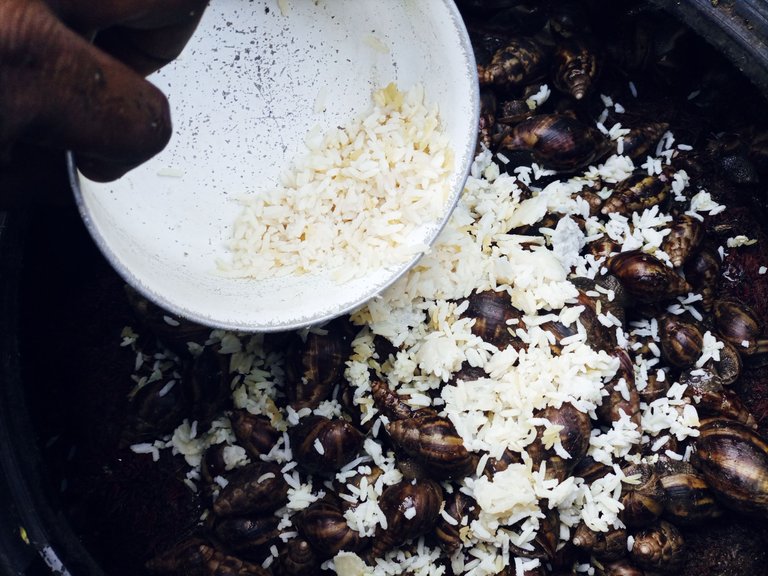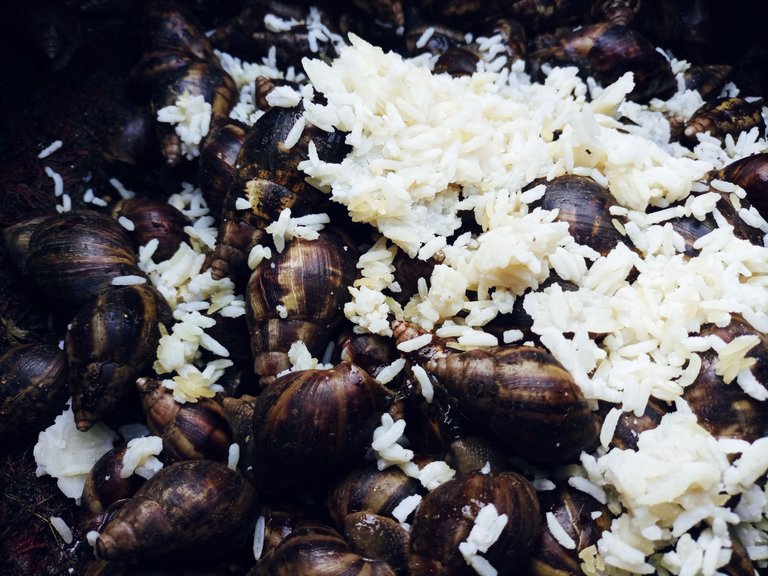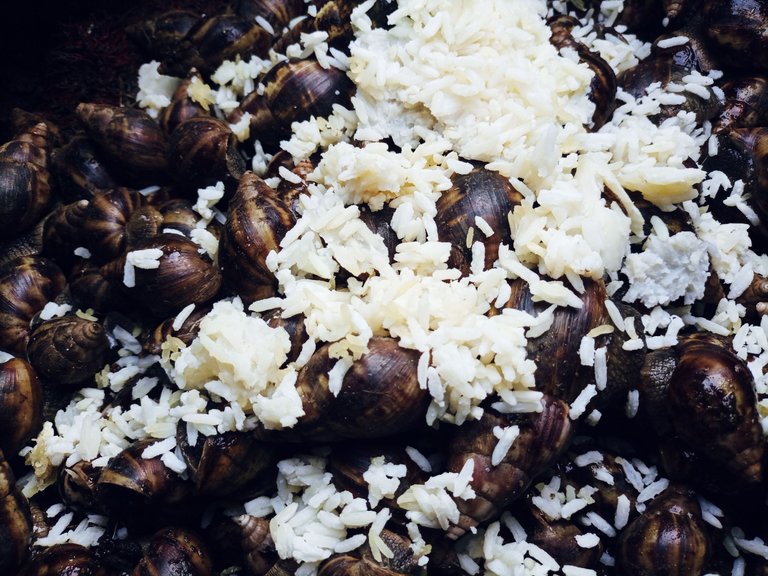 After feeding them I asked to state for a couple of minutes close to 45 minutes to watch them work around the food and feed on it and at the end I added a little bit of water to it to make the surroundings look more moist.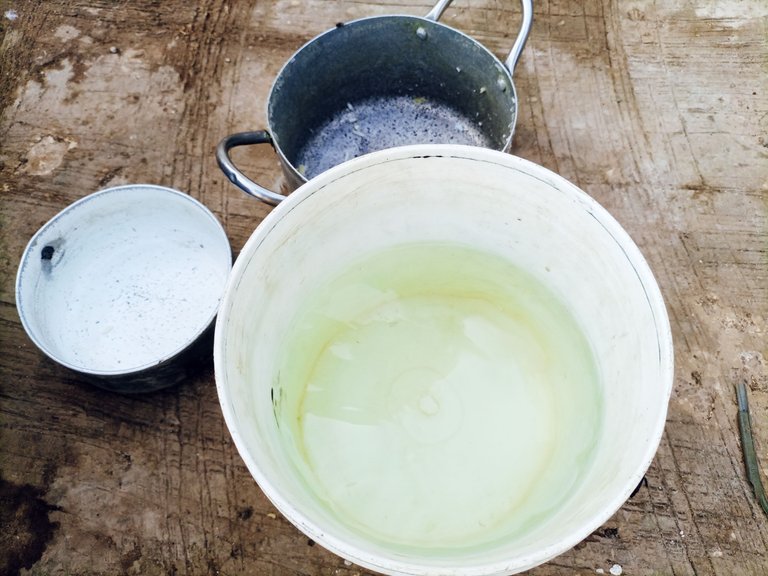 This was when I applied a little bit of water to it to make the surrounding looks more moist. And also for them to feed on the water.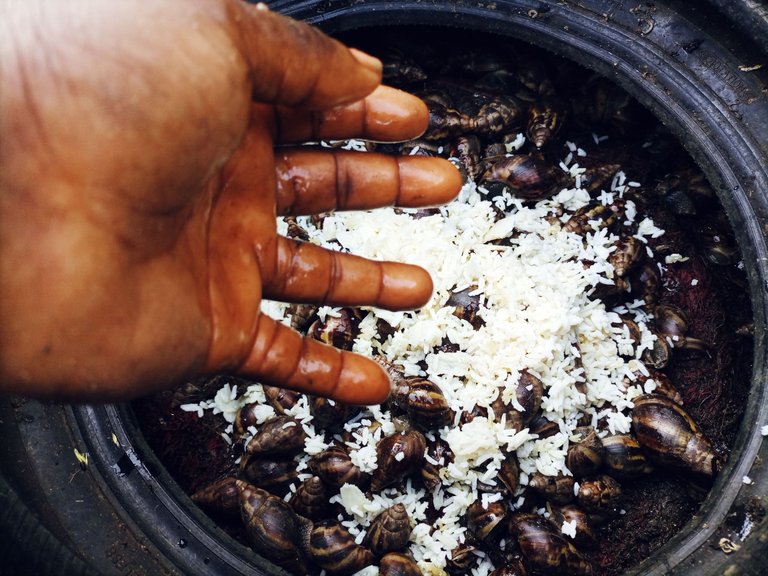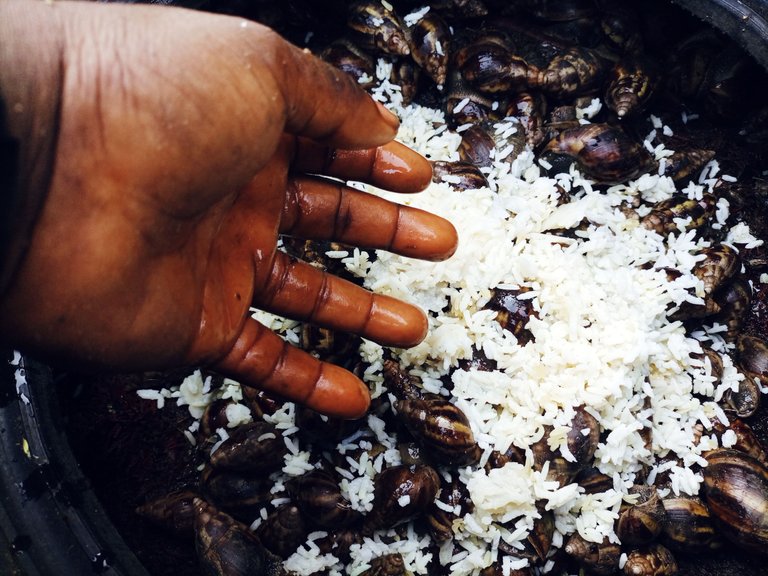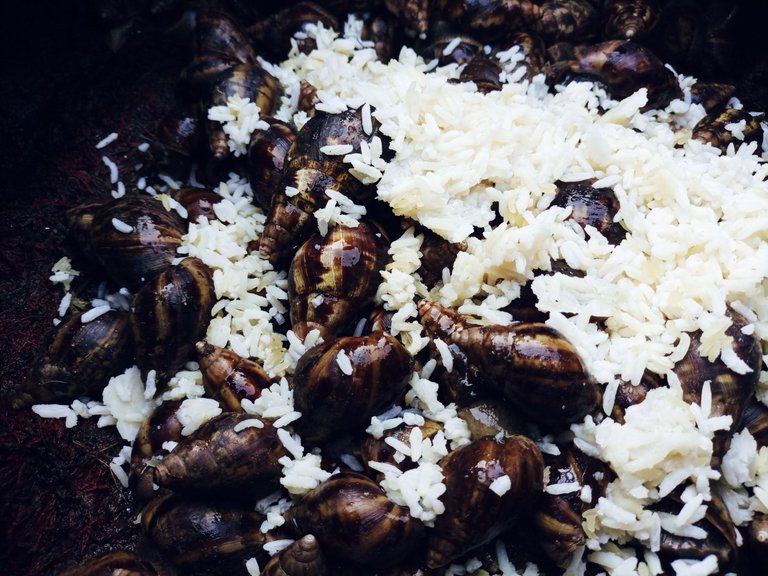 Camera Details. ( Infinix Note 7 )
MAIN CAMERA
Quad 48 MP, f/1.8, # Camera Details. ( Infinix Note 7 )
MAIN CAMERA
Quad 48 MP, f/1.8, (wide), 1/2.0", 0.8µm, PDAF
2 MP, f/2.4, (macro)
2 MP, f/2.4Mobile, (depth)
2 MP, f/1.8, (dedicated video camera) - 128/6 model only
Features Quad-LED flash, panorama, HDR
Video [email protected]
SELFIE CAMERA
Single 16 MP, f/2.0, 26mm (wide), 1/3.06", 1.0µm
Video [email protected]
---
Thanks For Stopping by And checking Out My Blog 📝📖🗒️
---
Original content by me, @mattsanthonyit
---
Please important note▶️, order than any stated link in my post otherwise every other photographs used in my posts are originally taken and owned by me @mattsanthonyit, if you like them and wish to use any of my images please contact me privately. Thanks🔛.
---
🗓️Date Capture: 29/11/2021. 📸Medium capture: Infinix Note5 Smartphone. 🌍Location: Ilorin.Kwara State. Nigeria. 🕰️Time:2:41pm ⚡Posted with: peakd.com
---
If you actually like what you see😃😄😉,watch📷📺📸 and read📖📋 I would equally be grateful for an upvote♥️⚡ a very cool comment under my comment box or a reblog 🌀😏 for everyone to see ... and perhaps maybe you would like to follow me for more of my Post to show on your own feeds. Don't miss any of my Post.🔝. Special thanks to all who put big smiles on my face with Auto Upvote for always being supportive to me 💞💯.
Twitter:
Check out Matthew O. Akinlotan [peakd @mattsanthonyit ] (@mattsanthonyit): https://twitter.com/mattsanthonyit?s=09
---
Instagram:
https://instagram.com/officialoluwagb...
---
YouTube:
[https://m.youtube.com/channel/UCPBPk8al3dnLy5xAWnbWT1w
---
Facebook:
( https://mobile.facebook.com/akinlotan...)
---
Hive:
---
⬇️⬇️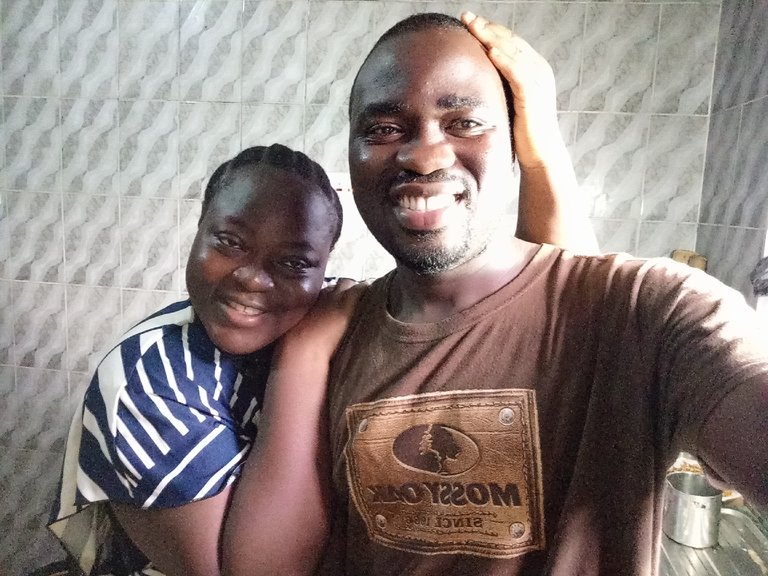 Matthew is a farmer and lover of Hive. HIVE has really helped my life to grow more healthier than I was, HIVE testimony. I'm a Dad, husband and a hustler. Farmer who loves animals, he practice what he preaches . He is also a Photographer, Traveller , Mr Chef ( Loves Cooking) and above all, he is a blogger and a vlogger♣️♠️
---
---