The Eggplant 🌱🌱 PRODUCTION Topmost Secret For Most Farmers
Hello Hivers 💘💕,
Planting of eggplant can always attract a very good marketing deal for those of us who actually is willingly to go for this kind of Farming system. Although I have been able to market the eggplant itself when it still inside the nursery section which attract so many people at that point in time because when the visited my farm, it's all about asking questions that what is this kind of plant? And the answer at that point was eat eggplant section.
Along the line I sold little because I was also able to give lectures on them instantly to help those who actually bought them to grow them very well. It is highly necessary and important to always seek for knowledge at all cost. It is not too good To stay idle when learning. I could remember when I started the planting of so many crops even inside the mobile seedbed and also inside the nursery bed section. I took a lot of information but in practical section to know exactly how I will survive in planting this ahead. Yes we have different types of season which also attracts different rules and regulations favouring some planted crops.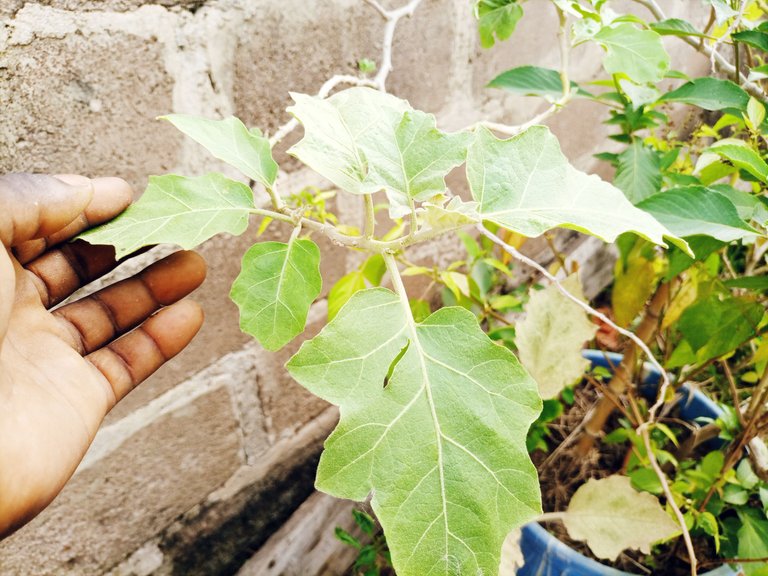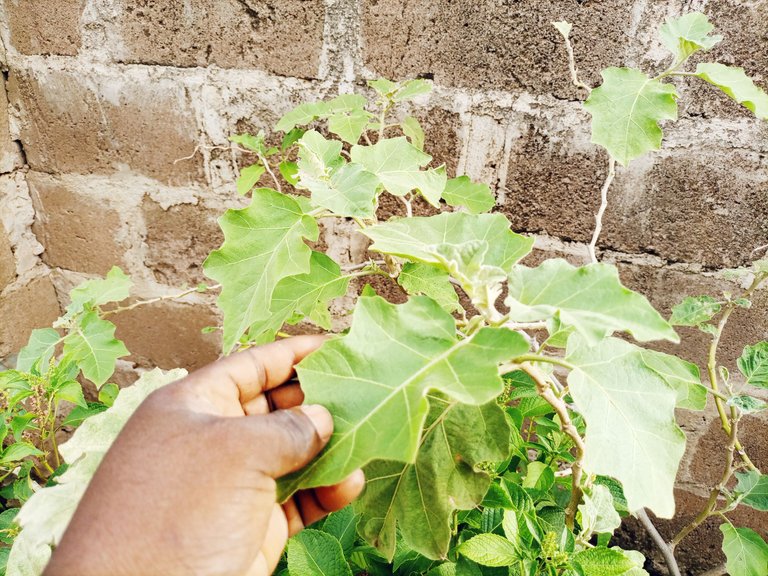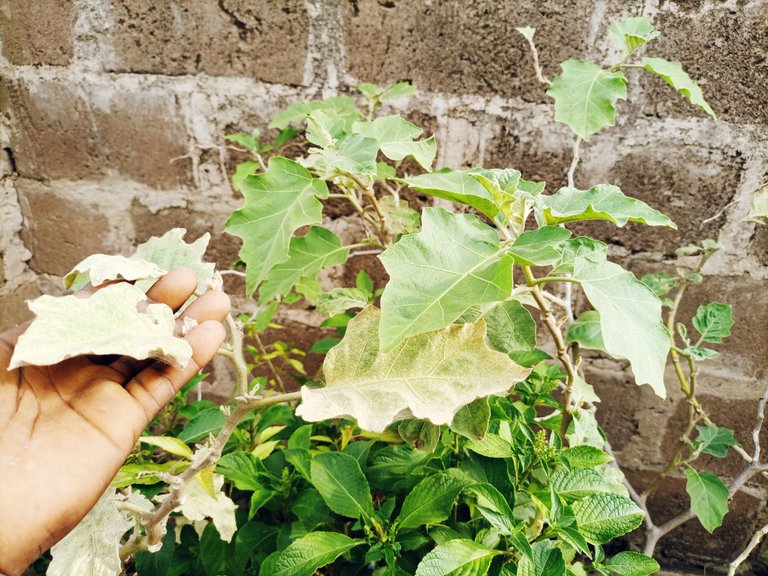 There are some important things to do in order to make this plant grow absolutely very well such as constant weeding and wetting. While you are weeding at the same time you are putting more soil into the root of the plants individually.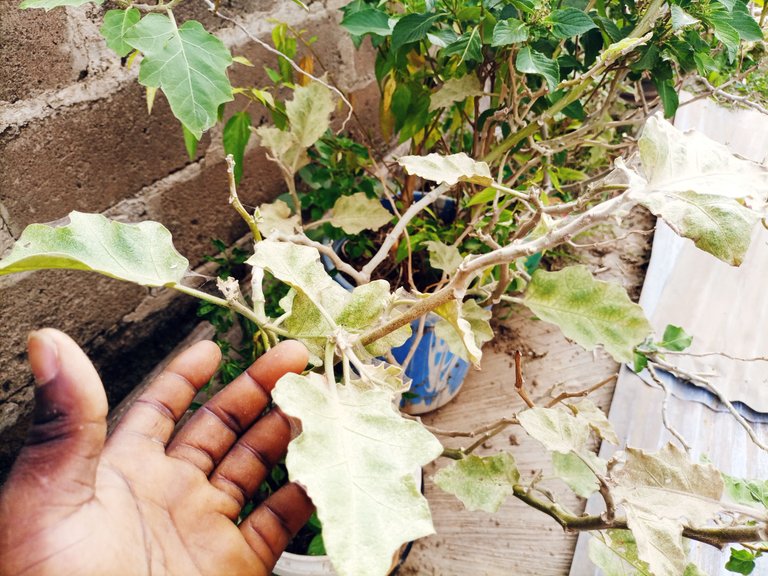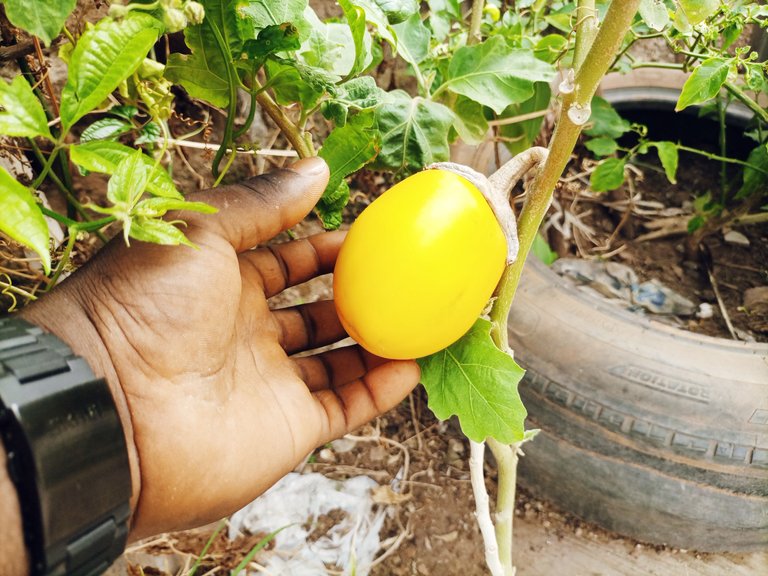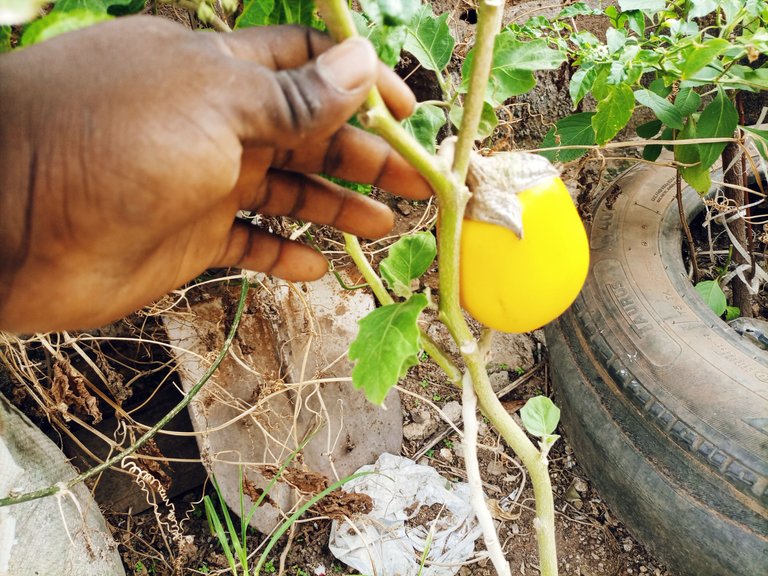 ---
---
---
IMPORTANT THING TO NOTE.
When you are dealing with this kind of plant you are entitled to work very hard in the sense that there are a lot of Insects as well as butterfly that feed and lay eggs on this particular plant which if care is not taken we eventually ruin your farm at large. These pictures we're taking few hours ago while I was making a little bit of hand weeding.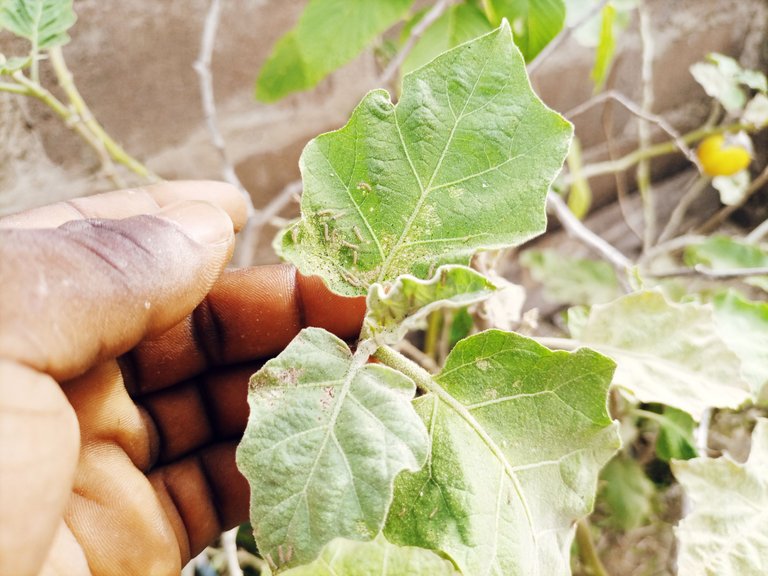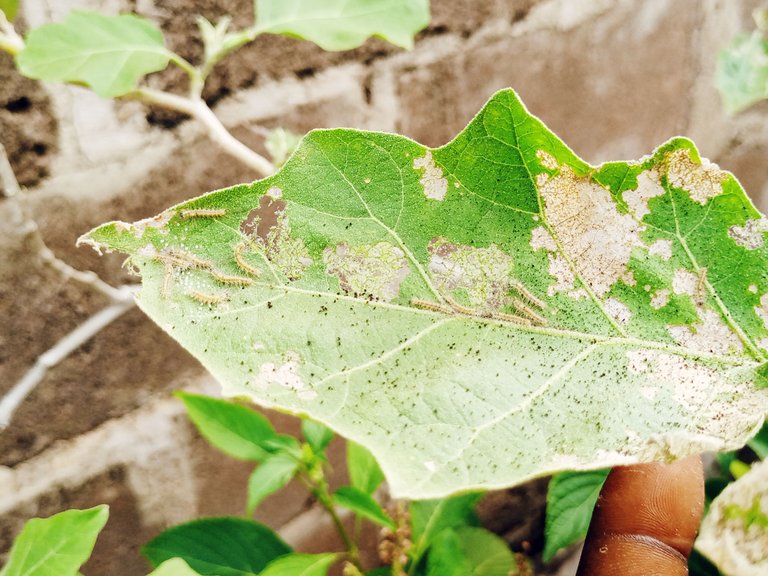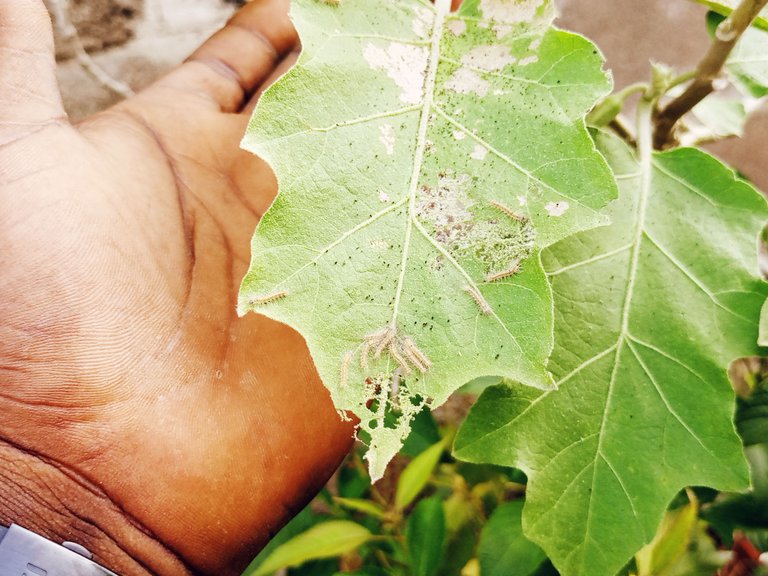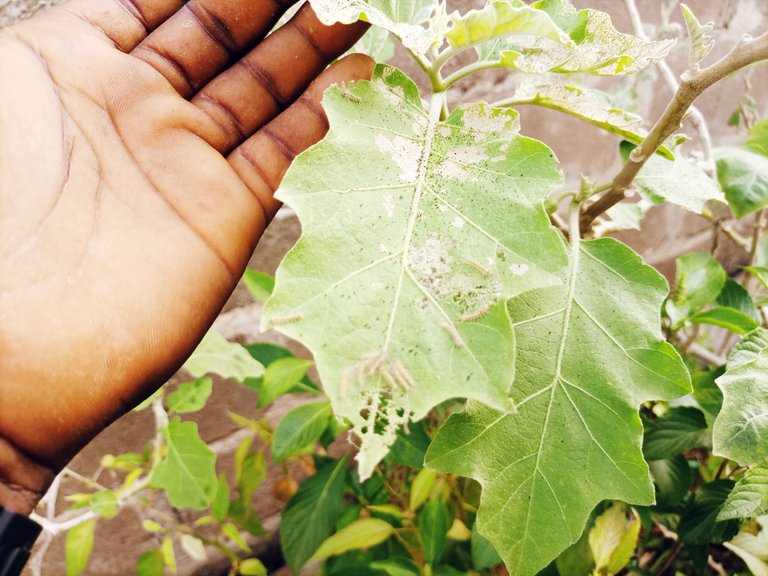 This is how the ancient actually damage most of the plant leaves and if care is not taken it will get out of hand. so this is the more reason why as a farmer you need to be observant and watch each list of your plants everyday and regularly.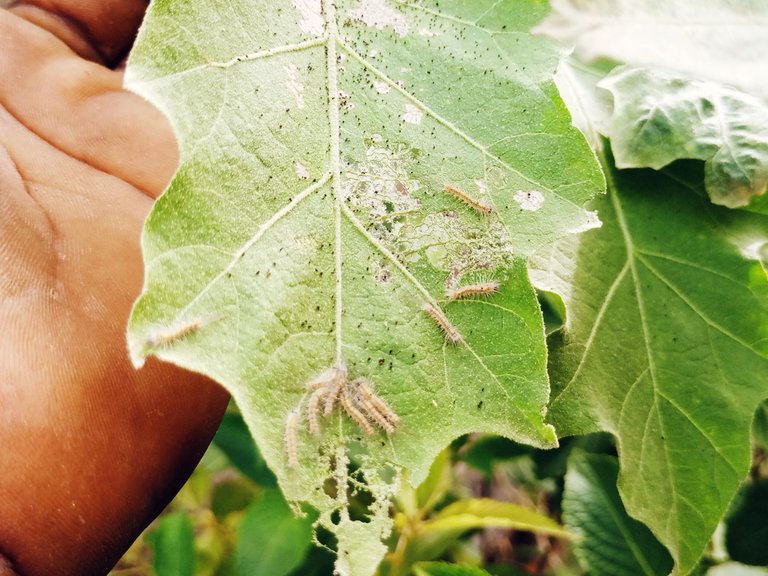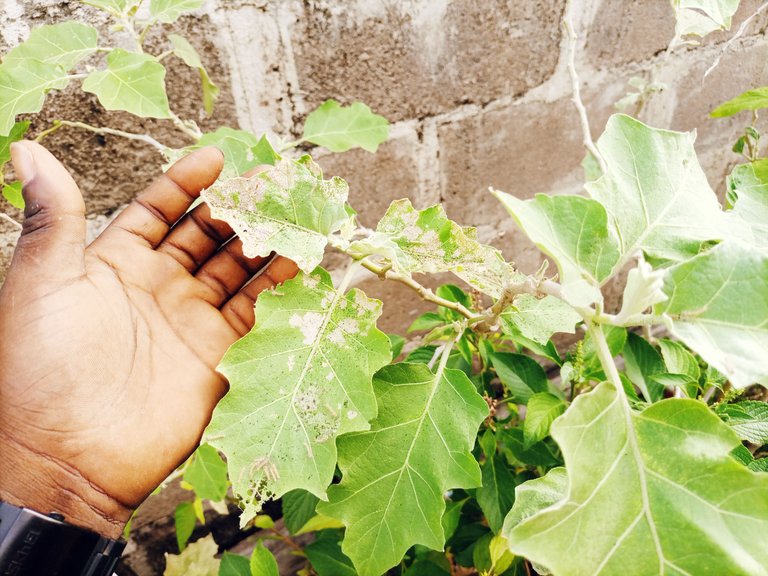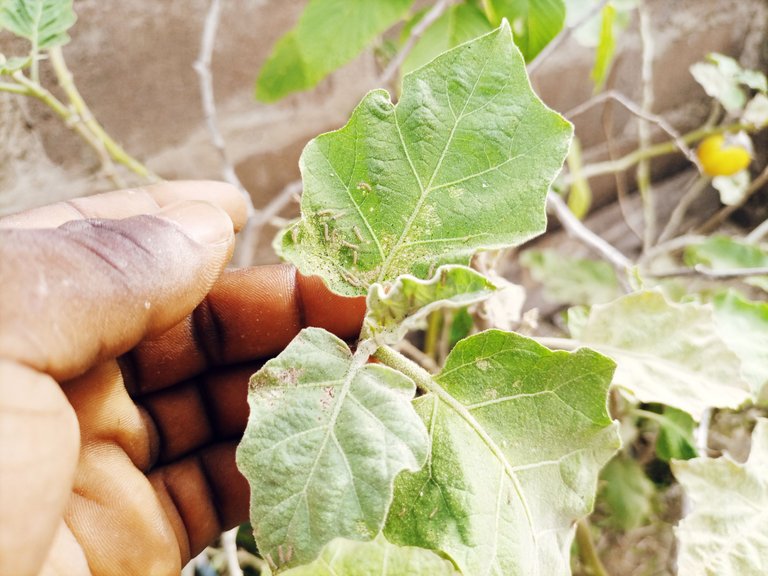 So this is what we need to do aside checking of the leaves and planted crops regularly, as a farmer you also need to be observant and keep records of how your plant growth and development are approving daily.
---
---
---
Camera Details. ( Infinix Note 7 )
MAIN CAMERA
Quad 48 MP, f/1.8, # Camera Details. ( Infinix Note 7 )
MAIN CAMERA
Quad 48 MP, f/1.8, (wide), 1/2.0", 0.8µm, PDAF
2 MP, f/2.4, (macro)
2 MP, f/2.4Mobile, (depth)
2 MP, f/1.8, (dedicated video camera) - 128/6 model only
Features Quad-LED flash, panorama, HDR
Video [email protected]
SELFIE CAMERA
Single 16 MP, f/2.0, 26mm (wide), 1/3.06", 1.0µm
Video [email protected]
---
Thanks For Stopping by And checking Out My Blog 📝📖🗒️
---
Original content by me, @mattsanthonyit
---
Please important note▶️, order than any stated link in my post otherwise every other photographs used in my posts are originally taken and owned by me @mattsanthonyit, if you like them and wish to use any of my images please contact me privately. Thanks🔛.
---
🗓️Date Capture: 18/5/2022. 📸Medium capture: Infinix Note5 Smartphone. 🌍Location: Ilorin.Kwara State. Nigeria. 🕰️Time:9:10am ⚡Posted with: peakd.com
---
If you actually like what you see😃😄😉,watch📷📺📸 and read📖📋 I would equally be grateful for an upvote♥️⚡ a very cool comment under my comment box or a reblog 🌀😏 for everyone to see ... and perhaps maybe you would like to follow me for more of my Post to show on your own feeds. Don't miss any of my Post.🔝. Special thanks to all who put big smiles on my face with Auto Upvote for always being supportive to me 💞💯.
Twitter:
Check out Matthew O. Akinlotan [peakd @mattsanthonyit ] (@mattsanthonyit): https://twitter.com/mattsanthonyit?s=09
---
Instagram:
https://instagram.com/officialoluwagb...
---
YouTube:
[https://m.youtube.com/channel/UCPBPk8al3dnLy5xAWnbWT1w
---
Facebook:
( https://mobile.facebook.com/akinlotan...)
---
Hive:
---
⬇️⬇️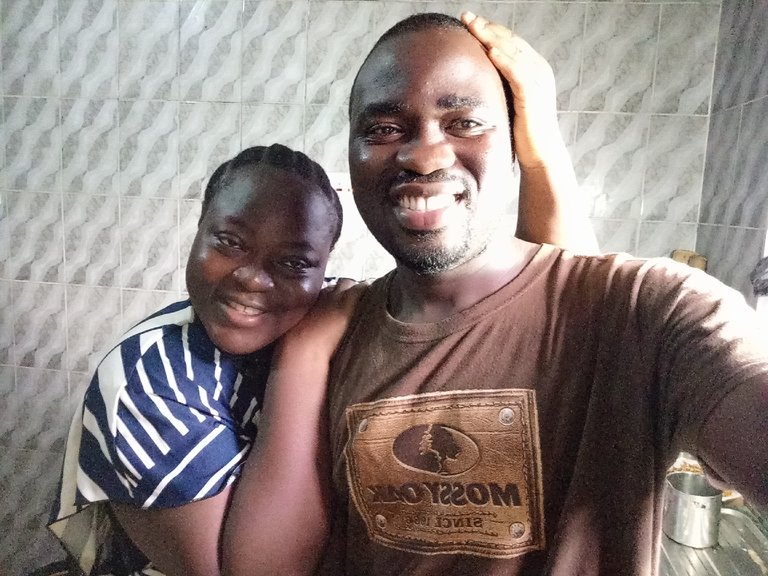 Matthew is a farmer and lover of Hive. HIVE has really helped my life to grow more healthier than I was, HIVE testimony. I'm a Dad, husband and a hustler. Farmer who loves animals, he practice what he preaches . He is also a Photographer, Traveller , Mr Chef ( Loves Cooking) and above all, he is a blogger and a vlogger♣️♠️
---
---