DESTRUYENDO LAS BARRAS CON ESTA RUTINA 🔥
---
---
DESTRUYENDO LAS BARRAS CON ESTA RUTINA/ RUTINA DE CALISTENIA🔥
DESTROYING THE BARS WITH THIS ROUTINE / CALISTHENICS ROUTINE🔥.
---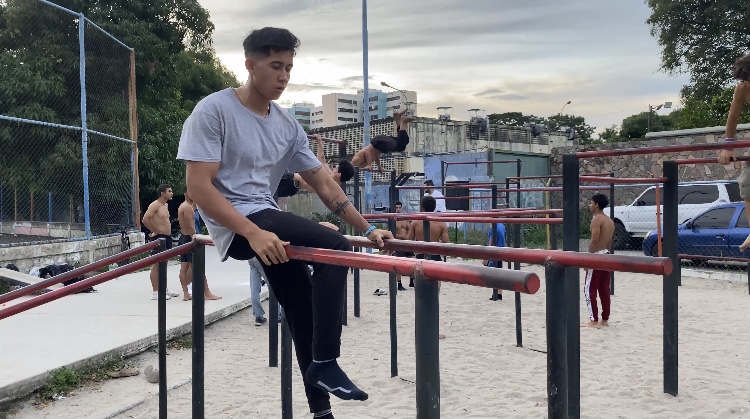 ---
Un saludo querido amigos de Hive y de la comunidad SWC, en esta oportunidad les traigo mi rutina diaria que realizo cuando voy al parque de barras, es una rutina extremadamente explosiva, de mucha exigencia y resistencia , esta rutina la realizo de 4-5 series por cada ejercicio. Los ejercicios realizados en esta rutina son: 5 Muscle Ups - 5 segundos en front lever y 5 Dominadas ( Pull Ups ), 50 fondos, realizo 40 descanso 5 segundos y proceso a culminar los últimos 10 fondos para así culminar los 50 fondos, luego 10 Dominadas con agarre cerrado inmediatamente 10 dominadas con agarre invertido igualmente cerrado, 30 flexiones en diamantes - 20 flexiones al nivel de los hombres y para culminar esta explosiva serie culminó con 4 muscle ups alternando barra y para terminar 20 Fondos en barra fija, descanso 2 minutos por serie. Esta rutina me a ayudado a generar mucha resistencia, mucha fuerza y mucho más control de mi cuerpo, es una rutina totalmente eficaz, si eres un nivel avanzado puedes realizarla y verás que verás resultados, y si eres nivel amateur o intermedio puedes realizarla con menos repeticiones, repeticiones acordé a tu resistencia y fuerza. Vamos con todo!!!🔥.
Greetings dear friends of Hive and the SWC community, this time I bring you my daily routine that I do when I go to the bar park, it is an extremely explosive routine, very demanding and resistant, I do this routine for 4-5 series for each exercise. The exercises performed in this routine are: 5 Muscle Ups - 5 seconds in front lever and 5 Dominates (Pull Ups), 50 funds, I perform 40 rests for 5 seconds and process to complete the last 10 funds in order to complete the 50 funds, then 10 Close grip pull-ups immediately 10 reverse grip pull-ups equally closed, 30 push-ups in diamonds - 20 push-ups at the men's level and to culminate this explosive series culminated with 4 muscle ups alternating bar and to finish 20 dips on the horizontal bar, rest 2 minutes per series. This routine has helped me generate a lot of resistance, a lot of strength and much more control of my body, it is a totally effective routine, if you are an advanced level you can do it and you will see that you will see results, and if you are an amateur or intermediate level you can do it with less repetitions, repetitions according to your resistance and strength. Let's go with everything!!!🔥.
---
---
---
---
---
Espero que te haya gustado este post, nos vemos como siempre en un próximo video
I hope you liked this post, see you as always in a next video
---
Nos vemos como siempre en un próximo video👋🏼
See you as always in a next video👋🏼
---
| Créditos | Credits |
| --- | --- |
| Producción | Prodution |
| @mauriciorsew | @mauriciorsew |
| Cámara | Camera |
| @horeannaa_ | @horeannaa_ |
| Música | Music |
| La música usada en la producción de este video esta libre de derechos de autor. | The music used in the production of this video is free of copyright. |
---
---