Latest Results in My Guild Brawl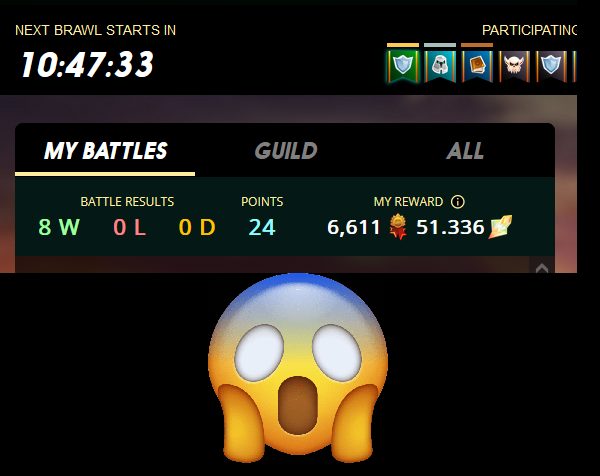 I was deciding on what to write today related to Splinterlands and decided to post about my latest brawl experience. Now looking at the front of post may look like I bragging, but I want to show some facts.
The brawl ended a few hours ago and I just went on Splinterlands to check the results. What was a shock was my perfect record going 8W and no loses. So what happened?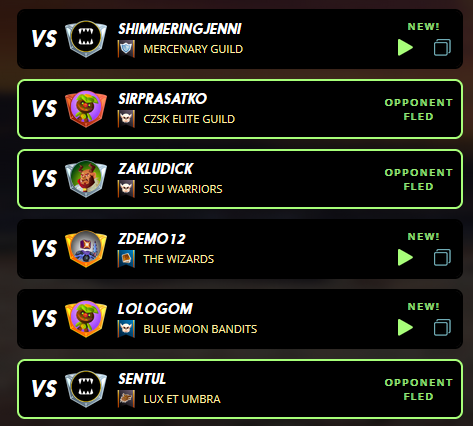 Three out of eight matches I had my opponent fled. So off the bat from a 8 match fray it turned to a 5 match fray. Then with a fray that mainly focus on use of legacy cards in Alpha and Beta series it was limited in competition. My guild was at three star.

My guild ended up winning with a record of 106 W and 32 L. It was not a clear cut win as second place had only 3 wins less.
The earned staked SPS from guild is tremendous for first place winners. Snatching over 55 SPS per a winning participant it was like one week of rank battle SPS earnings for me, excluding focus chests. The guilds are a substantial reason why I have amassed the amount of SPS I have currently.
If you have yet to be apart of a guild or curious as to playing in a competitive guild I can say it is well worth to try. My guild is not even in a high rating as again its only in 3 stars. Yet here I am with my guild that if we get first place can lead to a decent amount of rewards. So the next time you feel like guilds are just another extension of the game don't think like that. Instead try participating and try to get as high of a rank guild as you can to earn as much SPS and merits as you can. You won't regret it.
Until next time thanks for reading!!!

If you want to play splinterlands then SignUp Here
I have plenty of other cards for rent! Just go on peakmonsters and check out the market place and if you are curious what I offer here is a link:
If You have yet to take part in playing this great game called Splinterlands please click on my referral link. It is free but in order to earn real assets such as cards and token you would have to invest in a starter deck or purchase game cards. Join the discord to learn more. Good luck!

THANKS FOR READING! CONTINUE TO PLAY SPLINTERLANDS!

---
---