My Daily Splinterlands Rants

We got less than three days left in the season and I have yet to reach diamond status. On the flip side for today I am currently at 8 focus chest rewards.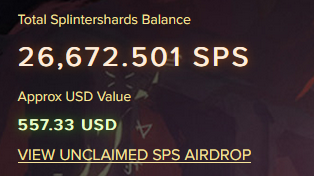 With the fifth year anniversary event about to begin I decided to simply stake my SPS and hold my liquid DEC in anticipation of burn. It may not be a lot of DEC based on what I am hearing from others who are planning the same. I am pondering still if I should invest more into DEC?

Card prices seem to have bottomed since early of the week. I have seen my deck collection's total valve to have risen over the past weeks and remain at a level above $20k. This may mean that the quantity of cards out there are not being sold and hence the price is held up. Either way I am fine with higher prices lol.

Finally my only real progress in collection over the past week has been my growth in Soul Bound reward cards as now I am closing in on 55k CP. I am not sure if others have the same but my Soul Bound CP is higher than my Gladius. Imagine that lol.
Until next time thanks for reading!!!

If you want to play splinterlands then SignUp Here
I have plenty of other cards for rent! Just go on peakmonsters and check out the market place and if you are curious what I offer here is a link:
If You have yet to take part in playing this great game called Splinterlands please click on my referral link. It is free but in order to earn real assets such as cards and token you would have to invest in a starter deck or purchase game cards. Join the discord to learn more. Good luck!

THANKS FOR READING! CONTINUE TO PLAY SPLINTERLANDS!

---
---