My May 2023 Additions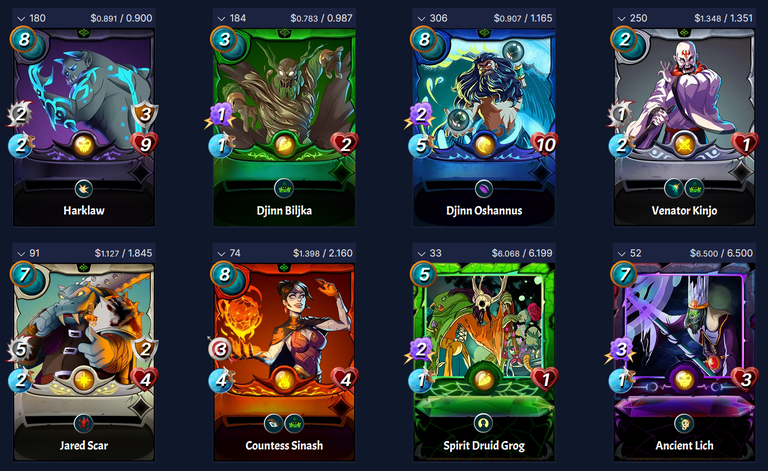 There are too many activities I can be doing with my DEC. The new DEC burn event going on has boost prices. There is the liquidity pool where DEC to SPS is now in very good favor for DEC thereby allow me to earn more SPS if I partake more in the pools. Or there could be just spending the DEC on cards. I choose mainly the latter.

I ended up splurging with adding four reward legendaries at max level. This purchase essentially made me get a complete set of Chaos rewards legendaries.
Djinn Biljka, Venator Kinjo, Countess Sinash, and Jared Scar. All four cards in total were a little over 59k DEC.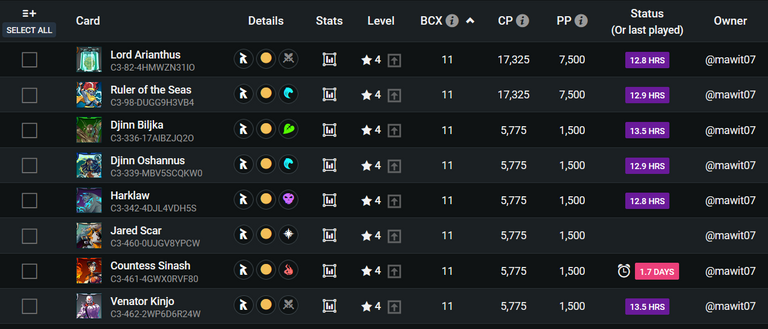 Screenshot above pretty much shows I used majority of the cards purchased here on my first day of owning them. Exciting times ahead as I try to stay competitive in the game.
I still have a small amount of liquid DEC and I am eyeing on finishing a full set of Chaos rewards. Its been many months since I made a significant purchase but I think it was well worth the wait as I gradually saved up DEC and waited for card prices to fall a little.
Until next time thanks for reading!!!

If you want to play splinterlands then SignUp Here
I have plenty of other cards for rent! Just go on peakmonsters and check out the market place and if you are curious what I offer here is a link:
If You have yet to take part in playing this great game called Splinterlands please click on my referral link. It is free but in order to earn real assets such as cards and token you would have to invest in a starter deck or purchase game cards. Join the discord to learn more. Good luck!

THANKS FOR READING! CONTINUE TO PLAY SPLINTERLANDS!

---
---