Splinterlands - Benefits of 2 Mana Summoners?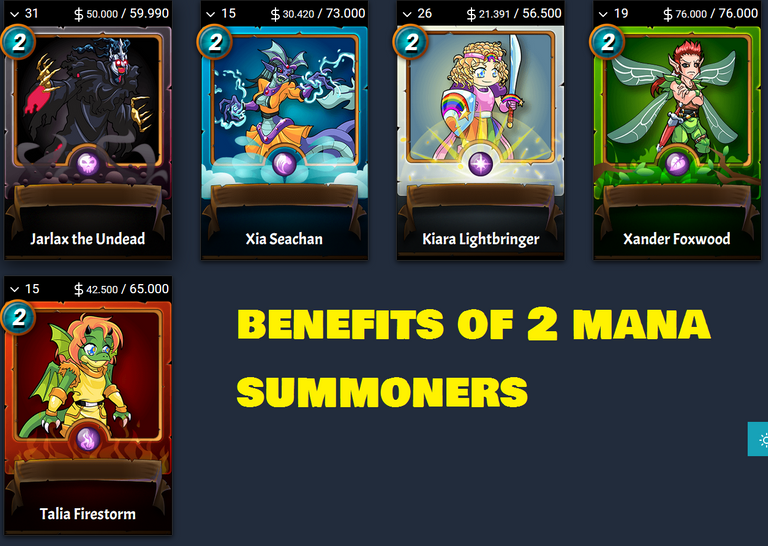 Do you ever get a streak of battles that allows low mana counts. Just like the snapshot above where I had several consecutive matches under 20 mana. Although I came out with most wins in those matches there are times I am not able to get any wins. Today I am looking at the beta epic 2 mana summoners and identify some benefits of playing them.
Limited Mana Battles
As mentioned at the beginning of the post matches with low mana count will likely benefit in using the 2 mana summoners. That way it allows the user the extra manas to summon additional monsters or higher mana monsters.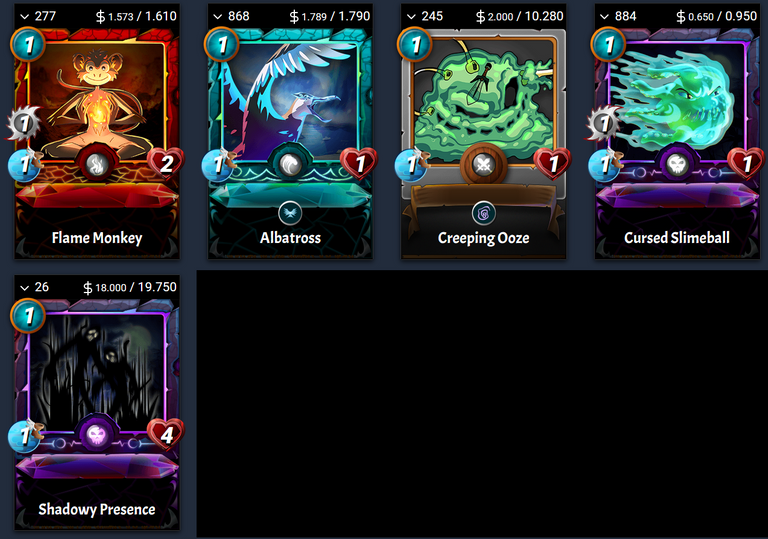 If you were wondering what good is an additional mana here is a list of 1 mana monsters and their respective splinter.
| Monster | Splinter |
| --- | --- |
| Brownie | Earth |
| Silvershield Bard | Life |
| Flame Monkey | Fire |
| Shadowy Presence | Death |
| Albatross | Water |
| Cursed Slimeball | Death |
| Theorosa Nightshade | Death |
| Lensmaster | Life |
| Shin-Lo | Dragon |
| Mighty Dricken | Dragon |
Multiple of these cards are dont have even 100 printed in circulation such as Shin-Lo and Mighty Dricken so majority of players can cross those out as potential options of use. There are still a handful of cards that can potentially be played if the extra mana exists when using a 2 mana summoner.
Summoner Level Limits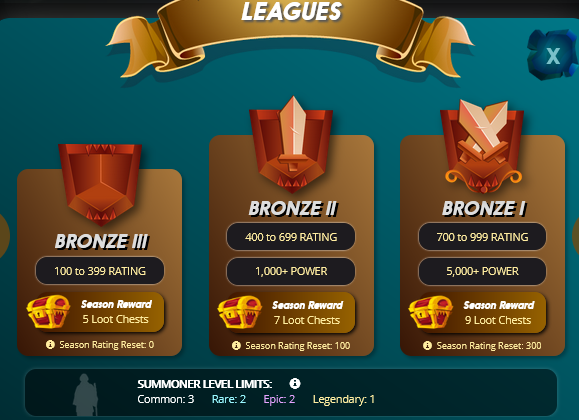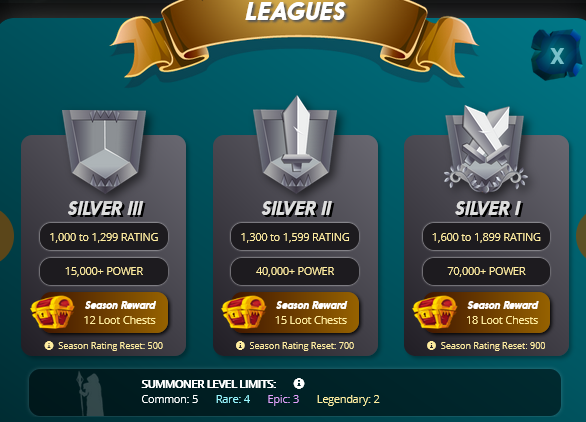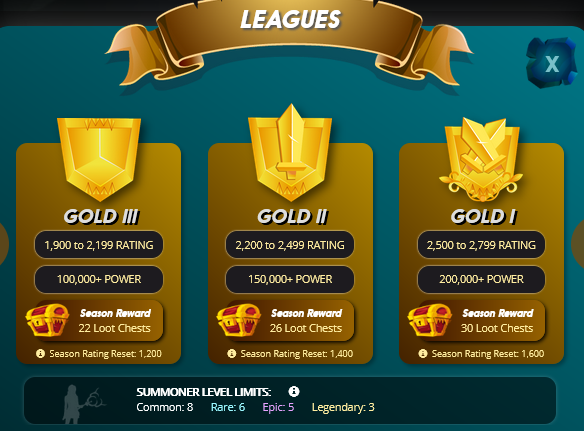 In game snapshots showing at the low leagues from bronze to gold there are level limits for summoners. For instance in bronze league both rare and epic summoners are limited to level 2. Be aware that at higher rarity the summoner can cast monster at higher level.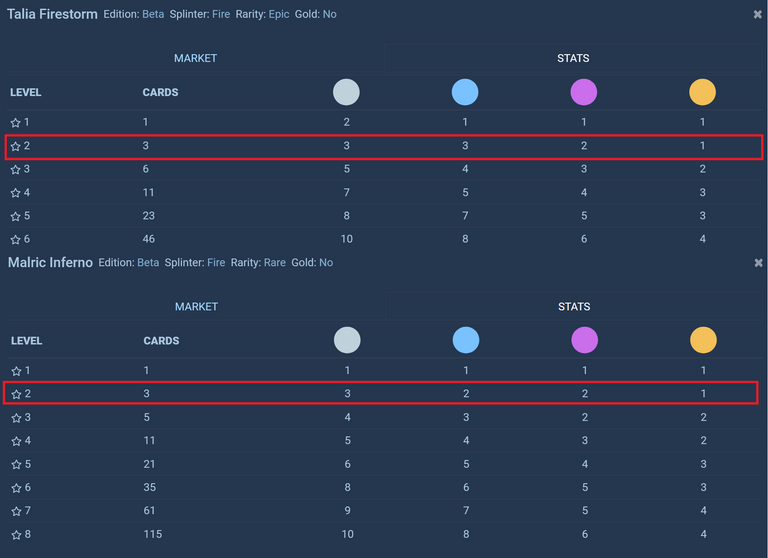 Not much of a difference in level 2 however if using an epic summoner at level 2 it can use up to level 2 epic monster while a level 2 rare summoner only allows level 1 epic monster.
A more pronounce difference when we look at silver league where the limits are rare at level 4 and epic at level 3. For epic summoner the limits would be level 5 for common, level 4 for rare, level 3 for epic and level 2 for legend. While for rare summoner the limits would be level 4 for common, level 3 for rare, level 3 for epic and level 2 for legend. Basically common and rare have one more level up for use if player goes with epic summoner in lieu of rare.
In gold the epic summoners have an advantage in rare level 7 while rare summoners max out at rare level 6. All other rarities cards are the same between the two types of summoners.
You maybe wondering why one level difference would make such a different in use of monster? Some monsters add a second ability just between level 4 and 6. An advantage that can be used for players going with epic summoners and having to use those specific monsters with two abilities at level within these levels.
Example:
Death Elemental: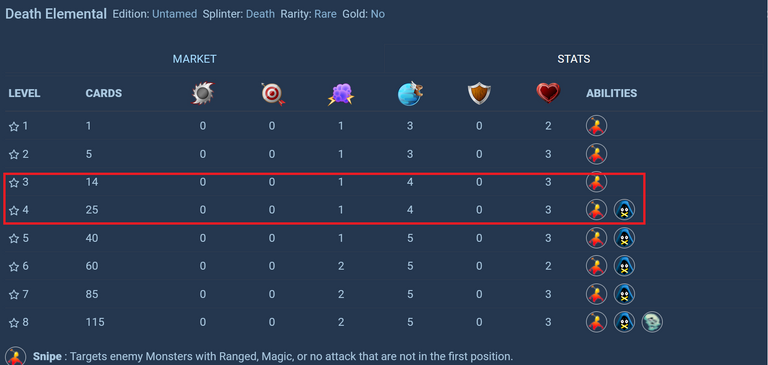 Elven Mystic: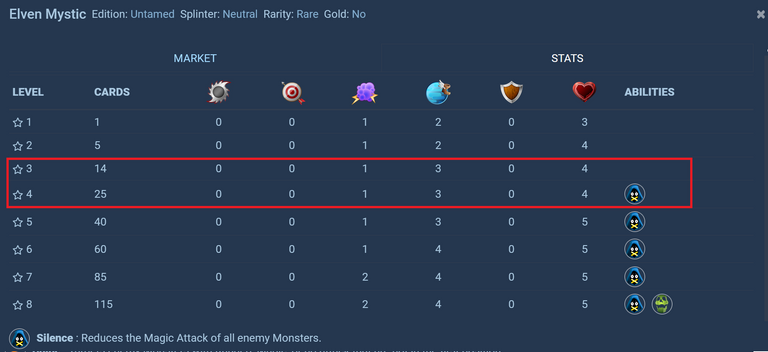 Khmer Princess:

Not I just listed Untamed rares while there are rewards, promo, and alpha/beta cards to go through too. I am also excluding any other increase in stats due to the level up from 3 to 4. Just looking at abilities alone one can take advantage of having more abilities when using epic summoner at its limit per specific league from bronze to gold.
Conclusions
At first glance 2 mana summoners do not appear to give that much advantage. We look at them with no abilities provided but have the advantage of being 1 less mana than most rare summoners. Mix and match monsters in formation you will come to realize that an extra level may make a big difference on the utility of the monster/s.
Like any other upgrade in Splinterlands the epic summoners will cost more to own/rent. However it will require less cards to max, hence take notice that sometimes market prices have max epic summoners cheaper than max rare summoners. Another advantage to look at when pondering the benefits of 2 mana summoners.

Until next time thanks for reading!!!
If you are interested to learn more about Splinterlands please go through some of my other posts. Order is from newest to oldest posts:
Splinterlands - Securing Your Cards From Hackers
All You Want To Know About Reward Chests
Helpful Links for New and Veteran Players
I have plenty of other cards for rent! Just go on peakmonsters and check out the market place and if you are curious what I offer here is a link:
If You have yet to take part in playing this great game called Splinterlands please click on my referral link. It is free but in order to earn real assets such as cards and token you would have to invest in a starter deck or purchase game cards. Join the discord to learn more. Good luck!

THANKS FOR READING! CONTINUE TO PLAY SPLINTERLANDS!

---
---