Splinterlands - Buying & Selling in Bulk?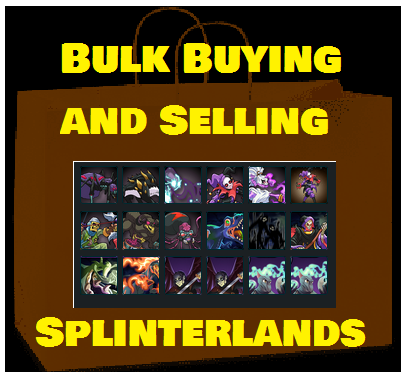 With two days left before Chaos arrives there are plenty of people getting excited to open their booster packs. There are also players who have no packs but trying to accumulate enough liquidity to purchase packs. I am in that particular situation looking for liquidity.
One of the quickest and easiest way to obtain liquidity is to sell existing cards that I do not use often. I do not often sell cards but under special circumstances I will do so for sake of trying to get enough liquidity to purchase some cards that I feel I need to better my overall deck.
Peakmonster's Bulk Selling
https://peakmonsters.com/packages
The most formal and safest way to purchase multiple different cards is through Peakmonster's bulk set purchase. Link above will go directly to where some players post their cards in groups for sale.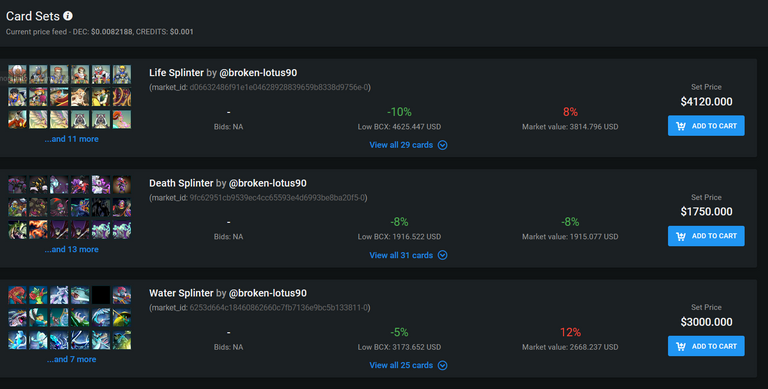 For convenience Peakmonsters sums up the current market value of the cards per a set offered and total lowest price per BCX. With a % green indicating the % discount from current set of cards if purchased individually and % red indicating the % more being asked for the current set. Obviously % green is better since it offers a discount.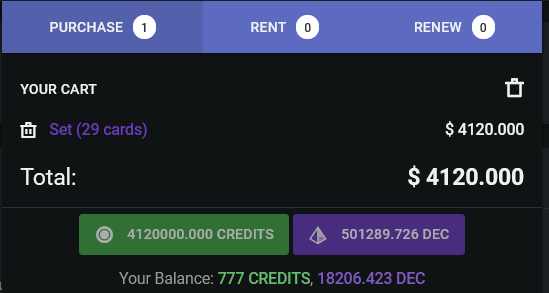 When user select the set of cards to purchase they have the ability to either buy it using credits or DEC. The transaction once executed can not be retracted as its is a peer to peer transaction with peakmonsters being the escrow account. It will hold the cards for the seller until they sell or cancel the offer. While buyers go to the peakonsters' platform in search of the card sets.
Open Markets Such as MonsterMarket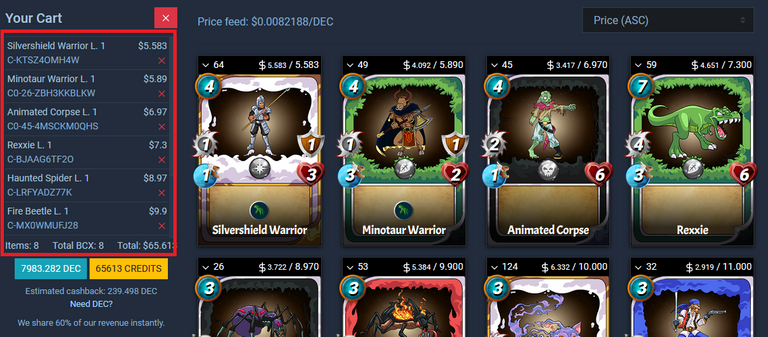 Another way to purchase cards in bulk but a bit more time consuming is to go to third party website such as https://monstermarket.io/ and go through cards of interest to select for purchase. The website will continue to add into your basket the cards of interest being purchased. A 3% cashback is return to the buyer of the cards while sellers have 5% fee for successfully selling the cards. The more you buy will not add any additional discount beyond the 3% cashback.
The benefits of using market monster for bulk buying is that you can purchase multiple cards at once and be selective rather than as in peakmonsters you buy in bulk and can not select what the cards of interest.
Conclusions
It may come to that not many playing the game currently have enough cards in their collection to be willing to sell in bulk. Yet there maybe circumstances that may lead to players who do have a lot of cards to be willing to sell some for the sake of getting liquidity to partake in the Chaos Grand Opening.
It is also worth noting for those who have played the game and not sure where they can find bargains it can potentially exist in bulk set markets on peakmonsters. Good luck come the pack opening and hopefully you all get a lot of great card pulls.
Until next time thanks for reading!!!
If you are interested to learn more about Splinterlands please go through some of my other posts. Order is from newest to oldest posts:
Splinterlands - Securing Your Cards From Hackers
All You Want To Know About Reward Chests
Helpful Links for New and Veteran Players
I have plenty of other cards for rent! Just go on peakmonsters and check out the market place and if you are curious what I offer here is a link:
If You have yet to take part in playing this great game called Splinterlands please click on my referral link. It is free but in order to earn real assets such as cards and token you would have to invest in a starter deck or purchase game cards. Join the discord to learn more. Good luck!

THANKS FOR READING! CONTINUE TO PLAY SPLINTERLANDS!

---
---