Splinterlands - In Print Reward Cards Supply & Demand Dynamics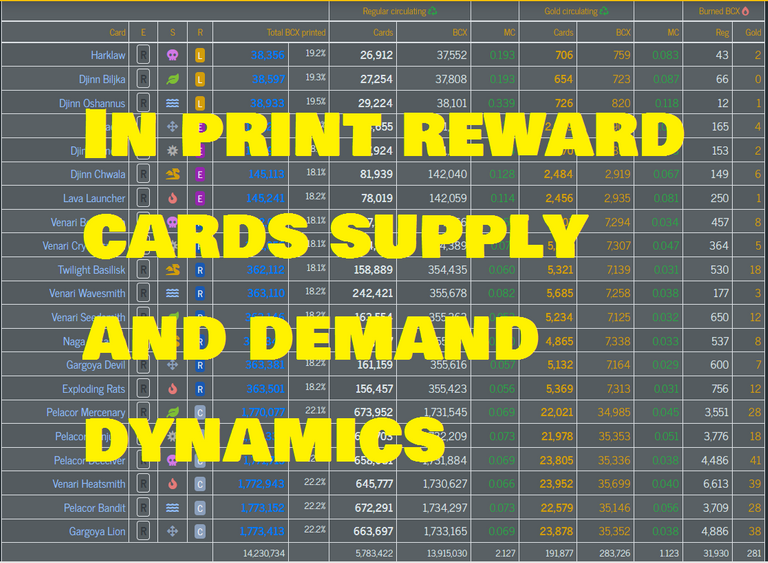 With a large amount of reward cards in print the supply side has been increasing daily. Players can see also that prices on the cards are dropping in conjunction with the increase in supply. Then you maybe wondering is it even a good time to be buying reward cards if they continue to be printed and continue to see prices fall. The answer maybe easier than you think.
Current Reward Cards In Print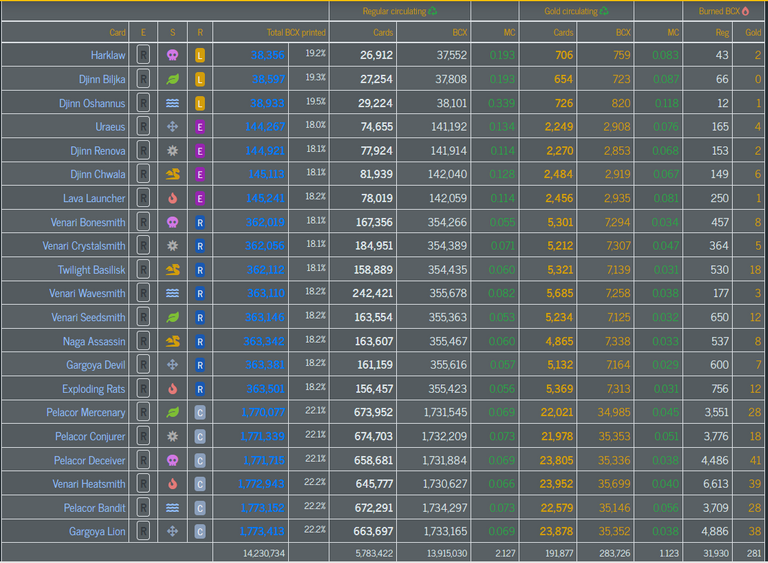 The current list of reward cards in print are shown above from splintercards.com. There are a total of 21 cards and currently a total of +5.7 million cards in circulation. Considering the last 3 official sets of cards that are out of print in Alpha, Beta, and Untamed combined together 2.4 million cards in circulation it appears there are plenty of reward cards.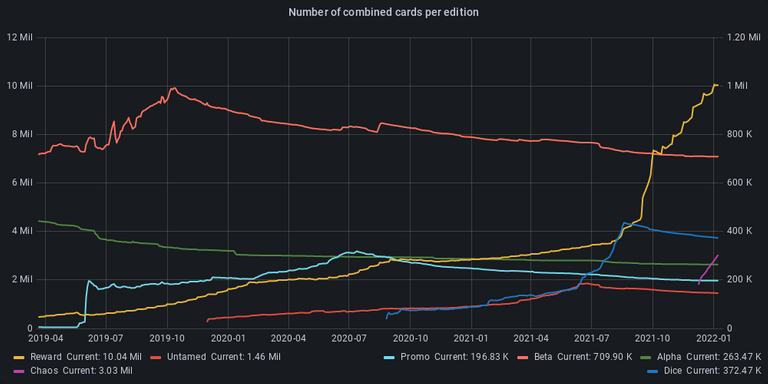 The supply side of reward cards in print have only come in at around 20% overall, therefore there is 80% more of cards to be coming into the circulation. On top of all this that 5.7 million of in print reward cards in circulation includes cards that are combined. It means if the reward cards are not combined that will be around another 57 million more cards to come into circulation, since currently a little over 14.23 million uncombined cards has been minted.
This are some insane numbers and prices of the reward cards have dropped significantly. We can see for example legendary Djinn Oshannus that is near 20% printed and the price of a regular and gold 1 bcx.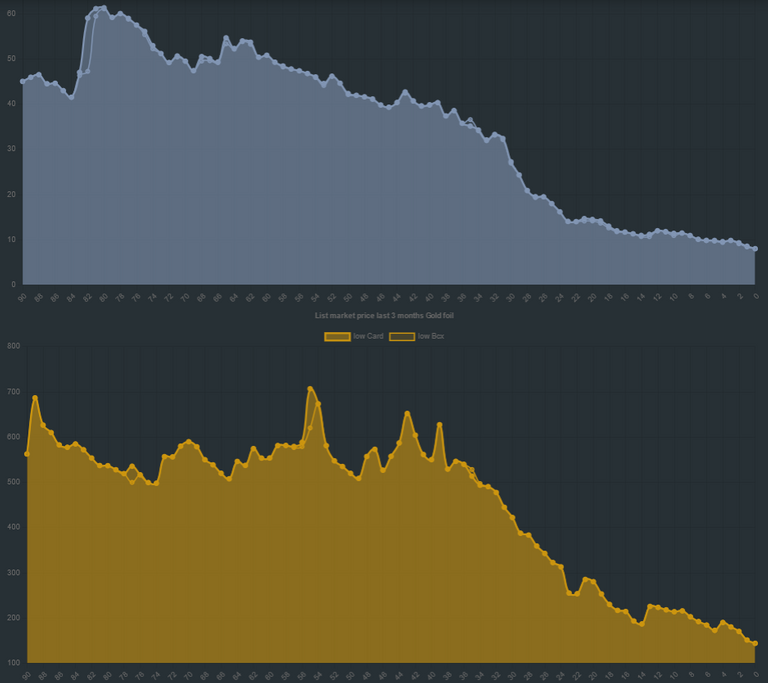 Both regular and gold have dropped more than 70% in prince and this is just one card. All 21 in print reward cards are in similar price movement. This is likely making players wait on prices to plateau before purchasing. This make sense when price has pretty much drop from the start.
Supply Reduction through Leveling Up

A somewhat not clear reasoning behind the reduction of cards in circulation is simply players trying to level up their cards.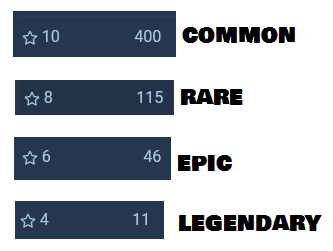 For reward cards it takes 400 bcx to max level a common, 115 bcx to max level a rare, 64 bcx to max level an epic, and 11 bcx to max level an legend. All in all it will take a lot of cards to reach max level on reward cards as a whole. Yet currently the amount of reward cards in circulation is at 5.7 million but the actual individual cards are at 14.2 million, almost 1 to 3 ratio. Imagine how much less cards will be in circulation if more players begin to max level their cards. This will reduce the overall circulation supply on top likely increase the demand for the cards remaining as more players are competing to reach max level.
Conclusions
There are many dynamics involved when it comes to the price of reward cards. The supply and demand is the focus to see where the dynamics comes from. Whether it is massive amount of cards being printing to increase supply. Or the demand of players who want to max level their cards will lower the supply of cards. As the rewards card play a role in pricing of all overall cards it is worth tracking moving forward for potential deals.
Until next time thanks for reading!!!
https://images.ecency.com/p/HNWT6DgoBc1692QWn5trsLBYecSp3jKD1kzdmSDR4FGzPSXomkgLtisN5TzrwHTsD1D4ocqDPHpFztKzeH4ibh1vQVU3d3dSaB6VYJ1U3RdsSDi5spmdafX25ph.webp?format=webp&mode=fit
If you want to play splinterlands then SignUp Here
I have plenty of other cards for rent! Just go on peakmonsters and check out the market place and if you are curious what I offer here is a link:
If You have yet to take part in playing this great game called Splinterlands please click on my referral link. It is free but in order to earn real assets such as cards and token you would have to invest in a starter deck or purchase game cards. Join the discord to learn more. Good luck!

THANKS FOR READING! CONTINUE TO PLAY SPLINTERLANDS!

---
---