Splinterlands - Mawit07 End Of Season 12 Results

The end of season rewards for me this go around was better than past due in part to me winning 3 Chaos packs. Beyond that I had a gold foil common and epic which is reasonable in my opinion for cards. The overall winnings for using 46 chests at a slightly over $7 total is close to twice what I earned in prior season.
Season Stats

I ended up falling in ranks and was only able to rank in #83rd. It is still a personal best at silver league and I am happy with it. However the last hour of EOS was brutal as I went on a 10 game losing streak. I could not stay above 2400 in rating either which would have gotten me to Gold II if I had accepted to advance.
My win to loss ratio I think is also personal best at 1.49. This meant I won almost 50% more than I would have in losses which I don't recall ever reaching. Win streak was not as big as last week but 13 still a high for me in a season.
Rank Rewards

With the combined ranked battle earnings and daily rewards I ended up with a little under equivalent of 50 SPS, a bit over 1700 DEC and some 18k credits. The 18k credits mostly came from EOS Chaos booster packs so in a way without those my season rewards would have been terrible.
With SPS falling in price my actual earnings for playing the game this season appears to be terrible. I may need to rethink if I want to stick in silver league or move up to gold in order to increase my earnings.

The numbers were all a surprise to me considering I have a deck that is worth $6k yet I just earned like under $10 in total rewards for the season. Not a good ROI for the time spent.
Rental Earnings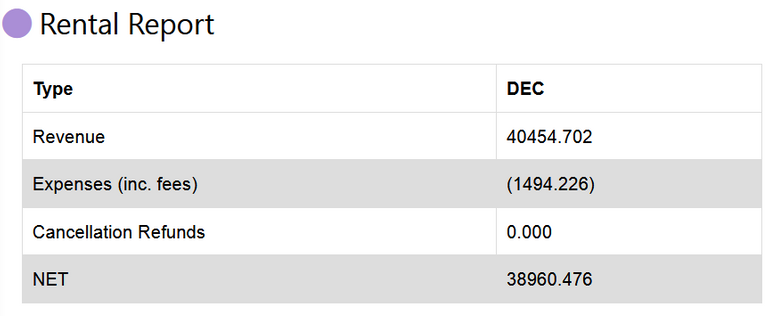 This season my earnings from rental was subpar at best considering I could not hit 40k DEC. I think with all the drop in reward earnings it coincides with drop in rental market prices.
New Splinterlands Updates

About a week ago proposal #10 had pass and now in game updates have the card levels setup that will adjust player's winnings per battle. This proposal will help push players to level up cards more often than not and move up in leagues in order to utilize the higher level cards. Another reason for me to move on to gold rather than trying to improve in silver in this new season.
Conclusions
I made progress in playing the game as I performed personal best. Yet the rewards I earned from the performance came out to be one of the lowest I had compared to past seasons. I will be looking toward moving into Gold as quickly as I can to remedy the lack of rewards. In addition I will likely apply rental bot such as splinterrent to help boost my earnings in the rental market as well.
Until next time thanks for reading!!!
https://images.ecency.com/p/HNWT6DgoBc1692QWn5trsLBYecSp3jKD1kzdmSDR4FGzPSXomkgLtisN5TzrwHTsD1D4ocqDPHpFztKzeH4ibh1vQVU3d3dSaB6VYJ1U3RdsSDi5spmdafX25ph.webp?format=webp&mode=fit
If you want to play splinterlands then SignUp Here
I have plenty of other cards for rent! Just go on peakmonsters and check out the market place and if you are curious what I offer here is a link:
If You have yet to take part in playing this great game called Splinterlands please click on my referral link. It is free but in order to earn real assets such as cards and token you would have to invest in a starter deck or purchase game cards. Join the discord to learn more. Good luck!

THANKS FOR READING! CONTINUE TO PLAY SPLINTERLANDS!

---
---