Splinterlands - My 2nd Chaos Max Summoner and Then Some...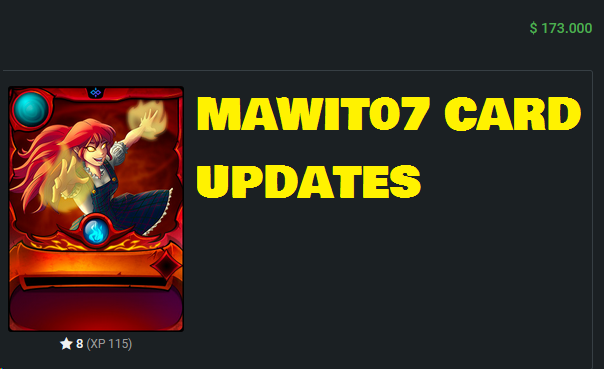 Its been over a week since I last looked at my Splinterlands card collection and since then I have added some more Chaos cards. My first is a max level 8 Tarsa fire summoner.
I spent about 230k DEC for the card and look forward to having better results in battles now with a max level fire summoner.
In addition I added some max Chaos common monsters.



A little over $21 in DEC value for four common max cards. I bought them due in part of my lack of low mana count monsters so these additions can help me in low mana matches.
Conclusions

With another air drop passing we have another legendary summoner added to the overall Chaos Legions set. Overall price for the set appears to have been raised in the past couple of weeks. All this happening in addition to the 3 pre-sales that occurred in the past week. It is clear the demand and attention for Splinterlands is still live and well.

If I focus only on my Chaos net worth it is reasonable collection at a little over $700 in value. I have plenty of duplicates but the two rare max summoners hold majority of my value in the Chaos collection. I hope I can add onto the collection with the remaining summoners and looking to do so in about a couple of months as I have to save up the liquidity to make more max summoner purchases.
I am diverting all my earned liquid HBD and SPS earnings in game to go directly toward purchasing the remaining max summoner cards as those cards are relatively more expensive General Sloan and Tarsa. I am curious how others are playing this and whether or not they are accumulating the new packs in lieu of building their card collections from Chaos set? I am forgoing the new packs in hopes to be able to sooner get to a max Chaos set. At the very least I am moving in the right direction.
Until next time thanks for reading!!!
https://images.ecency.com/p/HNWT6DgoBc1692QWn5trsLBYecSp3jKD1kzdmSDR4FGzPSXomkgLtisN5TzrwHTsD1D4ocqDPHpFztKzeH4ibh1vQVU3d3dSaB6VYJ1U3RdsSDi5spmdafX25ph.webp?format=webp&mode=fit
If you want to play splinterlands then SignUp Here
I have plenty of other cards for rent! Just go on peakmonsters and check out the market place and if you are curious what I offer here is a link:
If You have yet to take part in playing this great game called Splinterlands please click on my referral link. It is free but in order to earn real assets such as cards and token you would have to invest in a starter deck or purchase game cards. Join the discord to learn more. Good luck!

THANKS FOR READING! CONTINUE TO PLAY SPLINTERLANDS!

---
---