Splinterlands - My Opinion on The Updated Frays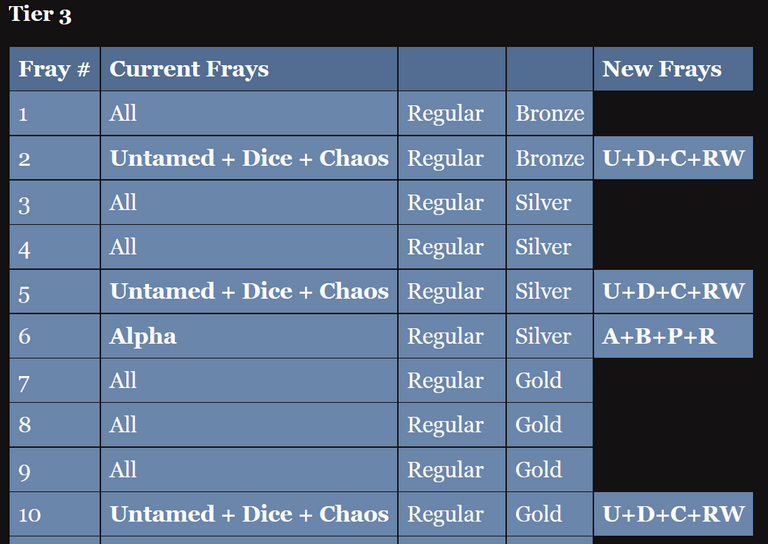 Today Splinterlands had a post discussing the upcoming revisions in frays in the next brawl. Post here. For those not aware the frays in brawls have been in adjusted recently and they are continuing to adjust to see what are the preferences from most participants. It is not perfect and today I focus specifically on tier 3 adjustments since that is where I am playing.
Alpha Only in Silver League
For the past couple of brawls I have been participating in the Tier 3, Fray 6 which only allows alpha cards up to silver league. This is almost a perfect fit for me, almost being that I don't have all the alpha cards that meet a silver league but would say I have close to 60%. The crucial part would be the summoners and I have my rare alphas at least level 4 and above.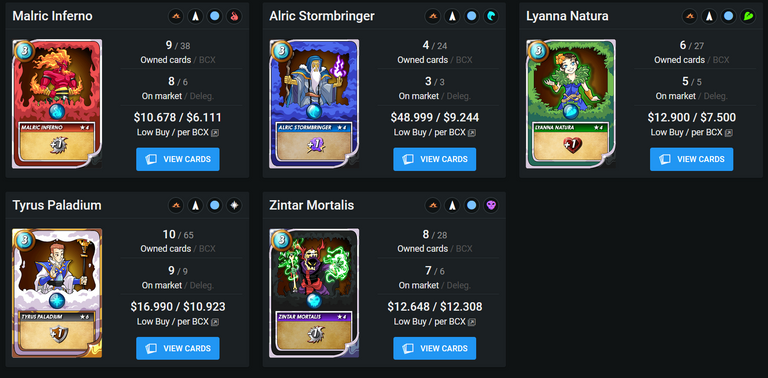 I do have almost enough to merge my alpha summoners to get to level 6 but have not decided to do so in two parts. For one it won't benefit me in brawls since alpha is capped at silver. There is fray #11 that includes alpha cards but it also includes beta cards. Since there are more beta and easier to raise in level than alpha it would be a disadvantage for me to play in fray #11. Second I do not have a lot of high level alpha monsters. In fact a majority of my cards are in the silver league with a couple of exceptions. So in short I will keep my alphas separate for now until there are better reasons to having them merged.
The revision of fray #6 is now to include Alpha, Beta, Promo, and Rewards. This leads to a whole range of options compared to the only Alpha. The benefits for me is I have more cards to select in battles and with more cards comes more combos and setups. The main drawback is that now my alphas again will likely be overshadowed by the other series since those cards are at minimum equals. Another drawback is that competition has risen with more cards able to qualify for the fray it will be more competitors playing. This in general will likely mean less SPS brawl rewards and harder to play with more competition.
Rift Watchers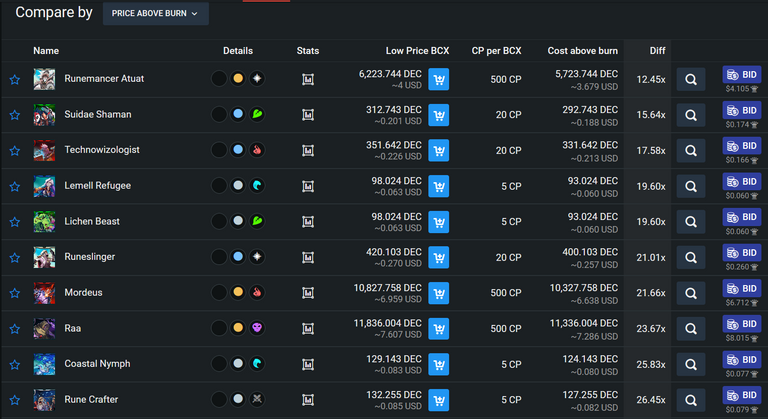 A major reason to the updated frays is to allow Rift Watcher cards to be able to participate in brawls. With this update all tiers will have certain frays where Rift Watchers are allowed to be used. All welcome news.
Looking Ahead
The latest brawl updates were to address the alpha only frays and allowing Rift Watchers be apart of brawls. Its great to see Splinterlands continue to evolve in order to get more engagement in brawls. Where do you see a game where it can change on the fly to cater its' users?
Until next time thanks for reading!!!
https://images.ecency.com/p/HNWT6DgoBc1692QWn5trsLBYecSp3jKD1kzdmSDR4FGzPSXomkgLtisN5TzrwHTsD1D4ocqDPHpFztKzeH4ibh1vQVU3d3dSaB6VYJ1U3RdsSDi5spmdafX25ph.webp?format=webp&mode=fit
If you want to play splinterlands then SignUp Here
I have plenty of other cards for rent! Just go on peakmonsters and check out the market place and if you are curious what I offer here is a link:
If You have yet to take part in playing this great game called Splinterlands please click on my referral link. It is free but in order to earn real assets such as cards and token you would have to invest in a starter deck or purchase game cards. Join the discord to learn more. Good luck!

THANKS FOR READING! CONTINUE TO PLAY SPLINTERLANDS!

---
---