Splinterlands - Rentals Rental Boom!!!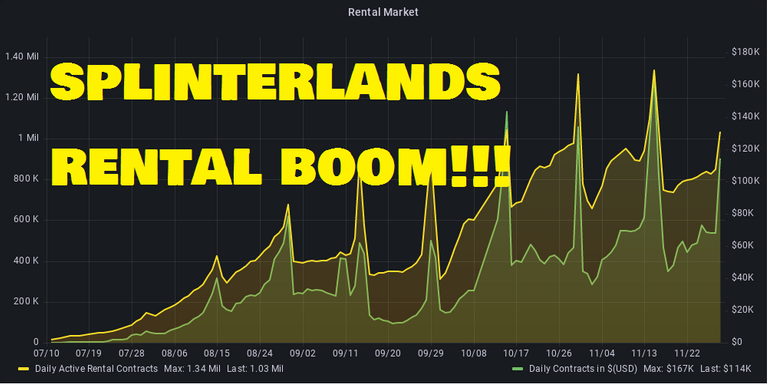 Total Cards and Total Players
With a little more than a week until the new Chao Legions booster packs are officially accessible to players we are still limited in the number of cards available for people to play with currently.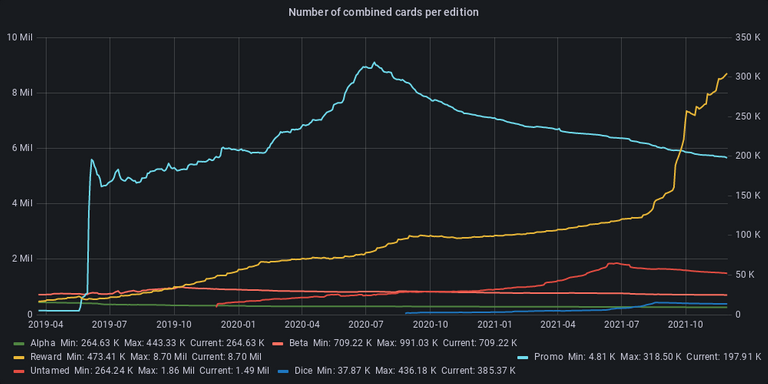 A ballpark estimate has the in game card quantities included combined cards
of 11,750,000 cards. Yet there are over 700,000 purchased spell books. This equates to a little under 17 cards per a player, which of course is not the case. Only a few have over a million Colleciton Points (CP) in cards. While the remaining players have to rent in order to accumulate temporary CP. The CP are key to earning more at end of the season and also to maintain higher league rankings.
With the cards and player numbers put out it is understandable the rental market would thrive. Whether this will last beyond the Chaos Legions pack openings remain to be seen but for now it appears each new end of season has approach higher high rentals than past season. This current season is in its final day and again it appears the higher high will be in striking distance.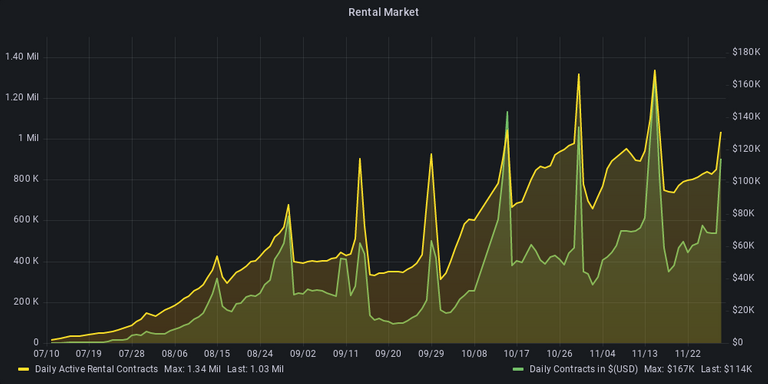 The chart has a lag and we will know by end of tomorrow if the this season did indeed exceed the season before in card rentals and prices.
Rental Markets
In the beginning of the season cards are rented out at somewhat affordable prices. This in comparison to a few days before end of season where cards with low CP/DEC are having to be rented out for sake of players trying to reach highest ranks and earn more end of season reward chests.
Last season I was able to rent out enough cards to have a decent passive income on the finally days leading up to end of season. This season however I was distracted with a lot of things from Hive price pump and other crypto games I am actively playing to personal matters like spending time with family during the holidays. So with that I am pretty sure this season I will not earn more DEC for lending out my card than prior seasons.

First off I am trying to maximize my rental income as much as possible and went with the highest fee per card at present market and had all my playable cards and combined cards listed in the rental market. This means I will not rank in the end of seasons but in return trying to pull out as much DEC income as I can for what I think is the last season before rentals significantly drop.
Conclusions
The rental market has worked well since Splinterlands and Peakmonsters collaboration came into the game. The peaks in rental income from season to season has only risen since but Chaos Legions I believe will change the course of the rental markets. With a potential of 15 million packs making it 60 million cards additional cards in circulation when all said and done it will be close to 80 million cards, excluding combining. We shall have to see how the combination of cards will factor in the total in circulation.
Bottom line I myself want to take advantage of what is potentially a peak in the rental market until Chaos Legions begins its influence on the market. I still believe the rental market will thrive but not as much as before. I am hoping to build enough of a war chest of DEC to be ready to start purchasing cards in the Chaos series. Time will tell if this is a good move.
Until next time thanks for reading!!!
If you are interested to learn more about Splinterlands please go through some of my other posts. Order is from newest to oldest posts:
Splinterlands - Securing Your Cards From Hackers
All You Want To Know About Reward Chests
Helpful Links for New and Veteran Players
I have plenty of other cards for rent! Just go on peakmonsters and check out the market place and if you are curious what I offer here is a link:
If You have yet to take part in playing this great game called Splinterlands please click on my referral link. It is free but in order to earn real assets such as cards and token you would have to invest in a starter deck or purchase game cards. Join the discord to learn more. Good luck!

THANKS FOR READING! CONTINUE TO PLAY SPLINTERLANDS!

---
---