La quinta [Esp-Eng]
---
En las afueras de la ciudad la joven pareja Thomson habían comprado un lote de terreno con una bienechuria casi envidiable, era una quinta hermosa sin lugar a dudas, le podía quitar el aliento solo de verla. Tenía unos ventanales preciosos y los jardines siempre impecables.


La feliz pareja nunca se imagino que aquel lugar sería el escenario de una trágica historia que acabaría con la ilusión de estos enamorados. Cuando la agente de bienes raíces le hace entrega de las llaves algo raro sucedió, las llaves estaban calientes como si acabaran de estar en la estufa. No prestaron atención a este detalle, que verdadera lastima.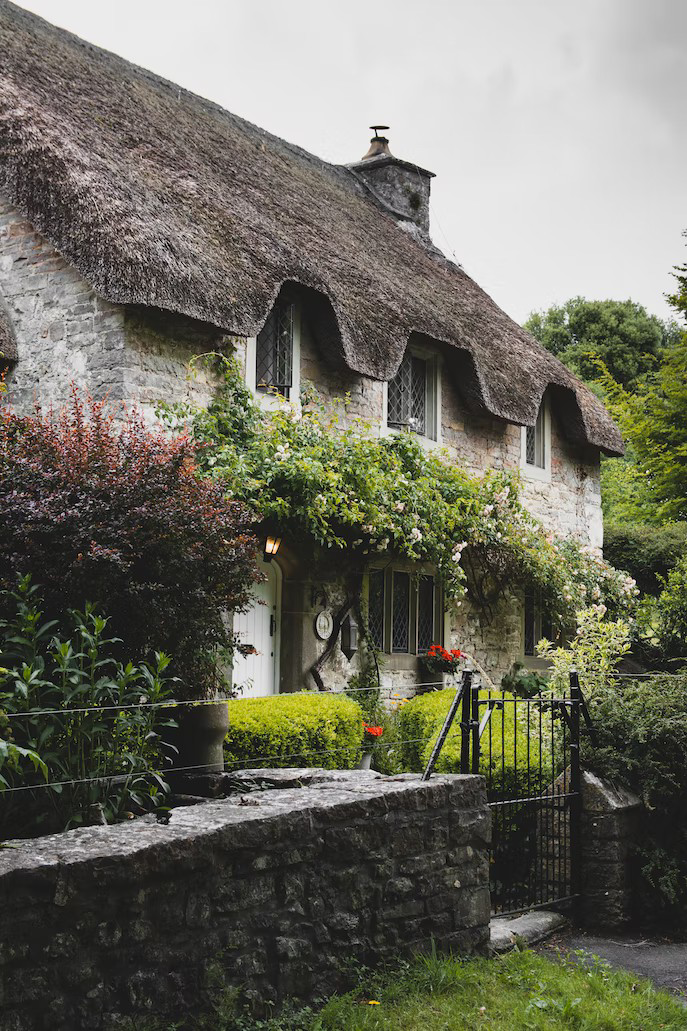 Charles Lamb || Unsplash
Estefania estaba súper feliz en la cocina desempacando y guardando todas sus cosas en su nueva despensa, está casa era muy grande y tenía mucho espacio para lograr la cocina de sus sueños, mientras tanto, Eduardo ayudaba a los del servicio de mudanza a dejar todo en su respectivo lugar, ambos estaban muy cansados, pero rayaban en la suprema felicidad.
Esa noche el delivery trajo la cena a las 8: 00 pm, el repartidor se notaba aterrado al hacer la entrega del pedido, Eduardo le lanza una interrogante al repartidor del porque su forma tan nerviosa de actuar. No obtuvo respuesta y el chico se marchó.
Luego de cenar, ambos se dieron un baño de agua caliente y se fueron a descansar. Todo parecía estar bien. Sin embargo algo llamo la atención de Eduardo cuando a las 2:22 am un chillido lo despertó. Llama rápidamente a su esposa quien no entendía porque la estaba llamando así. Le dice cálmate Eduardo, no pasa nada.
Revisaron la casa y en verdad todo parecía estar en completa calma, volvieron a la cama y aunque les costó al principio, luego de unos minutos se quedaron dormidos. Un nuevo sonido más aterrador se escuchó la siguiente vez, Estefanía salto de nervios y encendió la luz de su mesita de noche, vaya sorpresa se llevó. Eduardo yacía plácido en la cama, se veía totalmente relajado, un poco pálido y su respiración era muy lenta.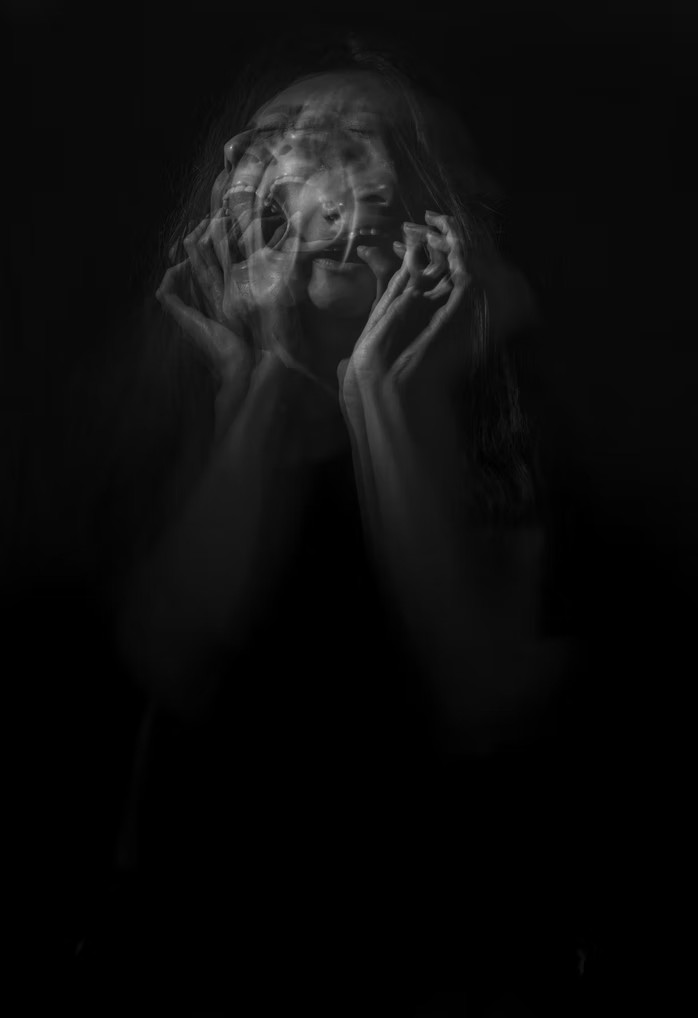 Camila Quintero Franco || Unsplash
La sudoración, palpitaciones y los nervios de Estefanía eran notorios, no podía despertar a su amado, el seguía allí dormido como si nada al rededor pudiera despertarlo.
Aterrada tomo el teléfono e intento llamar a sus padres, pero, la señal había desaparecido. No entendía que podía estar pasando, un tercer gemido más agudo y cercano a la habitación se escuchó y Estefanía dió un grito ahogado de miedo, temblaba y sus ojos empezaron a desprender algunas lágrimas.
La angustia de esta mujer dió pie a una fuerza interior por descubrir que estaba pasando, se armó de valor y vació el contenido del vaso de agua sobre el rostro de Eduardo, esto lo hizo abrir sus ojos, pero no tenía la fuerza para hablar, solo emanaba una mirada de miedo y terror que lo mantenía callado y sin poder moverse.
Estefania acordó bajar las escaleras y ver qué ocurría y si descubría pistas sobre lo que mantenía paralizado a su esposo, al llegar a la cocina pudo darse cuenta que de los estantes y gavetas salía una sustancia oscura y pegajosa, la cocina ya no lucía como horas atrás, estaba hecha trizas y era un escenario frío y distante. Dió vuelta hacia la sala de estar donde la situación era exactamente igual.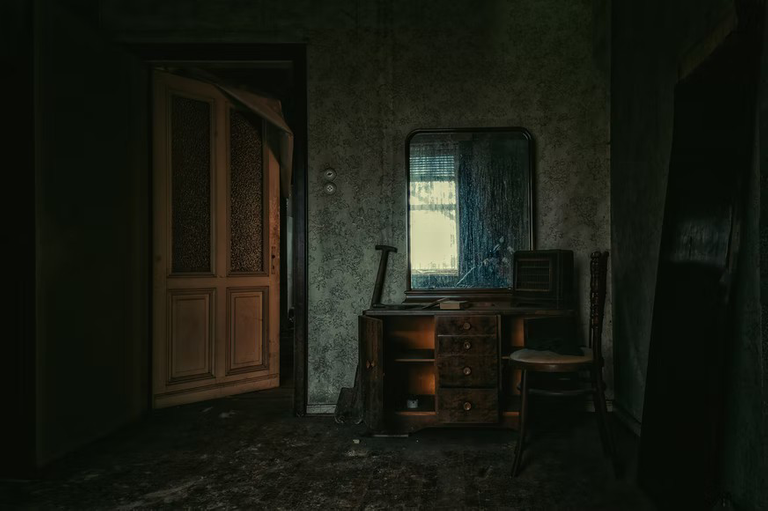 Peter Herrmann || Unsplash
No sabia que hacer, si salía a buscar ayuda y dejar a su esposo allí en manos de algo desconocido o esperar a la mañana siguiente dónde los del servicio de mudanza volverían para terminar todo, así lo hizo.
Al llegar al cuarto, Eduardo permanecía con la vista perdida, su cuerpo estaba más liviano, no se movía aún y ella en la desesperación busco entre las gavetas que no habían revisado antes y al final el cajón inferior encontró un álbum familiar que al abrirlo su piel se erizó.
La primera foto era la cara de un señor del cuál siempre se hablaba en la tv, radio y la prensa. El había masacrado a más de 15 mujeres de formas inimaginables, todas ellas torturadas física y psicológicamente para luego terminar en el lago más cercano.
Ella no sabía que esa casa era el lugar de los asesinatos, el fue el dueño anterior y pese a que la casa llevaba más de 20 años en el mercado no había sido comprada, por lo que en un estrategia de marketing, en un intento por salir de la propiedad, lograron borrar los archivos de la supuesta maldición que sobre aquella quinta se hablaba.
La joven pareja al comprarla no tenía conocimiento de ello. Fue en el momento de ver el álbum que Estefanía comprendió el escenario, aquellas mujeres violadas, maltratadas y llevadas hasta la muerte, eran la obra maestra de Jacinto. Un misterioso personaje que tenía poderes mágicos pero le gustaba lo perverso y disfrutaba de hacer sus maleficios a gente inocente. Soltó el álbum y se abrazo a su esposo. Sus oraciones hacían eco entre las paredes.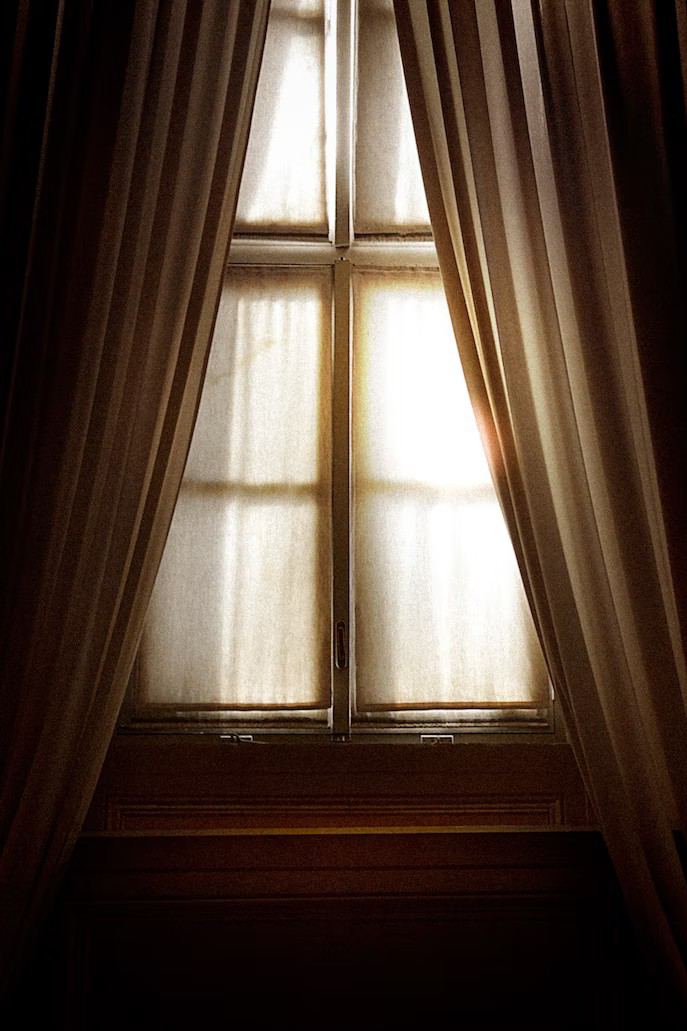 Moon || Unsplash
Cuando la luz del sol entro por la ventana ella estaba abrazada a Eduardo quien abrió los ojos y pudo moverse sin problema alguno, ambos salieron despavoridos de aquel lugar. Creían que todo había terminado y que podrían escapar sin dificultades. Se equivocaron rotundamente.
Al subir al vehículo de prisa el carro no encendía, algo estaba mal. La casa se torno de color oscuro y de las ventanas salía una sustancia oscura como la de la cocina la madrugada anterior. Echaron a correr lo más rápido posible por entre los árboles de manzano en la propiedad, buscando llegar lo más lejos antes de ser atrapados por aquella mancha que devoraba todo a su paso.
En el intento por llegar a la carretera más cercana Eduardo escucha un sonido de auto acercándose y se aproximan rápidamente a su encuentro, para su suerte era Jacinto quien conduce el mismo auto que minutos antes no prendió.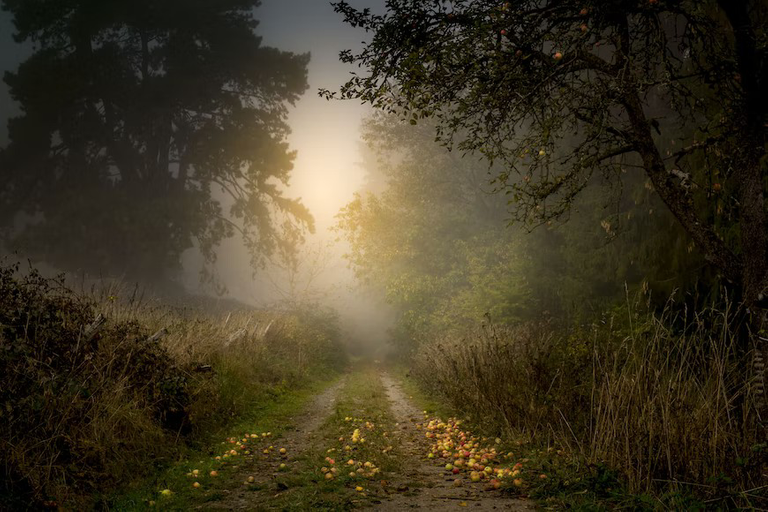 Stefan Widua || Unsplash
---
Nos vemos en el próximo post.😜
---
---
Banner realizado en Canva usando sus recursos.
Separador realizado en powerpoint.
Traducido por DeepL, versión gratuita.
---

---
---
English 😊
---
The farm
On the outskirts of the city the young Thomson couple had bought a plot of land with an almost enviable wealth, it was a beautiful villa without a doubt, it could take your breath away just to see it. It had beautiful windows and the gardens were always impeccable.


The happy couple never imagined that this place would be the scene of a tragic story that would end the illusion of these lovers. When the real estate agent gave them the keys, something strange happened, the keys were hot as if they had just been on the stove. They didn't pay attention to this detail, what a pity.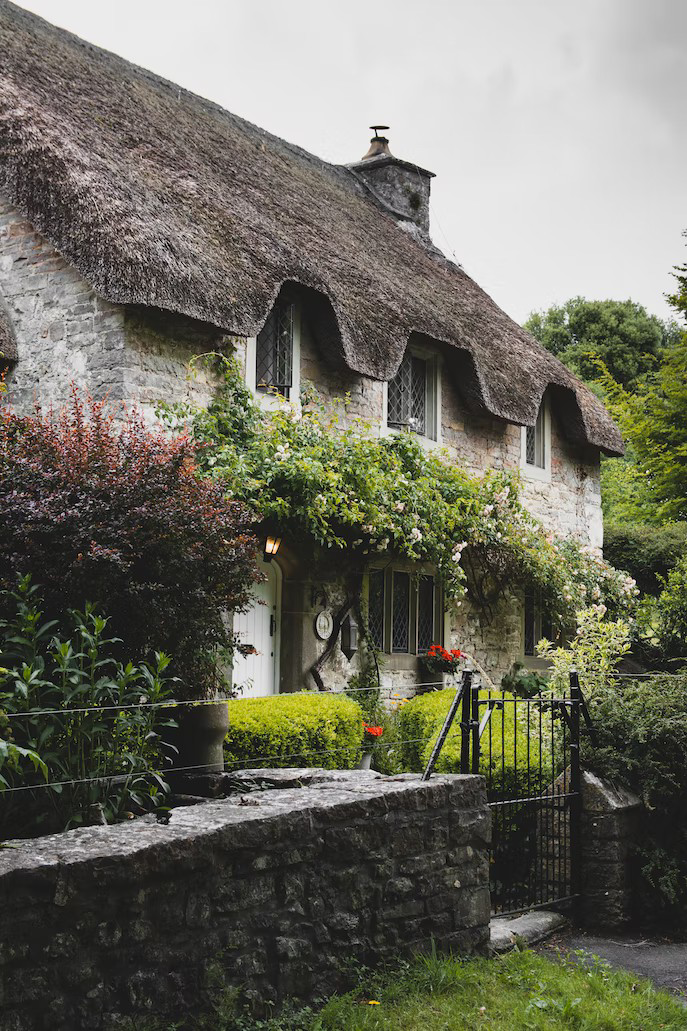 Charles Lamb || Unsplash
Estefania was super happy in the kitchen unpacking and storing all her things in her new pantry, this house was very big and had plenty of space to achieve the kitchen of her dreams, meanwhile, Eduardo was helping the movers to put everything in its respective place, both were very tired, but they were bordering on supreme happiness.
That night the delivery boy brought dinner at 8:00 pm, the delivery boy looked terrified as he delivered the order, Eduardo asked the delivery boy why he was so nervous. He got no answer and the boy left.
After dinner, they both took a hot bath and went to rest. Everything seemed to be fine. However, something caught Eduardo's attention when at 2:22 a.m. a shriek woke him up. He quickly called his wife who did not understand why he was calling her like that. She told him to calm down Eduardo, nothing was wrong.
They checked the house and indeed everything seemed to be completely calm, they went back to bed and although it was hard at first, after a few minutes they fell asleep. A new and more terrifying sound was heard the next time, Estefania jumped out of nervousness and turned on the light on her bedside table, what a surprise she got. Eduardo was lying peacefully in bed, he looked totally relaxed, a little pale and his breathing was very slow.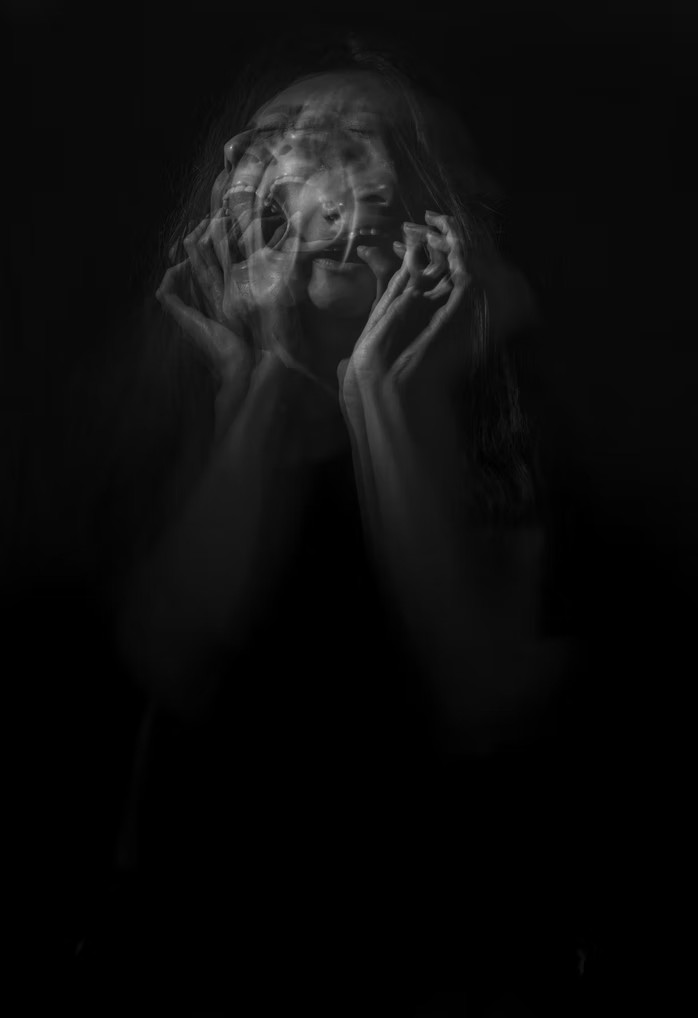 Camila Quintero Franco || Unsplash
Estefania's sweating, palpitations and nerves were notorious, she could not wake up her beloved, he was still there asleep as if nothing around him could wake him up.
Terrified, she picked up the phone and tried to call her parents, but the signal had disappeared. She did not understand what could be happening, a third higher-pitched moaning sound closer to the room was heard and Estefania gave a choked scream of fear, she was trembling and her eyes began to shed some tears.
The woman's anguish gave rise to an inner strength to find out what was happening, she took courage and emptied the contents of the glass of water over Eduardo's face, this made him open his eyes, but he did not have the strength to speak, he only emanated a look of fear and terror that kept him silent and unable to move.
Estefania agreed to go downstairs and see what was happening and if she could discover clues as to what was keeping her husband paralyzed, when she reached the kitchen she could see that a dark and sticky substance was coming out of the shelves and drawers, the kitchen no longer looked like it had hours before, it was in pieces and it was a cold and distant scene. He turned back to the living room where the situation was exactly the same.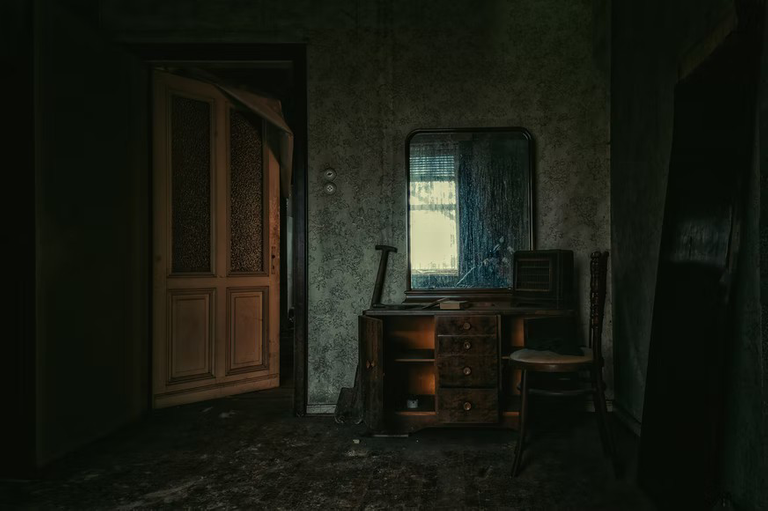 Peter Herrmann || Unsplash
She didn't know what to do, whether to go out for help and leave her husband there in the hands of something unknown or wait for the next morning where the movers would return to finish everything, so she did.
When she got to the room, Eduardo remained with his eyes lost, his body was lighter, he was still not moving and in desperation she searched through the drawers that had not been checked before and at the bottom drawer she found a familiar album that when she opened it her skin crawled.
The first photo was the face of a man who was always being talked about on TV, radio and in the press. He had massacred more than 15 women in unimaginable ways, all of them tortured physically and psychologically to end up in the nearest lake.
She did not know that the house was the place of the murders, he was the previous owner and although the house had been on the market for more than 20 years it had not been bought, so in a marketing strategy, in an attempt to get out of the property, they managed to erase the files of the supposed curse that was spoken about that villa.
When the young couple bought it, they had no knowledge of it. It was at the moment of seeing the album that Estefania understood the scenario, those women raped, mistreated and taken to death, were Jacinto's masterpiece. A mysterious character who had magical powers but liked the perverse and enjoyed casting his evil spells on innocent people. She let go of the album and hugged her husband. Her prayers echoed through the walls.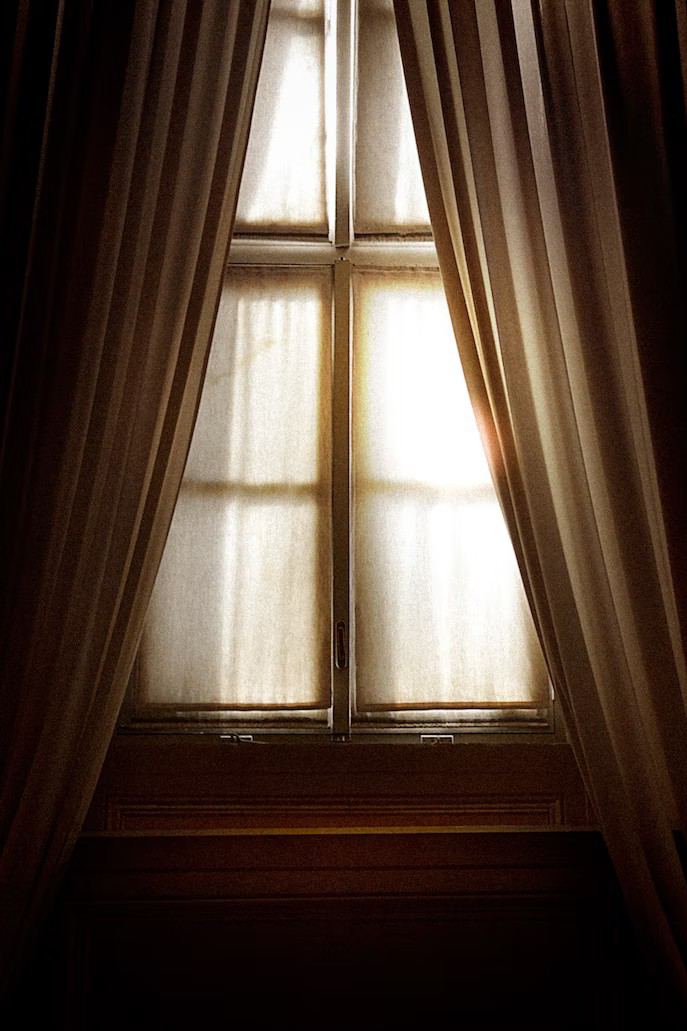 Moon || Unsplash
When the sunlight came through the window she was hugging Eduardo who opened his eyes and could move without any problem, both left the place terrified. They thought that everything was over and that they could escape without difficulty. They were absolutely wrong.
When they got into the vehicle in a hurry, the car would not start, something was wrong. The house turned dark and a dark substance like the one in the kitchen the previous morning was coming out of the windows. They ran as fast as possible through the apple trees on the property, trying to get as far as possible before being caught by the stain that devoured everything in its path.
In the attempt to reach the nearest road Eduardo hears the sound of a car approaching and they quickly approach to meet it, to their luck it was Jacinto who is driving the same car that minutes before did not start.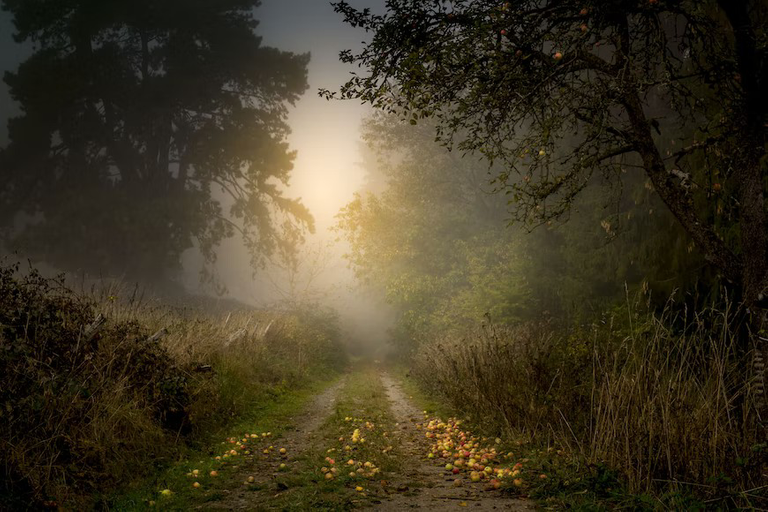 Stefan Widua || Unsplash
---
See you in the next post.😊
---
Banner made in Canva using your resources.
Separator made in powerpoint.
Translated by DeepL, free version.
---
---

---
---