[Esp-Eng] Oración a San Internet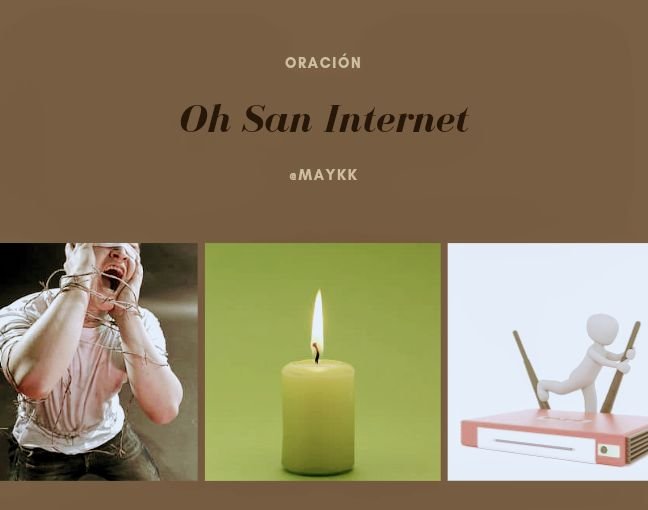 Fuentes Pixabay || Edición en Camva
Oh San Internet, padre de la red interconectada, Dios de la comunicación, guía de nuestra mensajería, deidad de la interconectividad, en tu red poderosa te encomiendo mi señal.
Permíteme navegar en tu fibra, llena mi casa de sagrada conexión, invade mi celular de 4g, mantente omnipresente en todos los sitios que me dirija, guía mis mensajes, para que lleguen a sus destinatarios.
Oh San internet, en tus manos coloco mi Discord, protégelo del color rojo demoníaco, permite que pueda entrar sin problemas en su voice, haz que escuche sin distorsión, sé que tú todo lo puedes.
Oh San internet, dale fluidez a mis cargas de videos en 3speak, haz que el tiempo se reduzca, dame la paciencia para no desmayar, permíteme ser un buen usuario.
Oh San internet, Sé que soy un simple mortal, que te pide con fe, tener tu buen servicio, protege a HIVE para que siempre pueda entrar sin problemas, cuida de mi Twitter para poder promocionar la colmena.
O great Internet, father of the interconnected web, God of communication, guide of our messaging, deity of interconnectivity, into your mighty web I entrust my signal.
Let me surf on your fibre, fill my home with sacred connection,
invade my 4g mobile phone, be omnipresent everywhere I turn, guide my messages, so that they reach their recipients.
Oh Saint internet, in your hands I place my Discord, protect it from the demonic red colour, allow it to enter without problems in its voice, make it listen without distortion, I know that you can do everything.
Oh Saint internet, make my 3speak video uploads smooth, make the time slow down, give me the patience not to faint, let me be a good user.
Oh Saint internet, i know I am a mere mortal, who asks you with faith, to have your good service, protect HIVE so that I can always enter without problems, take care of my Twitter so that I can promote the hive.
Soy tu siervo señor, gracias por todo la conexión que nos regala, por tu comunicación, por todas las cosas buenas que nos das, eres tú el único que me puede dar la rapidez que necesito.
Oh San internet escucha mi plegaria.
En el nombre del w.w.w Del Google y de la Wikipedia amén.
Envía a esta oración a 20 de tus contactos y verás como San Internet te hará el milagro de tener la conexión robusta que necesitas.
Da la limosna a la compañía de servicio de internet, sin quejarte y prende una vela de color verde al router y reza 20 veces esta oración, antes de conectarte.
No rompas esta cadena de oración, porque si lo haces San internet te mandara a usar el servicio de Aba cantv de Venezuela, que es como conectarse con la nada.
La fe, mueve la fibra de la señal que nos une.
I am your servant Lord, thank you for all the connection you give us,
for your communication, for all the good things you give us, you are the only one who can give me the speed I need.
Oh Saint internet hear my prayer.
In the name of w.w.w
Of Google and Wikipedia amen.
Send this prayer to 20 of your contacts and you will e how Saint Internet will work the miracle of having the robust connection you need.
Give the alms to the internet service company without complaining and light a green candle at the router and say this prayer 20 times before connecting.
Don't break this prayer chain, because if you do San internet will send you to use the service of Aba cantv de Venezuela, which is like connecting to nothingness.
Faith moves the fibre of the signal that unites us.

---
---