HIVE OPEN MIC WEEK 152 - CHUKUOMA (COVER) By Mayorkeys
---
Its a pleasure to be here again today because it takes passion and determination to be able to continue in a musical line without giving excuse even though other circumstances my rise up but putting music as a priority shows that there is a passion, thanks to the spotlight artist for this week in the hive open mic community for this opportunity to be able to go traditionally in the music line and to be able to showcase what we've got, as we all know the theme of this week is traditional music which is an open entry to be able to render the choice of song. So with this opportunity here talking about traditional music I was opportuned to pick a song which I really loved and I also play it on my keyboard but this time around I am playing with the guitar with the fact that I am yet to be a good player on it.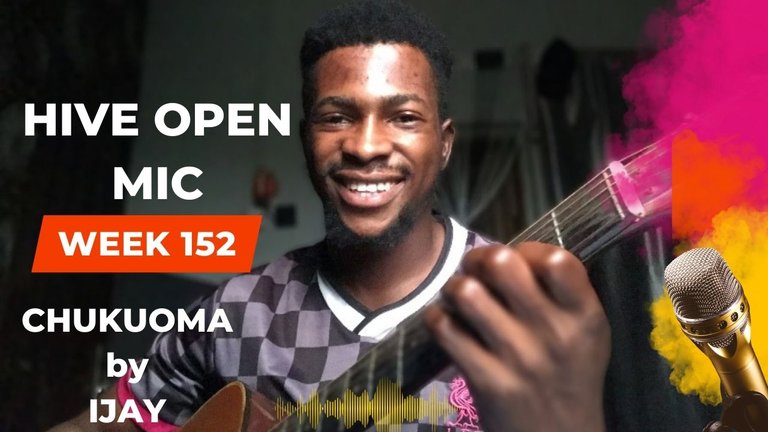 The title of the song which I did today as my entry is chukuoma by Ijay, this song is a nice song for me at first when I heard the song I begin to wonder how the composition was able to meet the standard of the people, throughout the time i used to learn the song i was always happy to sing it, though it was not my native language but I learnt it and I checked for the meaning to see you that the song was very good one for me. The link to the song which will be dropped, i will like you to check it out, enjoy the video as you watch.

Lyrics
Source
Chukwuoma Onyeoma nna,
Chukwuomaa… Chiobioma x4
My life was crowned with misery
My hopes were drowned as in the sea
My God is good Chiobioma me…
He left the heavens and came down
The wall of pain he pulled down
He sent His word with healing
My life He gave new meaning Chinekeoma,
chiobioma me…
(Repeat chorus x2)
Solo 2:
Every tongue and tribe sing His praise
With all your might proclaim His grace
My God is good Chiobioma me.
Igbo Hausa Yoruba
Ibibio Akwa-ibom
Let's join and give Him praise
For all He has done yea
Chinekeoma, chiobioma me…
(Repeat chorus twice)
solo 3:
That is why we call His name
Chinaemenma,
Chinazamekpere,
Chidinma,
Chinasanjo,
Chinaenyimike,
Chinweudo,
Chinekeoma,
Chiobioma(x4)

SPANISH
Es un placer estar hoy aquí nuevamente porque se necesita pasión y determinación para poder continuar en una línea musical sin dar excusas a pesar de que otras circunstancias pueden surgir pero poner la música como prioridad demuestra que hay una pasión, gracias a los reflectores. artista de esta semana en la comunidad de micrófono abierto de Hive por esta oportunidad de poder ir tradicionalmente en la línea de la música y poder mostrar lo que tenemos, como todos sabemos, el tema de esta semana es la música tradicional, que es un entrada abierta para poder rendir la elección de la canción. Entonces, con esta oportunidad aquí hablando de música tradicional, tuve la oportunidad de elegir una canción que realmente me encantó y también la toco en mi teclado, pero esta vez estoy tocando con la guitarra con el hecho de que todavía tengo que ser un buen jugador. en eso.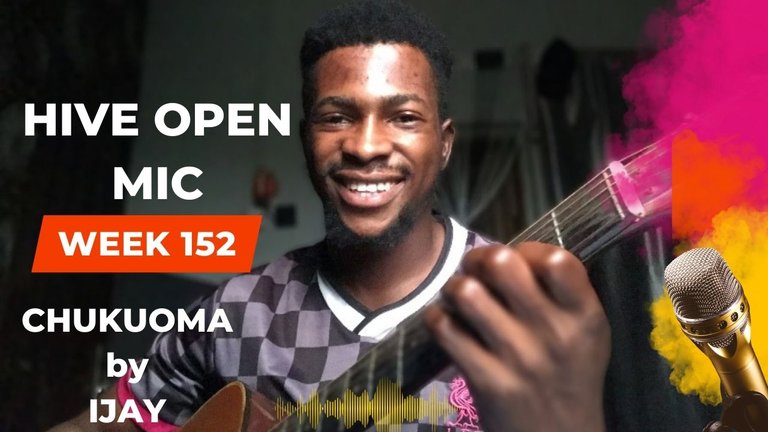 El título de la canción que hice hoy como mi entrada es chukuoma de Ijay, esta canción es una buena canción para mí al principio, cuando escuché la canción comencé a preguntarme cómo la composición pudo cumplir con el estándar de la gente, a lo largo Cuando aprendía la canción, siempre estaba feliz de cantarla, aunque no era mi idioma nativo, pero la aprendí y revisé el significado para ver que la canción era muy buena para mí. El enlace a la canción que se lanzará, me gustaría que lo revises, disfruta el video mientras miras.

Letra
Source
Chukwuoma Onyeoma nna,
Chukwuomaa… Chiobioma x4
Mi vida fue coronada con la miseria
Mis esperanzas se ahogaron como en el mar
Mi Dios es bueno Chiobioma me…
Dejó los cielos y descendió
El muro de dolor que derribó
Envió su palabra con sanidad
Mi vida le dio un nuevo sentido Chinekeoma,
quiobioma yo…
(Repetir coro x2)
Solo 2:
Cada lengua y tribu cantan Su alabanza
Con todas tus fuerzas proclama su gracia
Mi Dios es bueno Chiobioma mí.
igbo hausa yoruba
Ibibio Akwaibom
Unámonos y démosle alabanza
Por todo lo que ha hecho sí
Chinekeoma, quiobioma yo…
(Repite el coro dos veces)
solo 3:
Por eso llamamos Su nombre
Chinaemenma,
chinazamekpere,
Chidinma,
chinosanjo,
chinaenyimike,
chinweudo,
Chinekeoma,
Quiobioma(x4)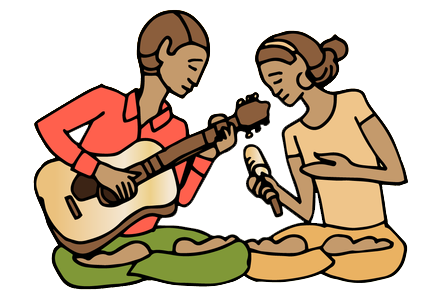 ---
---