Hive open mic week 138 - All of me (Cover) by John legend
---
Hive open mic week 138, It's a pleasure to be here again even though the last time I posted it was not with my phone due to some fault in it but today I am back to make my first post again after repairing my phone so following this week theme which was picked as magic, I was able to dance around to the tune of the theme and I was able to pick a song which was titled all of me by John Legend.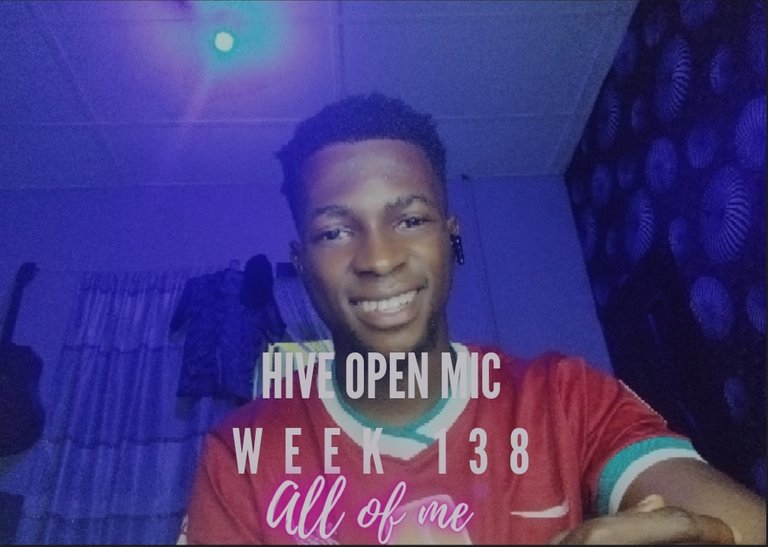 What drove me or inspired me to pick this song as my entry for this week it was Because of the fact that you can relate love life as magic seeing how two people develop feelings for eachother and that likeness come in, it feel like magic to me the song now said it all again and I was very moved to use the song as my entry without any delay since it really go well with the theme of the week, I really appreciate and commend the brain behind the theme selection, you will love the video when you watch it and also it is in an acapella style so you will surely enjoy it.


The video was made on my newly repaired phone which is Redmi 9t and also the editing was made on the powerdirector app, likewise the thumbnail picture was designed on canva application, I hope you enjoy it while you watch. See you next time.
Spanish
Hive open mic semana 138, es un placer estar aquí de nuevo, aunque la última vez que publiqué no fue con mi teléfono debido a una falla en él, pero hoy estoy de regreso para hacer mi primera publicación nuevamente después de reparar mi teléfono, así que siguiendo esto el tema de la semana que se eligió como mágico, pude bailar al ritmo del tema y pude elegir una canción que John Legend tituló all of me.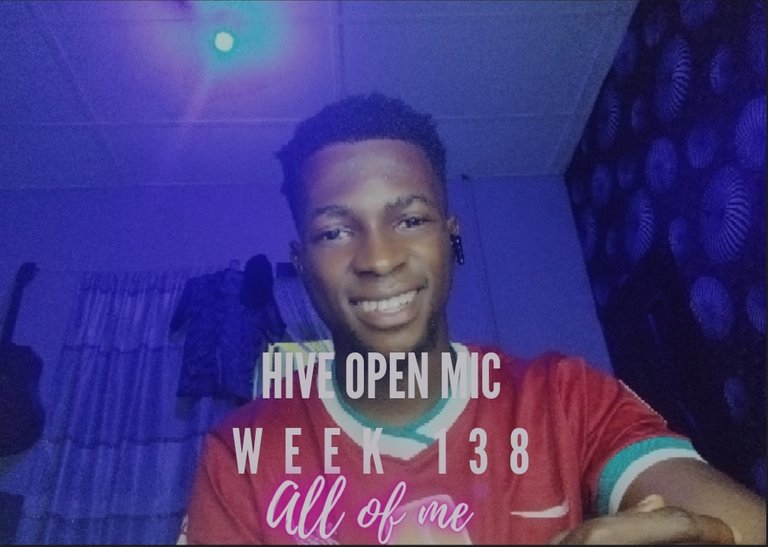 Lo que me impulsó o me inspiró a elegir esta canción como mi entrada para esta semana fue por el hecho de que puedes relacionar la vida amorosa como magia al ver cómo dos personas desarrollan sentimientos el uno por el otro y esa semejanza entra, se siente como magia para mí. la canción ahora lo dice todo de nuevo y me conmovió mucho usar la canción como mi entrada sin demora ya que realmente va bien con el tema de la semana, realmente aprecio y felicito al cerebro detrás de la selección del tema, les encantará el video cuando lo veas y además está en estilo acapella así que seguramente lo disfrutarás.
El video se realizó en mi teléfono recién reparado, que es Redmi 9t, y también se realizó la edición en la aplicación powerdirector, del mismo modo, la imagen en miniatura se diseñó en la aplicación canva, espero que la disfruten mientras miran. Nos vemos la próxima vez.
lyrics
What would I do without your smart mouth? Drawin' me in and you kickin' me out You've got my head spinnin', no kiddin' I can't pin you down What's goin' on in that beautiful mind? I'm on your magical mystery ride And I'm so dizzy, don't know what hit me But I'll be alright
My head's under water, but I'm breathing fine
You're crazy and I'm out of my mind
'Cause all of me
Loves all of you
Love your curves and all your edges
All your perfect imperfections
Give your all to me
I'll give my all to you
You're my end and my beginnin'
Even when I lose, I'm winnin'
'Cause I give you all of me
And you give me all of you, oh-oh
How many times do I have to tell you?
Even when you're crying, you're beautiful too
The world is beating you down, I'm around
Through every mood
You're my downfall, you're my muse
My worst distraction, my rhythm and blues
I can't stop singing, it's ringing
In my head for you
My head's under water, but I'm breathin' fine
You're crazy and I'm out of my mind
'Cause all of me
Loves all of you
Love your curves and all your edges
All your perfect imperfections
Give your all to me
I'll give my all to you
You're my end and my beginnin'
Even when I lose, I'm winnin'
'Cause I give you all of me
And you give me all of you, oh-oh
Give me all of you, oh
Cards on the table, we're both showing hearts
Risking it all, though it's hard
'Cause all of me
Loves all of you
Love your curves and all your edges
All your perfect imperfections
Give your all to me
I'll give my all to you
You're my end and my beginnin'
Even when I lose, I'm winnin'
'Cause I give you all of me
And you give me all of you
I give you all of me
And you give me all of you, oh-oh
¿Qué haría yo sin tu boca inteligente? Me atraes y me echas Tienes mi cabeza dando vueltas, no bromees no puedo fijarte ¿Qué está pasando en esa mente hermosa? Estoy en tu paseo mágico y misterioso Y estoy tan mareado, no sé qué me golpeó pero estaré bien
Mi cabeza está bajo el agua, pero respiro bien
Estás loco y yo estoy fuera de mi mente
Porque todo de mi
ama a todos ustedes
Ama tus curvas y todos tus bordes
Todas tus perfectas imperfecciones
dame todo de ti
Te daré mi todo
Eres mi final y mi comienzo
Incluso cuando pierdo, estoy ganando
Porque te doy todo de mi
Y me das todo de ti, oh-oh
¿Cuántas veces tengo que decírtelo?
Incluso cuando lloras, también eres hermosa.
El mundo te está golpeando, estoy cerca
A través de cada estado de ánimo
Eres mi perdición, eres mi musa
Mi peor distracción, mi ritmo y blues
No puedo dejar de cantar, está sonando
En mi cabeza por ti
Mi cabeza está bajo el agua, pero respiro bien
Estás loco y yo estoy fuera de mi mente
Porque todo de mi
ama a todos ustedes
Ama tus curvas y todos tus bordes
Todas tus perfectas imperfecciones
dame todo de ti
Te daré mi todo
Eres mi final y mi comienzo
Incluso cuando pierdo, estoy ganando
Porque te doy todo de mi
Y me das todo de ti, oh-oh
Dame todo de ti, oh
Cartas sobre la mesa, ambos mostramos corazones
Arriesgándolo todo, aunque es difícil
Porque todo de mi
ama a todos ustedes
Ama tus curvas y todos tus bordes
Todas tus perfectas imperfecciones
dame todo de ti
Te daré mi todo
Eres mi final y mi comienzo
Incluso cuando pierdo, estoy ganando
Porque te doy todo de mi
Y me das todo de ti
te doy todo de mi
Y me das todo de ti, oh-oh
---
---