Black And White Photos Of Nature: Alone Or Lonely?

"It's so suffocating. We're living in the same house but he won't even dare talk to me. Am I invisible? Or he doesn't love me anymore?"
These are my thoughts this morning after noticing that I'm neglected by my husband.
Sometimes having awkward communication is best for me than nothing at all. I will still choose it than ignoring me for unknown reasons.
Let's leave him
Every time this moment happened, I always choose not to stay home, but to unwind outside.
I tried to ask him what's the problem and what did I do wrong. "Nothing" is the only answer I got.
So yeah. Let's go out.
I tried so hard not to make that scenario a source of our fight.
Going out...
Nature is what faced me.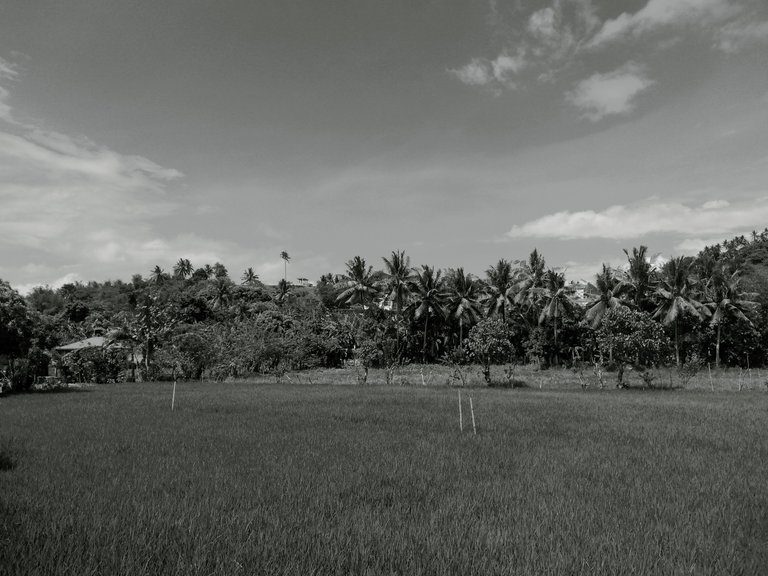 It's a little bit hot this 1:44 pm. But I'd rather choose to stay here than keep up the pressure inside the house.
Seeing nature helps me to be calm, at peace, and have comfort. This is what I love here in the province compared to those cities where buildings are most seen.
Here I got entertained by nature. I was fascinated by how the wind swayed those tree branches. I got amused by how busy and noisy the birds are. Then I realized how they live their life where problems are not their priority.
Black and white
In capturing images, I used to have colored ones. The one that will show how colorful the flower is, how blue the sky is, or how fresh the food might be.
But now, let's have black-and-white photography. This is what my mood said. And just let it be.
Choosing the black-and-white filter on my phone vanishes every color that nature gives.
It offers a different drama and mood. It just focuses on having white, gray, and black. No distraction of colors. And that's what I love.
What I noticed
Capturing here and there makes me notice a thing.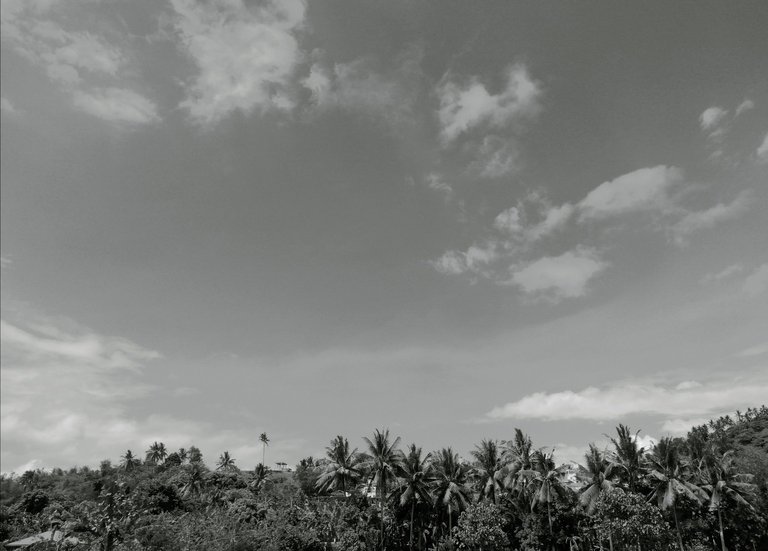 In this mountain full of trees and plants, there's one thing that's alone.
It's on the top, so you can see it quickly.
Have you spotted it?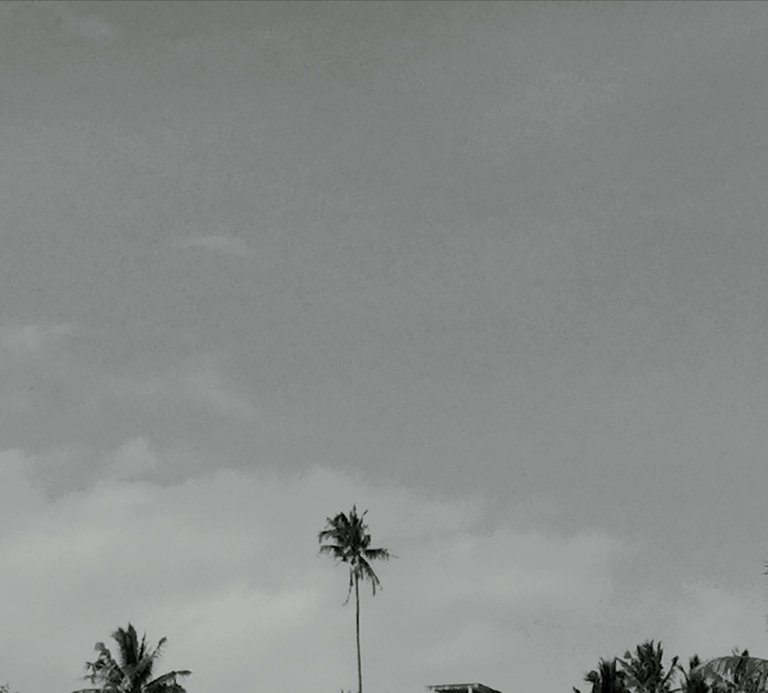 I was referring to this tree.
I know, I know. Capturing this using phone will not give you a better image.
I just zoom in, like 6x the actual size. So, what do you expect?
But that's not what is important right now.
What I want to say is this tree is alone.
If this tree can talk, what do you think it'll say? Do you think he accused the one who plant why he put it there?
Or if it has emotions or feelings just like us humans, do you think it cries at night? Feel sad whenever it has no one to talk to?
This tree became my companion and my entertainer to this day. I feel pity for him, and at the same time glad that he can't feel any.
Entirely, I see myself in that tree. There were a lot of trees around but no one was there near him.
Just like me, I have a husband that can talk to and have a conversation, but he chose not to.
Well, I hope that tree has a bird best friend. The one who builds a nest on its leaves, and creates a family in those shelters.
That's the only solution so it won't feel alone.
Did he notice me now?
Now that we have a baby, it can be used to have a random conversation. Even if he doesn't want to.
He used to be like this even when we were just starting as a couple.
At first, I feel so lonely whenever he did that. But now, little by little, I'm getting used to it.
What I can't get is if it's happening out of nowhere. Without any reasons behind it or any clue to be figured out.
But yeah, I think he's on his menstruation cycle. Let's just think he's a girl. 🤭
Now, after having dinner, I think he's getting back to normal. The only secret to getting back to him is to cook delicious food that he loves.
Did I just figure out that now? Well, maybe that's what it is.
Thanks for reading up to this very end.
This post is a way I release negative emotions. And glad God gives us nature to help us be entertained and learn lessons at the same time.
Hope you love my photos too. Black-and-white phone photography. Sometimes trying different filters is kinda exciting. Try it too. 😉
Disclaimer: All photographs by me, unless otherwise stated.
---
---