Chicken Soup: With Patola And Misua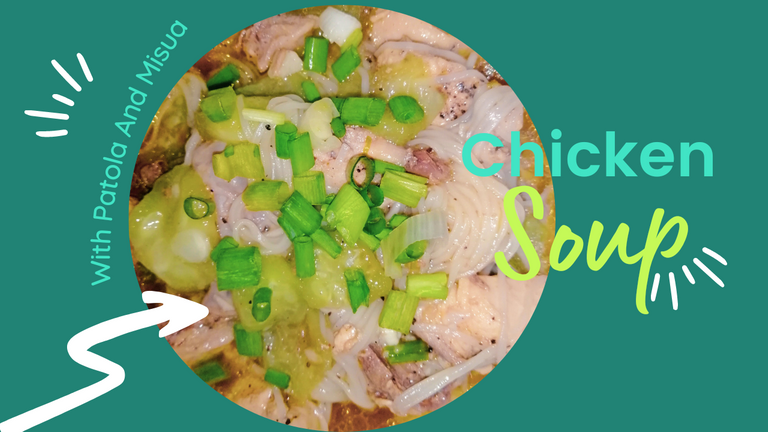 Did you know that eating chicken soup can improve our skin health? It is known to improve skin elasticity and facial pigmentation.
So having chicken soup in our meals will not only make us hydrated and full, but it will also make our skin healthy.
Night market
It is 7:00 pm when I, hubby, our little one went to the night market. We used to be there and take a little snack.
That time, there's a vegetable vendor... And she's selling patola (ribbed loofah). I bought 1/2 a kilo for PHP20 or $0.37.
So our menu for today is chicken soup with patola and misua.
Chicken soup with patola and misua
This soup is considered a traditional dish enjoyed by Filipinos. Somehow, the Chinese influenced it a little bit because of the misua.
Also, this is not a boring soup because of the rich chicken taste in every spoonful. Plus, the smell is very alluring. It is also nutritious because of the patola, and scallions.
I like how it tastes. It's just a good match to warm steamed rice, plus the fact that... it will make you want more.
So without further ado, let me share with you how I made it.
Ingredients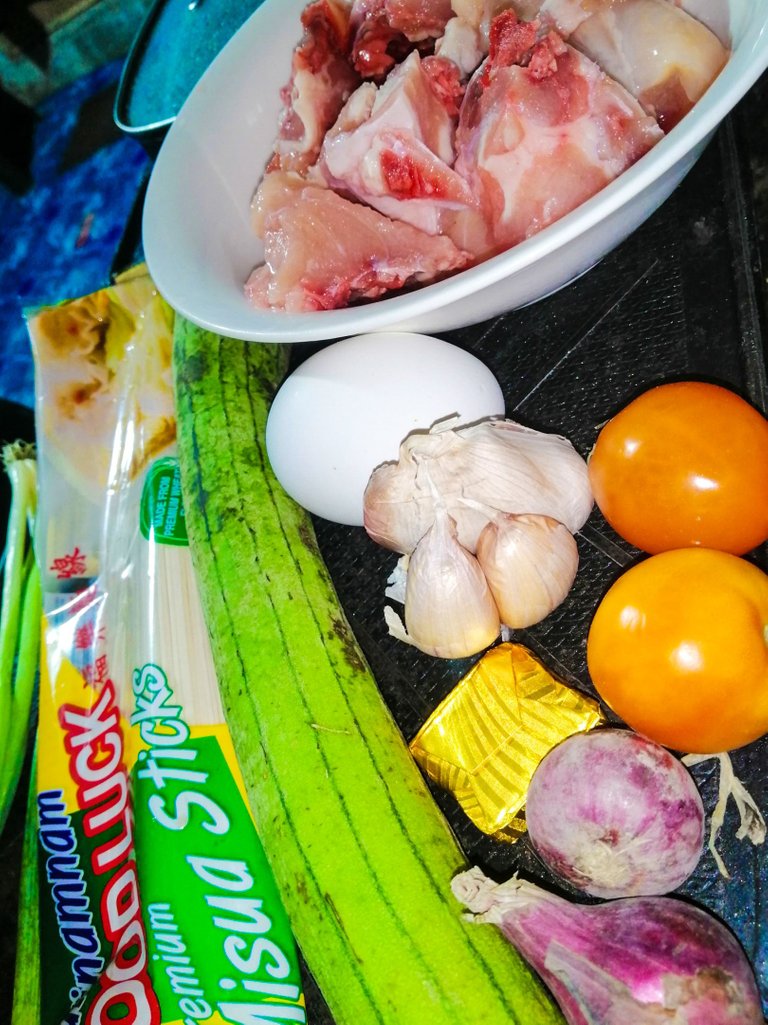 Just what you saw in the picture, the ingredients are:
• 6 to 8 ounces of chicken
• 2 ounces misua
• 1 small patola
• 1 Knorr cube
• 2 scallions (chopped)
• 3 cloves garlic (crushed)
• 2 small onions (chopped)
• 1 tomato (wedges)
• 2 1/2 cups water
• 1/4 teaspoon salt
• 1/4 teaspoon black pepper
• 3 tablespoons cooking oil
Procedure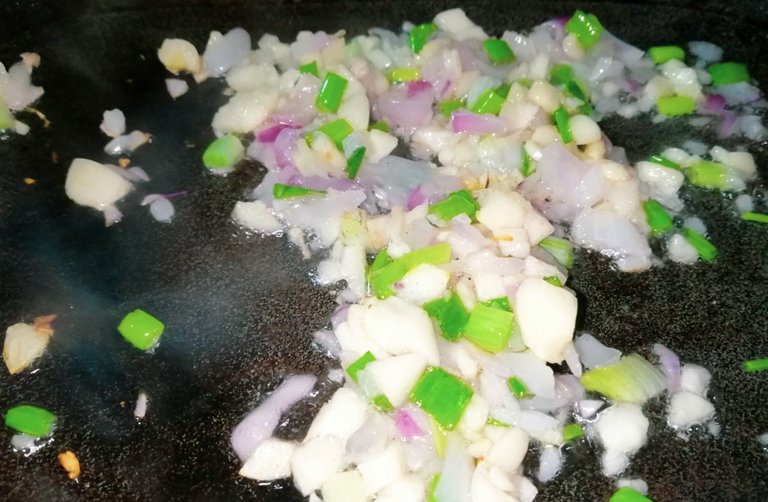 I started everything by heating the oil. After it gets hot, I saute the garlic, onion, and some of the scallions. I just wait for the garlic to be light brown and the onion to be tender.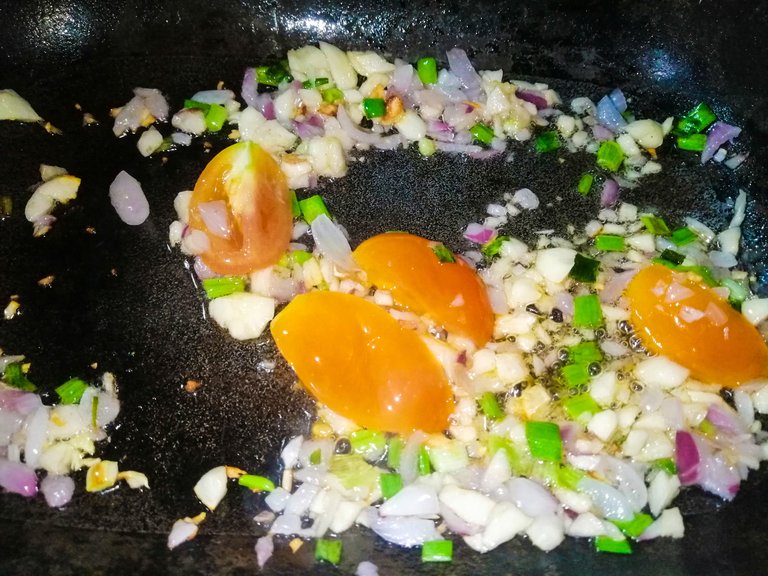 After that, the tomato has been added. I saute it until it gets sluggish.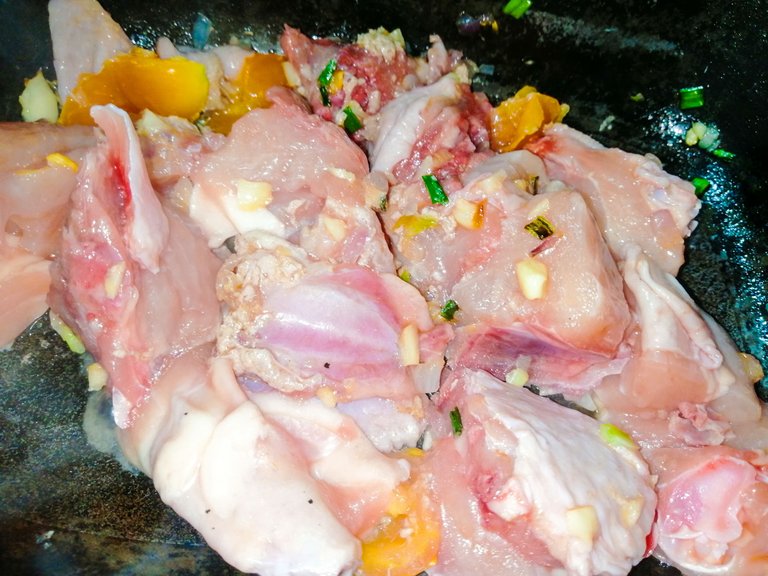 I then add the chicken and saute it for 2 minutes.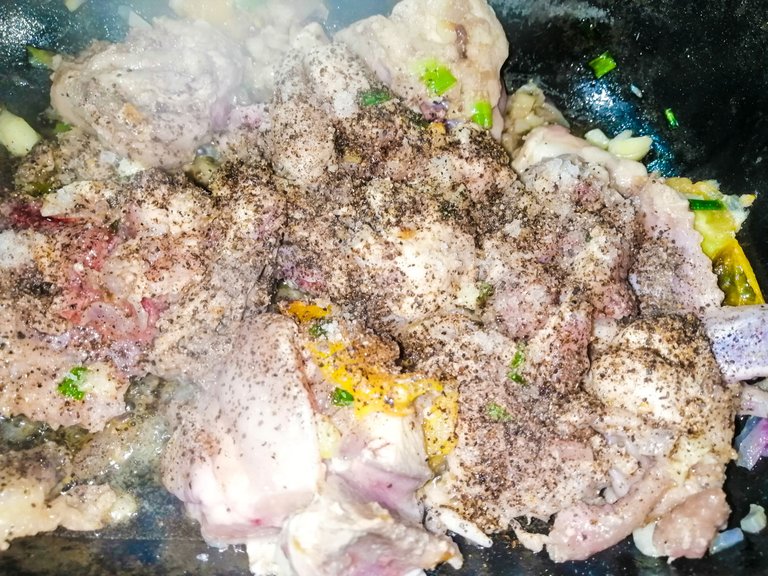 Also, I add salt and black pepper to it, then saute it for another 2 minutes.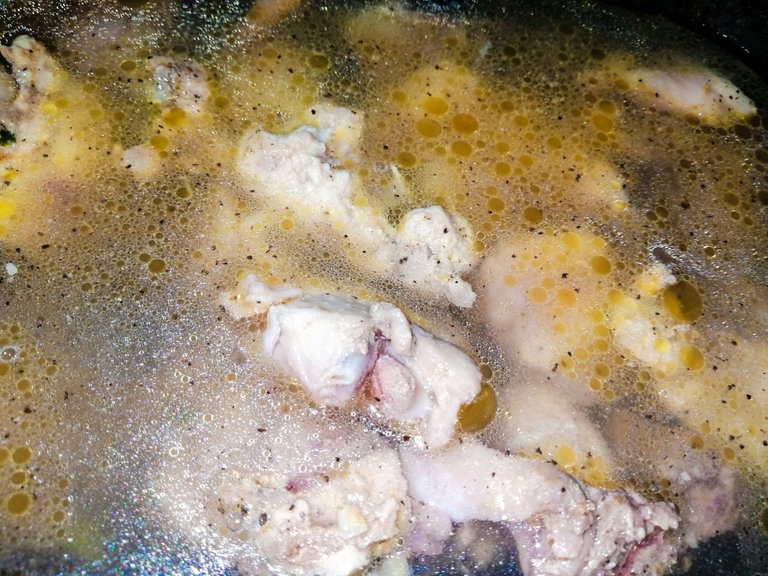 After that, that's the time I pour the water.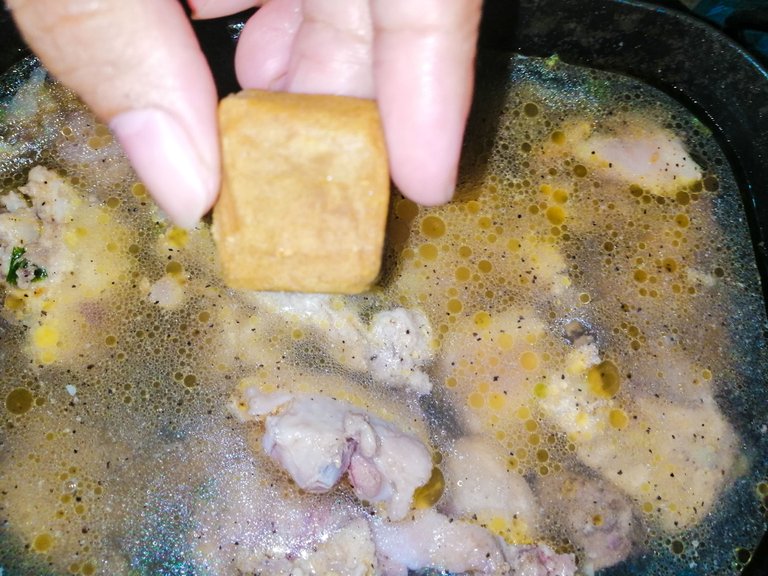 I also add the Knorr cube and stir it... Then cover, and let it boil for about 15 minutes on medium heat.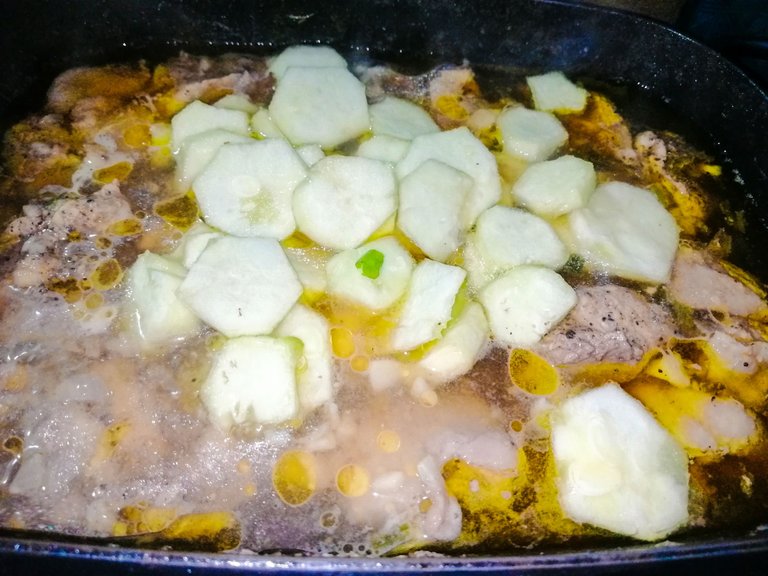 After that 15 minutes boil, that's the time I put the patola.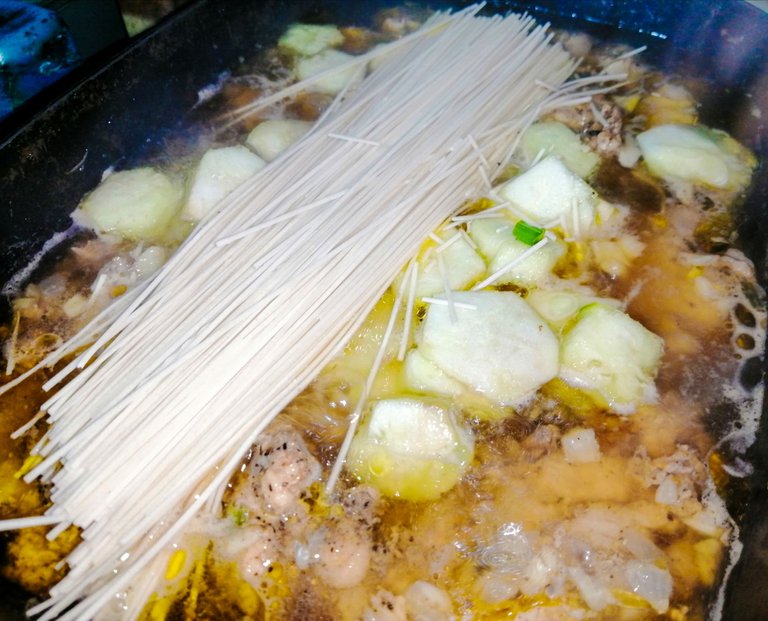 And immediately the misua. I just stir it, and cook it for about 2 minutes more... Then that's it. Chicken soup with patola and misua is now ready to be transferred and served.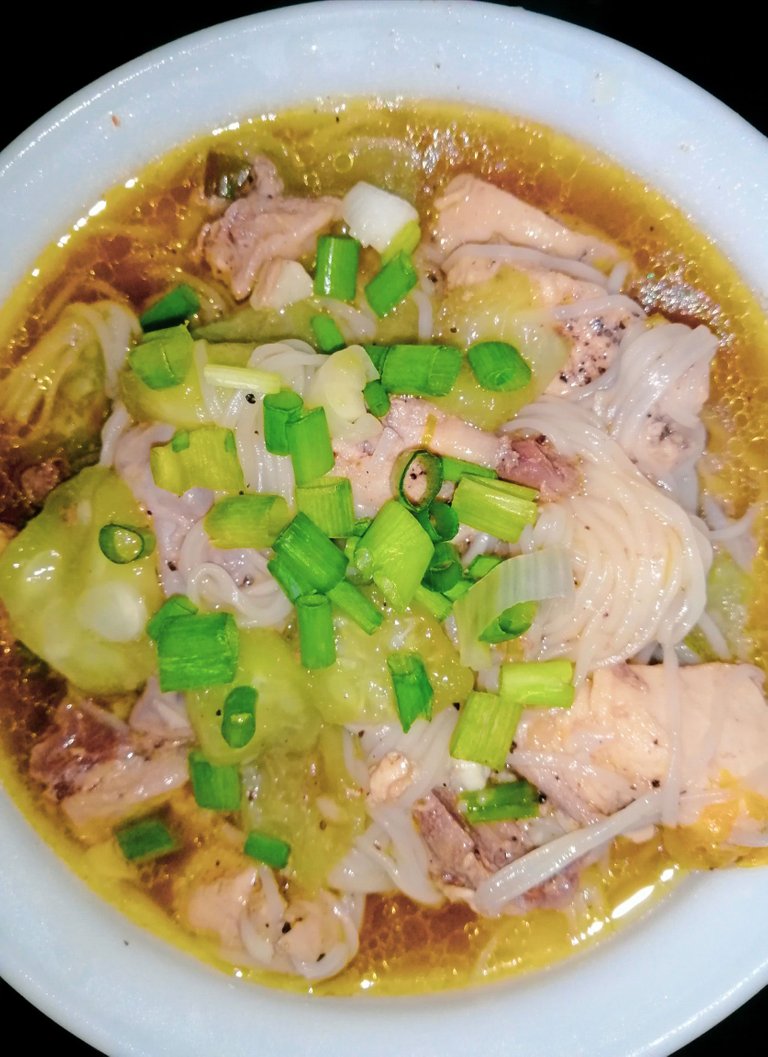 Bring it to the next level
In making this, I plan of putting an egg in it after it is cooked. I also dream of having fried dried fish to be paired with this soup.
But that idea didn't happen. I end up eating just how I cooked and prepared it. The reason is, it's getting late and preparing too much food for a night is not practical. Especially if it's just two of us who will consume and eat it.
But if ever you want to bring it to the next level, egg and fried fish need to be present with this dish.
Yet eating it just like that is still a satisfaction. I'm telling you it's so masarap!
Cost
All in all, if I will compute the ingredients... Chicken can be calculated for PHP50 or $0.92. The misua is just PHP10 or $0.18. Knorr cube is PHP7 or $0.13. The scallions same as the patolas are both PHP20 or $0.37... And the other condiments and seasonings... Can be estimated to be PHP25 or $0.46.
Maybe I just consume a total of PHP132 or $2.43. This is so cheap.
Having chicken soup with this money is already practical.
I hope you learn something today and wish to see your cooking recipes as well. Stay healthy and full. 😉
Disclaimer: All photographs by me, unless otherwise stated.
---
---