Passion for excellence: Si lolo ay nangisda

I was nursing our baby when a new music video for kids appeared. It was entitled, "Si Lolo ay Nangisda".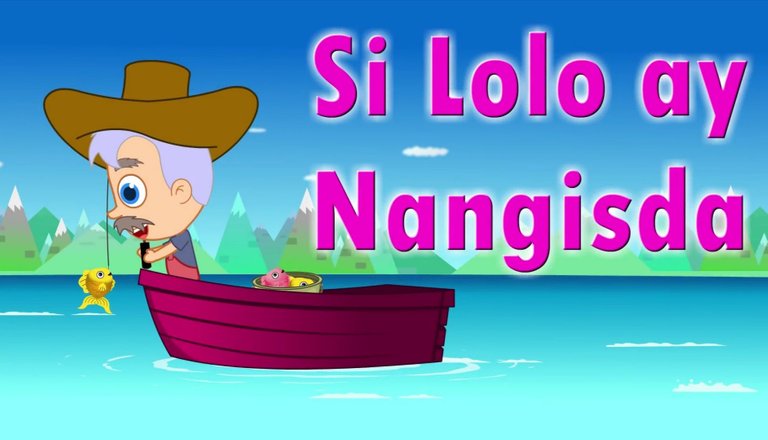 It was clearly for kids as it has sounds and graphics that are so lively.
The story goes on when an old man goes out to catch some fish. Later that day, he doesn't catch any fish. Nothing at all.
The next day, he goes out again to catch some fish. Even though he didn't get succeed at first, that doesn't stop him. And again, that day, no fish was caught.
Eventually, on the third try, did he succeed? Let's find out.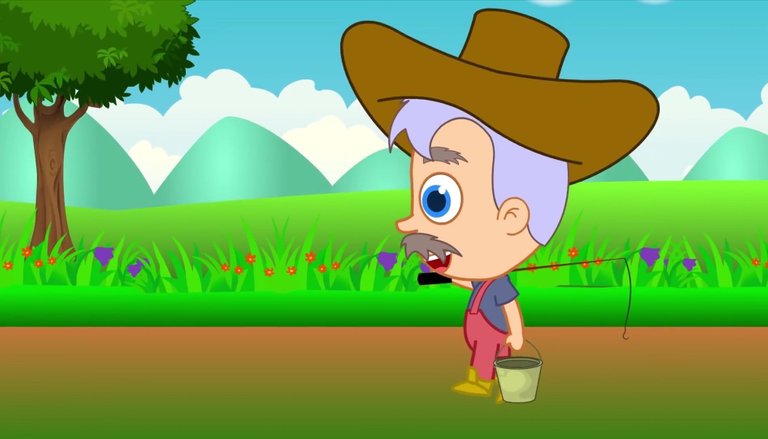 As usual, he goes out like typical. Bringing his fish rod, and pail. He rides his boat and paddles it till he reaches the nice spot for fishing.
And you know what happens next?
He now caught a lot of fish. Not just one, or two. His pail was so crowded with different fish.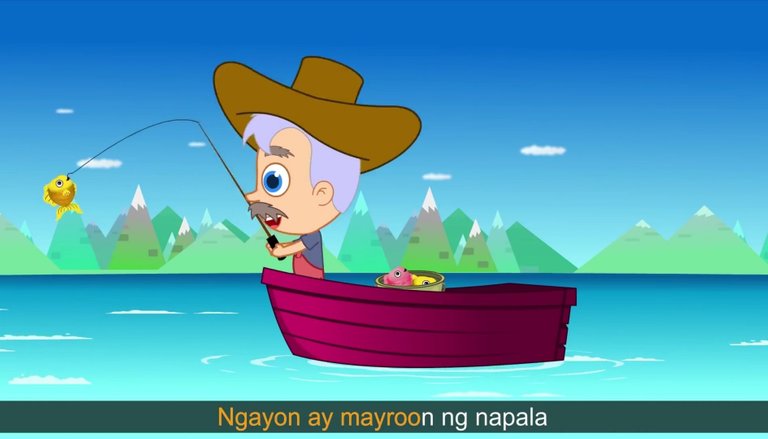 And his effort pays off.
Now why I'm telling you this?
Learnings for hivers
Here in Hive, some users don't have a passion for excellence like this old man. Especially those who are still doubting what this platform can give. Some tried writing, once, twice... Then stop. Why?
Maybe some negativity makes them surrender. Maybe some of their family and friends add to that thinking. Just like what I read this past few days on HivePH discord.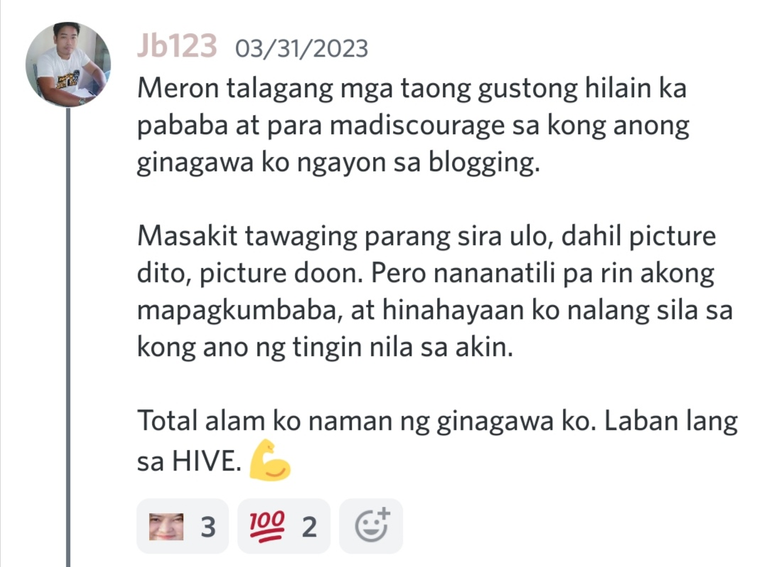 @Jb123 shared how his relatives/friends pull him down or are discouraged him just to stop blogging. He's been called "crazy", because of capturing everything. But then, what did he do? Stop? No. He has a passion for excellence like the old man in the video. He lowers his pride, ignores what others say, and continues his journey here in Hive.
I know some can relate to him, not just me but other users as well. As time passes by, maybe quitting is your chosen option in pursuing your passion.
But let's learn something from this old man, and make our blogging passion an excellent job.
Blogging is hard
Every work is hard. It just comes on different levels but at some point, everything can make you drain.
For example this passion for blogging. We all love writing, that's why we're here. But that love can sometimes fade, get cold and subside.
There comes a moment when you just don't have time to write. When writing is not your priority at all.
Or sometimes, you're motivated to compose something, but " writer's block " comes. Whatever you do, you can't think about what to write, what topic to discuss, or how to start a single sentence as an intro.
So blogging is not easy. It's hard. Just like fishing. You need to make an effort before catching any fish.
I'm still a redfish
How long I've been here in Hive? Maybe you asked. Well, I'm already 5 months here. Starting November 6, 2022.
And that short period, did I think of quitting? Honestly, I did.
Here in Hive, being a newbie means you don't have any problem getting an upvote. Especially, if those communities you joined treat you as a baby and appreciate your every simple work.
But after that good treatment, maybe 2 months... (This is based on my experience, I'm not stating this in general) they will make you step on your own feet. That's you'll realize, "Am I now abandoned, not appreciated, or ignored?"
But if you only analyze how this community work, you'll then realize how you need to start making your name on this platform.
Make an effort. Don't rely on others just to give you lots of upvotes. Learn to know your niche. Discover what they love to read, and eventually, you'll succeed on your first step.
What now?
So now that I'm already in my 5th month here in Hive, I'm still on my goal of not stopping. I'm still motivated to do good until it makes me better, then eventually, that better becomes the best.
I'm encouraged to imitate the old fisherman who has a passion for excellence.... who has a strong desire to be outstanding, remarkable, and great.
Honestly, every time I published an article here... I make sure I give my very best. And trying to make every new article decent than yesterday's post.
Other users that motivated me
This post is not just because of this old fisherman. This article is also inspired by our 2 co-users who posted their passion for excellence.
The first is @abaddon15. He shared how he loves and desires his passion for music. He wants and plans to continue it even though his friend stops and his relatives tell negative comments about it.
Planning music project for hive by abaddon15
And here comes @misshugo. She's been a lecturer for honor students. She is doing her best to teach, but those students are not serious about it and just do their bare minimum. But that won't stop her to do what she loves. Which is helping students to have a better future.
What is waiting for the academic world on the other side of the hill? by misshugo
See? These bloggers are a good example of this "passion for excellence". They just didn't share their feelings and emotions but they teach us to do our best in our passions.
Be like the old fisherman
In the end, it's still us who will choose what our passion is. But whatever it is, fishing, music, teaching, or blogging, make sure to choose excellence. That will lead us to excellent work.
And don't forget the two secrets to make it work... Which is desire and action. That two should always be a pair to be excellent in what we do. When you have the desire, make it work by doing an action.
In short, we only need to do our best every time.
How about you, do you have a secret as a successful blogger? Can you share it with me? I'm willing to learn from others and get ideas to be better. Don't forget to share it in the comment section. Thanks in advance.
Disclaimer:
Screenshots are from the:
• Youtube video — Si Lolo ay Nangisda | Awiting Pambata 2021 | Nursery Rhymes Tagalog
• Discord server — HivePH * Hive Philippines | confessions
---
---