Walking Through The Park
Are you busy? Do you have any errands today? If not, join me as I walk through Solong Eco Park.
Birds, flowers, butterflies, and swaying branches of trees are mostly seen in a park. It is always present and won't be able to leave your eyes bored.
Flowers
Let's start with what catches my eye first — flowers.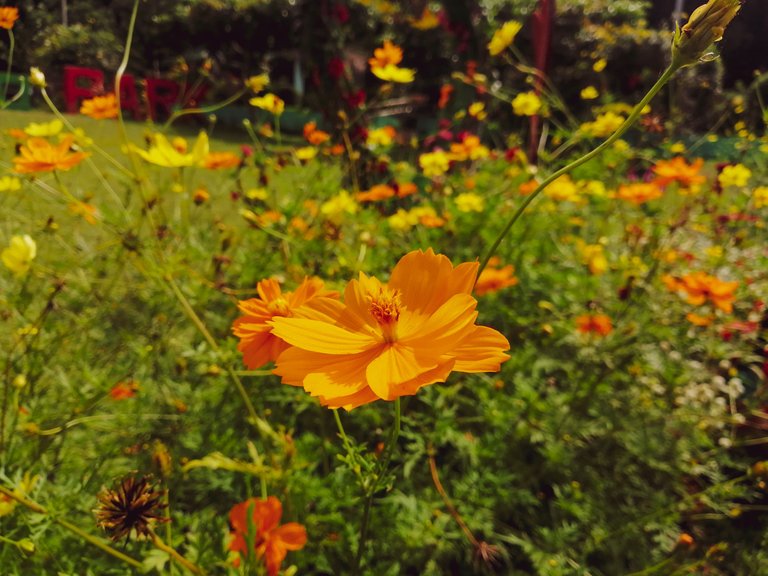 What do you do whenever you see flowers? Smell it? Or you're satisfied with just admiring it and taking a snap of it?
Well, let's do both as of now.
Let's smell every flower we found here, and take a snap too.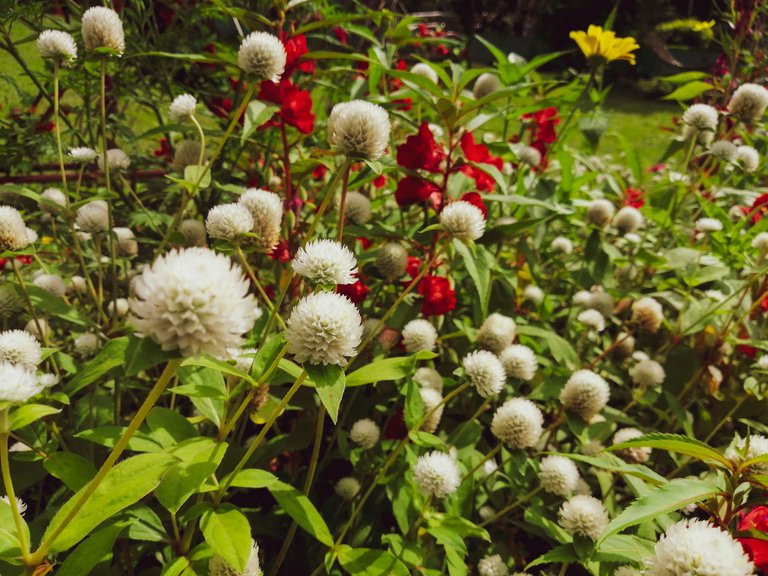 Every flower is unique. They differ in color, shape, smell, and beauty.
And you know what? This white flower is known as an edible one. But I won't dare to eat it while walking. Lol. Would you?
It doesn't smell anything too.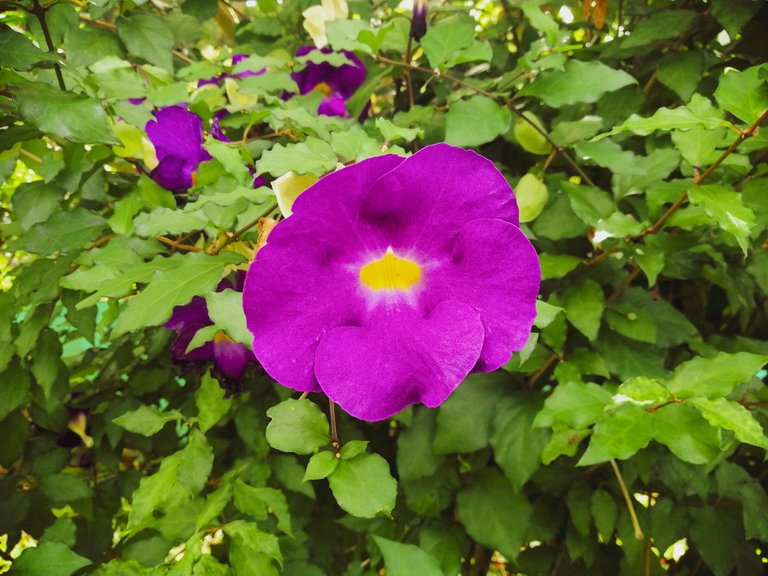 This purple one does smell something. It's slightly fragrant. And that's why I love smelling flowers.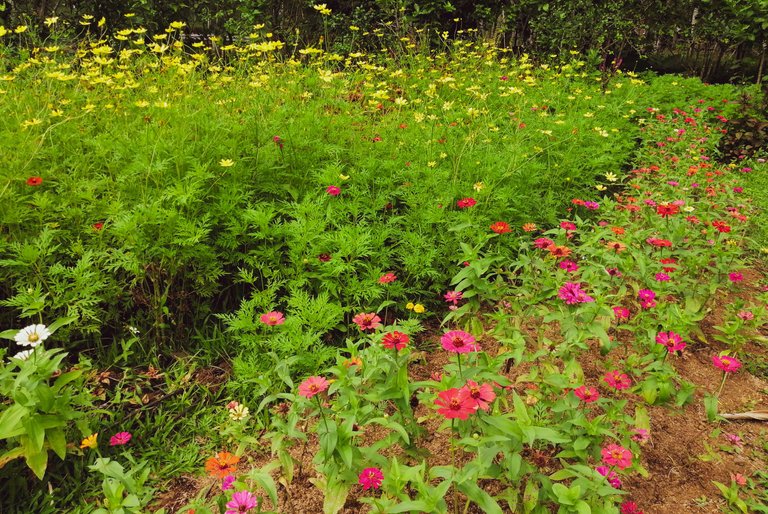 This zinnia is a lot. They were so easy to plant. I tried them before, and they grew so well, with low maintenance.
And it has no fragrance at all.
Do you want to go to something interesting? We're going now somewhere in the forest, where the cave is hiding.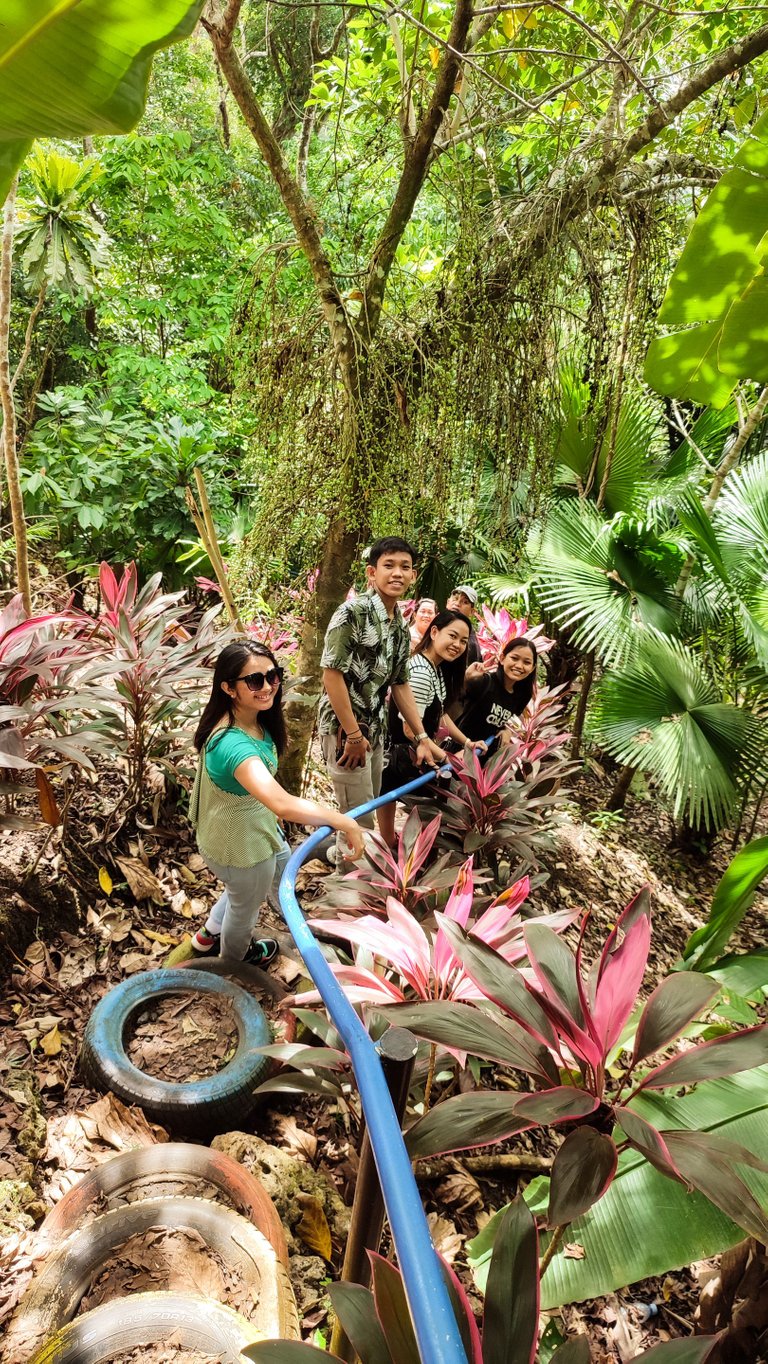 By the way, I am with my family, and it's a long way before we get to the cave that I'm telling you about.
If you're a nature lover... This place is what suits you.
Here you can hear birds chirping, and smell the fresh air that trees exhale.
Every step, you must count... It'll just entertain you.
Rock balancing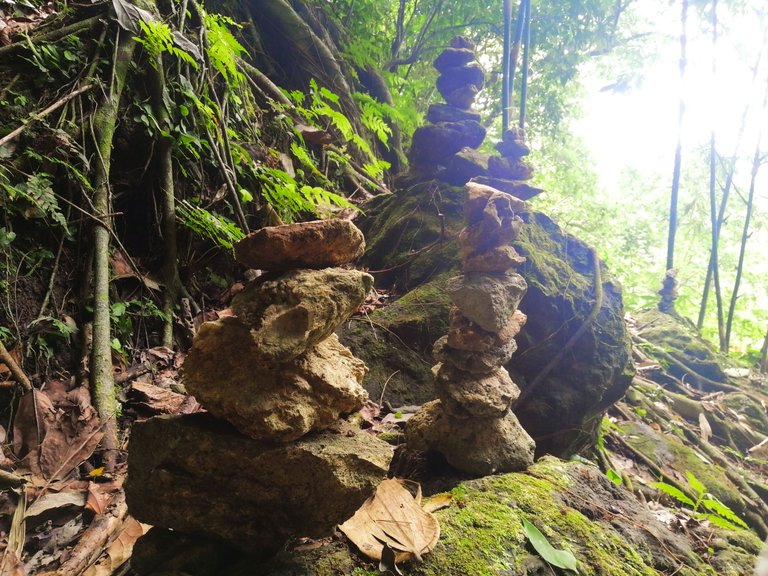 Before we step inside the cave, you'll get to notice these rocks... It was well-balanced.
Based on the tour guide, some visitors come to build this rock and others copied them too.
And of course, we should try that.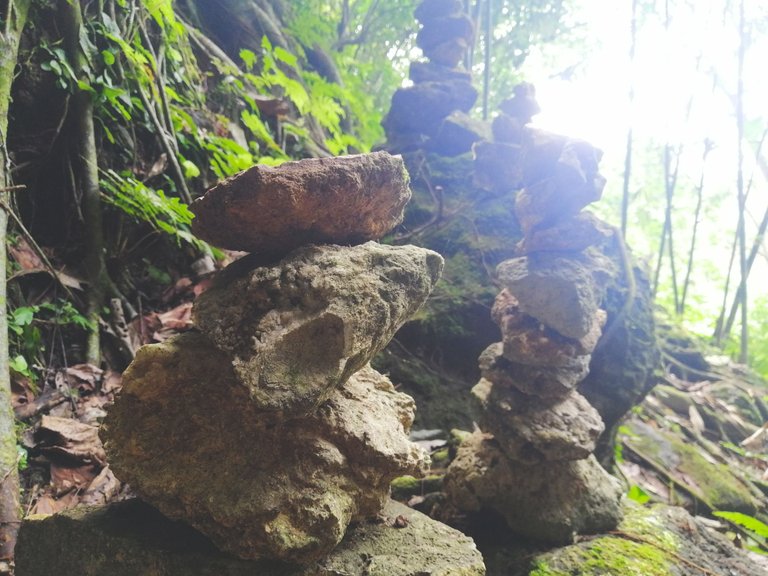 We should leave a mark here in case we get back soon. At least this walk won't be wasted without leaving any memories.
Can you see those three rocks in front? That was made by me. Haha. I was trying to put the fourth rock, but it won't want to get stacked. So I let it be, with just three.
Want to see the cave?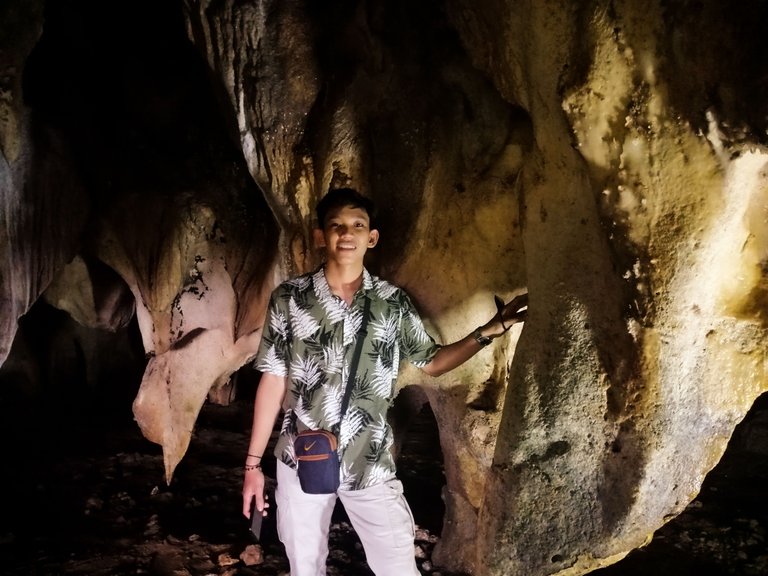 This cave is so dark that you can't see anything inside. Good thing the tour guide brought a big flashlight, just to help us whenever we want to take a snap.
I didn't take a lot of pictures here.
Well, what I appreciate here is the stalactites. The tour guide told us not to hold it as it can stop growing for good. And while typing this, that's the time I noticed my brother holding it. 🥺
It's raining again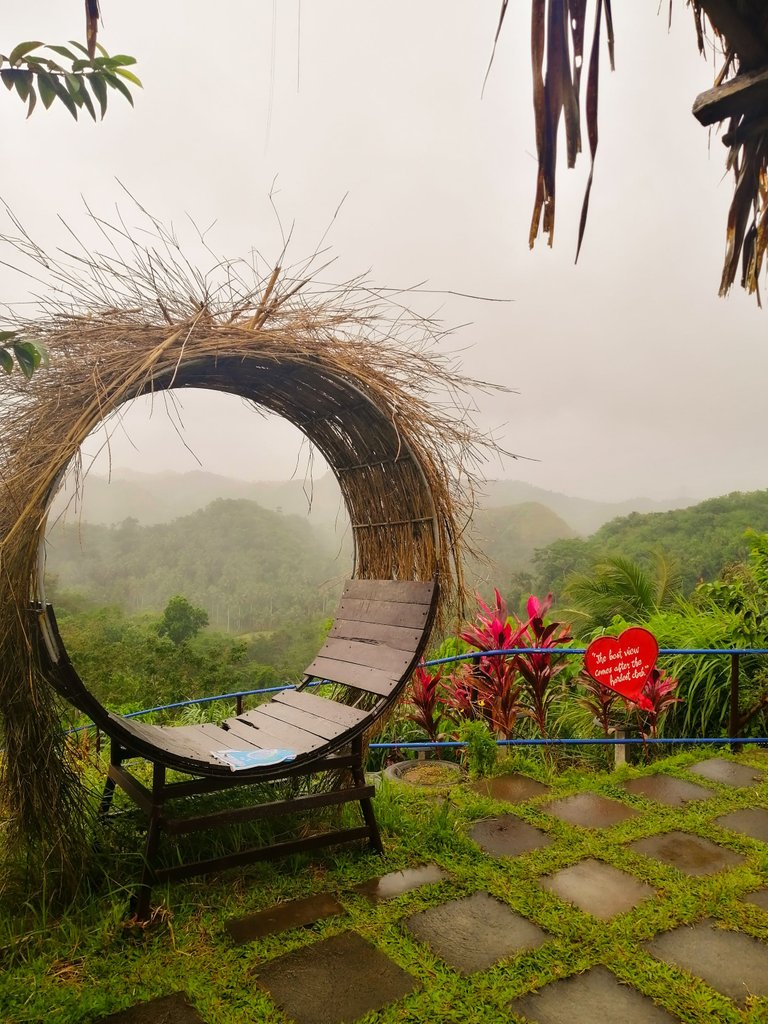 This walk is a little bit challenging. We're walking up the hill, but the weather won't cooperate. After going out of the cave, we still manage to climb up the slope just to see this portal.
And you know what? According to the tour guide, this portal is magical. If you enter it, you can go back to your younger years.
So my Mom did. She enters that portal, and after coming out she became a toddler. 🥺
HAHAHA. Of course, it was a lie.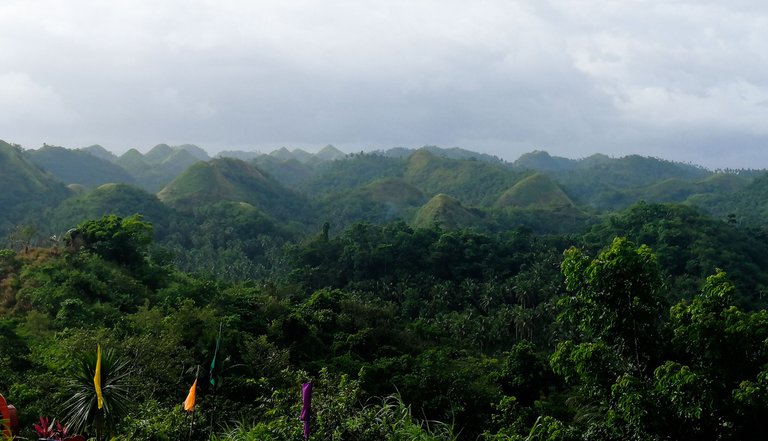 Finally, we reach the top and end of this walk. It was the view of green hills.
Good thing the rain stopped. We completely see the beautiful view of these hills.
Advantages of this walk
Every walk has a destination. And it's up to you if you'll enjoy it. Your every sense can be used just to appreciate everything around you.
Every walk is a chance to be close to anyone. Especially if you're with a group of friends and family.
It's the time you can see nature. Smell the cold breeze that came from trees. Feel and touch the beautiful flowers that make the place more appealing and attractive.
And the most important is... Every walk can help your body to be healthy. It is tiring but at the end of the day, you can feel the energy it gives.
I hope you enjoy our walk, even if it rains. It just shows that it can't stop us to go to our planned destination and take a risk, just to enjoy the day.
Remember to sip a coffee after this, as it's perfect for the gloomy weather and your tired body.
This is for the #wednesdaywalk by @tattoodjay in collaboration with #makemesmile by @elizacheng.
Ciao!
Disclaimer: All photographs by me, unless otherwise stated.
---
---