🦋Los Sueños De Emily - Emily's Dreams 🦋
Hi guys! It's almost the weekend!! 💃 I hope you enjoy it, I hope everyone can go out for a walk and those who have family nearby can visit them, enjoy the family because we never know when the politicians will force us away from them.
Five years ago I left my country and I have not been able to return, I had small nephews and nieces who enjoyed weekends, now they are growing up and I can only enjoy them through photos and rarely through video calls.
A few days ago my sister shared a picture of my niece, when I left her she was a little baby of 5 years old we were very close and she always wanted to be with me, I was her favorite aunt. Now she's 10 years old and my heart is wrinkled that I can't be around to see her grow up.
To feel her closer I downloaded the photo from my sister's social networks and since I know that my niece loves butterflies and fairy tales and everything that has to do with fantasy, I decided to edit her photo and send it to her as a gift, so that she will always see it and never stop dreaming.
---
Hola chicos! Ya casi es fin de semana, espero que disfruten, que salgan a pasear los que puedan y los que tengan sus familiares cerca visítenlos, disfruten la familia porque nunca sabemos cuando los políticos nos obliguen alejarnos de ellos.
Hace cinco años me fui de mi país y no he podido regresar, tenía sobrinos pequeños los cuales disfrutaba los fines de semana, ahora estan creciendo y solo puedo disfrutarlos por fotos y pocas veces por videollamadas.
Hace unos días mi hermana compartió una fotografía de mis sobrina, cuando la dejé era una bebita de 5 años éramos muy unidas siempre quería estar conmigo yo era su tía favorita. Ahora cumplió 10 años y se me arruga el corazón no poder estar cerca para verla crecer.
Para sentirla más cerca descargué la foto de las redes sociales de mi hermana y como sé que a mi sobrina le encantan las mariposas y los cuentos de hadas y todo lo que tenga que ver con fantasía, decidí editar su foto y enviársela de regalo, para que siempre la vea y nunca deje de soñar.
---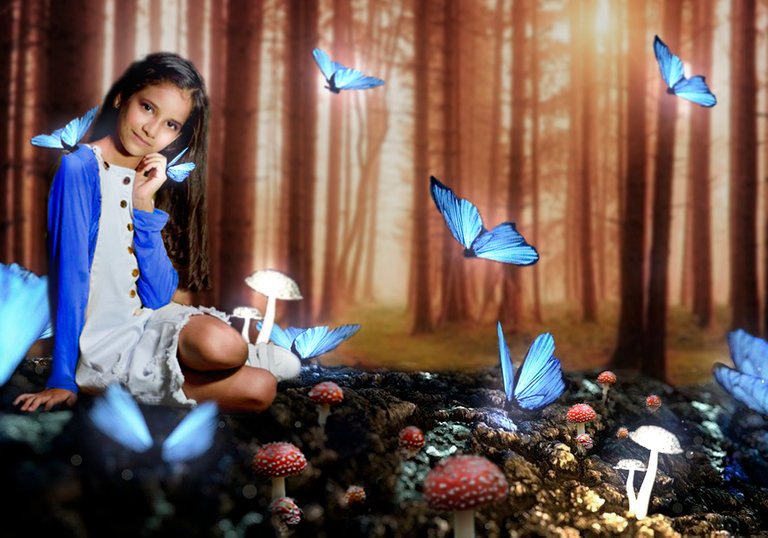 ---
---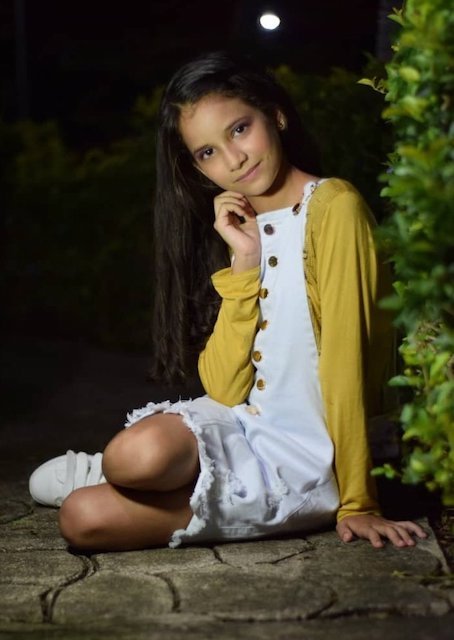 She was delighted with the photo, now comes the process to print it, something that in any country is not a problem in Venezuela is something that is not very accessible to everyone. Anyway we will make it possible for it to be printed in color.
Ella quedó encantada con la foto, ahora viene el proceso para imprimirla, algo que en cualquier país no es un problema en Venezuela es algo que no es muy accesible para todos. De cualquier modo haremos que pueda ser impresa a color.
---
I wanted to add some animals but they didn't fit very well, I still need to learn some details, but I love doing this kind of editing.
For the composition I downloaded images from Pixabay and used the image of my niece. I created a gif that could show you a little bit of the process. Thank you all for your support and for commenting. A big hug!🤗
---
Quise agregar algunos animales pero no me quedaban muy bien, aún me falta aprender algunos detalles, pero me encanta hacer este tipo de ediciones.
Para la composición descargue imágenes de Pixabay y usé la imagen de mi sobrina. Cree un gif que pudiera mostrarles un poco el proceso. Gracias a todos por su apoyo y por comentar. Un fuerte abrazo! 🤗
---
---
---
---