Just A Blip!
A lot is riding on the ongoing FIFA World Cup for many football icons. For a start, this is probably the last time players like Messi, Ronaldo, Alves, Neymar (maybe) and Lewandowski will grace the prestigious tournament as a football player. Lovers of Messi wants him to win this one and they believe he can - afterall, he broke his national team trophy drought just recently; he can go all the way this time. To many, a World Cup win will settle the debate about who is the greatest between Messi and Maradona. As regards the debate about Messi and Ronaldo? Well, that's no longer a debate for me. Only a self-deceiving person will still claim not to know the better player.
Back to the controversial football festival happening in Qatar, I recently watched my first game of the tournament - Argentina vs Saudi Arabia. Needless to say, I wagered a lump sum on Argentina to win this one by scoring at least three clear goals. Overconfidence, right? Well, the memory of Saudi Arabia getting battered by Germany in 2002 is still somewhat fresh in my memory. So this should be a walk in the park for the talented Argentina, one of the tournament favourites. I clearly forgot football has a mind of its own.
Immediately the game started I saw a clear pattern - the Arabians are going to play a physical and aggressive football. Considering the fact that their manager, Herve Renard has spent ample time coaching African teams and winning two AFCON tournaments that's always known to be physical, it shouldn't be too hard to set up the Arabians to play this physical style. As I watched the Arabians clatter the Argentines from the blast of the whistle I knew there will be problems. However, I told myself they will never be able to sustain the energy needed to play this all-action approach and will be picked apart by the ridiculous talents in blue and white once the Green Falcons tire. For the second time, I was wrong.
The Arabian's physical approach cost them when they gave away a needless penalty. Despite the early setback, the Arabians surprisingly played a very risky high line of defense; the result was at least three first half goals all ruled out for offside. As we now know, the Asian champions eventually sprung a gigantic upset by winning the game 2-1. The result has left many questioning every possible reason for this absolute upset. Is it something to worry about for Messi fanboys? I guess not. I'd still wager on Argentina to beat Mexico and Poland to secure passage to the next round. Despite the impressive performance of the Arabians we shouldn't forget Argentina had three first half goals chalked off due to close offside decisions. On another day, one of those close calls will be in their favour.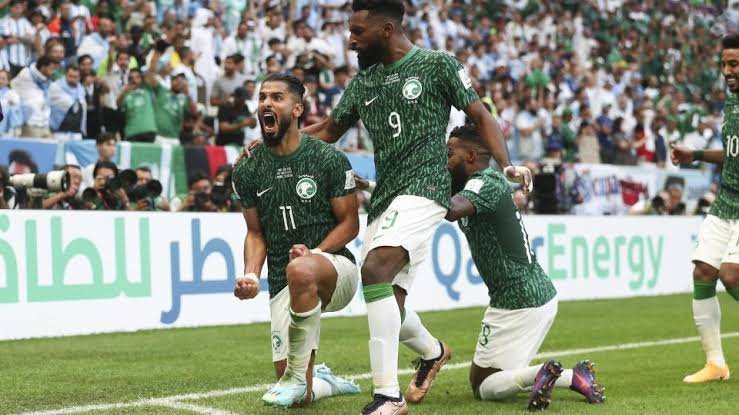 Here We Go?
Do you know the legend of Leonardo Ochoa? Well, if you don't, let me brief you. Ochoa is the Mexican national team goalkeeper who plays his club football for Club America in the Liga MX, Mexico's own Premier League. Since I don't watch Liga MX I rarely see Ochoa in action during the regular season. One thing I know for a fact though is that whenever Ochoa comes to the World Cup he switches to beast mode. At 37, you'd expect him to slow down a bit this time but he just saved Lewandowski's penalty. For all the uncertainties in the world, Ochoa turning up at the World Cup and pulling absolutely insane saves is very certain. You can put your money on that!
See ya around.
Image Source: https://images.app.goo.gl/LAG1tqpkANVHPi618
---
---