Visitation and monitoring of hive boreholes in Ghana. (week 1)
---
We (@mcsamm & @collinz) have organised and scheduled visits to the completed boreholes in Ghana as part of our objectives to strengthen the significance of the hive in people's lives. This exercise aims to ensure the maintenance and usage of Ghana's hive boreholes.
Despite the fact that these projects are designated to their respective communities, deals have been established with the many chiefs and authorities to ensure the correct upkeep of the hive drinkable water project. This will assist to secure a long-term initiative that will benefit the community and future generations.
In this light, requests were submitted to the chiefs to announce our visit this week to evaluate the use of the hive boreholes. They all agreed to welcome us. The leaders and people of the many villages were overjoyed to see hive return to them.
Today, I present an update on the first visitation to the overall ecosystem. We went to the Agona Bedomase hive borehole in Ghana's Ashanti region. Thank you to everyone in the #hiveghana community @awuahbenjamin @depressedfuckup @rubilu,@jimah1k,@yahuzah,@nattybongo who helped make this exercise possible.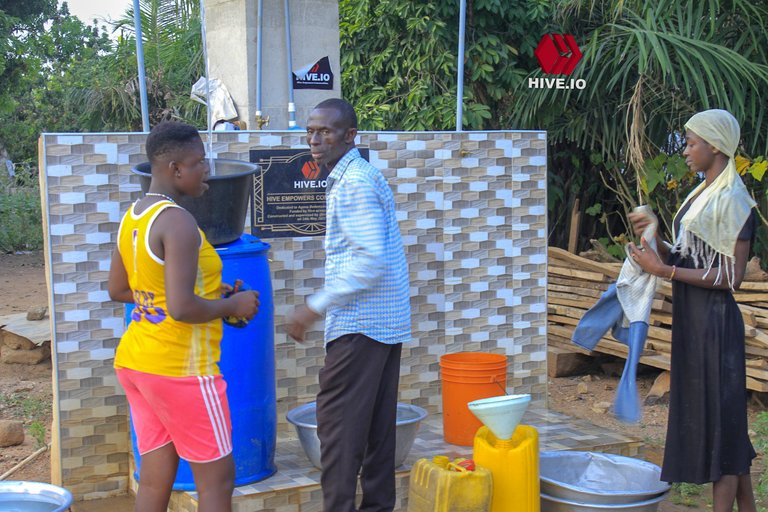 The video above provides a comprehensive overview of the present situation of the hive borehole at Bedomase. We are overjoyed to have made this a reality.
The borehole feeds the whole Bedomase village and its surrounding areas. It is mostly utilised by all members in the morning and evening, according to the people. Because most people are at their farms in the afternoon, it is generally free and less crowded. The leaders have done a terrific job of keeping it going.
To maintain the borehole's cleanliness and safety, some ladies and the elderly are appointed to wash and clean all surrounding it. I'm writing to thank the hive ecosystem for providing drinkable water to this community. I am certain that they will be able to manage additional advancements made to their community. The monitoring and visiting exercise was a success.
My thanks to everyone for their immense support and love for this great achievement, @guiltyparties, @theycallmedan, @taskmaster4450le, @doze, @adetorrent, @ocdb, @trafalgar, @resonator, @acidyo, @ackza, @v4vapid, @blocktrades @adetorrent, @daveks, @felixxx @bhattg @newsflash @zuerich, @lichtblick, @bradleyarrow, @dswigle.
---
▶️ 3Speak
---
---