1500 Ability Power Veigar and Urf mode. (EN-TR) 1500 Ability Power Veigar and Urf mod.
Hello everyone 🤗
How are you? I hope everyone is fine and enjoying the warm weather. I am happy that the weather is warm now. And again, I play LoL from time to time during the day. Two or three matches a day are really fun and I can reduce my stress this way. I recommend this to you too. I think you can play your favorite games, provided that it does not exceed 1 hour a day. Maybe this will help you stress less during the day.
Today I want to share with you a Veigar match I played in Urf mode before. I gained about 1500 Ap with Veigar because the duration of my Q ability was only 1 second and I was constantly killing minion with Q.
Herkese merhaba 🤗
Nasılsınız? Umarım herkes iyidir ve sıcak havların tadını çıkarıyordur. Ben havalar artık ılık olduğu için mutluyum. Ve yine gün içinde ara sıra LoL oynuyorum. Günde iki üç tane maç gerçektne çok eğlenceli oluyor ve stresimi bu şekilde azaltabiliyorum. Bunu size de tavsiye ederim. Bence günde 1 saati geçmemek şartıyla sevdiğiniz oyunları oynayabilirsiniz. Belki de bu sizin gün içinde daha az stres yapmanızı sağlar.
Bugün sizinle daha önce Urf modunda oynadığım bir Veigar maçımı paylaşmak istiyorum. Veigar ile yaklaşık 1500 Ap kazandım çünkü Q yeteneğimin süresi sadece 1 saniyeydi ve ben sürekli Q ile minyon kestim.
In this fun Urf match, I play as Veigar in the bottom lane, with Sivir next to me. Sivir is my real life friend by the way. Against us are Xayah and Viego. I think Viego is a hyperactive person who never sits still, so as you can see in the screenshot here, he attacked us while we had our tower and also with my E ability turned on. He leaped from behind the wall to the bottom of the tower, and Viego was trapped inside the area as I used my E ability. When Sivir used exhaustion, we were able to easily defeat Viego.
Bu eğlenceli Urf maçında alt koridorda ben Veigar olarak oynuyorum yanımda da Sivir var. Sivir benim gerçek hayattan arkadaşım bu arada. Karşımızda da Xayah ve Viego var. Viego hiç yerinde durmayan hiperaktif birisi galiba o yüzden burada ekran görüntüsünde de gördüğünüz gibi bizim kulemiz varken ve üstelik ve E yeteneğim açıkken bize saldırdı. Duvarın arkasından kulenin altına doğru sıçra attı ve ben de E yeteneğimi kullanınca Viego alanın içinde kaldı. Sivir de bitkinlik kullanınca Viego' yu kolayca alt edebildik.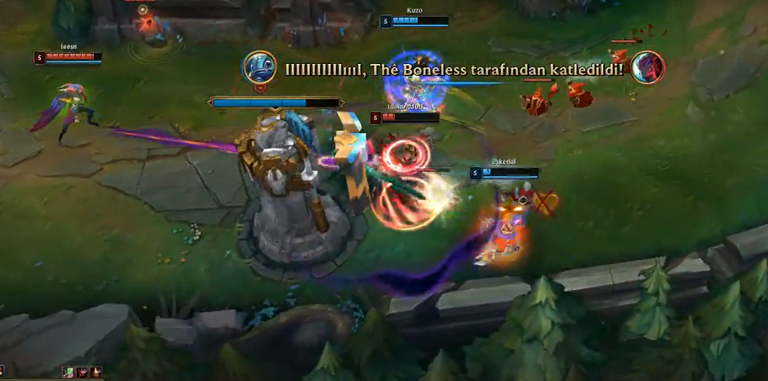 As you can see in this screenshot, even though we used exhaustion on Xayah, she still ulted quickly and her exhaustion animation remained below where I marked with the arrow. Actually this move was really a life saver for Xayah, but I jumped on Xayah, used my ult and defeated him again.
Bu ekran görüntüsünde gördüğünüz gibi Xayah' nın üzeründe bitkinlik kullanmamıza rağmen yine de hızlı bir şekilde ulti attı ve bitkinlik animasyonu okla işaretlediğim yerde aşağıda kaldı. Aslında bu hareket Xayah için gerçekten hayat kurtarıcı bir hareketti ama ben Xayah' ya doğtu sıçra atıp ultimi kullandım ve onu yine alt ettik.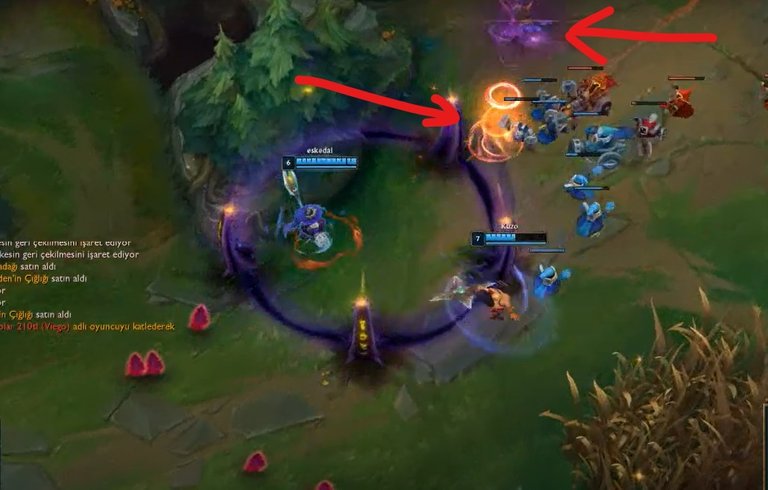 Here a few seconds ago, when Bard cut Fiddlesticks in the dragon place, Yone also came to take revenge, and as you can see in the screenshot, Yone used such an ultimate through the wall just to cut Bard. The ultimate didn't work, but since Yone is a champion with a lot of damage, he still took down Bard.
Burada birkaç saniye önce Bard ejderha yerinde Fiddlesticks' ı kesince Yone de intikam almak için geldi ve ekran görüntüsünde de gördüğünüz gibi Yone sadece Bard' ı kesebilmek için duvarın içinden böyle bir ulti kullanıp geçti. Ulti işe yaramadı ama Yone çok fazla hasarı olan bir şampiyon olduğu için yine de Bard' ı alt etti.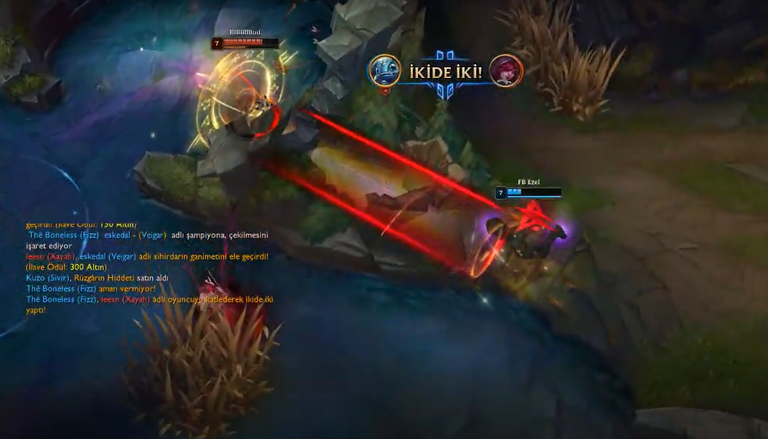 I generally like to slay dragons, even if it's Urf mode, because thanks to these dragons, our damage increases much more. Especially the Mountain dragon really makes our damage increase a lot. I immediately went to slaughter the dragon after several rival champions died in this game. My teammates also came with me to slay dragons. Meanwhile, Xayah destroyed our tower in the lower lane close to the dragon.
Ben genelde Urf modu bile olsa yine de ejderha kesmeyi severim çünkü bu ejderhalar sayesinde hasarımız çok daha fazla artıyor. Özellikle Dağ ejderi gerçekten hasarımızın çok fazla artmasını sağlıyor. Ben bu oyunda birkaç rakip şampiyon öldükten sonra hemne ejderhayı kesmeye gittim. Takım arkadaşlarım da benimle beraber ejderha kesmeye geldiler. O sırada Xayah da ejderhaya yakın olan alt koridorda bizim kulemizi yok etti.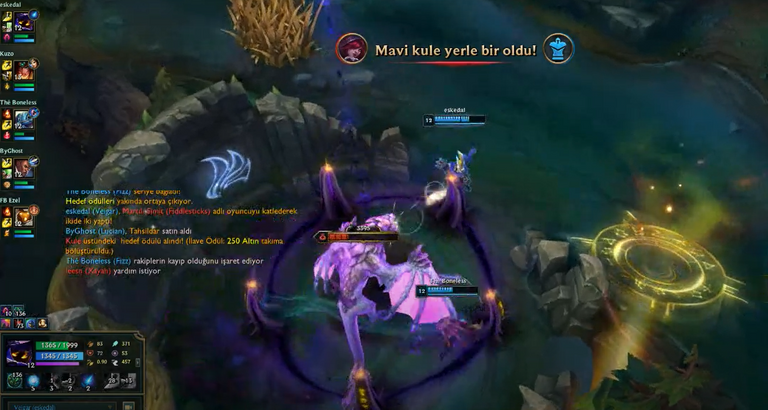 A few minutes after we took the dragon and prevented them from taking the Baron, the opposing team surrendered to us with a 5-0 vote. I think it was a great game because I gathered over 1500 magic power with Veigar.
Biz ejderha aldıktan sonra ve onların da Baronu almalarını engelledikten birkaç dakika sonra rakip takım bize 5-0 oy ile teslim oldu. Bence harika bir oyundu çünkü Veigar ile 1500 den fazla büyü gücü topladım.
Stay with Peace!
---
---