Movie review. Orphan. (EN-TR) Film inceleme. Evimdeki Düşman.
Hello everyone. How are you? I hope you are fine. I started to feel much better than before. We can't change things and that's why I try not to stress anymore.
Today I want to talk about something different and beautiful. Actually, this is a movie analysis article, but today I want to talk about both our instincts and this movie. These two things are actually really connected with each other in this movie I'm talking about. How does a person sometimes put himself in danger? Do instincts actually put us in danger? These are complex and difficult questions to answer. Actually, we cannot give full answers to these questions, but I would like to express my own thoughts.
Herkese merhaba. Nasılsınız? Umarım iyisinizdir. Ben eskisine göre çok daha iyi hissetmeye başladım. Bir şeyleri değiştiremiyoruz ve bu yüzden ben artık stres yapmamaya çalışıyorum.
Bugün farklı ve güzel bir konuda konuşmak istiyorum. Aslında bu bir film analizi yazısı ama ben bugün hem içgüdülerimizden hem de bu filmden bahsetmek istiyorum. Bu iki şey bahsettiğim bu filmde aslında birbiriyle gerçekten bağlantılı. Bir insan kendini bazen nasıl tehlikeye atar? İçgüdüler aslında bizi tehlikeye atar mı? Bunlar karmaşık ve cevabı zor sorular. Aslında bu sorularını cevaplarını tam olarak veremeyiz ama ben kendi düşüncelerimi söylemek istiyorum.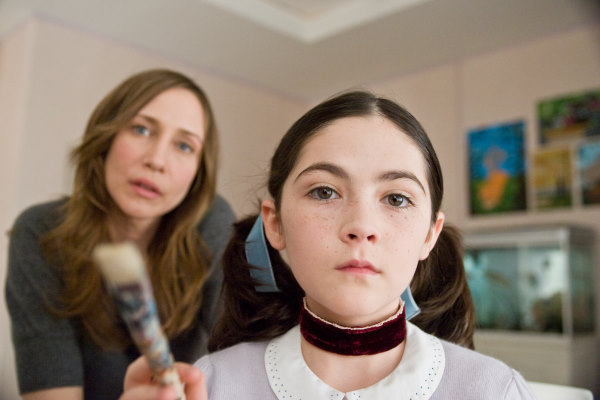 Source.
In 2009, a movie called Orphan was released. Yes, this movie was actually very different from other movies released so far. This is true. And most importantly, this movie seems to be about some kind of health or psychology. And definitely a thriller. A fascinating and somewhat scary movie. Because if you know psychologically well what fear is, Esther's face will look absolutely horrible to you. The person we refer to as Esther, real name Isabelle Fuhrman, who is the main character of the movie, was 14 years old at that time. But she was such a good and skillful actress that she managed to scare some people with her acting. I can say that I am afraid. I understood what the fear in the movie It was like, and I say that the fear in this movie is actually what we call fear.
2009 da Orphan diye bir film çıktı. Evet bu film aslında bugüne kadar çıkan diğer filmlere göre çok farklıydı. Bu doğru. Ve en önemlisi de bir tür sağlık ya da psikoloji ile ilgili görünüyor bu film. Ve kesinlikle gerilim filmi. Sürükleyici ve biraz da korkutucu bir film. Çünkü eğer psikolojik olarak korkunun ne olduğunu iyi biliyorsanız Esther' in yüzü size kesinlikle korkunç görünecek. Esther diye bahsettiğimiz kişi filmin baş karakteri olan gerçek adıyla Isabelle Fuhrman o zamanlarda 14 yaşındaymış. Ama öyle iyi ve ustaca bir oyuncuymuş ki bazı insanları oyunculuğuyla korkutmayı başarmış. Ben korktuğumu söyleyebilirim. It filmindeki korkunun nasıl bir şey olduğunu anladım ve ben bu filmdeki korkunun da aslında korku dediğimiz şeyin ta kendisi olduğunu söylüyorum.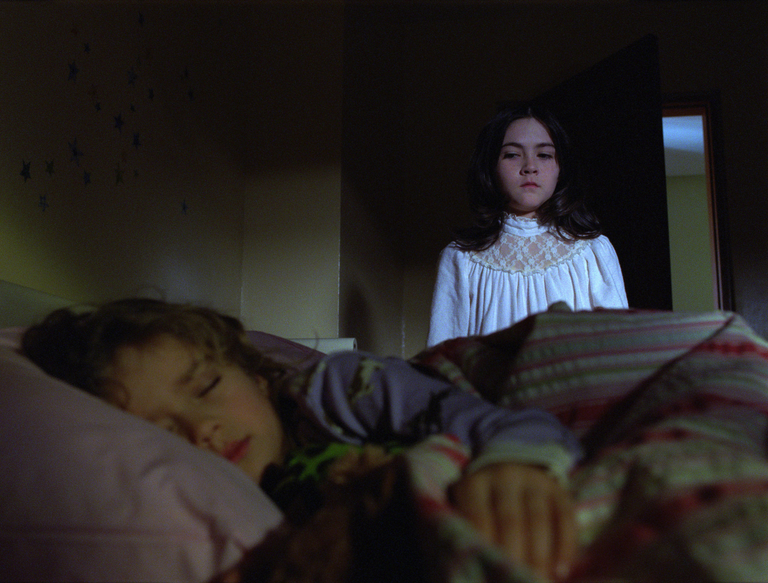 Source.
10 years later, there is a news. The child adopted by a married couple in the USA and thought to be 7 years old was actually 21 years old. So actually that boy was a dwarf. And the family learns this really late. And again, exactly what you think now is true. Such people like to hide themselves, and in doing so they can actually be a little dangerous. So what I mean is that it applies to this movie as well. In this movie, we see a woman who is aware of what she is.
10 yıl sonra BBC de bir haber çıkıyor. ABD de yaşayan evli bir çiftin evlat edindikleri ve 7 yaşında olduğunu düşündükleri çocuk aslında 21 yaşındaymış. Yani aslında o çocuk bir cüceymiş. Ve aile bunu gerçekten çok geç öğreniyor. Ve yine tam olarak şimdi ne düşünüyorsanız bu doğru. Böyle insanlar kendilerini gizlemek isterler ve bunu yaparken aslında biraz da tehlikeli olabilirler. Yani demek istediğim şey bu film için de geçerli. Kendisinin ne olduğunun farkında olan bir kadın görüyoruz bu filmde.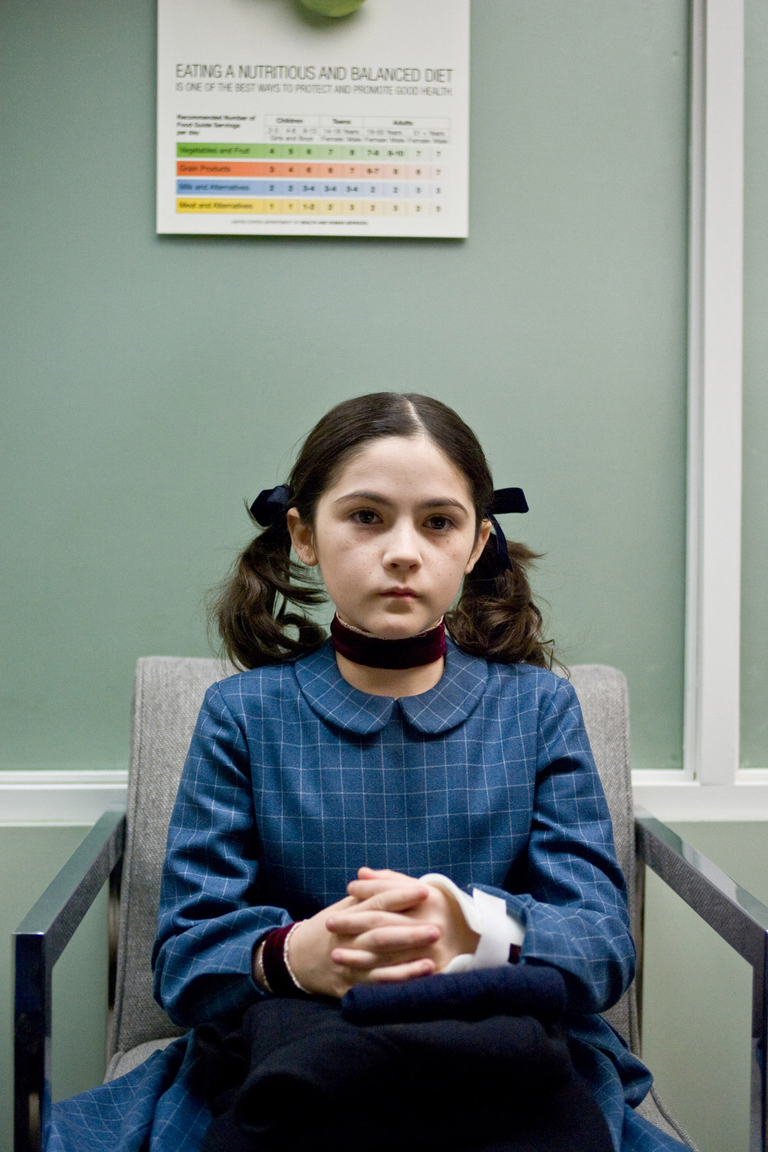 Source.
And the thriller part of the movie actually starts here. Scenes that are both suspenseful and gripping begin. Sometimes we think that a little girl won't hurt anyone, but that's what life is, or in fact, we come across things that we're not used to. The same is true for both parties in bilateral relations. So Esther actually has to hide herself in order to live the life she wants. But this is a movie, and in this movie we are not actually watching the adventure of an older girl to hide herself. While this person is trying to hide himself, different events begin to happen. And these different events are the best parts of the movie.
Ve filmin gerilim kısmı da burada başlıyor aslında. Hem gerilim hem de sürükleyici olan sahneler başlıyor. Küçük bir kız çocuğu kimseye zarar vermez diye düşünüyoruz bazen de ama hayat da bu ya aslında karşımıza hiç alışık olmadığımız şeyler çıkarır. Aynı şey aslında ikili ilişkilerde iki taraf için de geçerli. Yani Esther de istediği hayatı yaşayabilmek için kendisini aslında gizlemek zorunda. Ama bu bir film ve bu filmde aslında daha yaşlı olan bir kız çocuğunun kendisini gizleme macerasını izlemiyoruz. Bu kişi kendisini gizlemeye çalışırken farklı olaylar yaşanmaya başlıyor. Ve bu farklı olaylar filmin en güzel kısımları.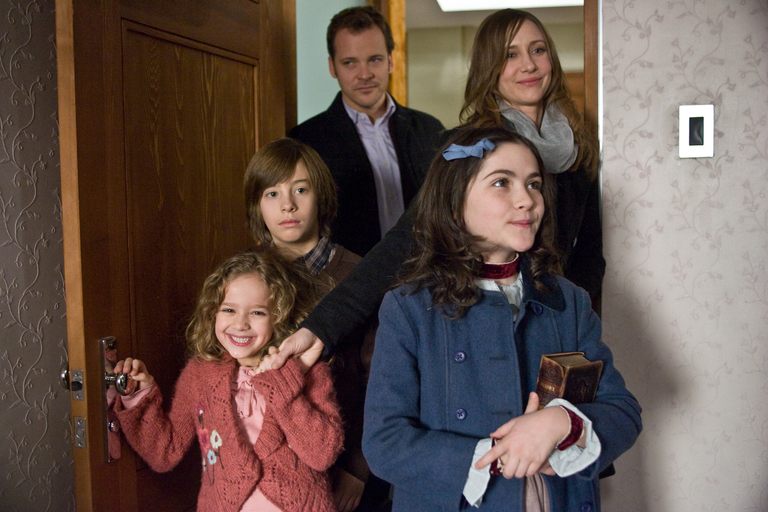 Source.
We haven't talked about the movie yet, have we? Kate and John are a married couple and die before their children are born. That's why Kate gets depressed and begins to seek treatment. Kate and John actually already have two children, but this still upsets them. This married couple decides to adopt the little girl they saw in the orphanage. And then the movie begins.
Hala filmin konusunu konuşmadık değil mi? Kate ve John evli bir çift ve çocukları doğmadan ölüyor. Kate bu yüzden depresyona giriyor ve tedavi görmeye başlıyor. Kate ve John' un aslında zaten iki tane çocukları var ama bu durum onları yine de çok üzüyor. Bu evli çift yetimhanede gördükleri küçük kız çocuğunu evlatlık almaya karar veriyor. Ve ondan sonra film başlıyor.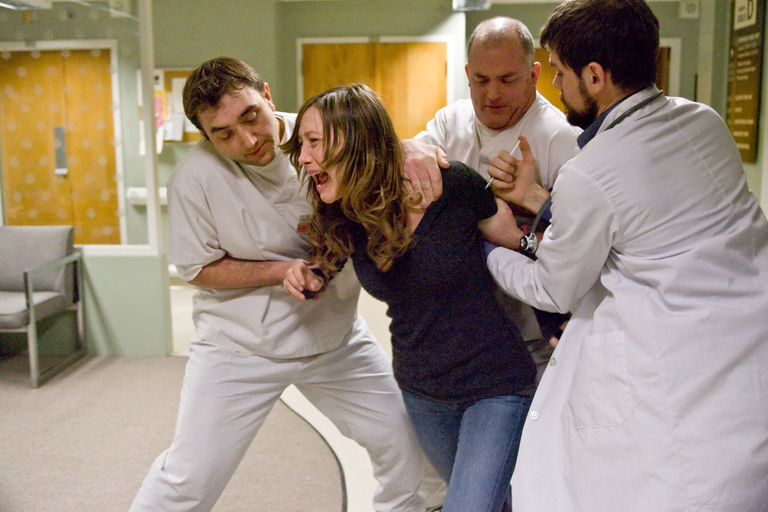 Source.
After adopting Esther, Kate slowly begins to see the differences in her behavior. And we can perceive the differences in these behaviors as personality disorders. But I think these differences are not a personality disorder, but a concern for concealment. Because I'm sure Esther doesn't want to live in an orphanage. You should watch this movie because if you like horror movies in general, you will like this movie. Isabelle Fuhrman, who plays the role of Esther, is a really good actress. And you will understand Esther's behavior while watching the movie. And you will realize the reason for these behaviors.
Kate, Esther' i evlatlık aldıktan sonra yavaş yavaş davranışlarındaki farklılıkları görmeye başlıyor. Ve bu davranışlardaki farklılıkları aslında kişilik bozukluğu olarak algılayabiliriz. Ama bu farklılıkların kişilik bozukluğu değil de gizlenme kaygısı olduğunu düşünüyorum. Çünkü Esther eminim ki yetimhanede yaşamak istemiyor. Bu filmi izlemeniz gerek çünkü eğer korku filmlerini genel olarak seviyorsanız bu film çok hoşunuza gidecek. Esther rolünü oynayan Isabelle Fuhrman gerçekten çok iyi bir oyuncu. Ve filmi izlerken Esther' in davranışlarını anlayacaksınız. Ve bu davranışların sebebini fark edeceksiniz.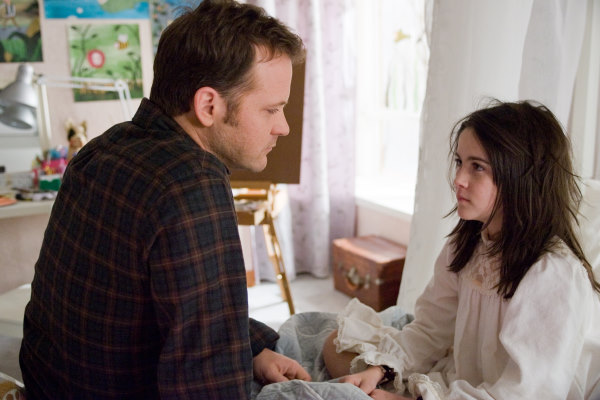 Source.
The instinct issue that I mentioned at the beginning of the article is actually a bit complicated. I think we all do what our brains want us to do as we get older. In other words, we do what is in our nature as human beings and continue to live somehow. When we hear a very loud sound, we cover our heads. This is how we try to protect our heads. So we actually do it involuntarily. Because some things in our body are actually instincts. And in this movie you will see how our instinct puts us in danger. I wanted to explain this in a different way from my own perspective.
Yazının başlarında bahsettiğim içgüdü konusu da aslında biraz karmaşık. Hepimiz yaşımız ilerledikçe beynimizin bizden istediği şeyleri yapıyoruz bence. Yani insan olarak doğamızda ne varsa onu yapıyoruz ve yaşamaya bir şekilde devam ediyoruz. Çok yüksek bir ses duyduğumuz zaman başımızı kapatırız. Bu şekilde başımızı korumaya çalışırız. Yani aslında bunu istemsiz bir şekilde yaparız. Çünkü vücudumuzdaki bazı şeyler aslında içgüdülerden ibaret. Ve bu filmde içgüdümüzün bizi nasıl tehlikeye attığını göreceksiniz. Ben bunu kendi bakış açımla farklı bir şekilde anlatmak istedim.
---
---