Terra's First Meme Token: Miaw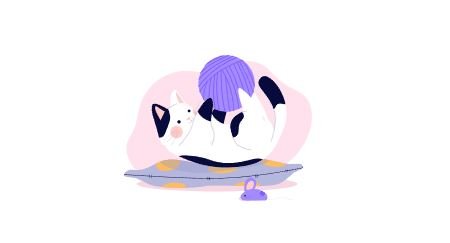 source
Good morning Lions I hope it is another roaring week for you all or perhaps for our latest story a PURRRRRfect week.
Meme tokens have taken the cryptosphere by storm and lets be honest some of them have come up with some pretty awesome images despite the fact that they have no proper use cases or are replicas of each other. With that I would like to introduce you to Terra Networks first ever Meme token, Miaw.
What is Miaw token?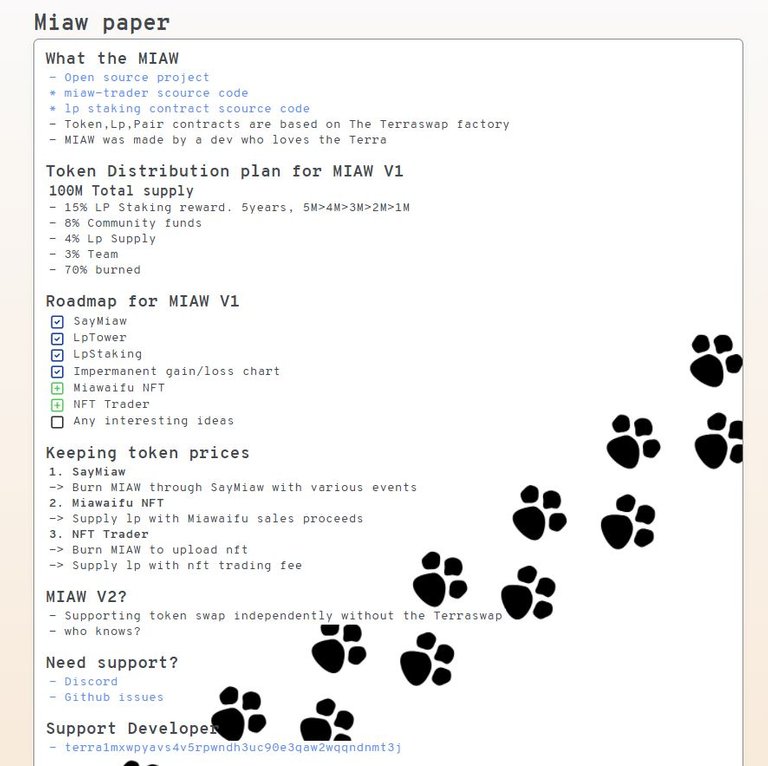 source
As you can see from the Miaw paper found here the project has been thrown together for a bit of fun by a developer and as previously stated it is the Terra Networks first Meme token which takes the form of a cat.
But the Meme token has quite a bit built into it already with some heavy deflationary token burn built into it which accounts for burning 70% of the total supply. Which with a planned 100 million circulating supply that will leave 30 million Miaw tokens.
Miaw DEX and LP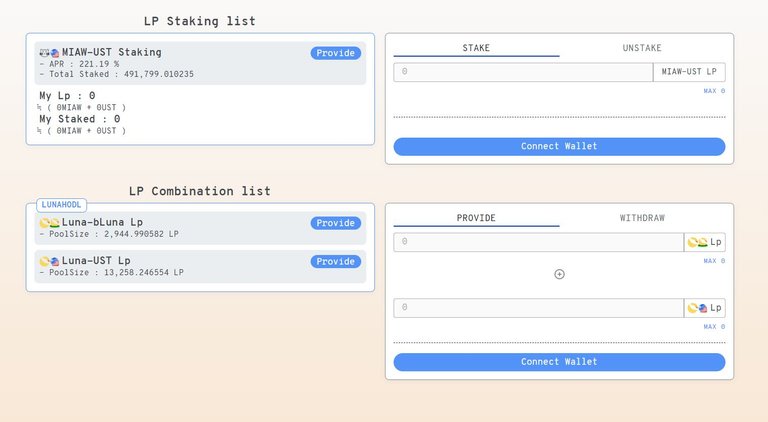 source
Building beyond just a basic Meme coin Miaw token also has LP staking available which I believe is how the tokens are currently being minted. You can also purchase them on Terra swap if you don't want to provide liquidity and gamble on the success of a Meme token.
You can also provide Luna- bLuna and Luna - UST pairs to gain token APR which is currently set at 221%.
But Wait! There's more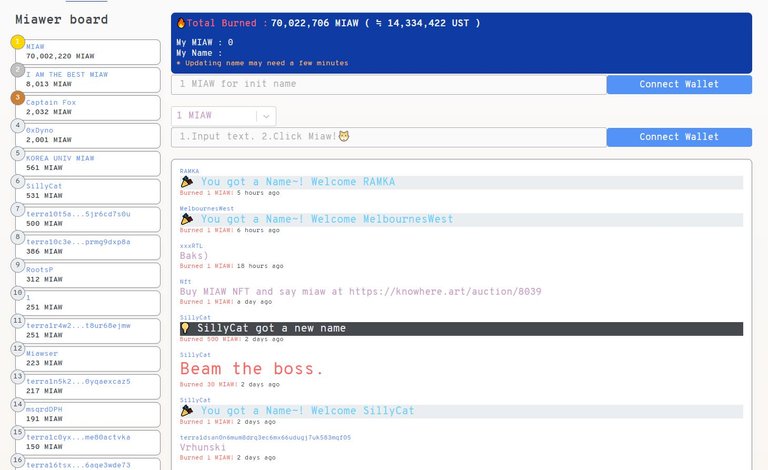 source
On the Miaw Trader website is a Say Miaw where users can post links, chat and create user names for an amount of Miaw token. These tokens are burned and there is even a ranking system on who has been burning the most Miaw token.
Also available on the website is the ability to send Miaw token to another Miaw user or wallet holder. Possibly used for future use cases?
There are also alot more things in the pipeline for this token with the Miaw paper also referencing a NFT trader and to also gain further ideas for future progress from the community.
I am not sure on what the future holds for this specific Meme coin and Terra Network is still relatively young so it will be interesting to see if the token value increases over time or causes as much hype going forward.
Either way Meme tokens seem to be all the rage at the moment and this one is trading relatively low at 20c per token and as you can see from the above image I have burned a Miaw token to name my self on the Miaw Chat :)
Let me know your thoughts below.
Image sources provided. This is not financial advice and readers are urged to undertake their own research or seek professional financial services
Posted Using LeoFinance Beta
---
---