My Santacruzan Experience

Every summer vacation, I always go with my aunts and uncles to Leyte. I spent most of my summer break there.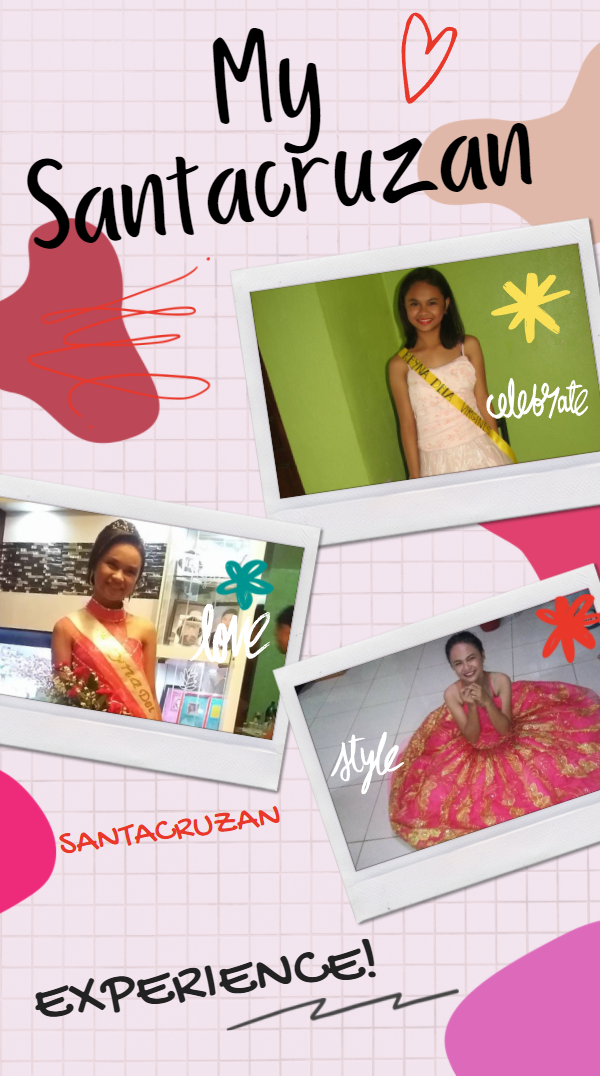 Since the fiesta at my grandma's place was coming, it was expected that the santacruzan committee would also need to finalize the names of the ladies who were going to join. It was the summer of the year 2014 when my aunt convinced me to join.
The research says that santacruzan is a religious-historical beauty pageant held in many cities, towns and even small villages throughout the Philippines during the month of May. Santacruzan was introduced by the Spaniards, this festival has since become part of Filipino traditions identified with youth, love and romance. Beautiful town belles are selected to participate in this colorful pageant parade representing various historical-religious figures. The stars are selected not for their looks alone, but for their embodiment of traditional feminine qualities.
I didn't participate in activities like these in Cebu since I was too shy. But I had the idea of joining in Leyte because I didn't have any classmates or anyone from my school there, so I said yes.
We then started picking out what to wear, and my aunts chose it for me. It was a sleeveless gown with a very thin strap that had a straight neckline. The fabric was kind of silky, a floor-length gown, and its color was light pink. It has small beads colored pink on the upper part of the gown. It was cute, but I don't think I kind of feel like it. I think it was too open with no sleeves and just a single thin strap. Anyone can see my shoulders, and I am not used to those kinds of dresses. That was my problem that time.
Then, the day came. I was so so nervous since it's my first time participating in such an activity, and just thinking about other people watching us as we parade down the street makes my knees weak. I got ready, my aunt did my make-up, I wore my baby pink gown, laid down my short hair, wore my yellow sash, and was told to wear high-heeled sandals. What? The parade's going to be a long walk and I'm going to wear high heels? It made me nervous more.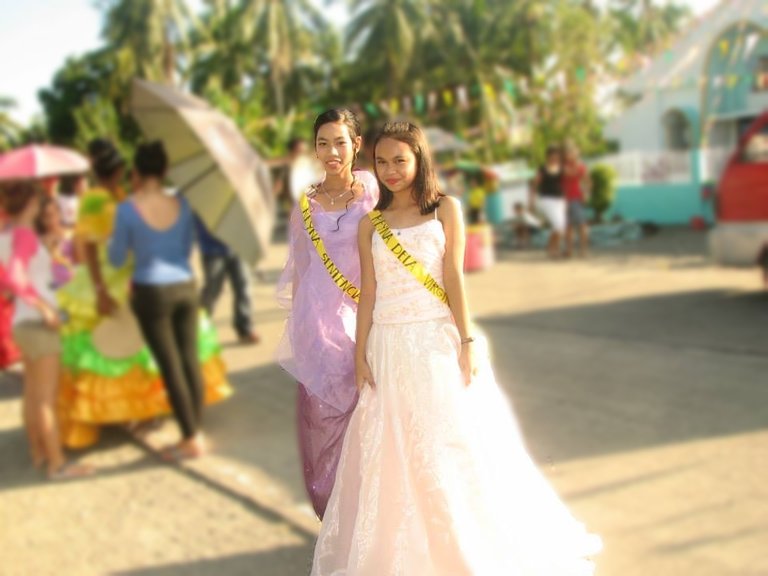 We then headed to the assembly area, which was the chapel near my grandmother's place. I saw all the other girls who joined and I was like, wow, they look so good and beautiful! There were many ladies, and we were arranged by who you were portraying. My role was to be Reyna de las Virgines. My only friend there also joined, so I was not alone, but still very nervous. I remember back then I only looked at all the ladies during the parade. Now I'm walking with them.
As the parade started, I was so conscious that there were many people on the streets who had come to see the parade. I found it hard to smile.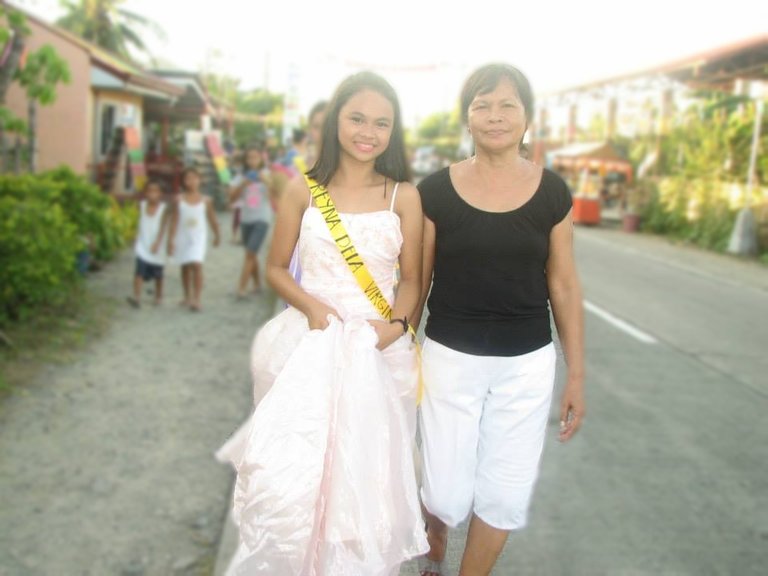 I was so nervous that my grandma would walk beside me so I could be at ease. After the parade, we were told to stand in front so we could take a picture with everyone.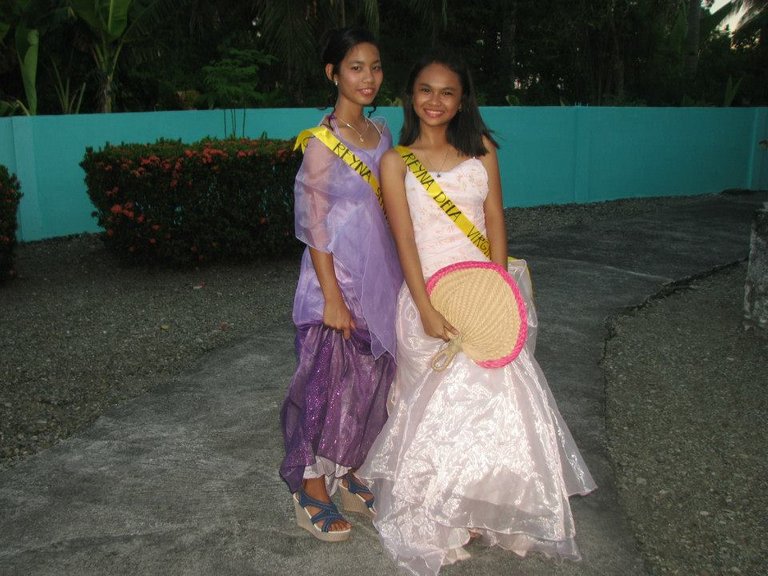 Sadly, I was not able to take one with all the other girls but I have a photo with my friend. When I got home, my feet were sore, but I somehow felt happy that I had a new experience and that was how I felt during my first time joining santacruzan.
---
In the year 2016, during the summer, I was in Leyte again and was told to join santacruzan. Because I was given an opportunity that others may have wanted but couldn't, I took it. My uncle's friend has gowns. He went to my grandma's house and brought some. My aunts started choosing and they chose pink again.
It was a ballgown. It didn't have straps nor sleeves. It had a high neckline and was backless. Its texture underneath was glossy since it was satin fabric, while the above layer was plain sheer. It was a floor-length pink gown. There were silver details around the neck and the upper part of the gown. It was beautiful, though I didn't really like the color because I think it's too girly.
My aunt told me the day before the parade that my role was to be Reyna del Cielo (Queen of Heaven), and that I was supposed to carry a flower and two little angels, but we didn't have enough kids who wanted to join us at the time, so my younger brother will escort me instead. I was excited and less nervous since I had my brother beside me during the parade.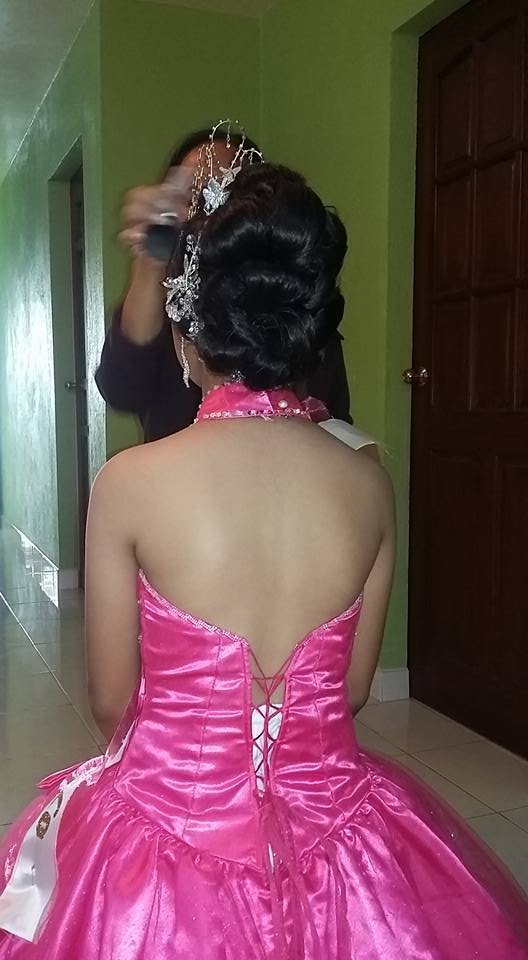 The day of the parade was also the day of the fiesta, so everyone was busy entertaining the guests. In the afternoon, we started preparing for the parade. I wore my gown. It was kind of heavy but not too heavy. My uncle's friend did my make-up. He even put a crown and other hair accessories in my hair. I saw my sash and it was twinning with my gown. It was also pink with gold lettering. My aunt gave me the bouquet of flowers I would be carrying. I was happy inside. I never thought of participating in such activities, but I did, and it's already my second time.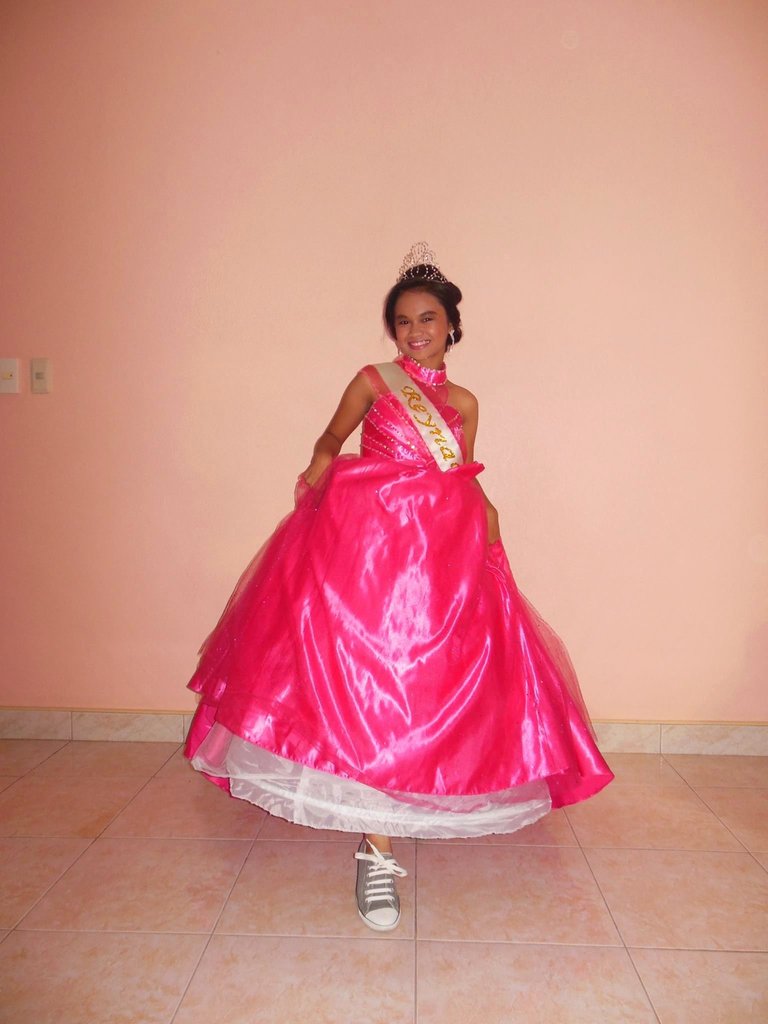 Last time I wore high heels, now I decided to wear my sneakers since it can't be seen because my gown is long.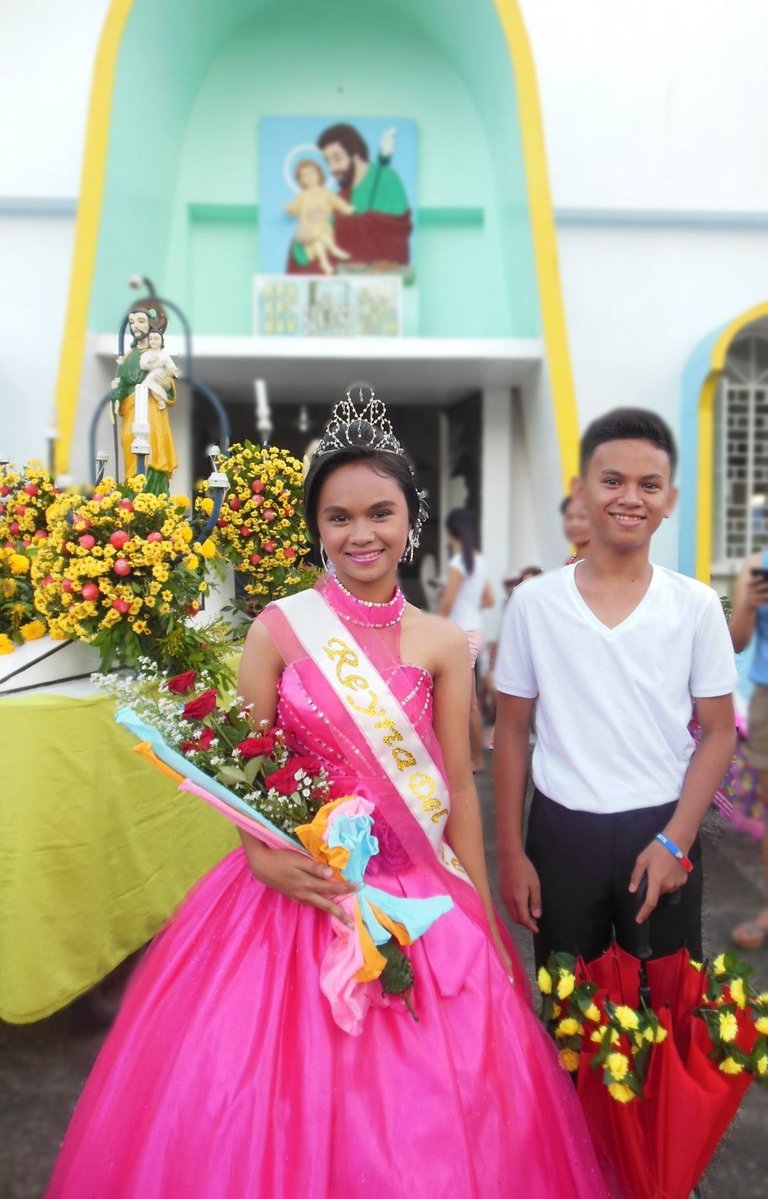 We were arranged by role and the parade started right away. I was able to smile and felt less nervous since my brother and I talked while walking.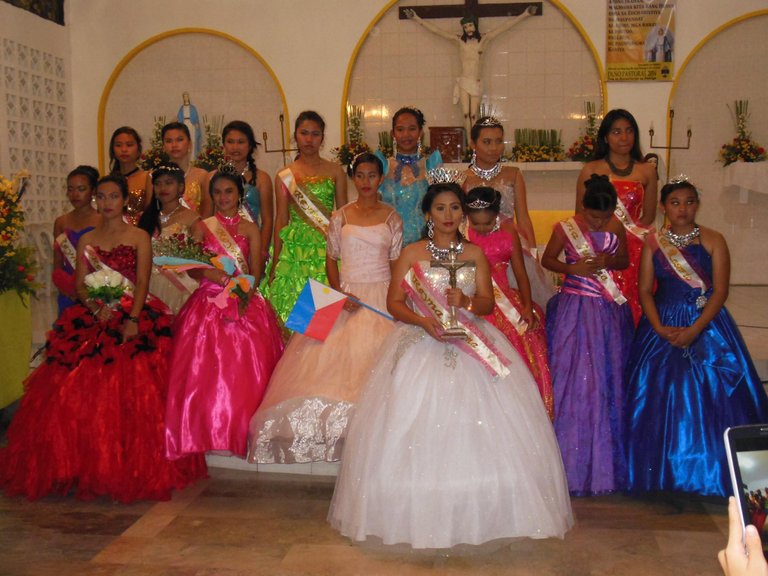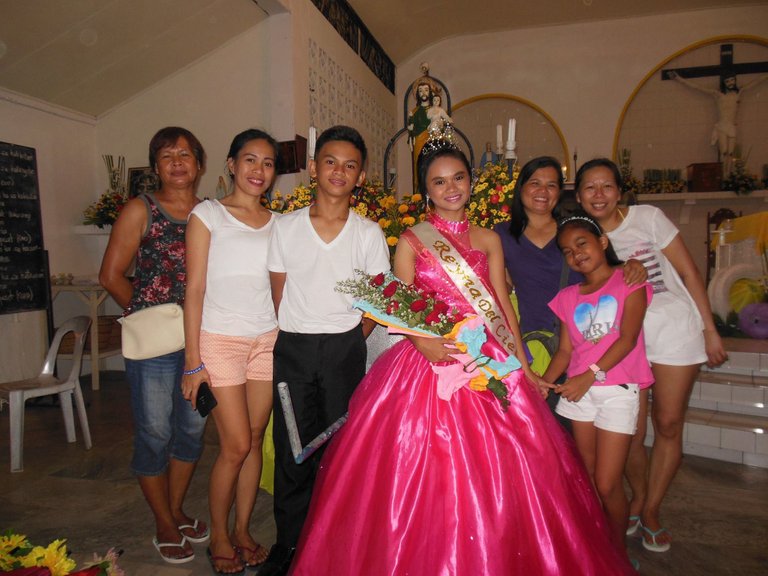 After that, we took pictures with everyone at the chapel and went home.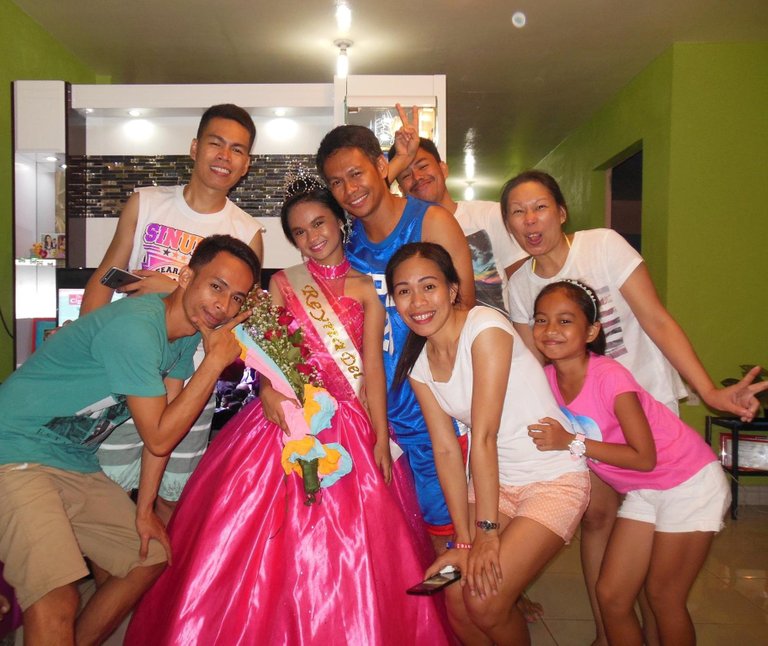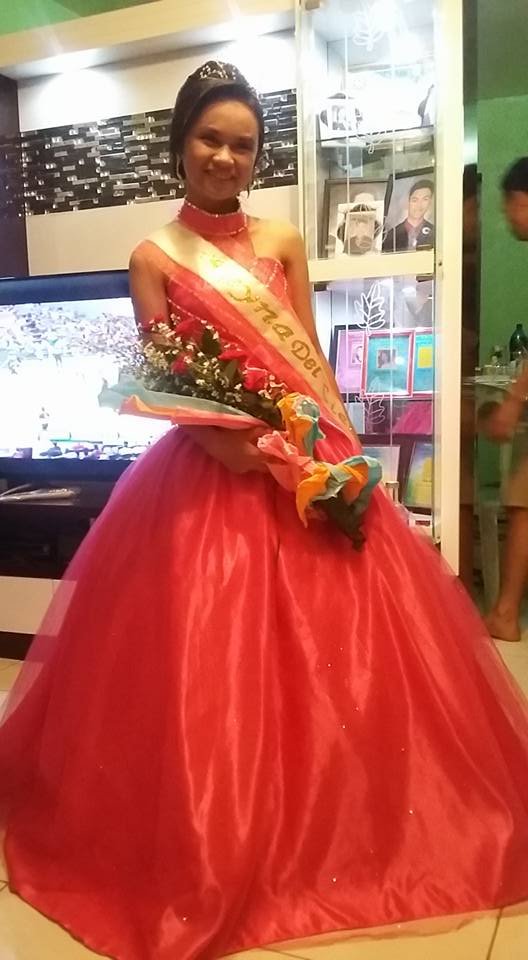 We took a lot of pictures at home too and I thanked my uncle for giving me such an opportunity. I felt like I had unlocked something again.
---
The summer of 2017 was the third time I joined santacruzan. It was also the last time I went back to Leyte.
My cousin went to Leyte with me. Both of us were told to join. I was so excited because I know I'm with her and knowing that this will also be her first time joining santacruzan excites me more. Every time I go back home to Cebu, I always tell her what happened during my summer break and how happy I am that she got to experience it too.
As the day of the parade came nearer, I didn't feel nervous at all, all I felt was excitement. My uncle's friend came again and helped us pick gowns for us. They chose the silver gown for my cousin, and guess what color they chose for me this time? A pink gown again. It was a ballgown. It had a single thin strap and was sleeveless. The fabric used was organza, so it was lightweight. The texture of the above layer was sheer, and it had gold colored designs on the lower part of the gown and silver beads on the upper part. It was colored dark pink and was a floor-length gown.
Tomorrow is the day we've been waiting for. We've been really close since we were kids and doing this together makes my heart so happy.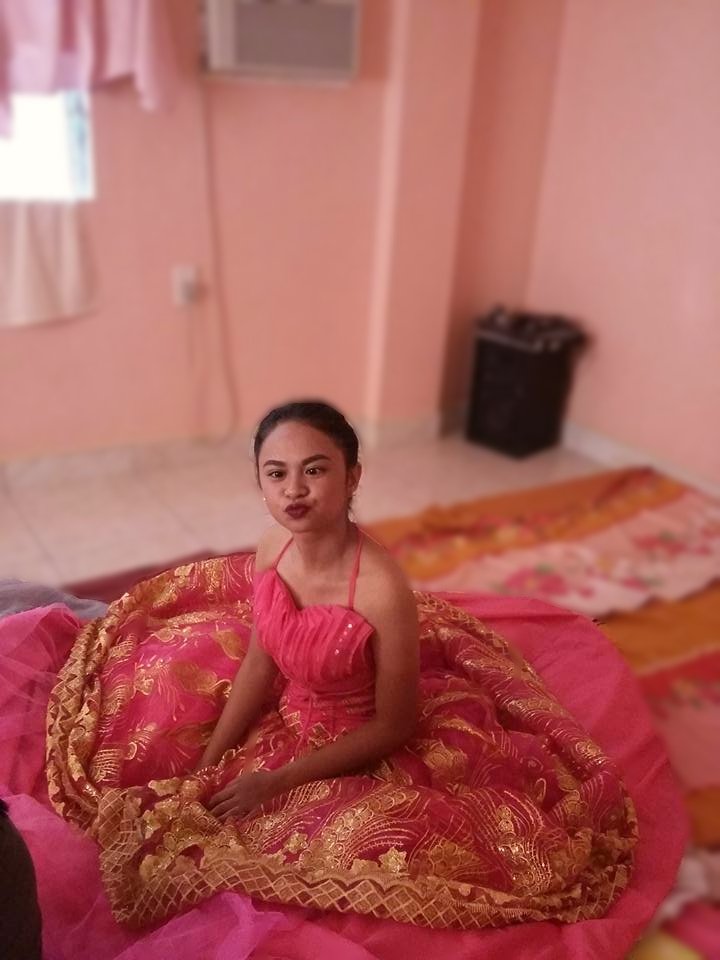 On the day of the fiesta. During the morning, as usual we were busy entertaining guests. When the afternoon came, we changed into our gowns. My youngest cousin did our hair. She decided to braid it. My aunt did our make up and I remember it was the first time I had my eyebrows cleaned. This time I wore flat sandals. I can't do it if I wear high heels, and it's a long walk.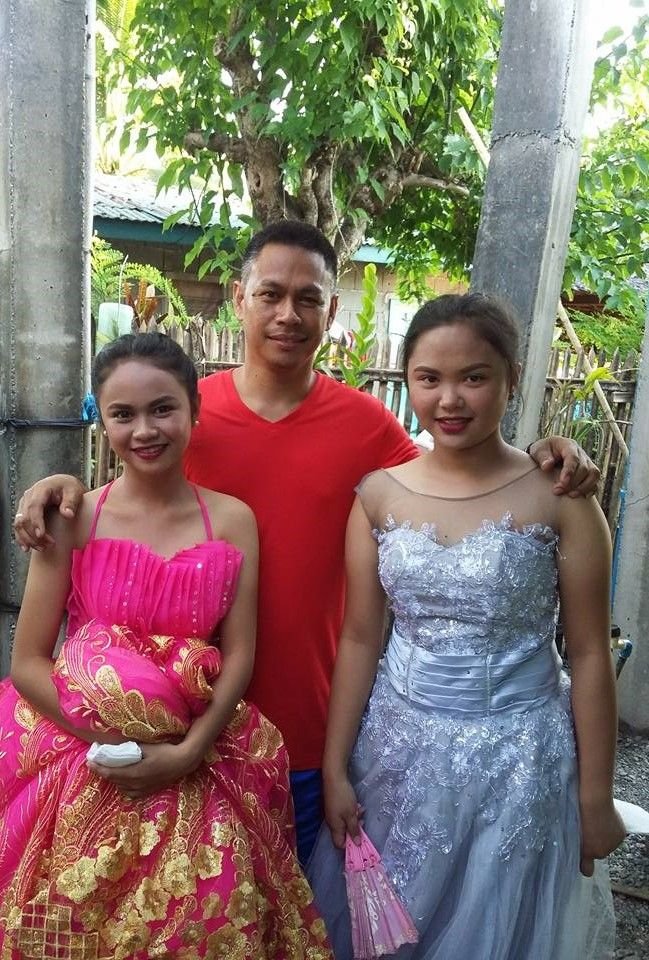 Before we went to the chapel, my father took a photo with us. He was teased by his siblings that we might have boyfriends after this.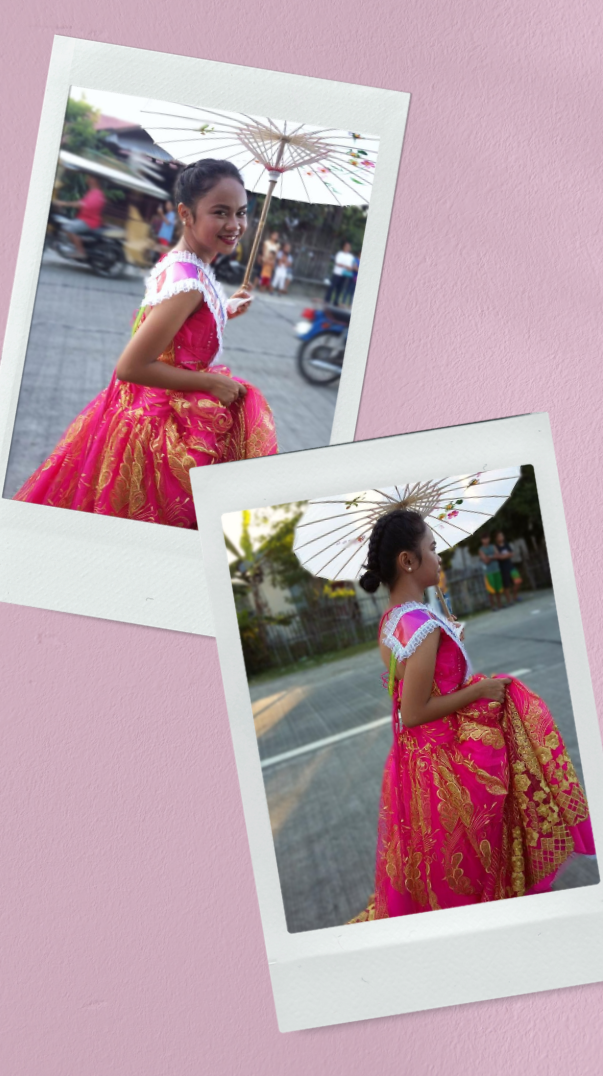 We went to the assembly area, where our sashes were given and there were also handmade umbrellas. Her role is Reyna Abogada, while mine is Reyna Sentenciada. During the parade, I was all smiles and not nervous at all.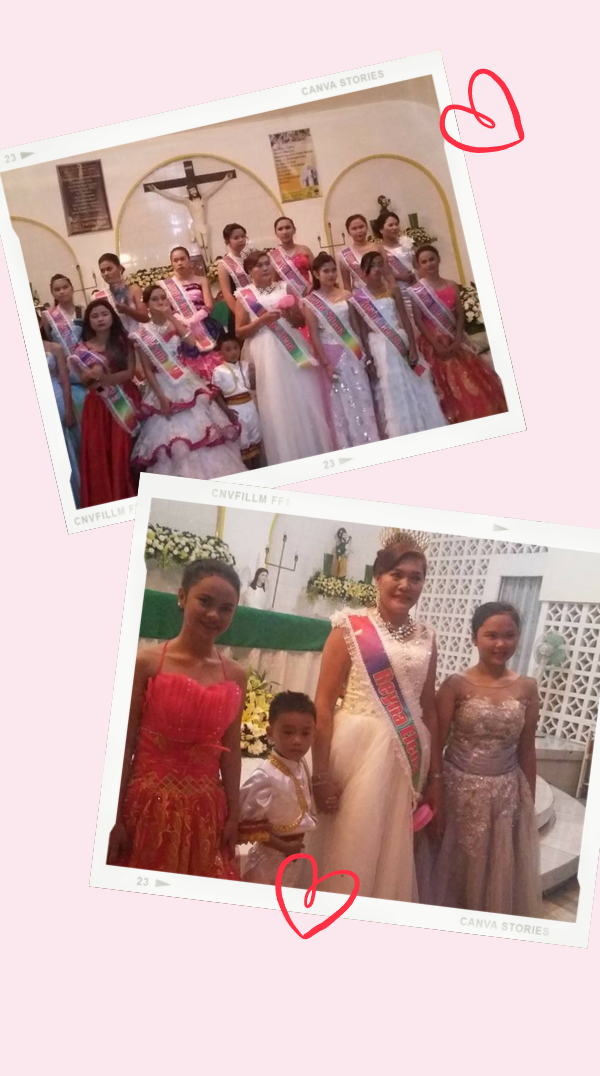 After the parade we came back to the chapel, took some photos, and went home.
At home, we took photos again and thanked everyone who helped us.
I was truly grateful to experience it during my teenage years. I have something I can look back to. I also realized I have always worn pink gowns. How ironic that I didn't really like pink but that's what I wore in every santacruzan I've joined. That's my experience of joining santacruzan, a memorable one. Have you also tried it? I would love to know!
I'll see you in my next post!
---
About The Author
---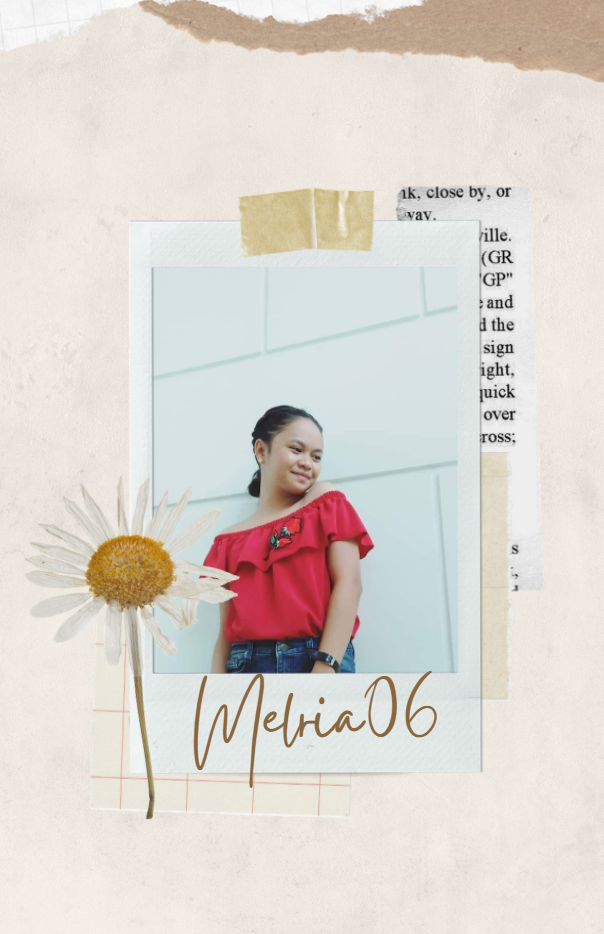 Melria is a book lover and a story teller. She loves to explore various things beyond her limits. If you like her content you may drop a comment, upvote and reblog her post.
---
---