MEME:LOLZ Liquidity Pool Weekly Update (05/02/2022)
This is the weekly report for the MEME:LOLZ distribution pool (https://tribaldex.com/dieselpools/pools).
Originally the plan as stated in last week's report was to add 1000 MEME to the pool this week. That has been increased to adding 50,000 MEME to the MEME:LOLZ pool earlier today. The total liquidity value of the pool has more than doubled since last week dropping the average APR. For now @memehive wants to keep the average APR of MEME:LOLZ above 15% minimum and adding more MEME than planned helps to maintain the APR above the minimum 15% as hopefully even more liquidity will get added over the next seven days.
@memehive added 50,000 MEME to the MEME:LOLZ distribution pool today.
Transaction: https://hiveblocks.com/tx/7f2e2ea3f2233ff85273f07d7cdd42fb3bd80773
Remember: There is an hourly lottery for MEME:LOLZ liquidity providers. Each hour the mining contract mints 500 new MEME tokens and sends them all to that round's winner. Each share in the MEME:LOLZ pool is like a lottery ticket. The more shares in the pool you have the greater the chance of winning in any given round.
LOLZ and MEME can be purchased through https://tribaldex.com/ or earned through content creation and curation on the Hive platform (https://hive.io/).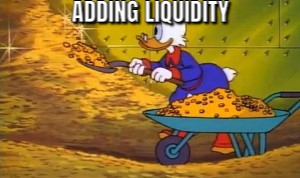 Meme modified from Ducktales image
Current statistics of MEME:LOLZ at the time of this writing:
Average APR: 16.324%
Source: https://beeswap.dcity.io/swap?pools&search=MEME
Price of tokens in MEME:LOLZ pool
MEME: $0.00020
LOLZ: $0.03270
0.00611577 LOLZ/MEME
0.0465 MEME/LOLZ
Total pool liquidity
216,814.263 MEME
1,325.987 LOLZ
$94.371 (up from $44.199 last week)
MEME:LOLZ pool volume
26,258.673 MEME
169.751 LOLZ
$11.774 (up from $4.002 last week)
Distribution balances of all tokens in the MEME:LOLZ pool
299092.676 MEME
597.227 LOLZ
99.537 HIQS
52207.625 PAY
20809.385 NFTM
---
---