A Comprehensive Overview Of Crypto.com: A Platform That Wants To Acclerate A Smooth Transition To Cryptocurrencies Worldwide. A MUST READ

Cryptocurrency is taking over, if not now, maybe, in the next five years, or ten years, or fifty years, or whatever year, its just inevitable. The need to transition smoothly into the world of cryptocurrency, is one of the most asked questions in recent years. I'm here to reveal to you, one of the best, if not the best platform that can smoothly make the transition to the cryptocurrency world easier for people with no knowledge of cryptocurrency, hence, this platform will go a long way in helping the adoption of cryptocurrency. This platform is called Crypto.com. Sit back and relax as I make a detailed overview of this super amazing platform that will help the adoption of cryptocurrency and change the world for the better.
---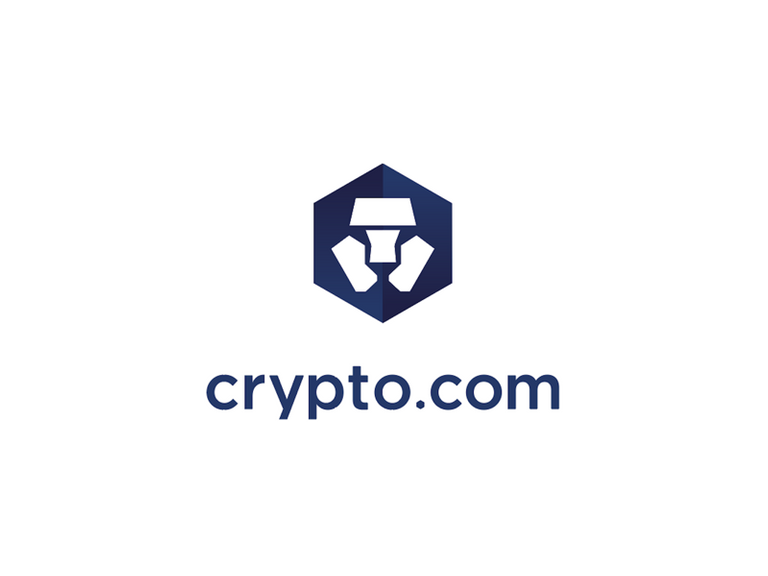 Credits
---
What Is Crypto.Com?
Crypto.com is a platform like no other, as it enables people to be able to operate on both the cryptocurrency world and the current fiat financial system. Crypto.com was established in 2016 with a mission to accelerate a smooth transition to cryptocurrencies worldwide. Crypto.com wants to create a world where everyone has absolute control over their money, data and identity. Crypto.com provide varieties of services which attracts users to the platform, and that's why there are over 2 million active users. Crypto.com provides two notable services, which are, the MCO Visa Cards and a Cryptocurrency exchange which was launched late year. I will broadly explain both as you read along.
Why do I feel that Crypto.com will help in the adoption of the cryptocurrency? It's simple, ask yourself why people ain't using cryptocurrency currently. These are the three most popular response you will get; "I don't understand cryptocurrency at all", "I'm not sure if my hard earn money is safe" and "How is the cryptocurrency world relevant to me". Crypto.com solves these three issues with ease.
Crypto.com has one of the sleekest and user friendly interface you can see, coupled with the ability for users to operate both their current fiat financial system easily and the cryptocurrency sphere. Hence, its easily understood by users.
For the security issue, Crypto.com is the very first company on earth to have CCSS Level 3, ISO27001:2013 and PCI:DSS 3.2.1, Level 1 compliance. Hence, making it one of the most secure, if not, the most secure cryptocurrency platform on earth.
Crypto.com creates some level of relevance, with the use of it's cards and the amazing packages accompanied with it. Can you imagine getting a 5% cashback paid in cryptocurrency, on whatever you buy, as well as getting a 100% cashback on your spotify and netflix subscriptions? With Crypto.com cards it's possible.
Well, according to the CEO and Co-founder of Crypto.com, Kris Marszalek, when asked why does Crypto.com provide some many services;
In the next bull run, the companies that will surely thrive are those that manage to build an entire ecosystem. It's very hard for a company that offers only one type of product to compete with companies with much broader distribution that cover each of the use cases.
---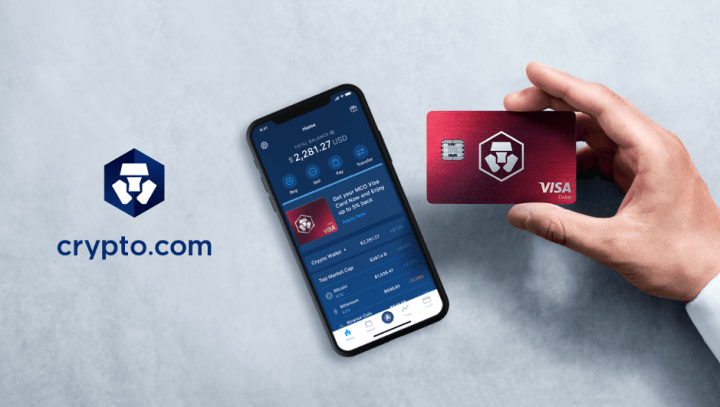 Credits
---
Crypto.com Tokens
Crypto.com platform is best known for its amazing tokens. It has two tokens which provides mouth-watering services to its users and that's why the platform has over 2 million active users. I know when you get to know the features of these coins you will definitely want to buy yours too, in order to enjoy various services it offers us, the users. These tokens are the bedrock of Crypto.com platform. Without, wasting anymore time, let's jump into the details of these tokens. We will be starting with the MCO tokens.
---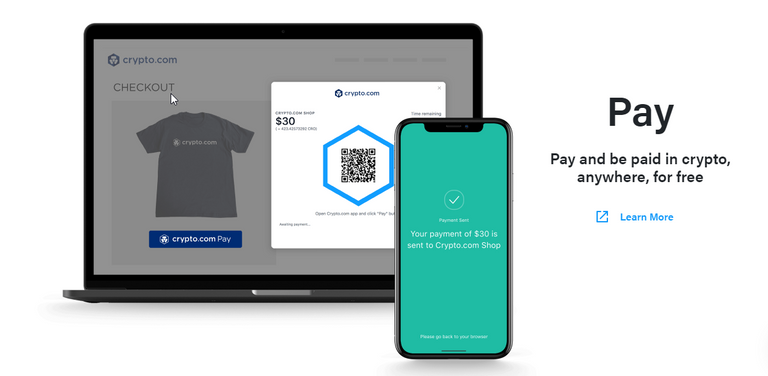 Screenshot By Me
---
MCO Tokens
The MCO tokens is the most useful tool for Crypto.com platform. Almost every service done on Crypto.com requires the MCO tokesn. It's the most important element for the Crypto.com platform. The MCO tokens is an Ethereum's ERC-20 standard, which had an amazing $26.7 million ICO back in 2017. As at the moment of writing this article, the current market cap of MCO Tokens according to CoinMarketCap is a whopping $93,073,076. MCO total supply is 31,587,682 MCO, out of which the current circulating supply is 15,793,831 MCO. One MCO token currently costs $5.89, it's peak was back in Aug 29, 2017, when it reached a massive $27.10.
---
Credits
---
As you already know, the main goal and mission of Crypto.com is to accelerate a smooth transition to cryptocurrencies worldwide. With that in mind, Crypto.com created the MCO tokens to act as the medium to achieving their goal and mission. How? Crypto.com created the MCO tokens to serve as a payment tool. What do I mean by that? The MCO tokens are to be used to a medium to pay for services/items, hence, the need for MCO Visa Card. The MCO Visa Card acts like our regular debit card, but unlike our regular debit card, the MCO Visa Cards have lots of incentives which are mind-blowing and it also helps people to get familiar with the use of cryptocurrencies.
The MCO Visa Cards have 5 different tiers which provides different mouth-watering offers for users to choose from. Here are the five different tiers;
Midnight Blue card: Totally Free. No need for MCO tokens stake.
Ruby Steel card: Requires 50 MCO tokens stake.
Jade Green/Royal Indigo card: Requires 500 MCO tokens stake.
Icy White card: Requires 5,000 MCO tokens stake.
Obsidian Black card: Requires 50,000 MCO tokens stake
---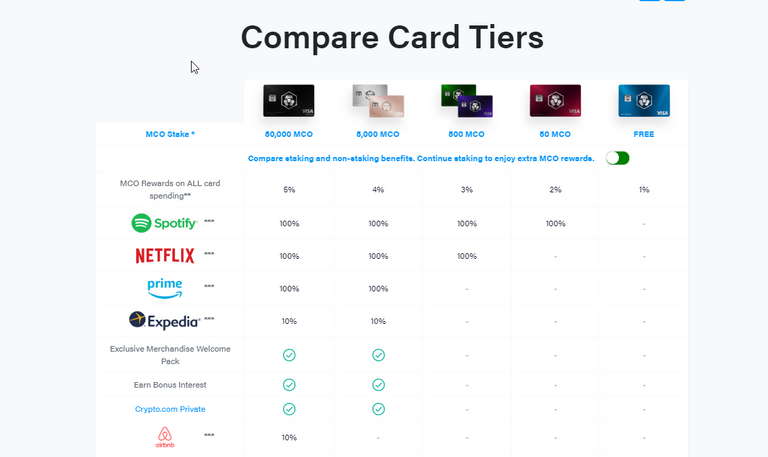 Screenshot By Me
---
From the image, I hope you can compare among the different tiers of MCO tokens better. Staking 500 MCO tokens (which is about $2945), which means opting for the Jade Green/Royak Indigo card. You get to enjoy a massive 3% cashback in crypto for any purchase you make and you also get to have 100% cashback on Spotify and Netflix subscriptions.
You must know that if you choose any of the premium cards, you will need to buy MCO tokens and then stake the required amount of MCO tokens for your selected card to become activate. Your staked MCO tokens isn't lost, but just locked-up for 6 months. After 6 months, you will receive all your staked MCO tokens back and with some amount of interest for you staking, having already enjoyed the services which the card provided to you over that period of time. To top it up it has no hidden fees such as card charges or international transaction fees. I must say, this is one of the best deal you can get in the fiat financial system and the cryptocurrency sphere. Although, the card is not available around the world. It is currently available in the United States, United Kingdom, Europe(some part) and Singapore.
---
CRO Tokens
CRO Tokens is just like MCO Tokens, its based on the Ethereum ERC-20 token standard. CRO Tokens is the latest Crypto.com's token and it is also very important to Crypto.com ecosystem. It's currently ranked No. 15 in the cryptocurrency market according to CoinMarketCap. It has a massive market cap of $1,124,325,020. It's total supply is 100,000,000,000 CRO tokens, out of which 16,630,196,347 CRO tokens is currently in circulation. It's currently worth $0.0677. It reached it's all time high on July 12, 2019, when it was worth $0.155.
The CRO token is the native token for Crypto.com ecosystem. It is used for payment and settlement on the Crypto.com blockchain. It provides so many benefits to Crypto.com users as they enjoy low fees, better execution prices and many more. Crypto.com users staking CRO tokens could enjoy a whooping 100% discount on trading fees.
---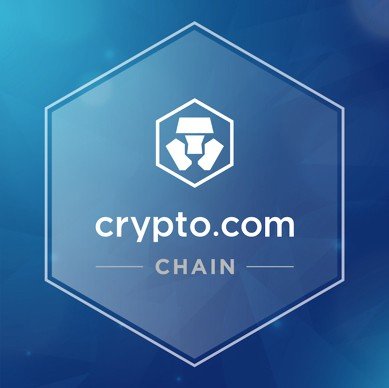 Credit
---
Crypto.Com Exchange
Crypto.Com created its very own exchange to make it a one-stop-shop, hence, it's one of the most complete cryptocurrency ecosystem in the world. Crypto.Com Exchange is the latest feature added to the Crypto.Com ecosystem. Crypto.Com launched the Exchange, November 2019, hence, making the platform the very best for people new to the cryptocurrency world, as they will start by just using the platform's MCO cards, to purchase items(just like our regular debit cards) and then upgrade to trading cryptocurrencies using the platform's Cryptocurrency Exchange. According to the CEO of Crypto.com, Kris Marszalek
Creating an exchange has been a natural extension and next step to ensure that everything stays in our own ecosystem. Source
---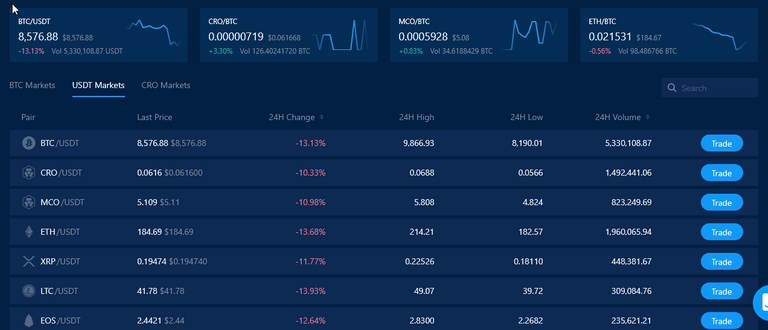 Screenshot By Me
---
The Cryptocurrency Exchange supports most of the major cryptocurrencies in the world such as BTC, Ethereum, XRP, Litecoin, EOS, Stellar Lumens, MCO, CRO, and many other cryptocurrency tokens and stablecoins. Crypto.Com Exchange provides so many amazing features such as better liquidity system, less trading fees, high level security and many more features.
The Crypto.com Exchange have lots of incentives to attract many users. Currently, there are over 1 million active users of the Exchange and the Exchange is not even close to a year old. The Cryptocurrency Exchange promises to provide more awesome offers and that's why I believe what Kris Marszalek, the CEO of Crypto.com, said about the platform;
We are assuming it will be easy for us to break into the top 10 exchanges in the next 5 years or so. Source
Read read through this article to know more about Crypto.com Exchange.
---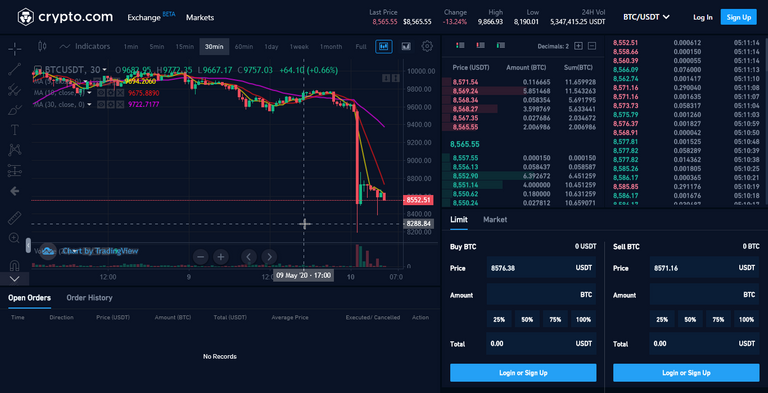 Screenshot By Me
---
Awesome Features On Crypto.com
Crypto.com is a super awesome platform with tons and tons of amazing features to attract users. They are so many features on Crypto.com which will make this article too lengthy, so I will give details to my top 2 best features on the platform.
Earning And Staking
This is superb feature on the crypto.com platform. Can you imagine earning a massive 18% interest on an investment? Isn't that just amazing? Of course, it is. The Earning and Staking feature allows users to invest in any cryptocurrency tokens listed on Crypto.com and earn up to 2% - 18% interest in a year depending on which tokens invested, the amount of MCO tokens staked and the duration in which the users agreed for their tokens to be staked. If a user should stake CRO tokens, such a user will get daily interest payout and reduced trading fees.
I'm very much interested in staking CRO tokens, as its one of the most profitable venture a crypto investor can take part in. Staking a minimum of 10,000 CRO tokens (which is currently worth $677) for at least 6 months, will see you earn 20% of your staked CRO tokens per year, which will be paid daily. To help you understand this better, here is a formula to help you calculate the daily interest accrued to you;
Daily Interest = Principal amount (in staked cryptocurrency) x (APR/365)
For instance, you staked 20,000 CRO tokens for 180 days you will be receiving 10.95890 CRO tokens daily as interest. Isn't this just super amazing? It sure is.
---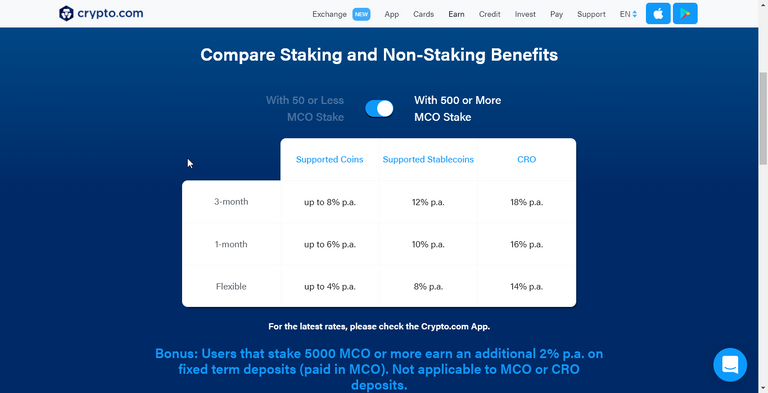 Screenshot By Me
---
Crypto.com Pay
This is yet another amazing feature on Crypto.com. This feature enables crypto.com users to pay with crypto and receive cashback in CRO tokens anytime they purchase. This feature makes it easier for both buyers and sellers to settle their transactions, as with just QR Scan, a transaction is completed seamlessly. This feature will go a long way in helping the quick adoption of cryptocurrency by everyone, because the need to make purchase seamless is very much needed by both buyers and sellers.
There was a major breathrough in Crypto.com Pay last month(April 9, 2020), as Crypto.com announced their partnership with Ledger. This announcement means that Ledger online stores are now accepting Crypto.com CRO tokens as a means of payment. Crypto.com Pay users will get to enjoy a massive 20% cashback for every transaction paid in CRO tokens on Ledger, which will be immediately paid out to their Crypto.com wallets. Isn't this just the best cryptocurrency platform. Well according to Pascal Gauthier, the CEO of Ledger;
We are thrilled to add Crypto.com payment solution, as it is one of the most innovative and serious players on the market. Crypto mass adoption will be brought by enabling crypto payment features on e-commerce websites. Thanks to this new integration, we are offering new payment possibilities with your favorite crypto. Source
According to The Co-Founder and CEO of Crypto.com, Kris Marszalek;
We created the Crypto.com Chain and Crypto.com Pay as we identified a need in the industry: to pay and be paid in any crypto, anywhere, for free. We have been working ceaselessly to expand the merchant network of Crypto.com Pay and we feel very fortunate to have the support of Ledger, one of the most respected names in the industry, as we continue to extend the utility of CRO and drive mass adoption of cryptocurrency. Source
---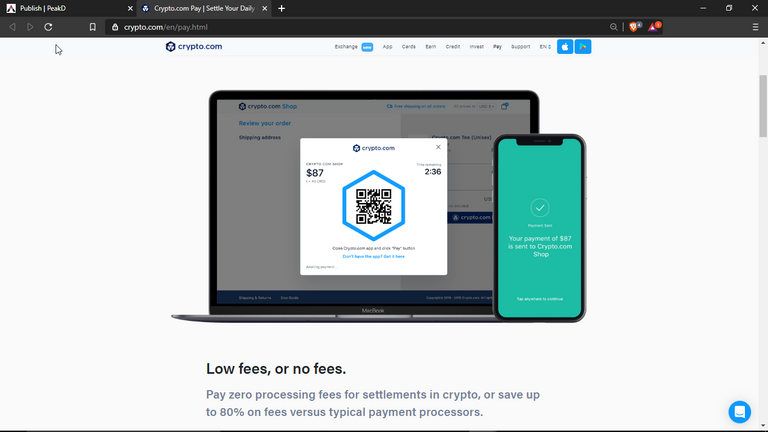 Screenshot By Me
---
Twitter Giveaway
Crypto.com is currently giving away a whooping $100,000 in BTC. All you have to do is just to follow them on Twitter and Retweet their pinned tweet in order to stand a chance to win a whooping $250. This giveaway has started since April 30, 2020. A whooping $83,250 has already been shared, remaining $16,750 to be shared. It is real, I know over 5 hivers that are my friends that have been chosen to win $250. I started from the very first day but I'm still yet to be chosen with only 2 days left, I really hope Crypto.com reads this article and I'll be selected also 😉😉😉. This giveaway is a superb initiative by Crypto.com to get as much people as possible to partake in BTC Halving Special which is slated on 12th of May, 2020. Do not miss it.
---

Screenshot By Me
---
Conclusion
I'm super impressed with Crypto.com goals and mission and the extent in which they have gone to achieving it so far in such a short period of time. The platform is sleek and has an easy to use interface. I had no issues figuring almost everything out, which is very commendable from the developers. The numerous features packed into just one ecosystem makes this platform the very best platform for newbies in cryptocurrency, crypto investors,and in fact, the general public. I highly recommend this platform to anyone reading this article. I rate this platform a whopping 4.99/5.00.
---
NOTE: This is not a sponsored article.
---
Disclaimer: This is not a financial advice, nor a guarantee or promise in regards to any result that may be obtained from using the above content. The information provided here is for informational and entertainment purposes only. It should not be considered as financial and/or investment advice. No person should make any kind of financial decision without first consulting their own financial adviser and/or conducting their own research and due diligence.
---
---