Going Back 🚙 To Aspuri 🏡 - Monomad Challenge (En-My)
This is my entry for the #monomad challenge
Ini adalah penyertaan saya untuk cabaran #monomad
Greetings to the Black and White communities. My participation in a monomad challenge kicks off today for the very first time. I'm seeking guidance from people who are passionate about black-and-white photography.
Salam sejahterah komuniti Hitam dan Putih. Ini adalah pertama kali saya menyertai cabaran monomad. Semoga mendapat tunjuk ajar daripada para penggemar foto hitam putih.
I don't have a professional camera to capture more unique photos. But I think it will be sufficient for me to just use the camera on my phone to record my tales and experiences. Well, the story I'm going to tell you this time is about today, which is when I accompanied my niece back to the high school girls' dormitory, also known as Aspuri.
Saya tidak memiliki kamera profesional untuk menangkap gambar yang lebih unik. Namun saya fikirkan adalah cukup untuk saya menggunakan kamera telefon saya untuk mengabadikan kenangan serta bahan untuk perkongsian cerita. Nah, cerita saya pada kali ini adalah berkenaan dengan hari ini di mana saya menghantar anak buah perempuan saya kembali ke asrama perempuan di sekolah menengah, atau juga ringkas dipanggil Aspuri.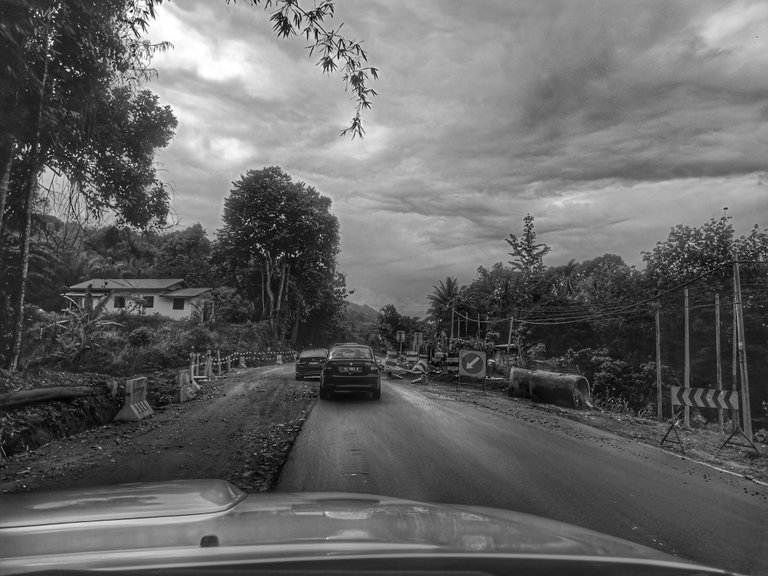 The journey of 25 kilometres is neither too far nor too close. The fact that we were have to travel on roads that were not in good condition made today's trip particularly difficult. However, we had no choice but to take this route. There are a great deal of potholes, the road itself is damaged, and in some locations the road is collapsing due to the unstable ground. In spite of this, the large percentage of Sabah's population travels along this road.
Perjalanan sejauh 25 kilometers tidaklah terlalu jauh dan tidak juga terlalu dekat. Namun, apa yang mencabar sepanjang perjalanan pada hari ini adalah keadaan jalan raya yang kami harus tempuhi tidak berada dalam keadaan yang baik. Terdapat banyak lubang, jalan rosak, tempat tertentu ada jalan yang runtuh disebabkan oleh tanah yang tidak kukuh. Walaupun demikian, inilah laluan utama penduduk Sabah.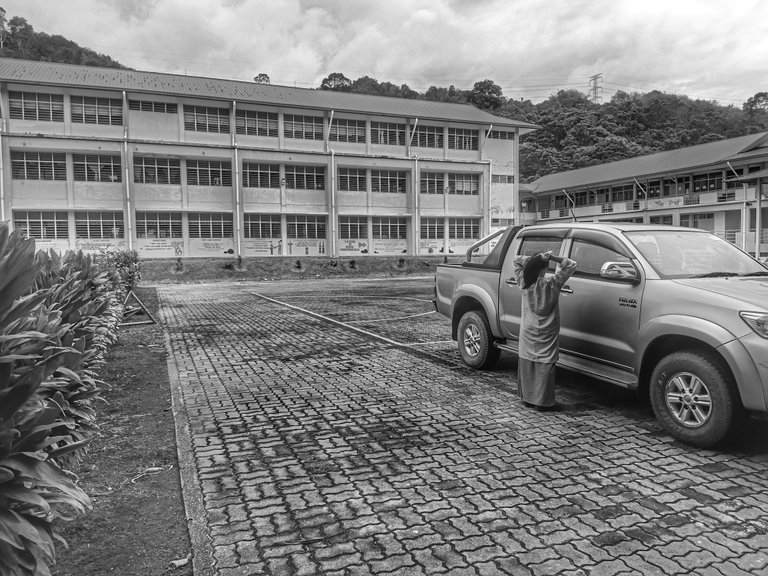 We finally arrived at my niece's school after nearly 30 minutes of driving. We stopped by my office to pick up some files before heading to the hostel. Meanwhile, my niece does her hair in front of the car mirror.
Selepas hampir setengah jam memandu, kami akhirnya sampai di kawasan sekolah anak buah perempuan saya. Sebelum bergerak ke asrama kami singgah di pejabat saya untuk mengambil beberapa fail. Sementara itu, anak buah saya mengemaskan dirinya di hadapan cermin kereta.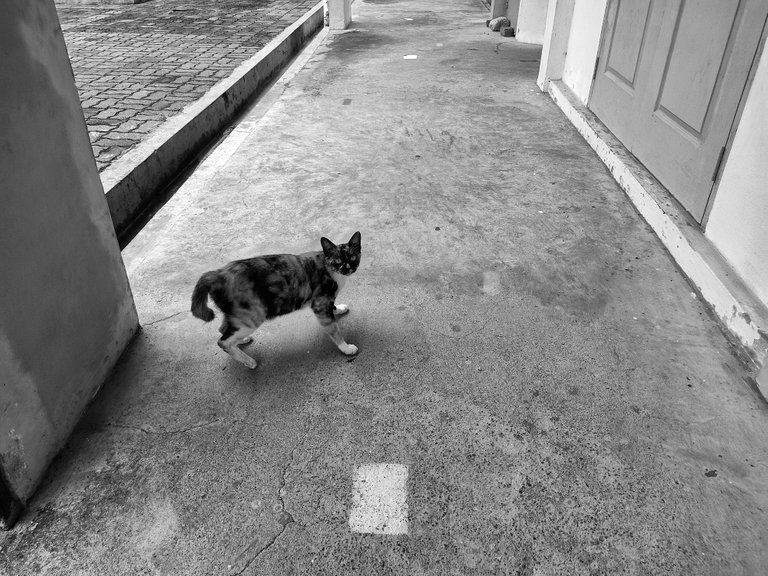 A wild cat appeared to be startled and surprised by our presence. Yes, without the presence of workers and students, the school was silent for 21 days. They will all return to school and work at this school the following day. I didn't bring any food for this hungry and scared cat.
Kelihatan seekor kucing liar ketakutan dan terkejut dengan kehadiran kami. Ya, sekolah ini sunyi tanpa kehadiran para pekerja dan pelajar untuk 21 hari. Esok semuanyanya akan kembali bersekolah dan bertugas di sekolah ini. Malangnya, saya tidak membawa makanan untuk sang kucing yang kelaparan dan ketakutan ini.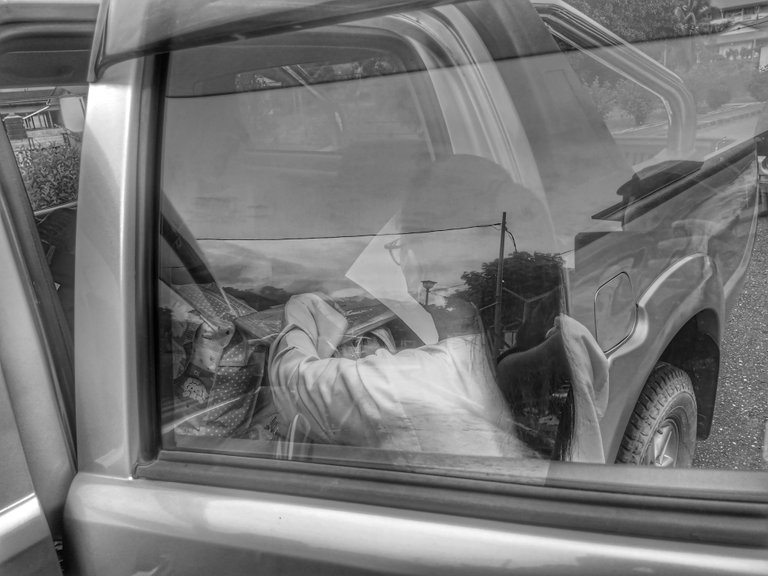 We moved to the school dormitory area immediately after I took some files from my office. My niece completed the check-in form, which was then delivered to the hostel's check-in counter. There aren't many students waiting in line to fill out forms and get more information. The waiting time was short.
Sejurus selepas saya mengambil beberapa fail dari pejabat saya, tanpa melengahkan masa, kami bergerak ke kawsan asrama sekolah. Anak buah perempuan saya menyediakan borang pendaftaran masuk untuk dihantar di kaunter pendaftaran balik asrama. Jumlah pelajar yang beratur untuk menghantar borang dan mendapatkan arahan selanjutnya tidaklah panjang. Masa yang diambil untuk menunggu pun singkat sahaja.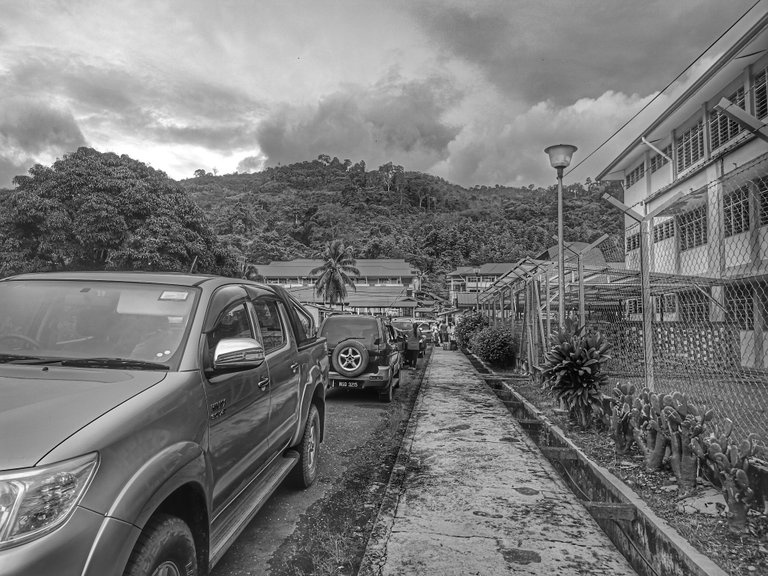 Many of the parents who came today appear to have returned their children to the dormitory. Because of transportation issues and the long distance to school, the majority of them choose to send their children in a dormitory. Because the school offers extra classes and tutoring almost every day, I decided to send my niece to study and live in hostel. Staying in the hostel will allow my niece to be fully present and focused on her studies, as she will be taking an important exam this year that will determine her future.
Kelihatan ramai ibubapa yang datang pada hari ini menghantar mereka balik ke asrama. Kebanyakan mereka memilih untuk meletakkan anak mere di asrama adalah kerana faktor masalah kenderaan dan jarak sekolah yang jauh. Saya membuat keputusan untuk menghantar anak buah perempuan saya belajar dan tinggal di asrama kerana pihak sekolah membuat kelas tambahan dan bimbingan hampir setiap hari. Tinggal di asrama akan membolehkan anak buah saya mendapat kehadiran penuh dan fokus yang lebih baik dalam pelajaran, memandangkan pada tahun ini dia akan menghadapi peperiksaan penting yang menentukan masa depannya.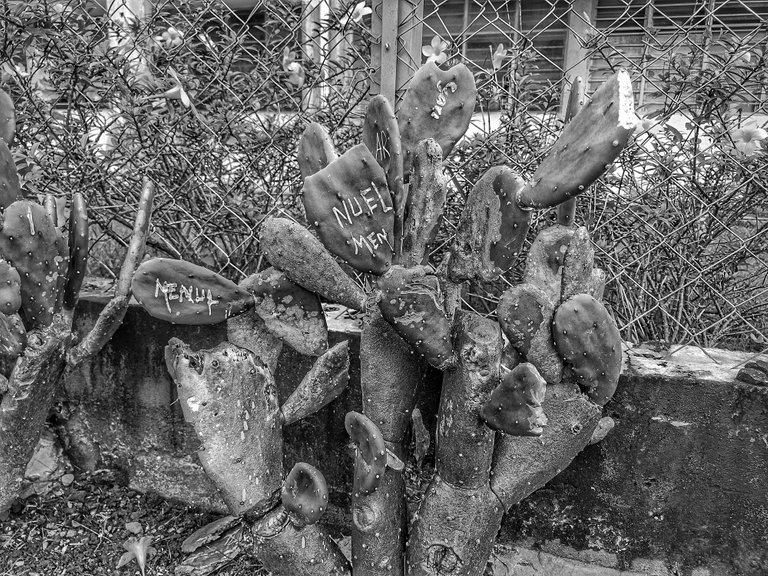 I passed the time by taking pictures while waiting. One of the photos I took was of this cactus tree. The word carved on the cactus could be someone's name. I'm not sure either. You guys are so bad xD
Sementara menunggu, saya menghabiskan masa dengan mengambil beberapa gambar. Salah satu gambar yang saya ambil adalah gambar pokok kaktus ini. Perkataan yang diukir pada kaktus itu mungkin nama orang. Saya pun tidak tahu. Hadoii nakal bah dorang ni xD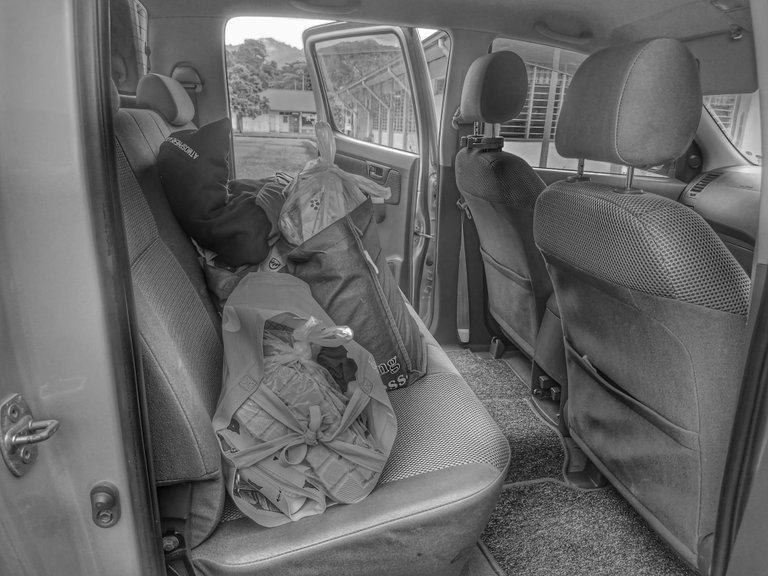 Yes, lady. There are needs of numerous clothing options. There are numerous items to pack. That is a female. This item is considerably less compare my wife's (a flash back of memories came back to me when I send my wife to further her studies long time ago).
Ya, perempuan. Banyak benda yang hendak dipakai. Banyak benda yang hendak dibawa. Itulah perempuan. Namun, barang ini agak sedikit berbanding barang isteri saya ketika saya menghantar dia sambung belajar satu ketika dahulu. xD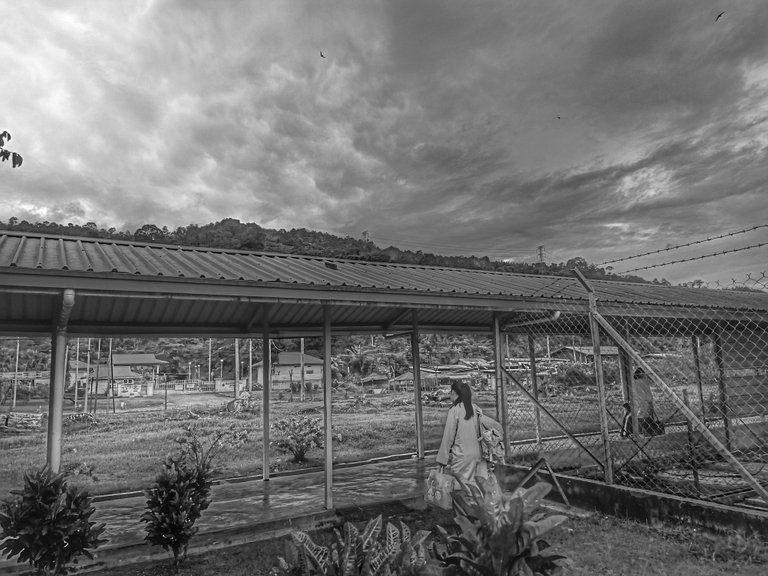 Because it was a female dormitory, I couldn't her to lift her belongings. My niece went back and forth three times to lift everything. The heaviest bag is the bag containing the textbooks.
Saya tidak dapat membantu untuk mengangkat barang-barangnya kerana ianya asrama perempuan. Anak buah perempuan saya berulang alik 3 kali untuk mengangkat kesmua barang-barangnya. Beg yang paling berat ialah beg yang mengandungi buku-buku pelajarannya.
After everything was over, I told her farewell and advised her to put forth her best effort in her studies. I got back to our house as quickly as I could because I informed my daughter sobbing because she was looking for me and she wasn't feeling very well.
Setelah semuanya selesai, saya mengucapkan selamat tinggal dan memesan dia agar belajar sungguh-sungguh. Saya kembali ke rumah kami dengan kadar yang segeara, kerana anak perempuan saya mencari saya, dan dia kurang sihat.
---
---