Alegría (Día Mundial de la Alegría) (Esp-Eng)
Saludos Cordiales.
Que siempre encuentren una razón para estar alegres.
La alegría más grande es la inesperada

(Sófocles)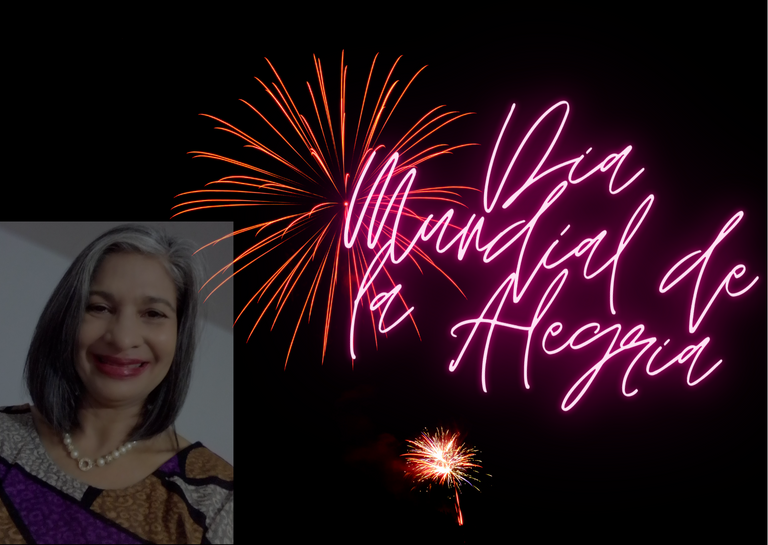 Imagen elaborada en Canva por la autora, Agosto, 2022

En diferentes situaciones hablar del tema Alegría para algunas personas es como un crimen, a esto alegan que para que estar alegres con todas las situaciones que se viven a nivel personal, familiar, en la sociedad, el país, a nivel mundial...situaciones como enfermedades, niveles económicos bajos, hospitales que no son de ayuda en relación a insumos, guerras, hambre, violencia...muchas situaciones.
Pero dentro de todo existen grupos de personas que han profundizado, estudiado, internalizado , practicado que lo que sucede en el exterior es producto de nuestros pensamientos...han descubierto y aprendido que todos somos seres abundantes y que el agradecimiento forma parte de una de las estrategias que nos llevan a encontrar esa alegría de la que a veces sentimos que no debemos hablar para no hacer sentir mal a otros o no nos vean como extraterrestres.
En referencia al Día Mundial de la Alegría comparto un poco acerca de el. ¿De dónde viene? ¿Por qué? ¿Para qué?
Alfonzo Becerra, colombiano, explica que en el año 2008 expuso la idea de tener un día para celebrar el sentimiento de la alegría, en vista que vivimos en países que las fechas de celebración se refieren para recordar eventos relacionados con la guerra, con la sangre y la muerte, así como también festividades religiosas, fechas patrias, tomando en cuenta o viéndolo desde otra óptica estos son eventos que no nos traen alegría, al contrario está un ingrediente de la tristeza, violencia, otras.
Así mismo, fue en el año 2012 en un congreso de gestión cultural en Chile Alberto Becerra volvió a expresar la idea que fue acogida por diversas organizaciones de diferentes países por lo que se escogió el 1 de agosto para la celebración de este día.
Dentro de los objetivos planteados para darle su importancia y para qué, en el se busca valorar la importancia de bienestar, gratitud, satisfacción por el hecho de tener vida, así la alegría entre tantas situaciones o dificultades las personas puedan experimentarla en su día a día.
Esta celebración nos lleva a reflexionar que mantener una actitud de alegría puede descongestionar algún estado de salud física y abrir horizontes a eso que llamamos Fe (puede darse como un momento de paz interior y sentir seguridad que todo pasará)...pueden cambiar los colores de grises, negros a colores vivos.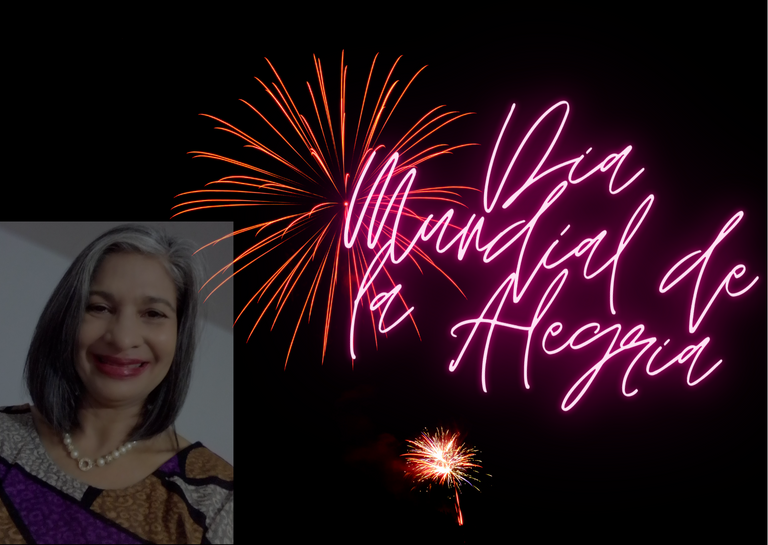 Imagen elaborada en Canva por la autora, Agosto, 2022

La lista de países que se unen en está celebración y dar la importancia desde el punto de vista emocional por los beneficios que genera en las diferentes esferas del bienestar se encuentran Argentina, Bolivia, Colombia, Chile, España, Honduras, México y Venezuela , En espera que otros países se unan a esta celebración y aceptarla como un sentimiento de cada ser humano.
A pesar de existir propagación de los sentimientos en RRSS (Redes Sociales), existe un número grande de personas que no sienten el llamado a explorar su mundo interno y solo se dedican a esforzarse en el mundo externo para ir al ritmo de una sociedad de consumo donde se desenvuelve. Cada ser es único en su historia y por ello los tiempos de cada uno deben ser respetados en ese proceso de adquisición de información y cómo son procesados, internalizados, puestos en práctica.
Es excelente cuando amanece y sentimos alegría por un día que iniciamos con salud, cuando llega el día del cumplir un año de vida, cuando llega un bebé al mundo, reencuentros familiares, lograr objetivos académicos, familiares, profesionales, personales, cuando se gana un lotería ... las formas de demostrarlos pueden variar gritos, bailes, chocar las manos con otros, abrazos, y eso es bonito.
Además cuando observamos el color de las flores, los diminutos visitantes en esas flores, el color del mar cuando lo visitamos, la belleza de los animales...todo produce sentimientos de alegría que no debemos dejarlos pasar...esas sonrisas en los rostros a veces la mostramos solo por mirar un atardecer, un cielo azul...todo depende el momento para expresar alegría...compartirla con otros es la mejor medicina. Otro momento cuando se logra una sanación física, un tratamiento para alguna enfermedad son momentos de alegría que aunque sean los momentos más tristes una lucecita se prende para aliviarnos y demostrarla.
El hombre se complace en enumerar sus pesares,
pero no enumera sus alegrías

(Fiodor Dostoievski)



Dirección Web de apoyo
Fuente
SeparadoresFuente


ENGLISH
Best regards.
May you always find a reason to be joyful.
The greatest joy is the unexpected

(Sophocles)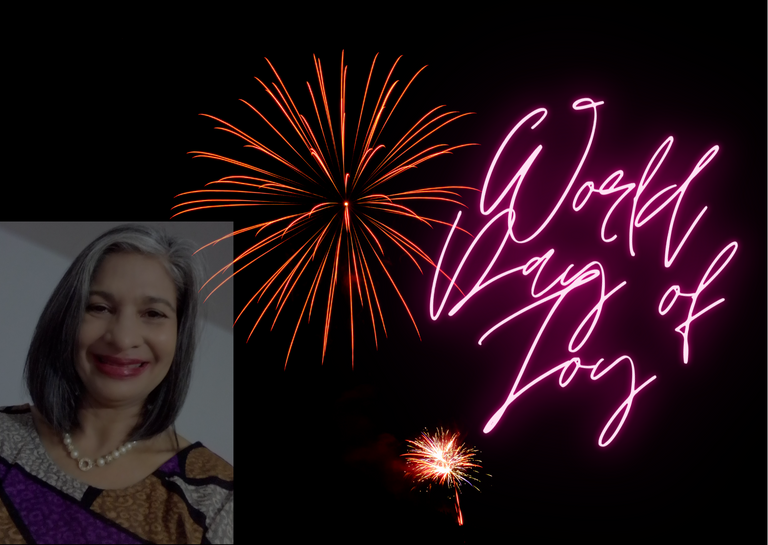 Image created in Canva by the author, August, 2022


In different situations to talk about the topic Joy for some people is like a crime, to this they allege that to be joyful with all the situations that are lived at personal, family, society, country, worldwide...situations like diseases, low economic levels, hospitals that are not of help in relation to supplies, wars, hunger, violence...many situations.
But within all of this there are groups of people who have deepened, studied, internalized, practiced that what happens on the outside is a product of our thoughts...they have discovered and learned that we are all abundant beings and that gratitude is part of one of the strategies that lead us to find that joy that sometimes we feel we should not talk about so as not to make others feel bad or see us as extraterrestrials.
In reference to the World Day of Joy I share a little about it. Where does it come from? Why? What for?
Alfonzo Becerra, Colombian, explains that in 2008 he exposed the idea of having a day to celebrate the feeling of joy, in view that we live in countries where the celebration dates refer to remember events related to war, blood and death, as well as religious festivities, patriotic dates, taking into account or seeing it from another perspective these are events that do not bring us joy, on the contrary there is an ingredient of sadness, violence, others.
Likewise, it was in 2012 in a congress of cultural management in Chile Alberto Becerra again expressed the idea that was welcomed by various organizations from different countries so that August 1 was chosen for the celebration of this day.
Among the objectives set out to give it its importance and why, it seeks to value the importance of well-being, gratitude, satisfaction for the fact of having life, so the joy among so many situations or difficulties people can experience it in their day to day.
This celebration leads us to reflect that maintaining an attitude of joy can decongest some state of physical health and open horizons to what we call Faith (it can be a moment of inner peace and feel confident that everything will pass) ... can change the colors of gray, black to bright colors.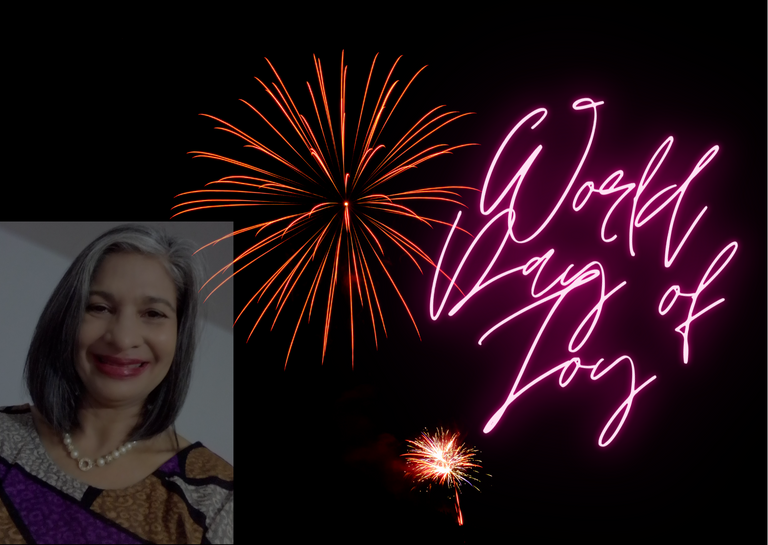 Image created in Canva by the author, August, 2022


The list of countries that join in this celebration and give the importance from the emotional point of view for the benefits it generates in the different spheres of well-being are Argentina, Bolivia, Colombia, Chile, Spain, Honduras, Mexico and Venezuela, hoping that other countries join in this celebration and accept it as a feeling of every human being.
Despite the existence of the propagation of feelings in RRSS (Social Networks), there is a large number of people who do not feel the call to explore their inner world and are only dedicated to strive in the external world to go to the rhythm of a consumer society where it unfolds. Each being is unique in its history and therefore the times of each one must be respected in the process of acquiring information and how they are processed, internalized, put into practice.
It is excellent when dawn breaks and we feel joy for a day that we started with health, when the day of a birthday arrives, when a baby comes into the world, family reunions, achieving academic, family, professional, personal goals, when a lottery is won ... the ways to show them can vary shouts, dances, high-fives with others, hugs, and that's nice.
Also when we observe the color of the flowers, the tiny visitors in those flowers, the color of the sea when we visit it, the beauty of the animals...everything produces feelings of joy that we should not let them pass...those smiles on our faces sometimes we show it just by looking at a sunset, a blue sky...everything depends on the moment to express joy...sharing it with others is the best medicine. Another moment when a physical healing is achieved, a treatment for some disease are moments of joy that even if they are the saddest moments a little light is lit to relieve us and show it.
Man delights in enumerating his sorrows,
but does not enumerate his joys

(Fyodor Dostoevsky).



Supporting Web address
Source

Translated with www.DeepL.com/Translator (free version)
Separators Source


---
---