Nostalgic Moments So Sublime at the Belvedere Palace, Vienna [ENG-GER]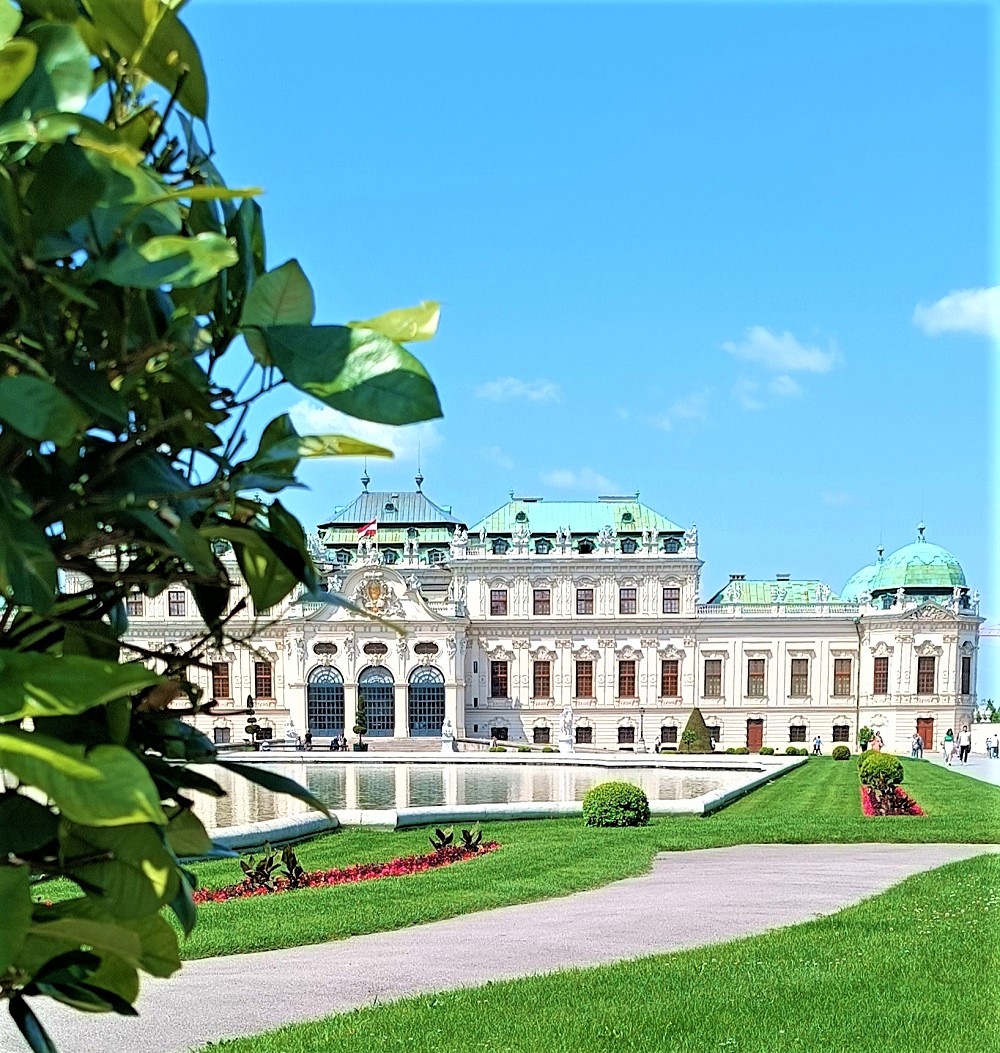 Hello dear Hivers!
The Belvedere Palace is celebrating its 300 years of existence. It is synonymous for being the first museum of contemporary art in Vienna and also one of the first public museums worldwide.
Source
I went to visit it as part of my solo birthday celebration two Sundays ago. I have had nostalgic moments visiting the place because prior to my retirement, the company where I worked last ( as a corporate slave, LOL!) is located right here vis a vis this magnificent structure. At present the company is still in the same building. I have witnessed all the changing seasons here and how the palace garden looked in each of the seasons. It is an enchanting palace that houses the famous paintings of Gustav Klimt and other contemporary artists. I would say I had been lucky to fully see the view from the french window of my office.
German Version:

Hallo liebe Hivers!

Das Schloss Belvedere feiert sein 300-jähriges Bestehen. Es ist ein Synonym für das erste Museum für zeitgenössische Kunst in Wien und auch eines der ersten öffentlichen Museen weltweit.
Quelle
Ich besuchte es im Rahmen meiner Solo-Geburtstagsfeier vor zwei Sonntagen. Ich hatte nostalgische Momente, als ich diesen Ort besuchte, denn vor meiner Pensionierung befand sich das Unternehmen, in dem ich zuletzt gearbeitet hatte (als Firmensklave, LOL!), genau hier, in Sichtweite dieses großartigen Gebäudes. Zurzeit befindet sich das Unternehmen immer noch im selben Gebäude. Ich habe hier den Wechsel der Jahreszeiten miterlebt und gesehen, wie der Palastgarten zu jeder Jahreszeit aussah. Es ist ein bezaubernder Palast, der die berühmten Gemälde von Gustav Klimt und anderen zeitgenössischen Künstlern beherbergt. Ich würde sagen, dass ich das Glück hatte, die Aussicht von der Fenstertür meines Büros aus zu genießen.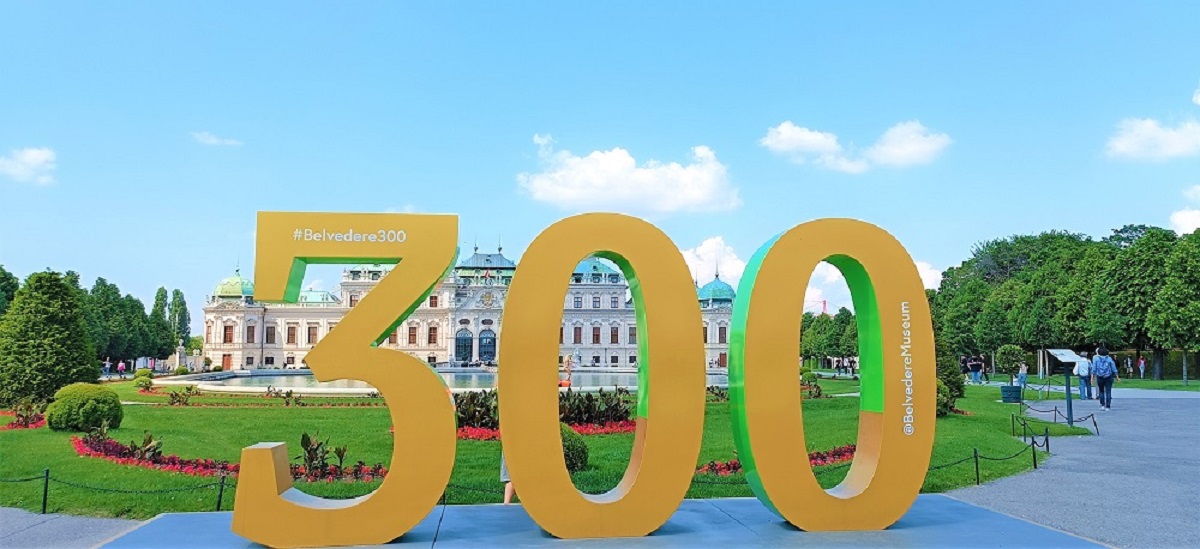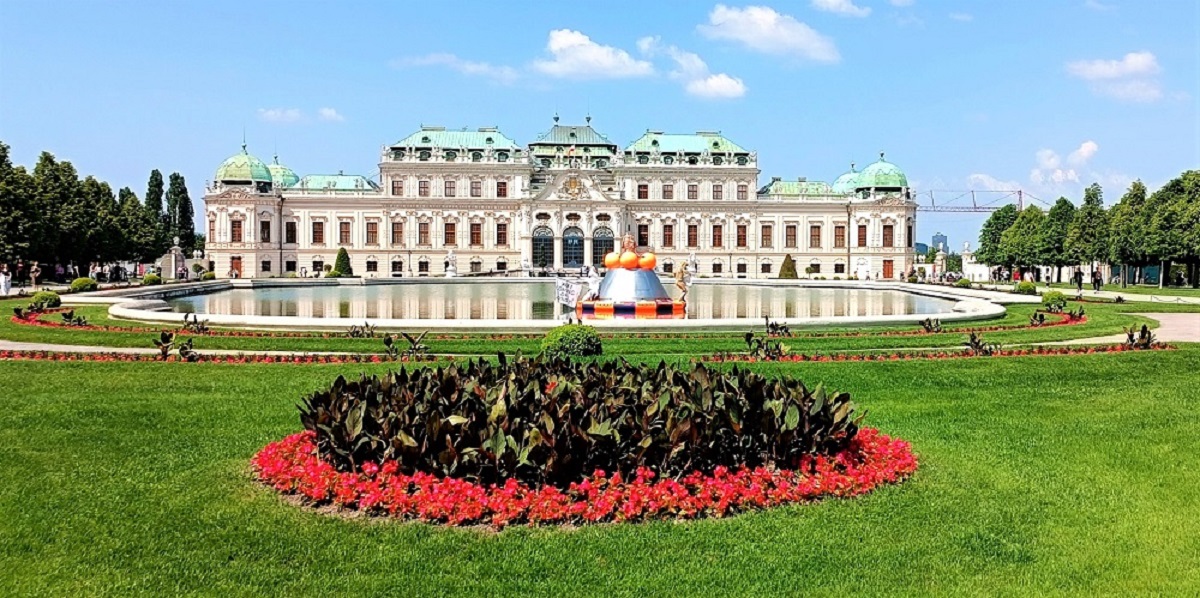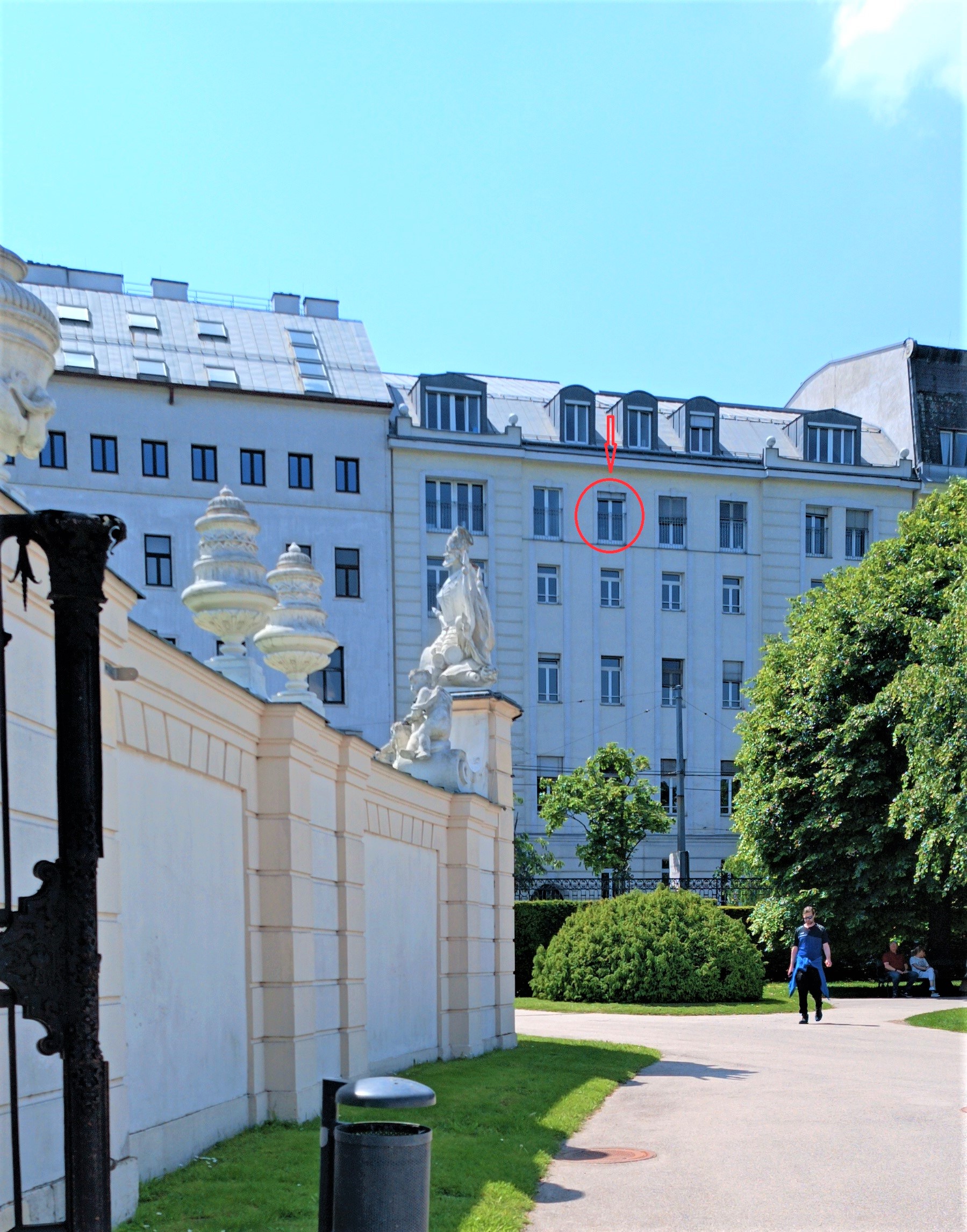 My office window encircled in red/Mein rot umrandetes Bürofenster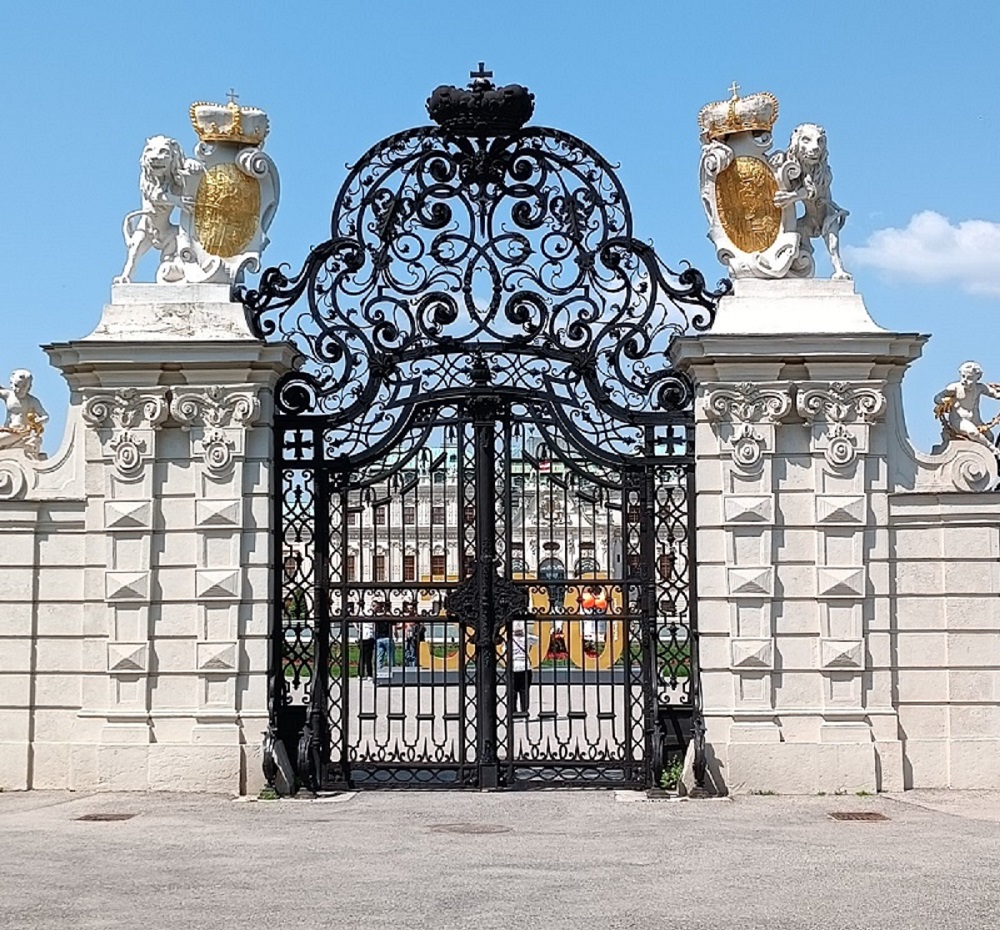 The Palace´s Main Gate/Das Haupttor des Palastes
I spent my lunchtime here almost daily together with my colleague and we would just cross the street and in a few steps, we reached the palace gate. We´d sit on one of the benches and enjoyed the time gazing at all the excited tourists, in most cases many Japanese, while enjoying our sandwiches. Sometimes we would look at their enthusiastic faces seeing how they have "wowed" the architecture.
Ich verbrachte hier fast täglich meine Mittagspause zusammen mit meinem Kollegen, und wir überquerten einfach die Straße und erreichten in wenigen Schritten das Palasttor. Wir setzten uns auf eine der Bänke und genossen die Zeit mit Blick auf all die aufgeregten Touristen, in den meisten Fällen viele Japaner, während wir unsere Sandwiches aßen. Manchmal schauten wir in ihre begeisterten Gesichter, als wir sahen, wie sehr sie die Architektur "beeindruckt" hatte.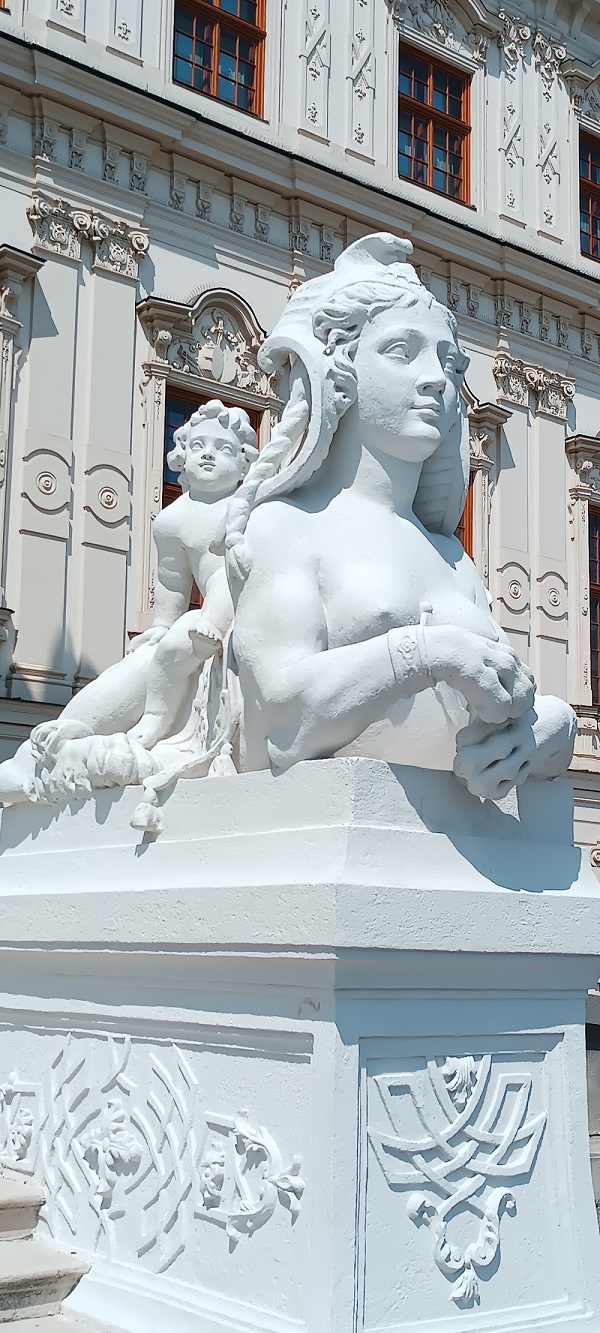 Sphinx
The main entrance to the palace is guarded" by Sphinxes who are said to be very powerful. In Greek mythology, sphinxes are monsters having a woman's head and a lion´s body.
Source
.
Der Haupteingang des Palastes wird von Sphinxen "bewacht", die sehr mächtig sein sollen. In der griechischen Mythologie sind Sphinxe Ungeheuer mit dem Kopf einer Frau und dem Körper eines Löwen. Quelle.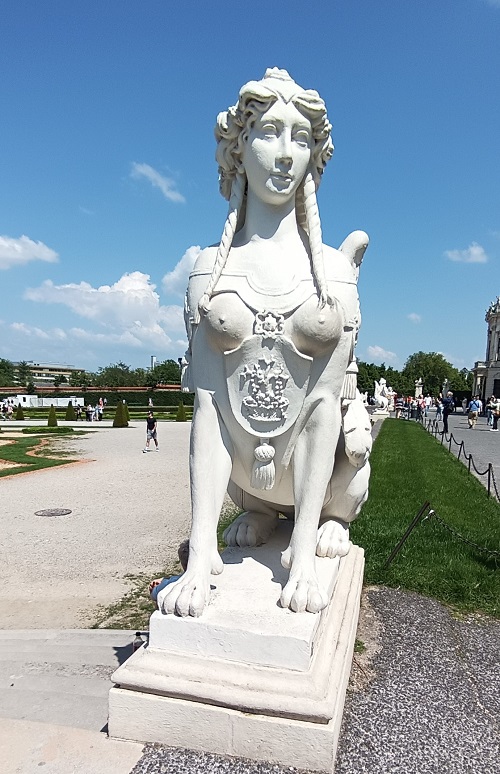 The sphinxes here totalled about a dozen and located scattered in different parts of the palace garden.
Insgesamt gab es hier etwa ein Dutzend Sphinxen, die in verschiedenen Teilen des Palastgartens verstreut waren.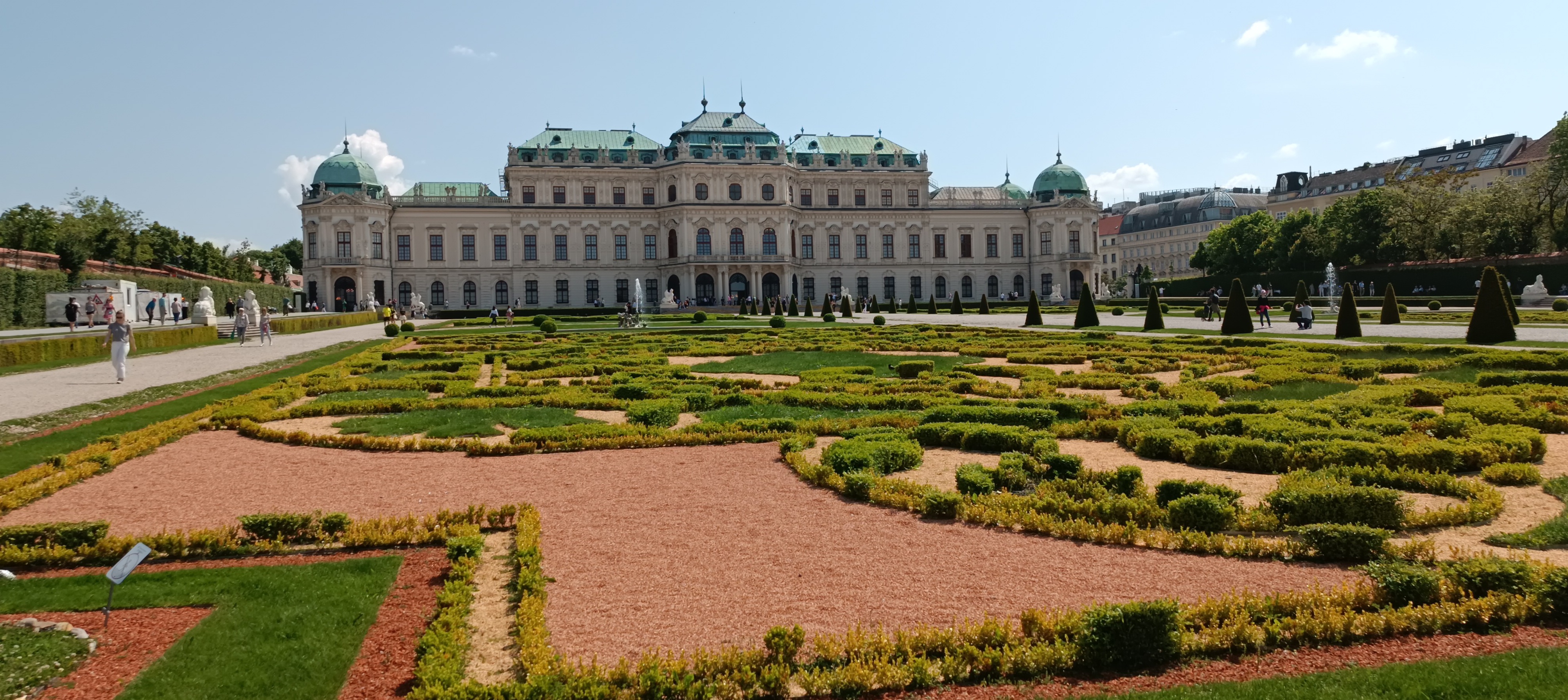 When I visited, the plants and blooms at the palace garden were just evolving, come Summer they will all be so colorful as in the below image taken in 2021.
Als ich den Palastgarten besuchte, waren die Pflanzen und Blüten gerade dabei, sich zu entwickeln. Im Sommer werden sie so farbenfroh sein wie auf dem Bild unten, das im Jahr 2021 aufgenommen wurde.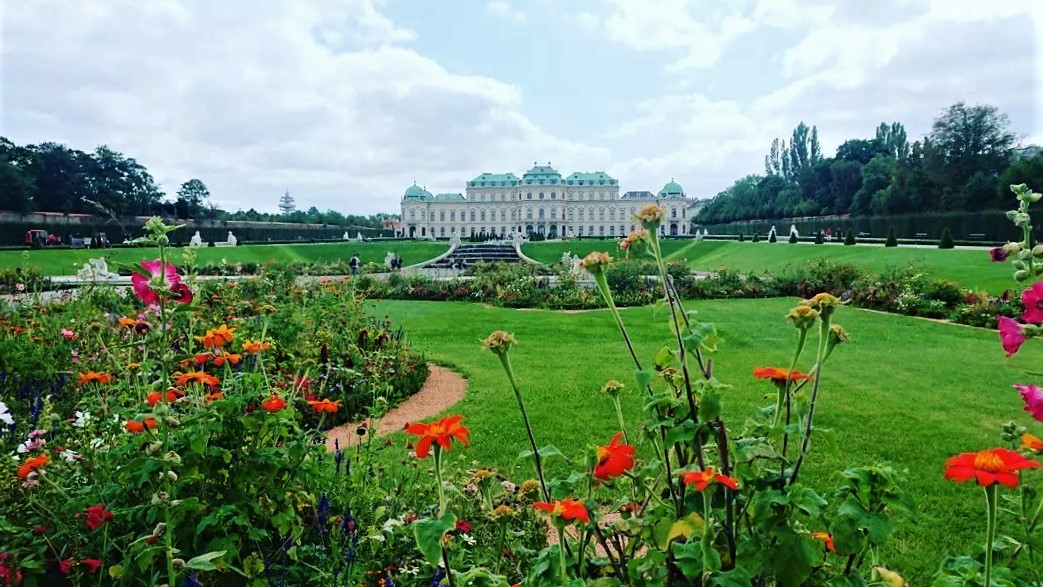 Source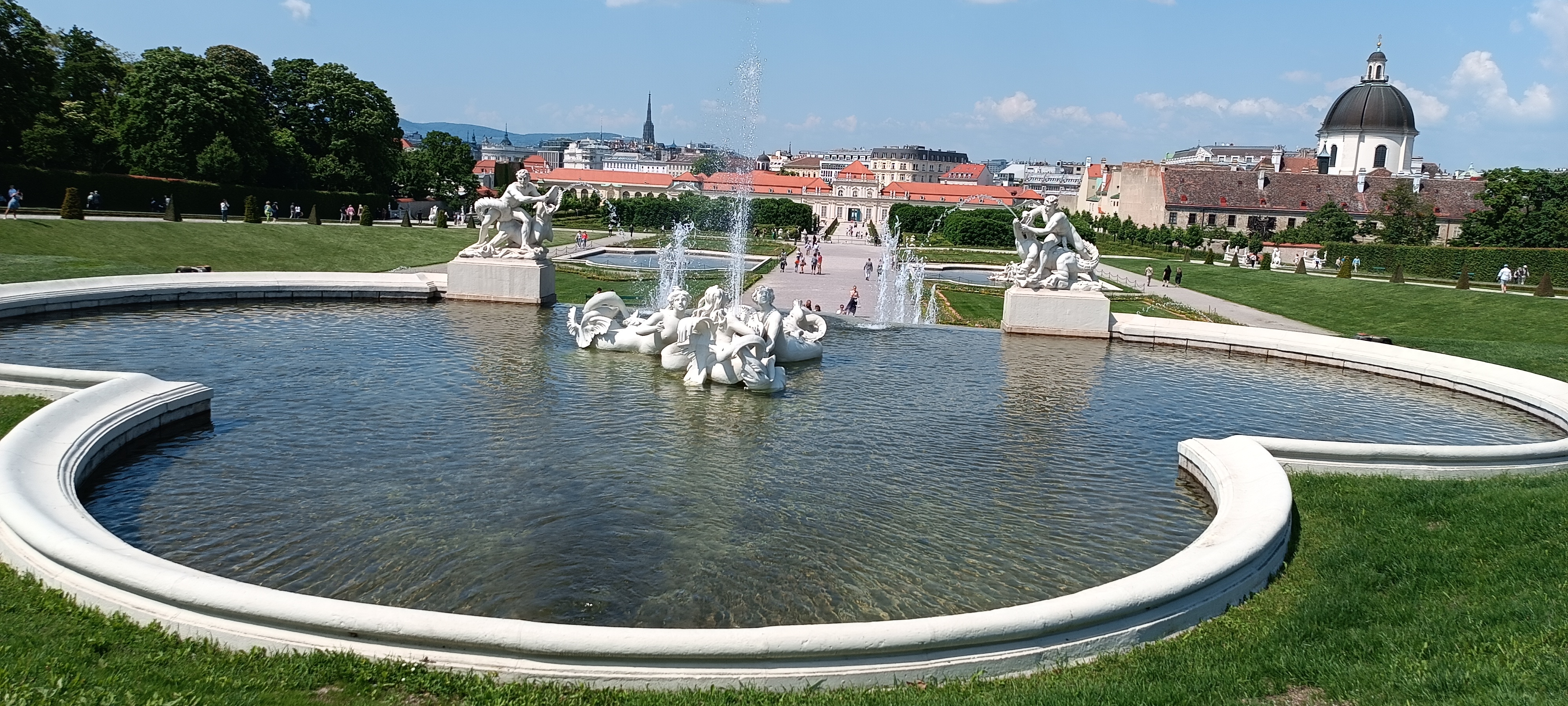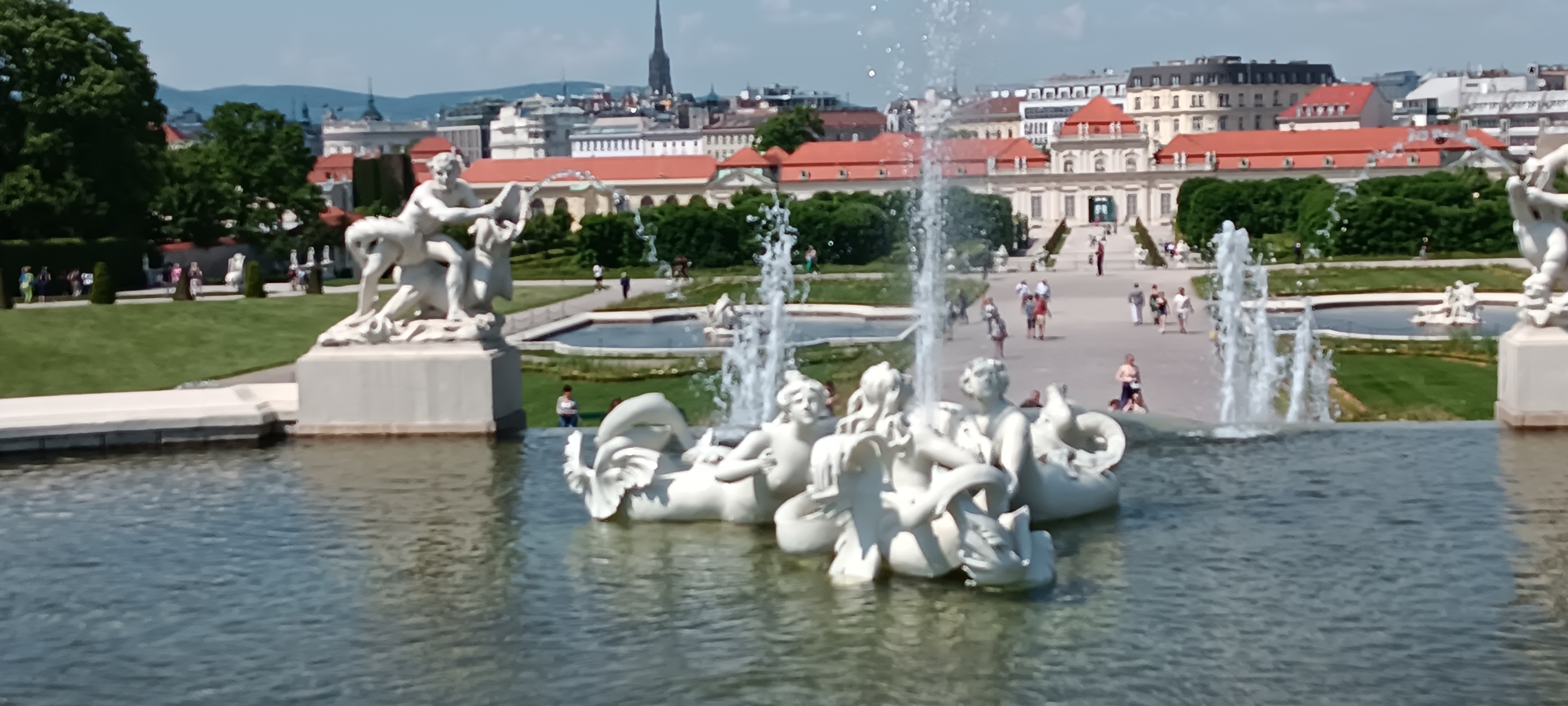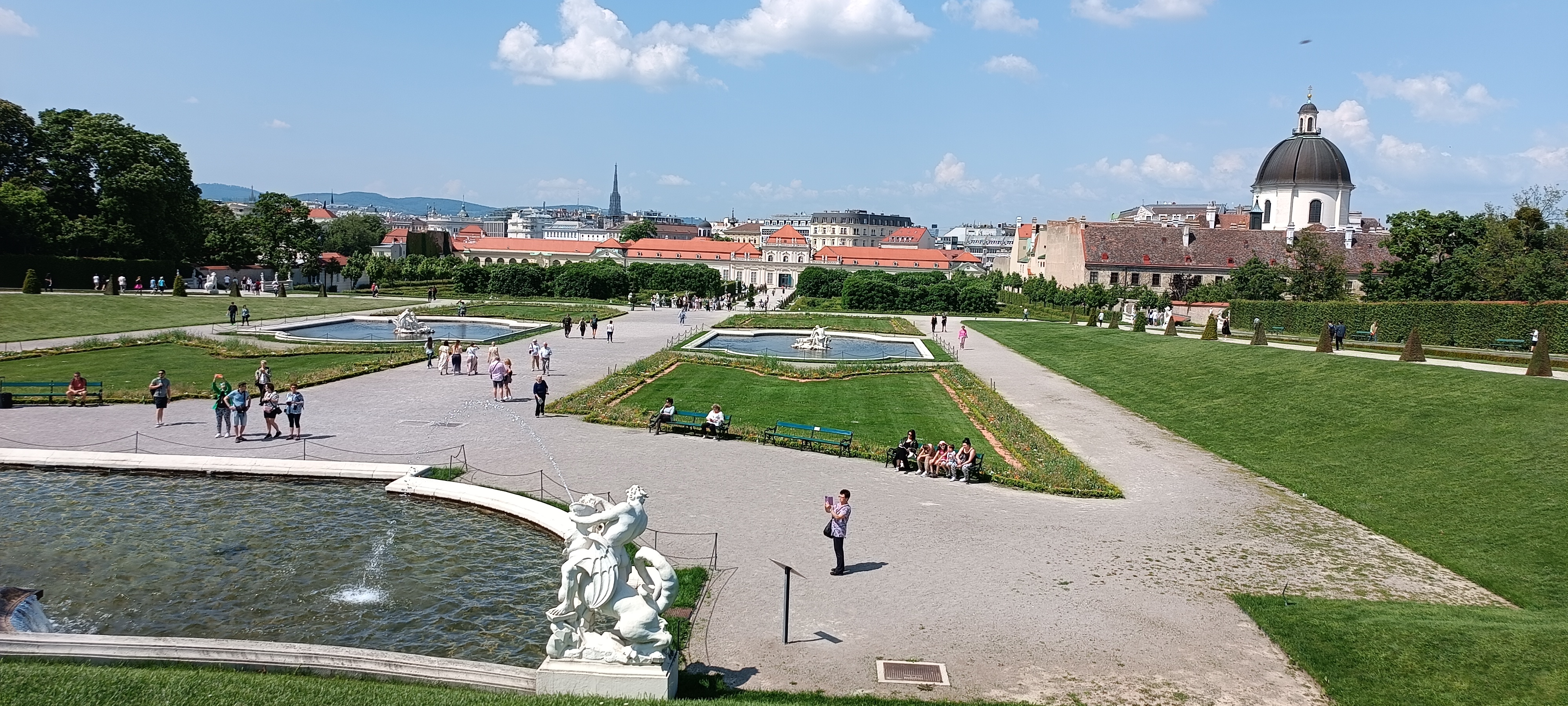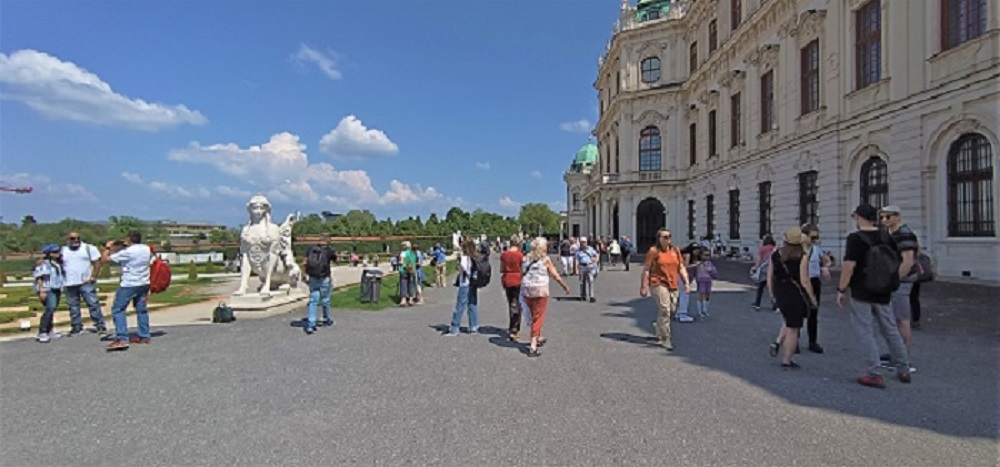 Back of the palace towards the garden/Rückseite des Palastes zum Garten hin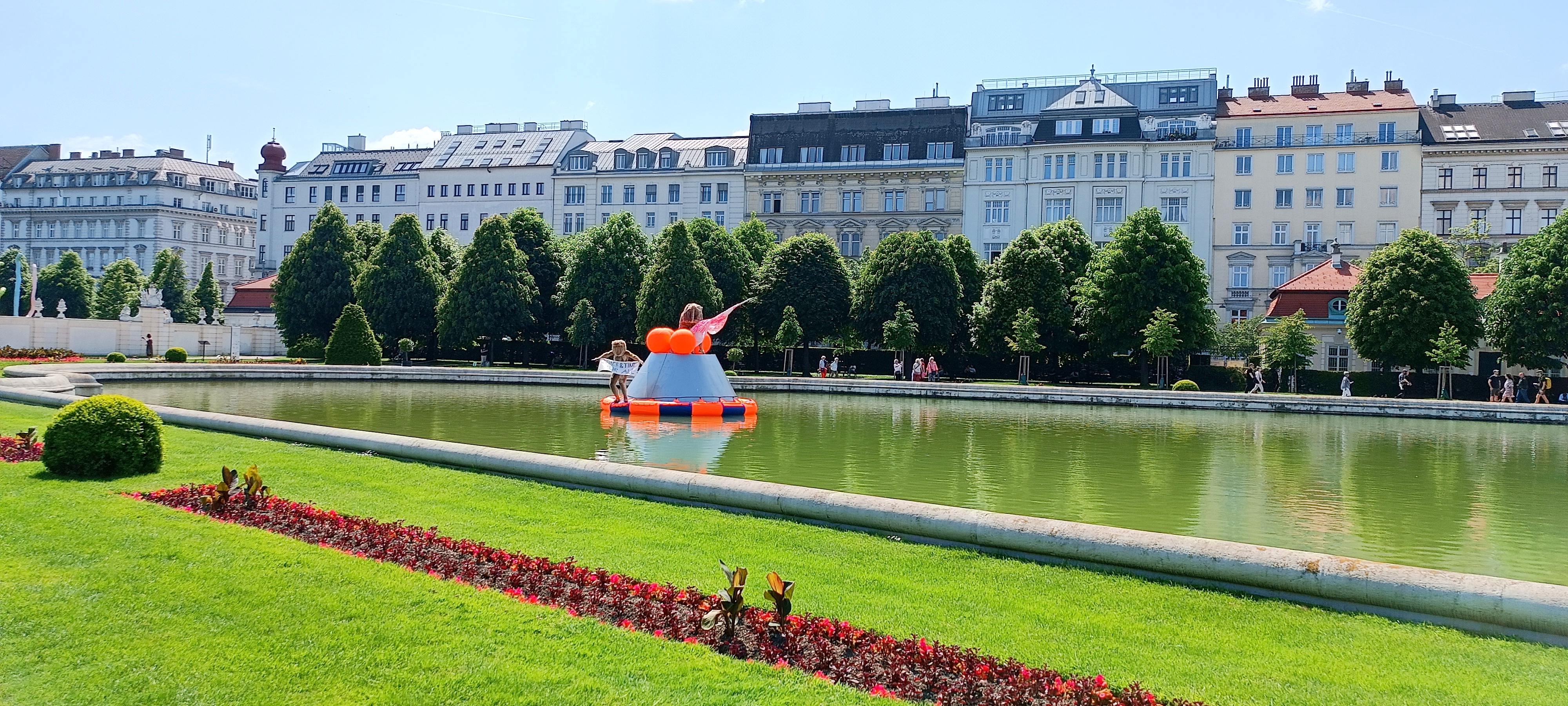 The Alpine Garden (Alpengarten)
Beside the Palace garden to the right is an alpine garden that houses various plant species mostly found in the Alps. It is actually a semi dry garden. The plants have each of their names described in a card next to it…but, I really was not interested in the names since they have hundreds of latin specs to think of.
Der Alpengarten
Neben dem Schlossgarten auf der rechten Seite befindet sich ein Alpengarten mit verschiedenen Pflanzenarten, die hauptsächlich in den Alpen vorkommen. Es handelt sich eigentlich um einen halbtrockenen Garten. Die Namen der Pflanzen sind auf einer Karte daneben beschrieben... aber ich war nicht wirklich an den Namen interessiert, da es Hunderte von lateinischen Bezeichnungen gibt, an die man denken muss.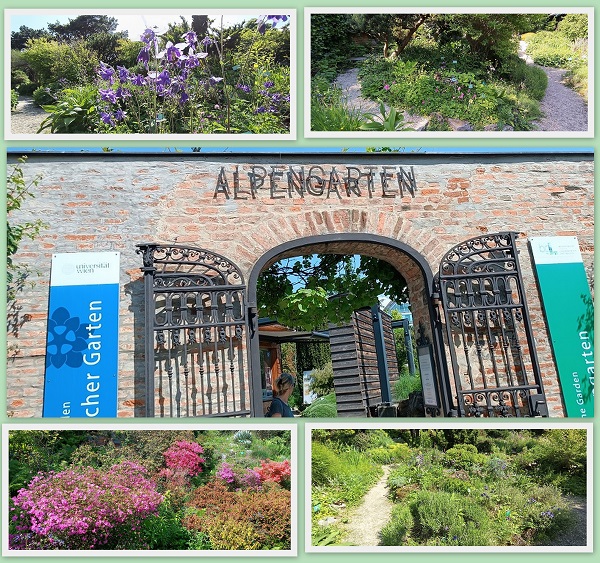 The Alpine Garden used to be free to explore, but after some years they now asked for an entrance fee that cost 4.50 Euros. In my opinion, the entrance fee is expensive for such a small area. At any rate, inflation is overall and they have to maintain the garden.
Früher war der Besuch des Alpengartens kostenlos, aber seit einigen Jahren wird ein Eintrittspreis von 4,50 Euro verlangt. Meiner Meinung nach ist der Eintrittspreis für ein so kleines Gebiet zu teuer. Auf jeden Fall ist die Inflation insgesamt und sie müssen den Garten instand halten.
The Botanical Garden
This is open to the public for free, its area is parallel to the grounds of the palace. There are various mature trees offering shade which cools down the area, many benches are also available for the tired feet. This is a very cool park.
Der Botanischer Garten
Der Botanische Garten ist für die Öffentlichkeit kostenlos zugänglich und erstreckt sich parallel zum Schlossgelände. Es gibt verschiedene alte Bäume, die Schatten spenden und für Abkühlung sorgen, und viele Bänke für die müden Füße. Dies ist ein sehr cooler Park.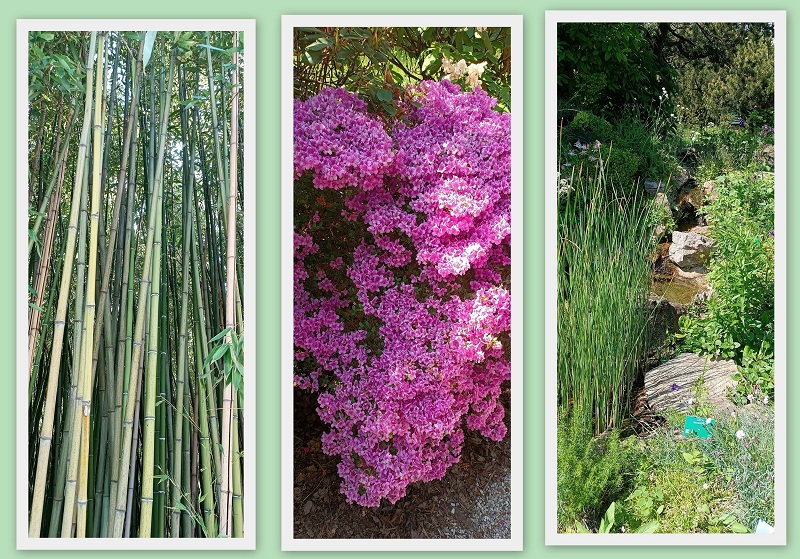 This lady below comes almost daily to feed the squirrels with nuts and they are all crazy jumping as soon as she is calling them. I happened to try the nuts she gave me but the animals were so elusive since as soon as the nuts were thrown at them, they picked the nuts quickly and ran away to munch somewhere.
Die Dame unten kommt fast täglich, um die Eichhörnchen mit Nüssen zu füttern, und sie springen wie verrückt, sobald sie sie ruft. Ich habe zufällig die Nüsse probiert, die sie mir gegeben hat, aber die Tiere waren so flüchtig, denn sobald die Nüsse auf sie geworfen wurden, pflückten sie die Nüsse schnell und rannten weg, um irgendwo zu mampfen.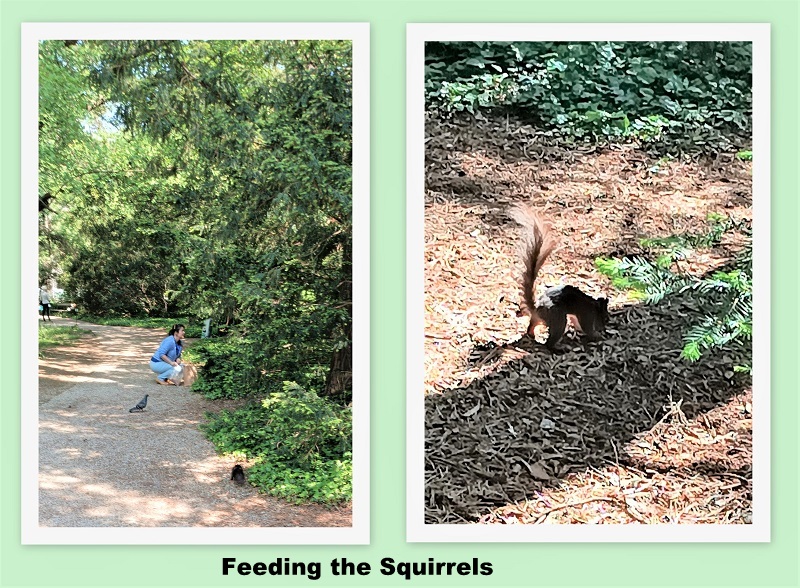 To commemorate and celebrate the 300 year anniversary of Belvedere for the month of May, its management offered free guided tours of the palace to the public for free. It was raining so hard and I didn't want to go. So the following Sunday, I went when it was sunny. All in all, I have concluded the visit was a success.. bringing good old fond memories of the place.
Zur Feier des 300-jährigen Bestehens des Belvedere im Mai bot die Schlossverwaltung der Öffentlichkeit kostenlose Führungen durch das Schloss an. Es regnete so stark, dass ich nicht hingehen wollte. Also ging ich am darauffolgenden Sonntag, als die Sonne schien. Alles in allem kann ich sagen, dass der Besuch ein Erfolg war und gute alte, schöne Erinnerungen an diesen Ort weckt.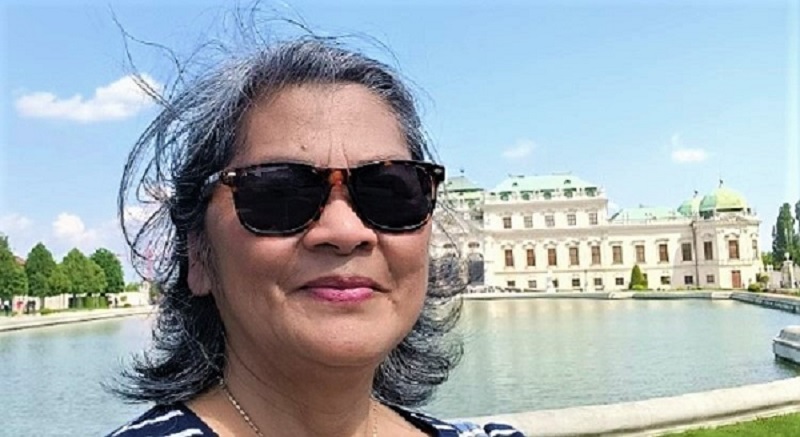 Thank you for being here and for reading this post. Have an enjoyable time for the rest of the weekdays!
Danke, dass du hier bist und diesen Beitrag gelesen hast. Ich wünsche dir eine angenehme Zeit für den Rest der Wochentage!
xoxo,
Mers
[//]:# (!pinmapple 48.19157 lat 16.38086 long The Belvedere, Vienna d3scr)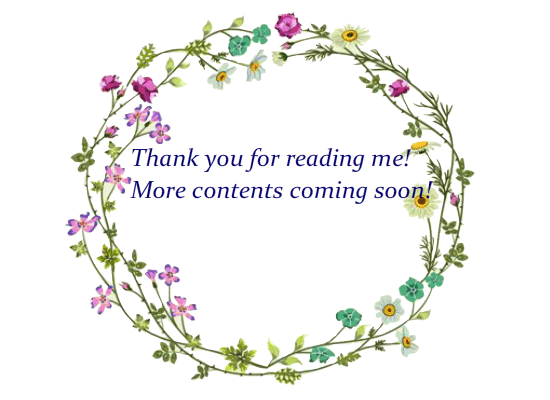 Original text and images by @mers
---
---