Why 32 teams are divided into 8 groups in FIFA WORLD CUP?⚽⚽

Hello math bugs(🐞), football(⚽) lovers & hivers
I hope you are strong and stout; everything is fine.
I have seen many posts about @hivebuzz contest.For details of the contest tap worlcup2022. I have seen a few communities contributed more later on.For those details check other related post by hivebuzz.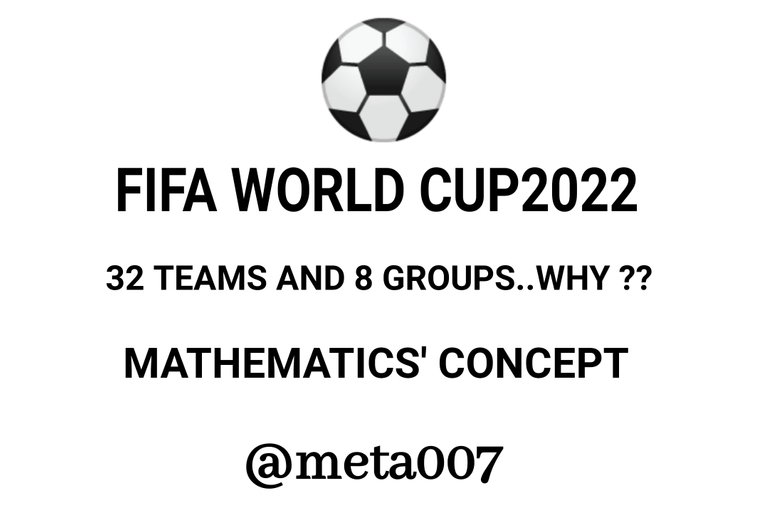 I always come with mathematics concept.Today,there no exception. I thought why not make a content related to FIFA WORLD CUP2022. Though the concept is related to every world cup.
⚽Why there is 8 groups of 32 participants?⚽
The topic came to my mind in school when the concept I met with. actually it's very simple if there were less number of groups and at league stage everybody would play against each other.The world cup will continue for a year or so. It may seem ridiculous to many of you.
Suppose 32 teams are playing against each other at league stage. Do you know what gonna be the number of matches? The answer is 496 matches in league stage.. haha don't be confused. Calculation is perfect. I am gonna explain it in a bit. Think we have 365 days in a year, of course if it is not a leap year. If it would be a leap year , it won't matter cause a match everyday would make the tournament long for a year... Ridiculous.
👩‍🔧Let's understand the concept in a table:👩‍🔧
I will take an example taking only 4 teams. Say A , B, C, D. The match A vs B: I'll call it just AB. As mathematics symbols are good as long as it shortened. It brings simplicity. If the teams play among themselves once , the scenario goes like this: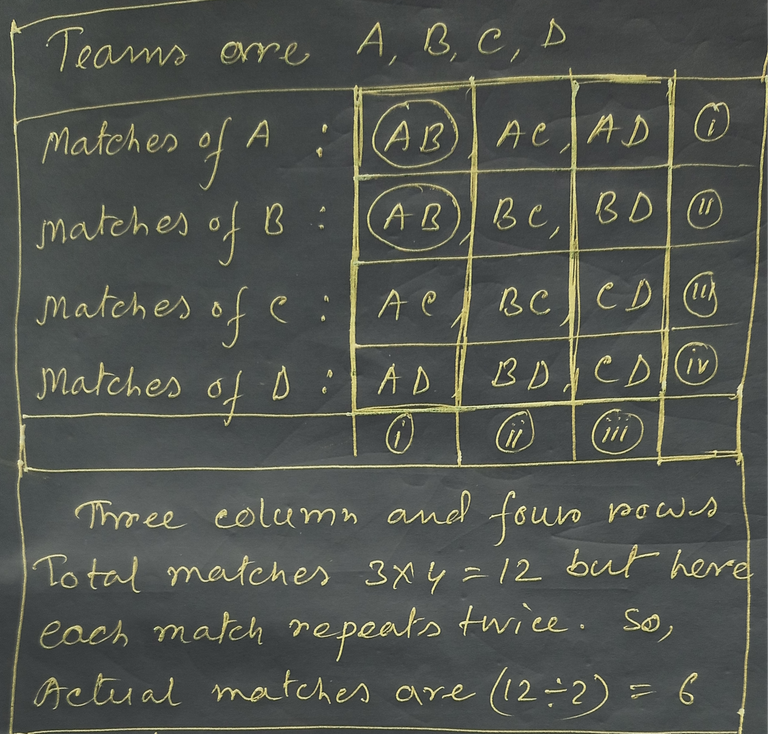 Thus now we can have a formulla n(n-1)/2 where n represents number of teams. In league stage 32 teams have to play the following number of matches: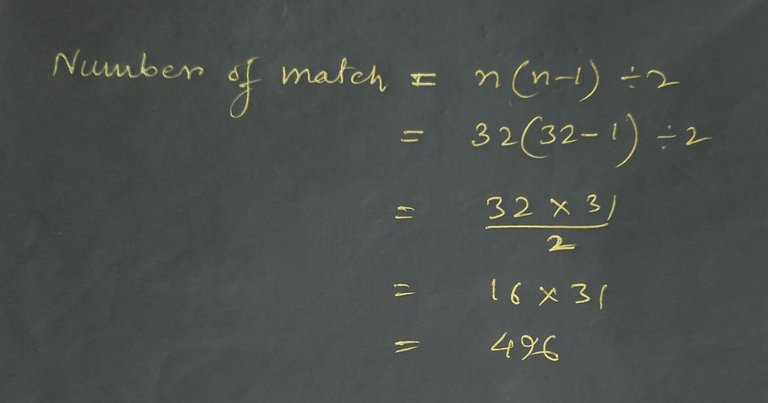 We can set it in arithmetic progression If number of teams are 32 , the answer will be the sum of the progression as shown below:
n(n-1)/2= 32(32-1)/2 =(1+2+3+......+30+31+32)
Or it can be termed as
n(n+1)/2= 31(31+1)/2= (1+2+3+...+30+31)
Both of the formulla are almost same but there is a little different in concept which may confines you.
Let me explain it a little more
If number of teams are 32:
We use n(n-1)/2 taking 32 as n
And we use n(n+1)/2 taking 31 as n
🏭How is the formulla n(n+1)/2 built?🏭
We know the simple rule of arithmetic progression to sum up and it is given by
Average × numbers of terms = Sum of numbers
We have no problem with number of terms here. It is n itself.But average is always half of the sum of extreme 2 terms. That is (n+1)2
Check it below: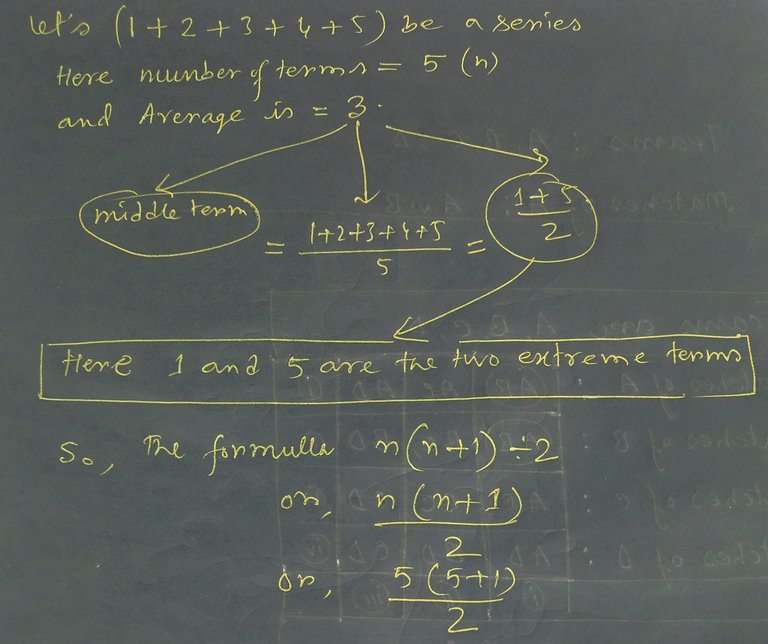 Today I have a issue with my editor. I had to do it on papers.😂😂I hope from next post everything will be fixed.If you like today's concept , please do share it.Have a great time watching FIFA world cup 2022.
I haven't participated in it because I left with no hive in my account. I hope soon I can join it as a reward is going to mature.😆
Thanks you so much for visiting.
Have a good day.
All is well.
Regards: @meta007
---
---