I Don't Understand Hate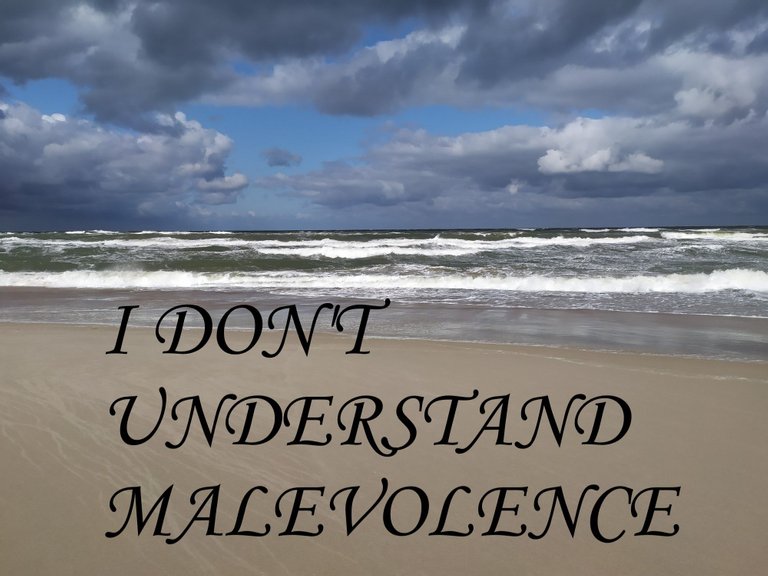 After writing my blog post about my plans for 2022, I realized how incredibly liberating and cathartic it is to write these things out. I do not know how many people read those, but clearly it was also liked by curation trails. That said, on this post, if you read it and enjoyed the read, agree or disagree with my points - let me know in the comments. Maybe we'll have a discussion, but really I just want to be aware of whether this is interesting at all! I think I'll just make Mondays my personal post days for the most part.
In this post, I'll write about a thing that bothered me heavily. This is completely personal - I know there are worse things in the world than the one I put here, but.. this is just an example of behaviours that just instantly make me sad, make me feel down and want to disconnect from whatever I was doing. In fact, most of them are why I stopped checking any social media, outside of some strictly sports-, travel-, or fashion-related pages on Twitter or Instagram. Even those, however, I visit just occasionally. There won't be pictures in this post, because I'd rather focus on the written part.

The Root
If I had to put what bothers me in a few words: People and Hate. Let me just preface this by saying - I know we are all free to voice our opinions and I would not want to punish anyone for doing so.. But I just wish we could all care about each other's feelings and well-being to keep some things to ourselves. Take time to consider one another before being rude, accusatory, or even spark an unneeded argument that's clearly leading nowhere.

The Trigger
As I said before, I try to avoid those situations in general - not much presence on social media, I know to withdraw from discussions if I can tell they are leading nowhere.. I'm not looking for trouble. Somehow, trouble just finds you. I just want to present one situation that bothered me.
On Instagram, there was a post with a great meaning to it, at least in my opinion. Obviously, everyone has its own. Anyway, it was posted by a Bulgarian model (well, she's not a traditional model, but that's not SO important to the story) - a woman who has used a lot of "outside aid" to achieve her looks: botox, surgeries.. I am not well-versed in those things, so not the best description, but you get the gist of it: a girl considered very attractive by many in that culture, but also one that gets a lot of hate for "being fake".
The post itself presented her modelling together with a plus-size (on the bigger side) influencer. Its description seemed honest to me, this is roughly what she said:
"On the photo, you can see a woman who's 168cm and weighs 50kg, with 10% of it being "chemistry" attempting to hide all her flaws. Alongside that, you see a model that's 170 and weighs around 100kg. She hides nothing, yet is a beautiful woman. We are both beautiful."
It went on for a bit longer, but this is the important part - she was trying to be positive and show that you can love yourself whether you've injected yourself with some help for it, whether you're fat, skinny.. No matter who you are, you can be beautiful.
So what was the problem? Well, there were multiple comments on that post that simply did their best to trash on them. The two main categories which stuck out were:
You are just trying to use another girl to justify how fake you are and get extra followers.
You're glorifying obesity and should get her to lose the weight instead of showing it.
How ridiculous is that?!

The Reasoning
No, I won't look into the reasoning of whoever decided to shit on people trying to do something nice. I'll talk about my reasoning and why it bothered me so much.
This situation is just a great example of a behaviour I despise. It involves going out of your way to make someone else's day worse. It has no good intentions in itself and it is completely malicious. I'll go further - there is no reason at all to do it. It does not give you anything, it does not lead to anything positive. It happens in so many ways and under so many different kinds of posts and discussions - I simply don't understand why some feel the need to ruin others' mood.
This likely bothers me much harder because my girlfriend herself is a plus-sized girl and while she's very confident and bold, I know how much it'd bring her down to hear people say mean things and call her names. It is obvious everyone has different tastes in what they find attractive, what they like, what kind of content they like to see - but aiming to force a change onto someone by putting them through mud is extremely inconsiderate.

Conclusion
While this particular situation is fairly minor and likely only got my attention due to my own involvement in the topic (I aim to become as involved as possible in the whole "body positivity" thing!), hateful comments on the internet are not. People get verbally stoned for the littlest mistakes and tiniest deviances from the artificial norms all the time. In many sports, players' families get death threats on social media if they underperform or say something wrong. Is that really where we are as a society?
Internet gives us all great tools to make our lives better - lets us research information, gives us easy access to important tools, makes communication easier.. But it also makes it effortless to hurt one another. How about we all just take a step back before making a comment on something harmless that we don't like.. and think about what it can do, what our intentions even are.. Is there really a point?
Personally, I've been streamed a few times and played games in front of small audiences - few hundred people at most. I've been told bad things about my choices, my articles, called names for silly things like deck choices, an opinion on a card. I got thick skin and it really didn't hit me personally - but it always made me sad to think someone thought it necessary to do something as useless as insulting someone for something that does not affect them at all. It makes me sad for the world.
---
---