Traveling With Love #35 - The Capital of Tricity
Hello! Just recently I posted about the museums of Gdańsk and said I'd follow it up with the outdoors of the Tricity's capital - well, here it is! Gdańsk has a ton of great places to see and spots to photograph, so I will be bringing exactly those to you in this post!
To start off, I'd like to say that Gdańsk was 100% the highlight of this trip. The history, the views, the water and the food were all fantastic - I'll show it all throughout this post! I won't type as much as in the post about musea, but the pictures are also going to be great!
The Sights
Gdańsk on the outside is absolutely beautiful as is every city with a well maintained marina. Some of my favourite ways to relax is just sitting down and looking at all the yachts coming in and out - and perhaps daydreaming a little about having one of my own, as vain as that may be. The view is beautiful even slightly outside of the marina, from one of the bridges that connect the different parts of Gdańsk. You can find two pictures right here - one of my and my girlfriend and the other with the view at night.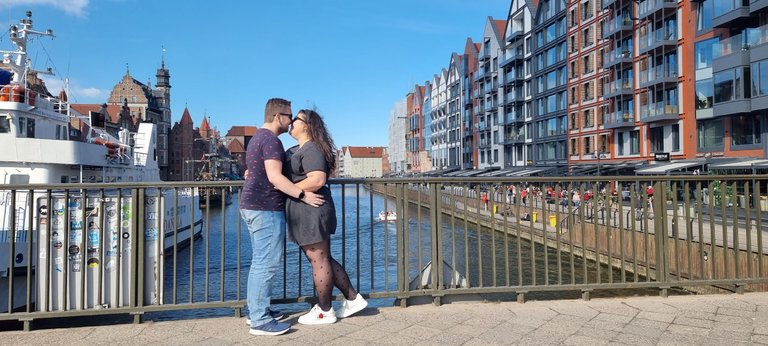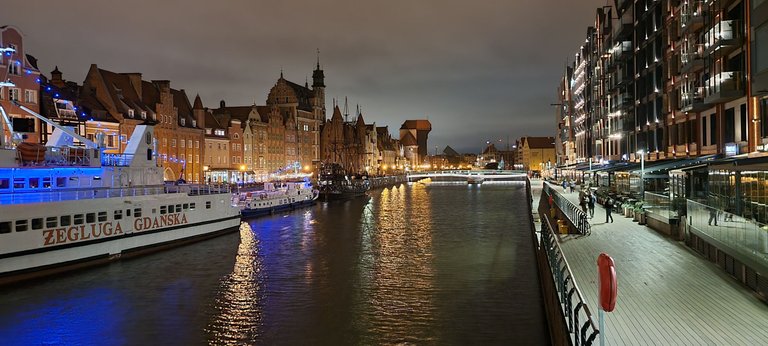 To be honest one of the best parts of Gdańsk is being able to walk through its streets in the old town. Between the fountains, the pretty architecture, as well as the cobbled streets, it is nothing but pleasant to just wander around calmly. This of course meant we also took pictures, so well.. Here's one.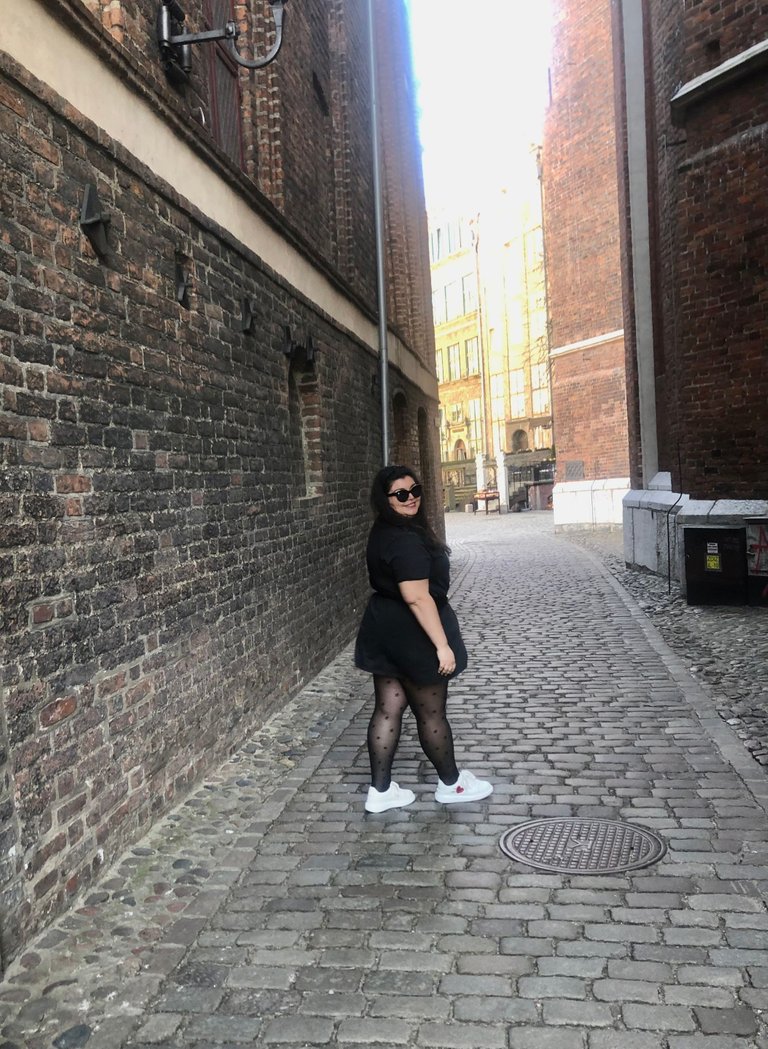 Of course, there is also a fair bit of churches and old tall towers, which allows for even more photos! While I am not the most thrilled about the amount of money that goes into churches, the vain part of me loves the opportunity to marvel at the magnificence of these buildings.. And of course take pictures.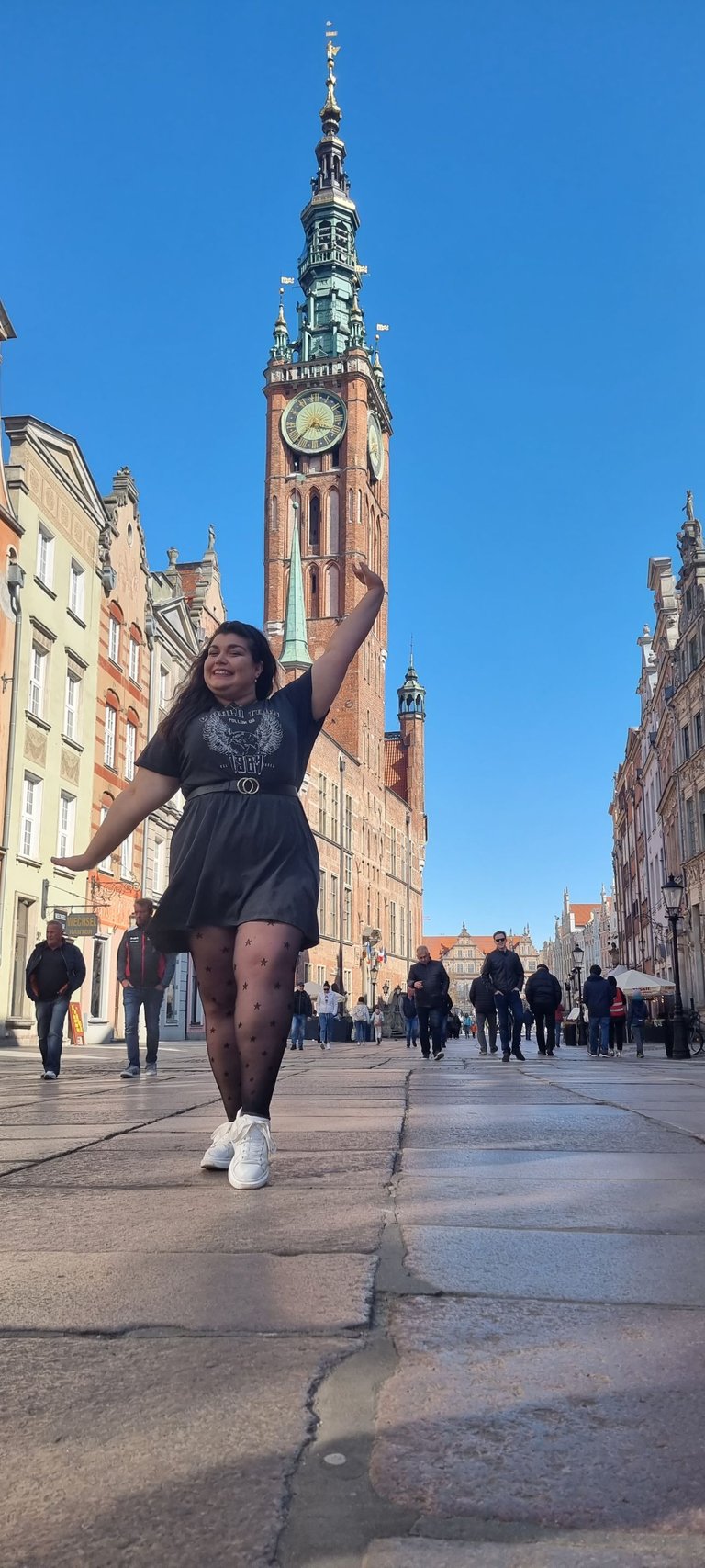 We also found a bunch of other excuses for taking photos, such as the lions (which I somehow missed the meaning of, but I'm sure there's something behind it), as well as the usual culprit - letters, which my girlfriend was especially excited about as they included the first letter of her name - K.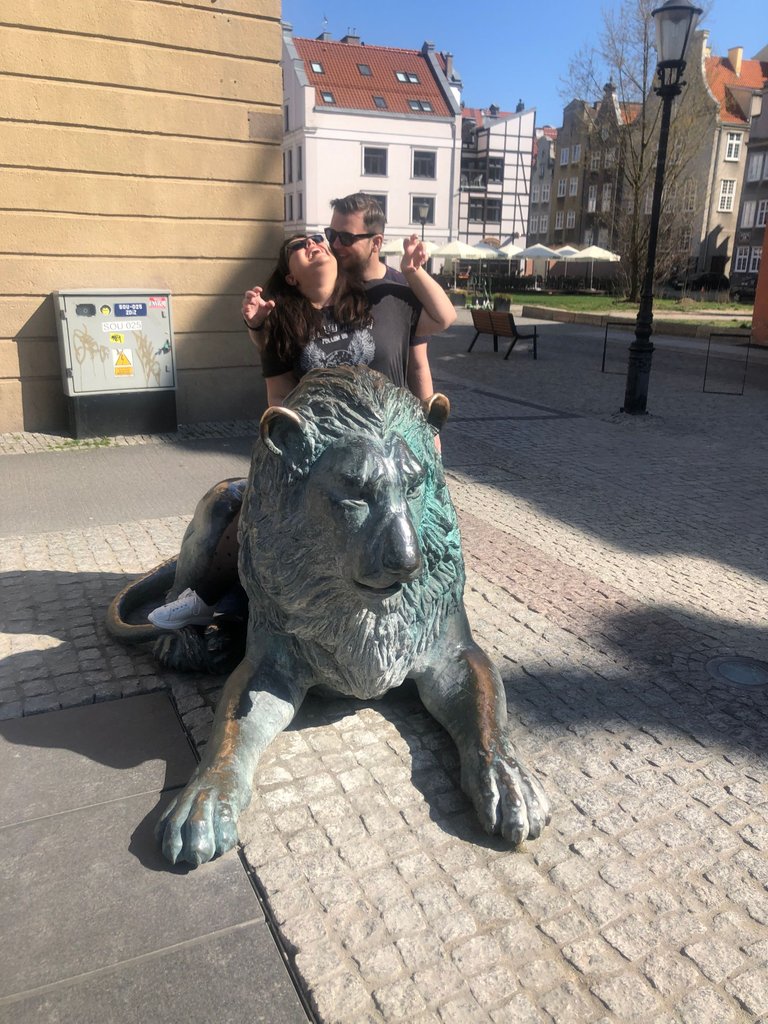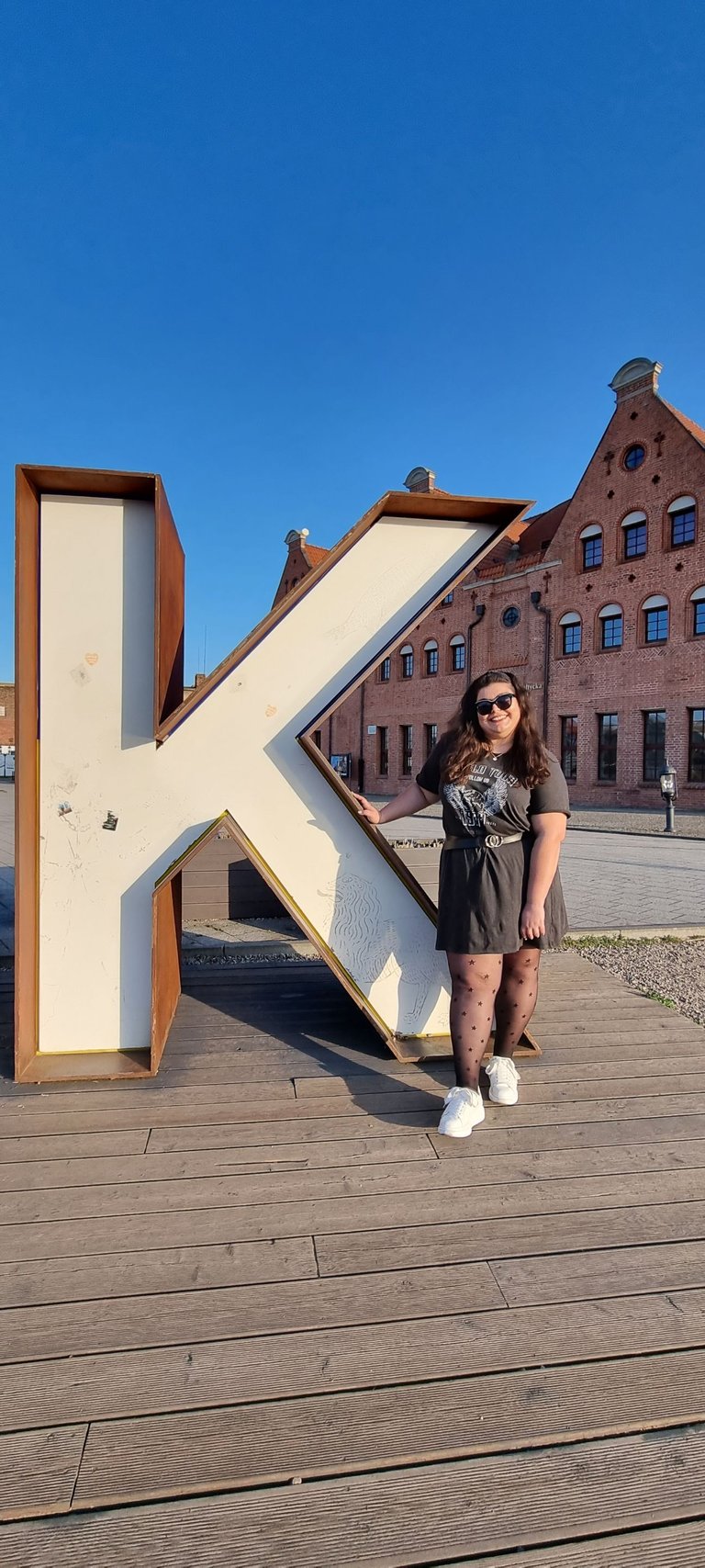 Definitely a beautiful place, so make sure to visit!

The Food
The last part of Gdańsk in this 2-post series is going to be.. the food! Polish food is great, but this post won't exactly include much of it - the meals we had in Gdańsk, while not always Polish, were so tasty that I decided to talk about them here!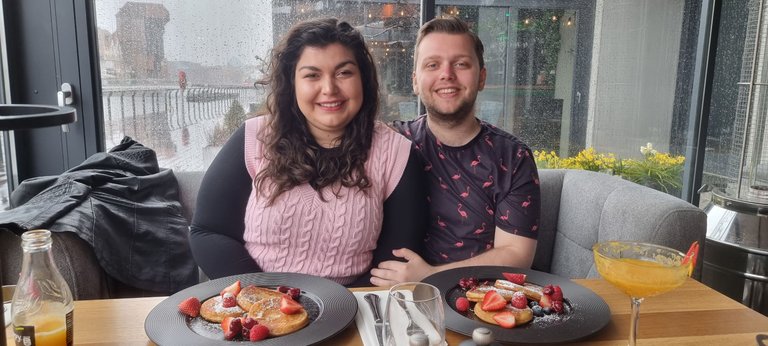 This was one of our breakfasts - these pancakes were made so well that we barely stopped ourselves from ordering more. Sweet breakfasts in Tricity in general seem to be the way to go, as all the ones I tried were fantastic (including a Pain Perdu in Gdynia). This particular restaurant is called Tygle and it also serves an extremely tasty Polish breakfast (scrambled eggs, bacon and more) that the other half of our double date tried and absolutely loved.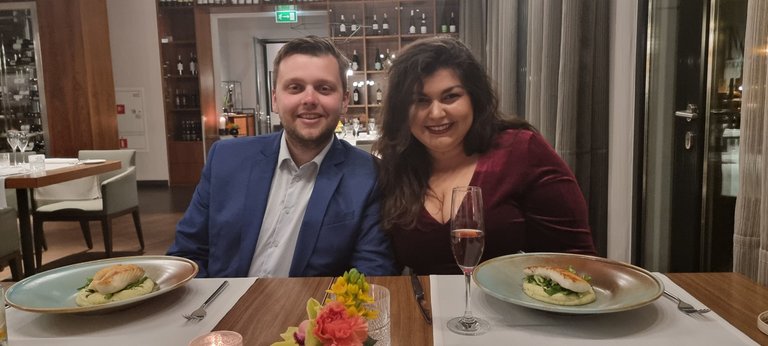 Here's a picture of us at a fancy dinner we did at a Marriott Hotel restaurant. Here we both went for a great fish, as well as some shrimps for starters - I am a huge lover of shrimps and this restaurant delivered; as it should for the price we paid! The real highlight though were the great cocktails and shots that we had after - it was a long night!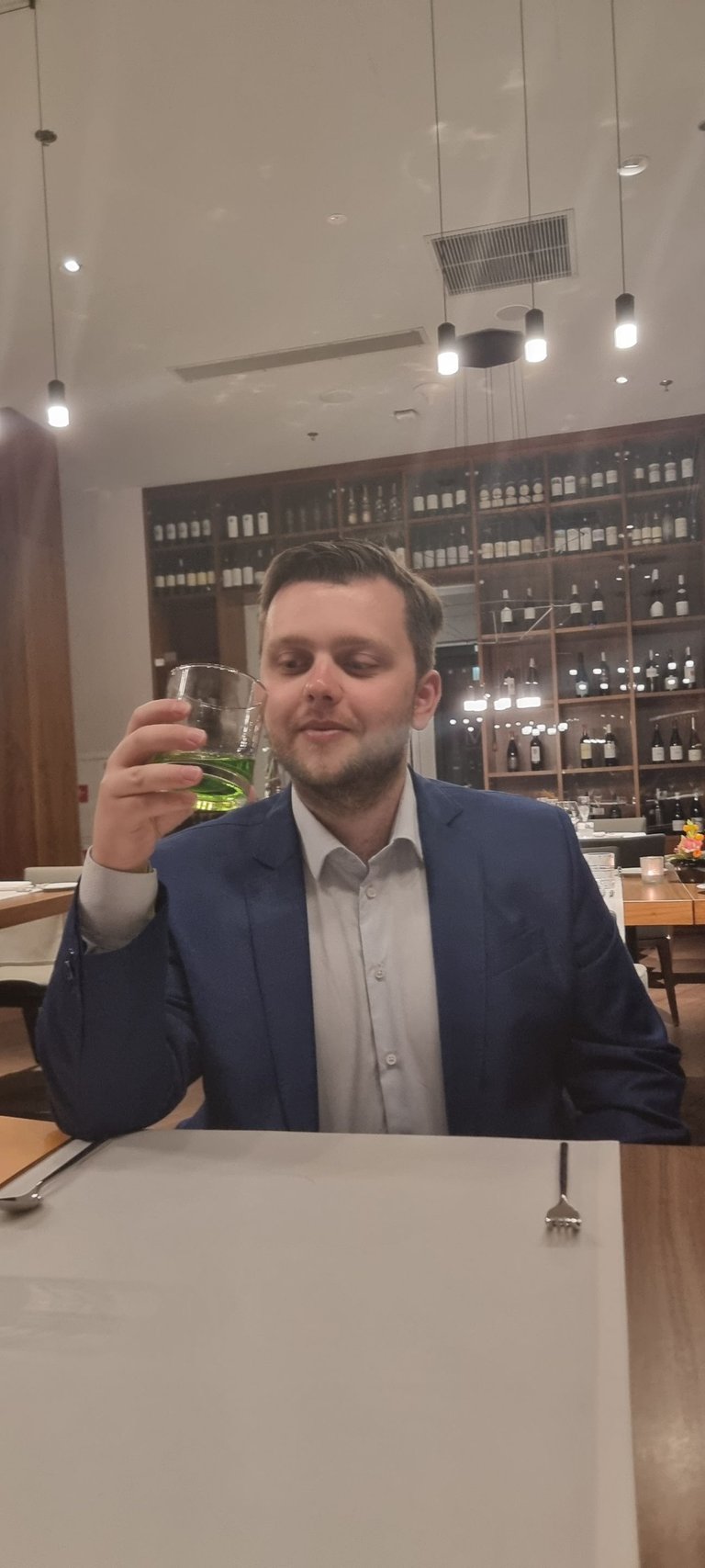 Finally, here is a picture of me trying to look serious - honestly, it took like 10 minutes to stop smiling or laughing.. I'm an absolutely awful model.
We have had many more meals that we simply did not document on pictures, but if you come to Gdańsk or Poland in general, make sure to try the local Polish breakfast, eat some great pierogi for dinner (we had them in an awesome pierogarnia which had variants from all over the world) and reward yourself with some chocolate for dessert - preferrably straight from a chocolate drink..ery(?) Wedel, where you can find everything from cakes, chocolate-based dishes, all the way to cold and hot chocolate drinks!

Closing Words
Gdańsk is a great city and I really hope you can come to visit it! It is an extremely safe city (as most Polish ones are) where you can wander around day and night and you will always find something to do. Bonus points for being quite cheap for a Western traveller and easy to get around - the connections between different parts of Tricity are not only cheap but also convenient and comfortable!
---
---