Traveling With Love #36 - Zaanse Schans, the World of Mills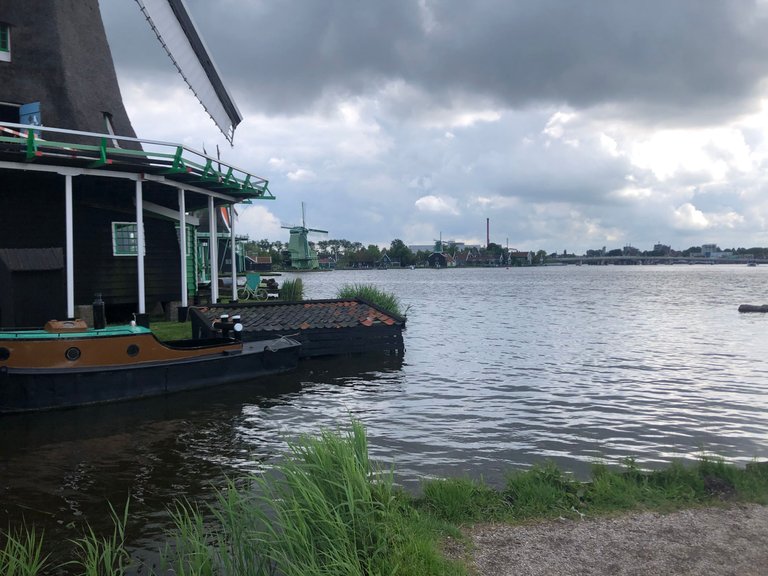 Hello! I'm done with posts about my trip to Poland, but that's not all I've done in the first half of 2022! We had a friend over at our apartment recently, he visited for just over a week, so we wanted to show him as much of the Netherlands as we could. We went to most of the big sites in the country - we've been to Amsterdam, Rotterdam, Utrecht, The Hague. We also went to some of the smaller but just as attractive places though, including a beautiful castle next to Utrecht, a safari park, as well as the topic of this post.
Zaanse Schans (and Zaandam in general) is one of the better known attractions in the Netherlands. It has everything that you'd imagine old time Holland to have: windmills (producing a ton of stuff, actually!), green fields, flowers, the big wooden shoes things, water.. even an Albert Heijn!
Zaandam
First of all, let's make a very brief stop at the closest city to Zaanse Schans - Zaandam. Just 5 minutes by train from Amsterdam, this could essentially be considered as being on the outskirts and it is a pretty chill place that we've been in for.. like an hour. It is a lot like most Dutch towns in the way it looks and the vibe it has.
There is just one very special thing about it, that is a great reason to get out of the train just before Zaanse Schans and be able to say you have seen it - the Inntel Hotels building that you may have seen if you've ever read about the Netherlands or seen a travel guide. Here's a rather poor attempt at capturing it and my girlfriend in one frame, while having the shining sun completely ruin any decent lighting for the shot.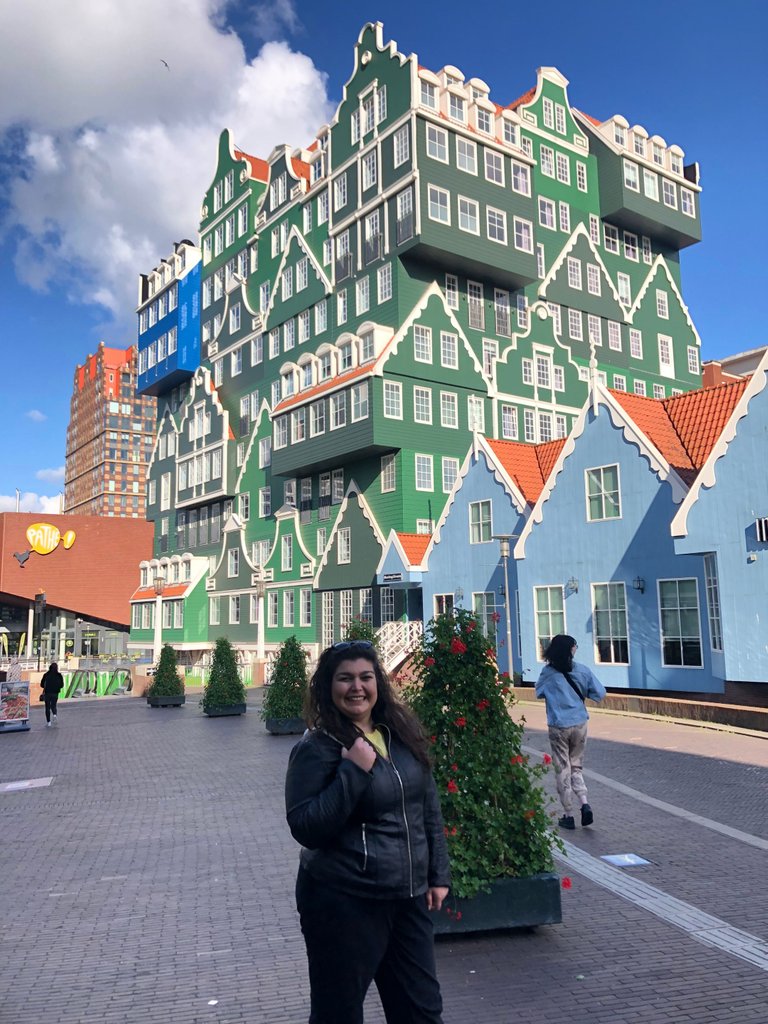 The Windmills
There are many indoors attractions in Zaanse Schans and you can get into all of them either for free or with a card that allows you to go in everywhere once. We are proud owners of another card - a Museum Card that gives us free access to most museums and attractions of significance in the country (65€ for a year, if you live in the Netherlands, seriously consider it!).
First of all, there is a Zaans museum, which essentially shows you the entire history of Zaanse Schans - what has been made and where, how all the processes worked, basically going more in detail into the production side of everything. It also happens to be connected to the Verkade factory museums, which is meant to give you a bit of a Willy Wonka experience. It is very interactive and a great place to take your kids - tons of games you can play to learn about the process as well as simply enjoy your time. Sadly, no tasting.
There is also the World of Windmills museum in which you can learn more about the windmills themselves. There is some detailed information about how each of the mills does what it's meant to do (and Zaanse Schans has a ton - sawmills, dyemills, mustard mills and way more), how many of each there was throughout history and so on.
The most exciting part for me though was the ability to visit the mills from the inside and here my favourite was the mill called "De Kat", which - to surprise of no one - translates to "The Cat". It is a dye mill and you can see how it works from the inside, as well as climb up (at your own risk) a ladder to get a pretty view of Zaanse Schans. It is great to go up there, as it also makes for nice pictures - or you can simply enjoy the view, knowing you're atop one of the 13 preserved mills of the village.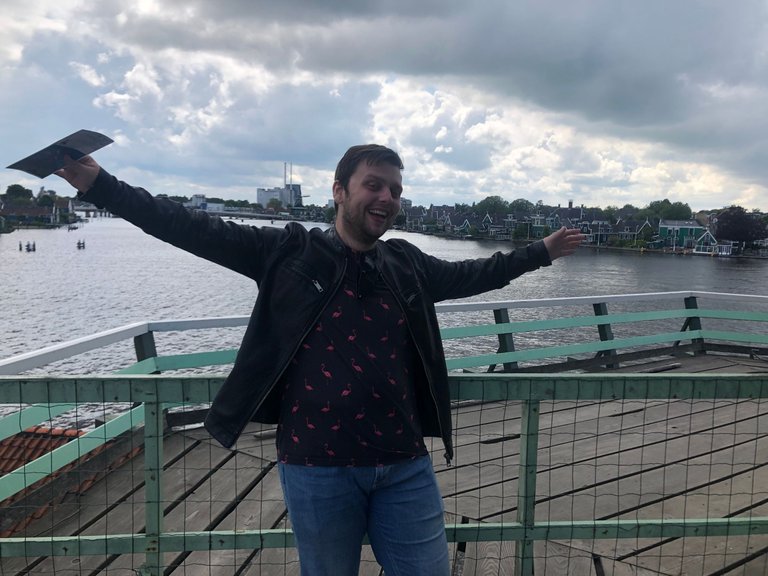 Anyone else with blue eyes that refuse to open more than halfway at the slightest glimpse of natural light?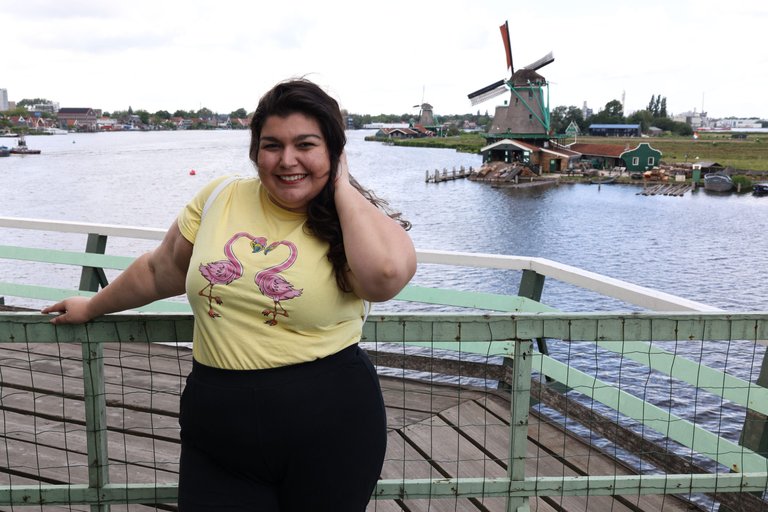 Ah, the Great Outdoors
All the indoor attractions are quite cool, but the best part of Zaanse Schans (at least when there's not too many tourists, which seems to be the case often) is simply enjoying the outdoors. It is a calm place where you almost feel like you're in another world. The nature feels relaxing and simply walking around was the best part of my stay. There are beautiful little houses, adorable little bridges, the windmills and a beautiful view over the lake. What more could you want?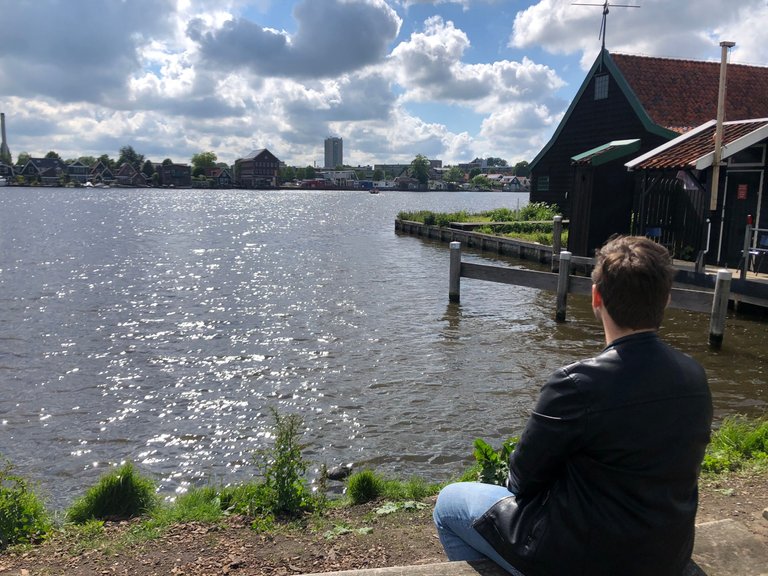 On multiple occasions we just sat down on benches and enjoyed the fresh air, simply soaking in the atmosphere. We went quite close to closing times of the indoor attractions, meaning that organized tours were leaving, so we had a lot of space to just enjoy the place. We were also lucky that it wasn't so busy (perhaps cause it was a Wednesday?) - all in all, we got the perfect circumstances to enjoy the Zaanse Schans.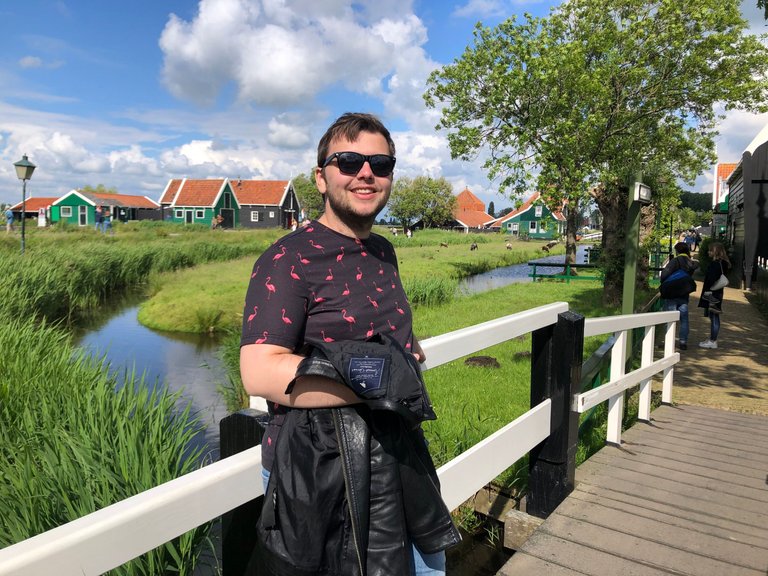 It's almost like a fairytale. You can see the houses in the background, the irrigation waters and a tiny bridge.. Truly enjoyable, even as someone who's spend every childhood summer in rural areas far from civilization, I found it to be refreshing and new.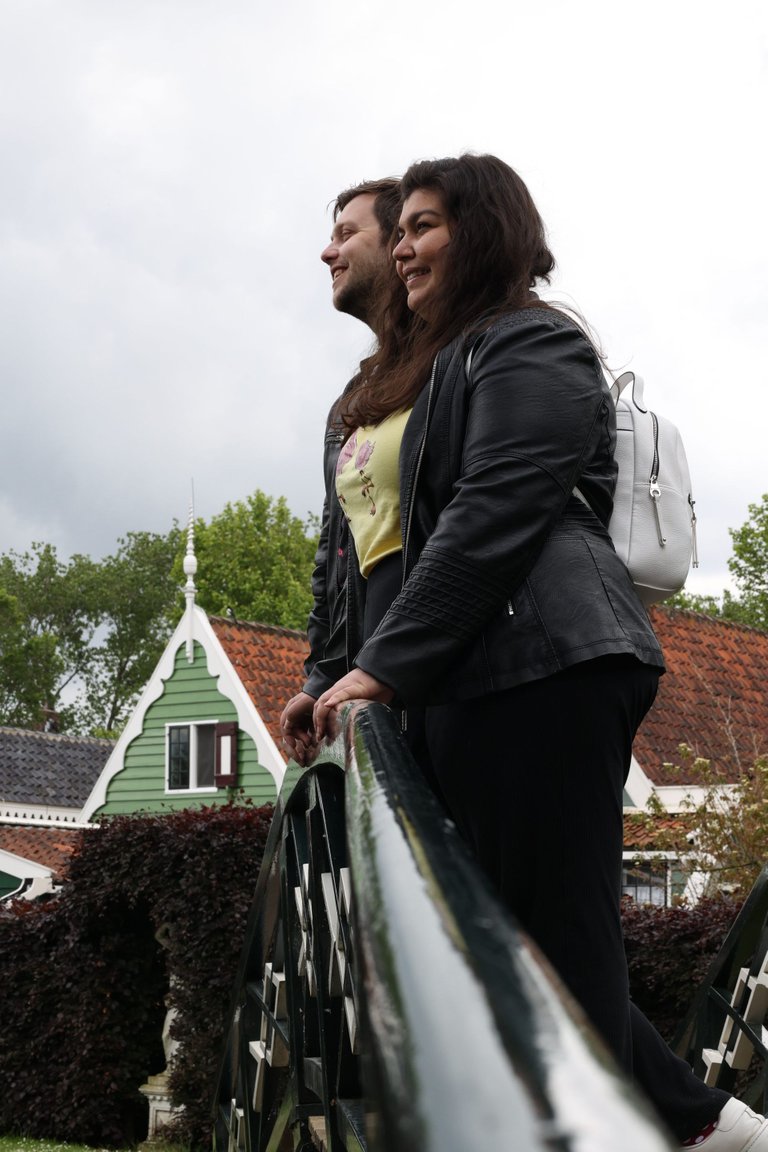 While this photo might be "posed for", that is something we did for a surprisingly large amount of time - just stand there and look around.
It wouldn't be a visit to a touristy and traditional Dutch village without these wooden boys (girls?). Right behind us on this picture is a tiny house dedicated to the history of these, showing tens if not a hundred different ways to make them - from different regions of the Netherlands, as well as all around the world. Of course, right next ot it, there is also a huge gift shop.

Closing Words
Visit to the gift shop was the last stop on our journey to Zaanse Schans - we loved it and it was definitely top 3 of where we went while our friend visited us in the Netherlands. You'll definitely find out what the other ones are, as I plan on writing about them later on - but for now, I am likely going to be away from HIVE for 2 weeks, as I am going on a holiday - after which I'm sure I'll be back with a lot of posts about Marseille, Bari, Valencia and towns around them!
---
---