Traveling With Love #39 - The Gems of Marseille
Hello! The first post about Marseille was full of things to do around the Vieux Port, as well as a bit about the way we felt in the city - this time, I will talk about the biggest landmarks of the city that you can find in every guide. Beautiful buildings, as well as a stunning park that we were not able to visit properly due to heat - all we ended up doing was taking a boat trip to sightsee.. But I'm getting ahead of myself, I'll get into the details later on.
At the end, I'll also hit you with some beach vibes, as Marseille definitely has some pretty great beaches, which isn't something I've seen talked about much when I did my research. There are many within the city, so it is really easy to just pick one and go there - they feel safe, they are enjoyable and there is a good choice between sand, pebbles and stones! If you need some time off the busy life in Marseille, there are ways to relax for sure.
Notre Dame de la Garde
The first position on pretty much every travel guide to Marseille, this basilica is visible from pretty much every point of the city. I already put a view of it as the thumbnail of my first post, but here's yet another one.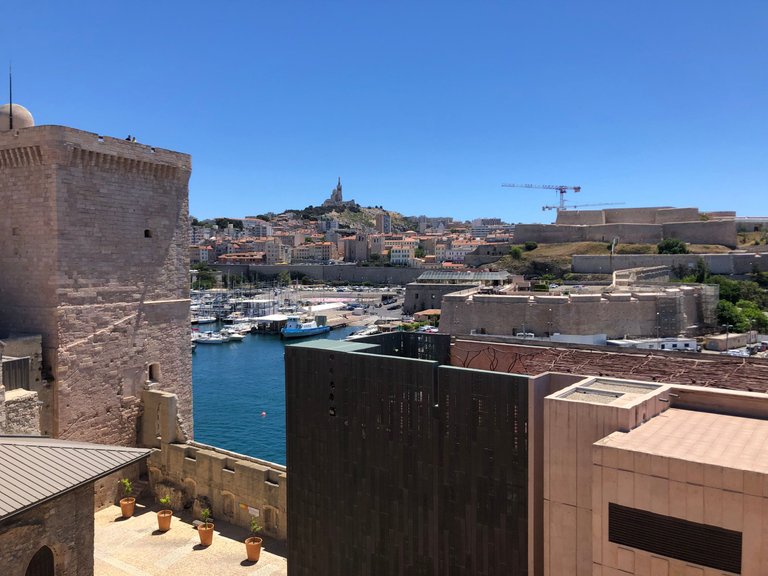 It really can be seen from everywhere. To get there, we took a short-ish bus ride of around 15 minutes (if I remember correctly) and avoided having to walk up the hill in the schorching heat. The basilica itself is quite beautiful from the inside, but it is not in some sort of top 3 or top 5 for me when it comes to beautiful religious interiors - I have to give those to mostly Orthodox churches which are normally way more lavish.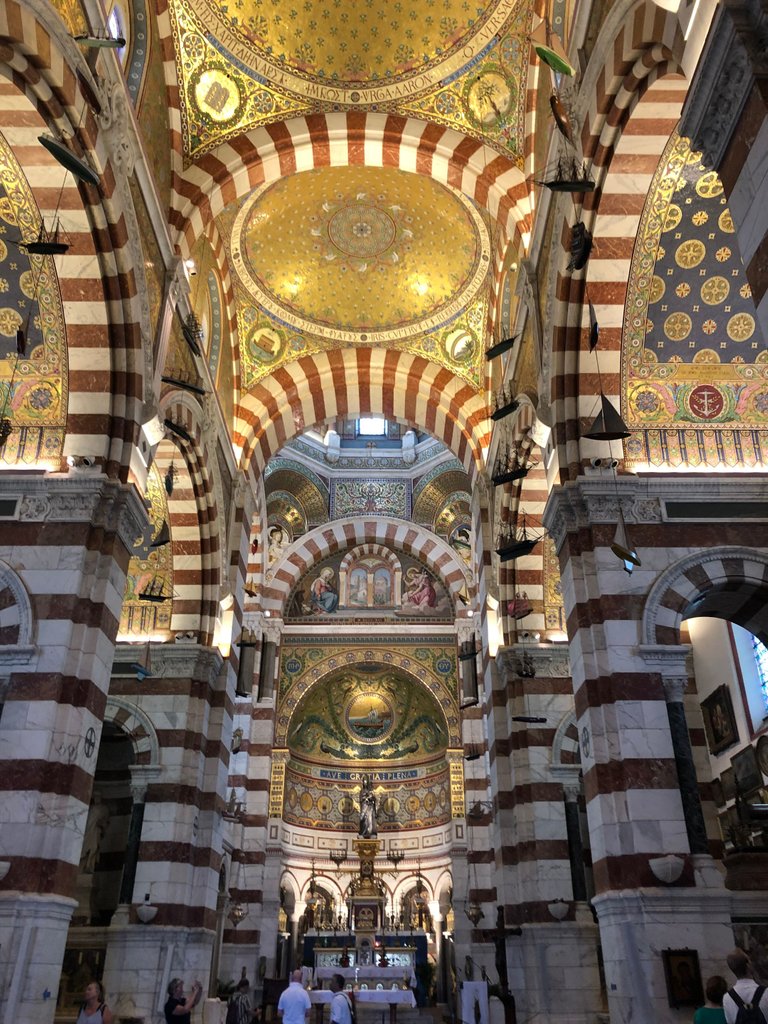 The main draw of this place is the way it looms over the city and is simply iconic - no panorama of Marseille can miss this place.. Unless it is taken from atop the hill! The other reason to come here is for the absolutely fantastic views. I will just spam some pictures here, as you can take a picture of eveyr part of the city!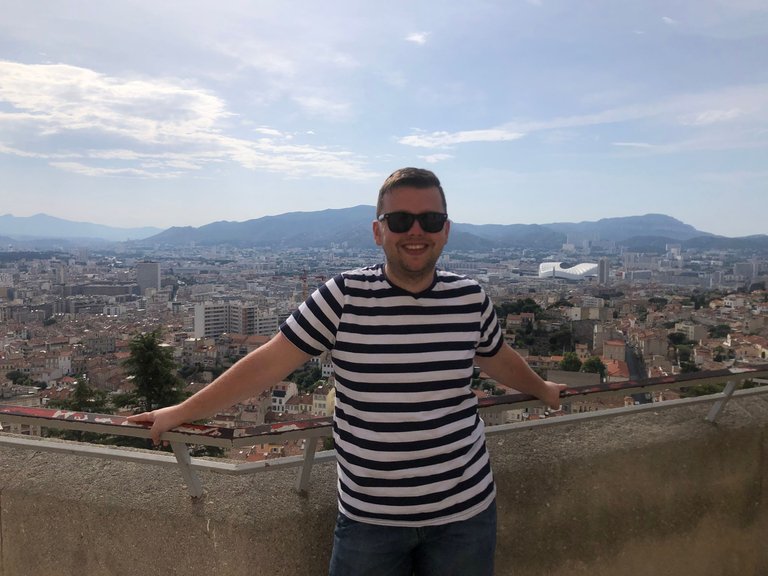 Mountains and Stade Velodrome in the background from this side.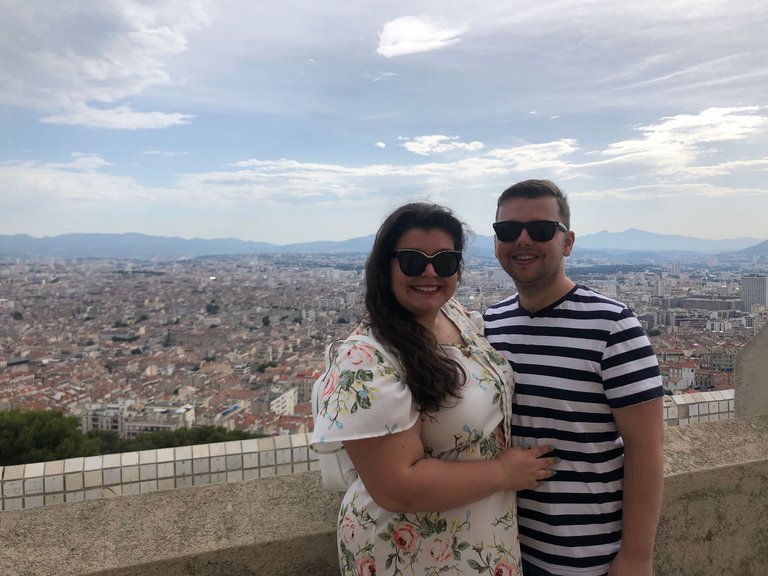 Finding someone to take a picture of us can get difficult, but these girls managed to even take a great one!

Palais Longchamp
Palais Longchamp was built one and a half century ago and it truly shines - also by contrast, as it is located in a pretty non-exclusive neighborhood a little bit further away from the Vieux Port. This is a little sad, as it would've been great if as much money was poured into making the city a better place for its inhabitants.. But I still have to admit it is a stunning palace.
Inside, it houses a museum of arts, as well as museum of natural history of Marseille, which both are worth a visit if you have some extra time in the area. We focused on the palace itself, because it was a great spot for pictures and we wanted to explore one of the most important landmarks of the city.
The whole structure was built as a commemmoration/celebration of a successful construction of a canal and was apparently extremely expensive, taking 30 years to build. The surrounding park is recognised as one of the "notable gardens of France" and really is what makes the whole place even more magical.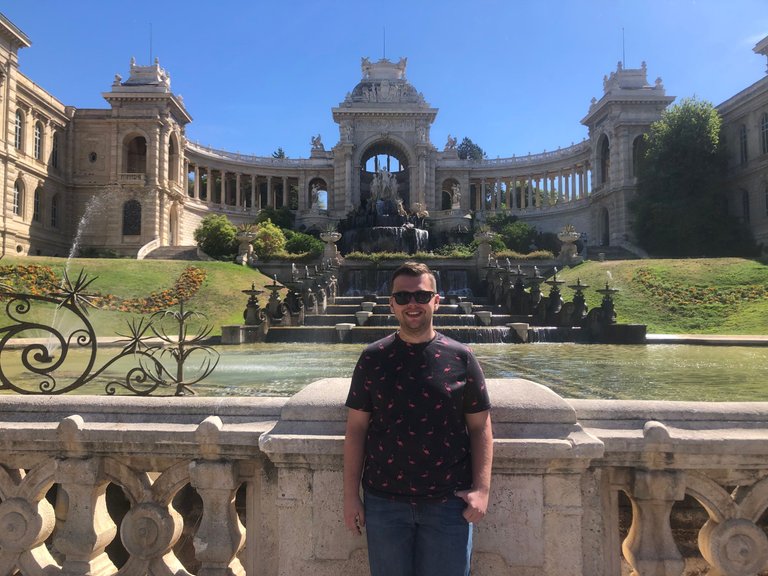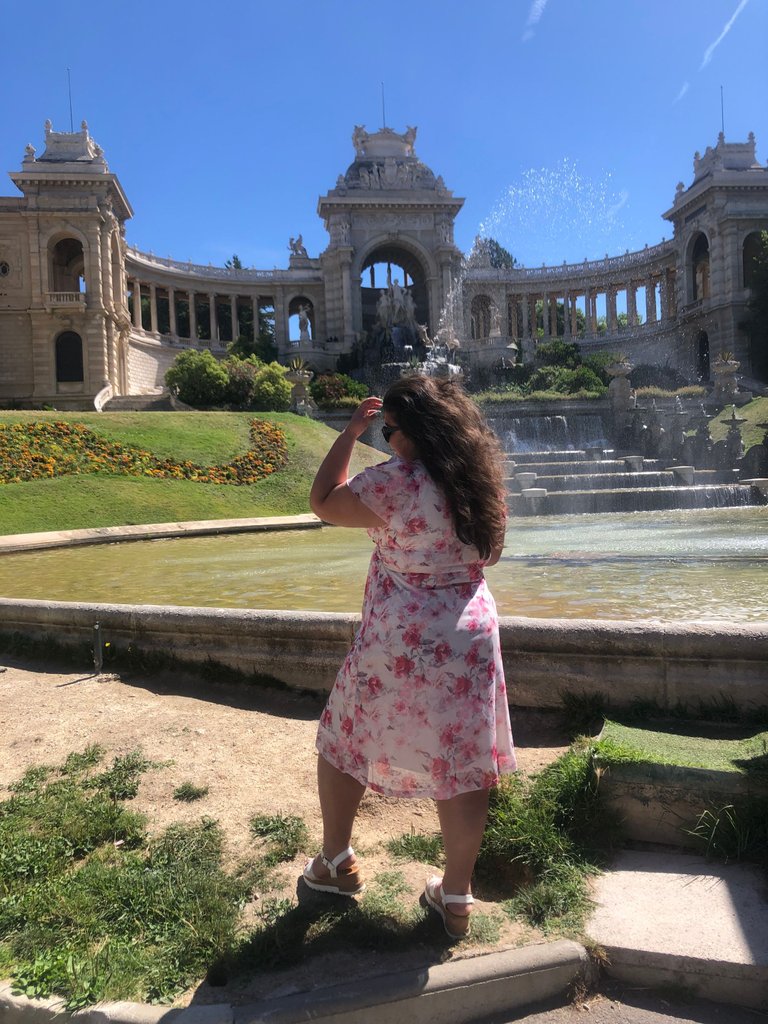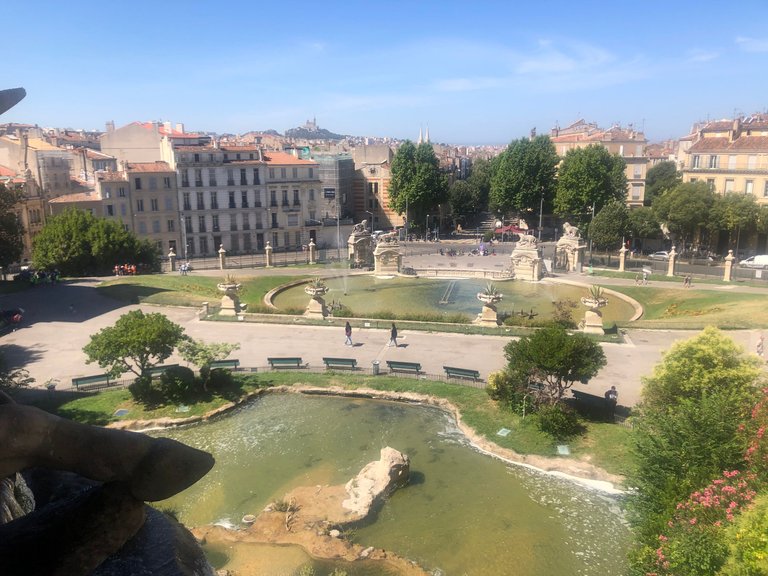 View of the park looking great from the top.

Parc les Calanques
What can be better about big cities than having a beautiful natural park right outside its limits? Parc les Calanques offers exactly that, with a multitude of inlets in some of which it is even possible to enjoy some time at the beach! Sadly, I cannot say much about hiking in there because despite a pretty elaborate planning to go there and which calanques (inlets) to visit, we bailed - it was simply too hot and really we barely saw anyone walking. Understandably so, at 32-34 degrees throughout the day.
We ended up taking a boat tour that went into all the inlets - it was obviously not that special, as you don't really get to experience the calanques yourself, but I still do believe it was worth it.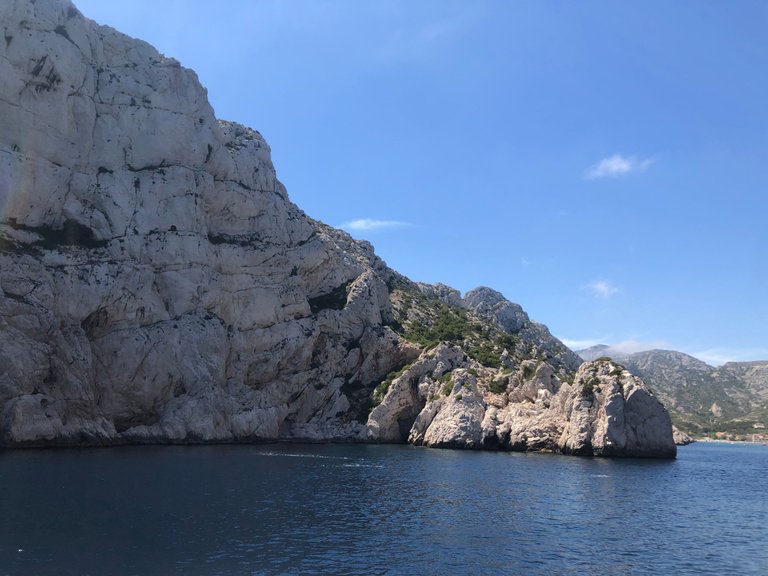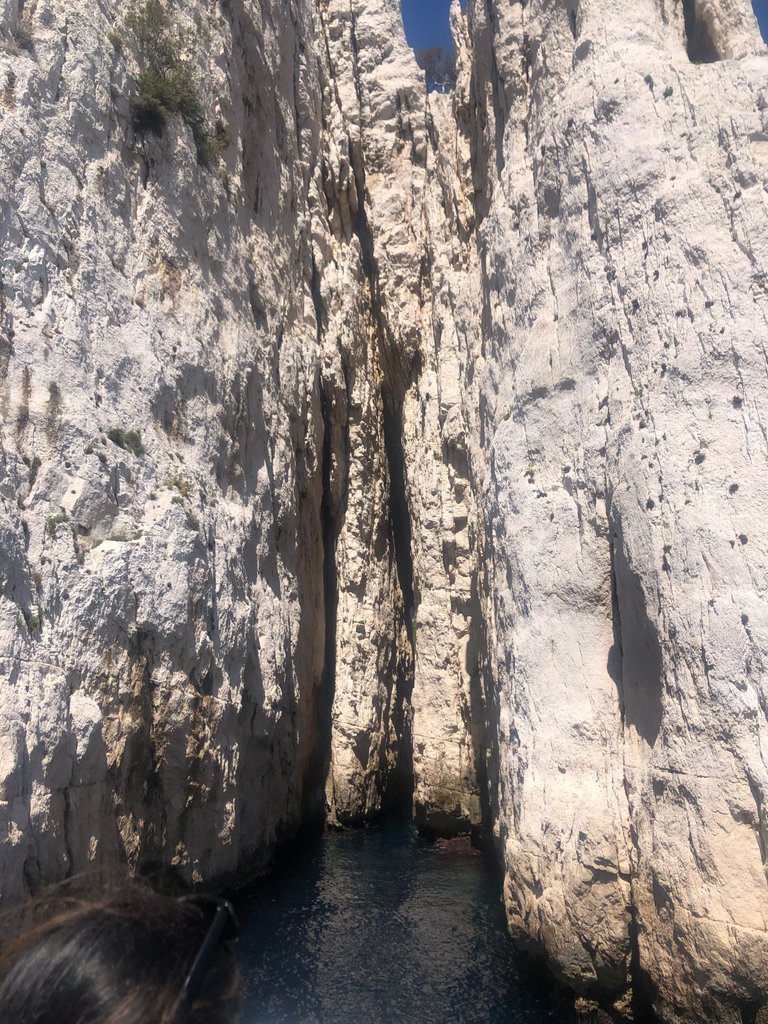 This was an interesting formation of rocks - looked more impressive IRL!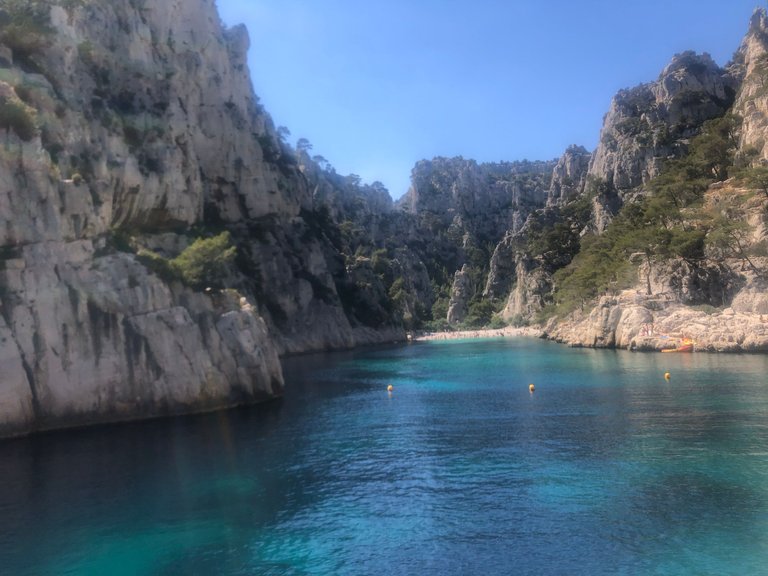 Overall, this park looks great and I really want to come back as it looks beautiful and I love hiking - I was very sad that it was not possible to go inside the park this time, but hey - it is great to have a reason to come back. Expect that one day, I will post a detailed account of our hike in this park located between Marseille and Cassis.

The Beaches
The beaches of Marseille are great because there is a lot of them in the city. They felt very safe and actually were very crowded, regardless of the time - we were there both during the weekend, as well as in the week and both times the beach was full and there were lots of people in the water.
Something that was pretty interesting is that the water was really cold. This was quite surprising because as I already mentioned, the weather was hot and you'd expect the water to be warmer after a month of ~30 degrees. This didn't stop us from enjoying it though, as honestly - it was so refreshing after the warmth.
Because the Parc les Calanques finds itself right outside the city, the beaches we went to all had a beautiful view on a part of it. You can see it in the picture below.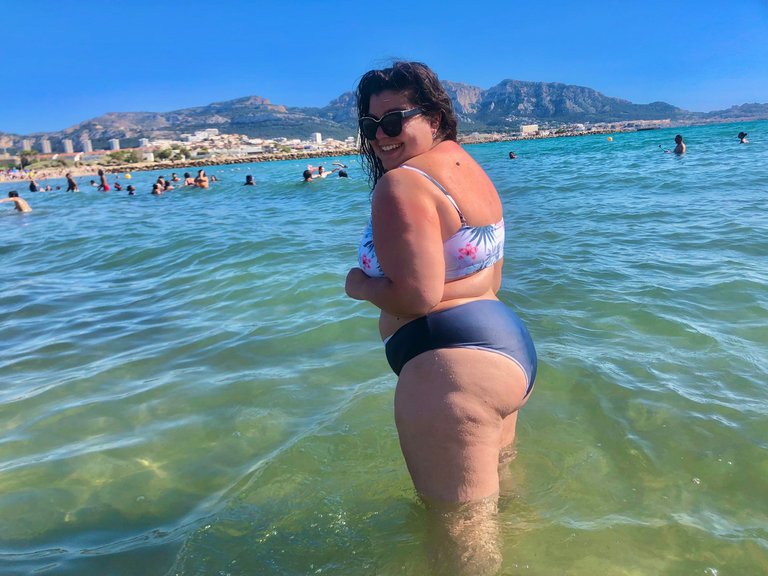 Overall, I can recommend going to the beach in Marseille if you are there in the summer. There is a big chance you will need refreshment and you'll always find something for yourself. Just make sure to take good sunscreen, as the sun can be absolutely scorching.

Closing Words
This concludes Marseille, but there is much more to go - and of course, I'll be coming back to the region, to visit the multiple other attractions - Aix-en-Provence, Cassis, the pink lakes, Parc les Calanques and more! This seems like a great place for a road trip and we will make use of that knowledge.
---
---