Hive Helped Me Pay A Huge Fee - Hive Keeps Touching Lives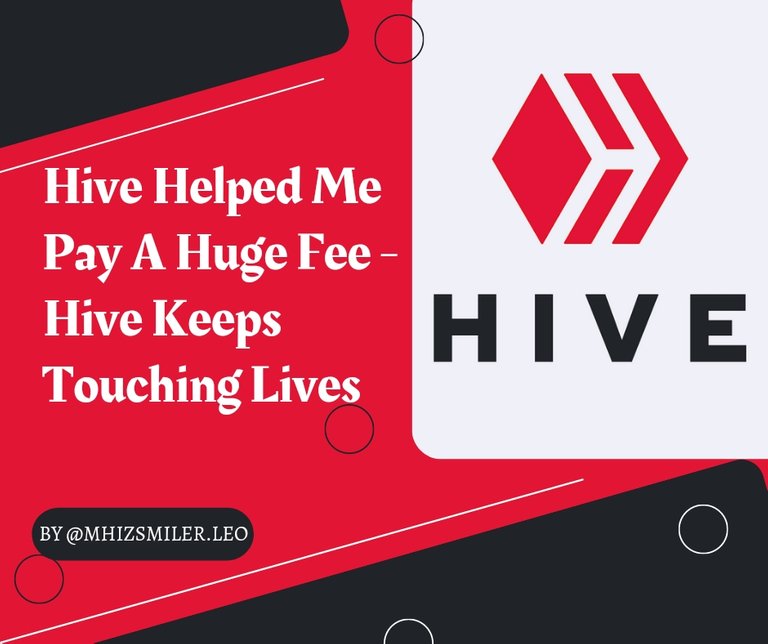 Ever since the bear season started, I've been busy stacking as much Hive I could get from writing daily and buying with my HBD. What I never knew was that my stacking will save me sooner than I expected. Considering the price of Hive now, I won't sell off because it has only began to go up and I can still buy it at this price to say I'm buying the dip.
But there are just situations we can't avoid, I had to make the decision of letting go of a huge amount of Hive for it. Considering the amount I bought Hive before the recent rise, I made a good profit already or maybe I'm just trying to console myself with that lol. But I'm so happy that I saved Hive for such a day to not weigh me or my sister down.
It's been almost two months since I came back home from school, and that means almost two months that I haven't been going through unnecessary expenses for living alone at school. Dad has helped me a lot in saving my Hive money which I was so happy about.
But the time came for me show what Hive has always been doing (touching lives)
Mum has been a great supporter of my engagement on Hive although dad just isn't so interested in online stuffs but I was able to proof to him yesterday that there's money online as well. He couldn't stop being happy yesterday when I told him that the huge fee had been paid from my Hive account.
This is where I feel we don't need to talk much about Hive to get people to join us as we just simply have to show off to them that Hive made some things possible for us that normally wouldn't happen if we had not known Hive.
Thanks to all who have been supporting me and to my consistency, Hive has once again proven to be the best social media platform that helped me pay a huge fee.
Image from Canva
Posted Using LeoFinance Beta
---
---