Cooking Samlor Machu Ktiss ( Coconut 🥥 Fish Soup With Eggplants 🍲 )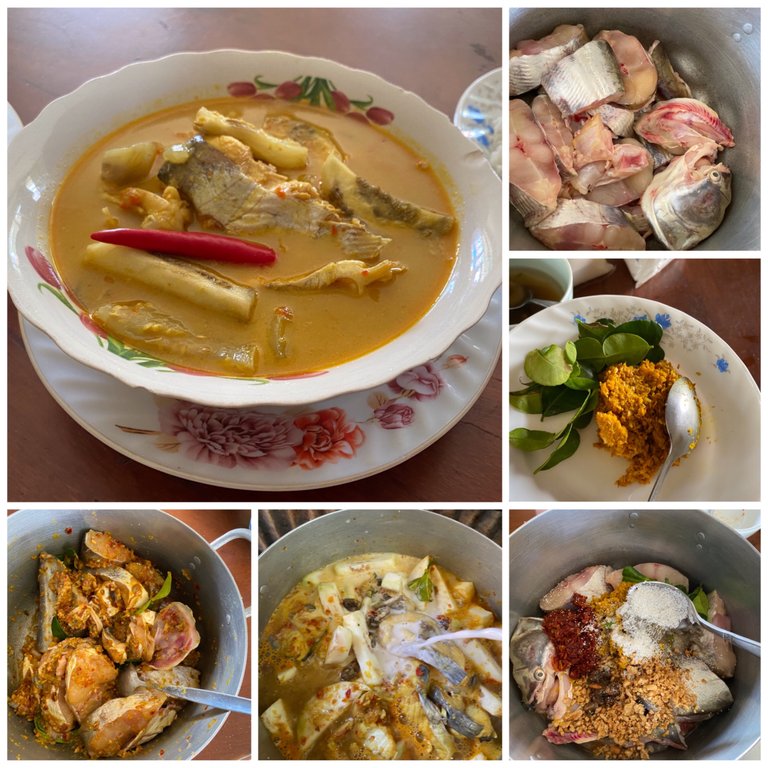 Greetings friends of Foodie Bee Hive, today I show you how to make coconut fish soup which is known as Samlor Machu Ktiss in Cambodia. This recipe is normally not too sweet even though it includes coconut so it is recommended to everyone who would like to try it. For this specific dish, we can have it for any meal but for me I usually have it for breakfast.
Ingredients
Fish
Coconut milk
lemongrass paste
Peanut
Eggplant
chili paste
Tamarind
kaffir lime leaf
Seasoning 🧂 ( salt, sugar, soup powder )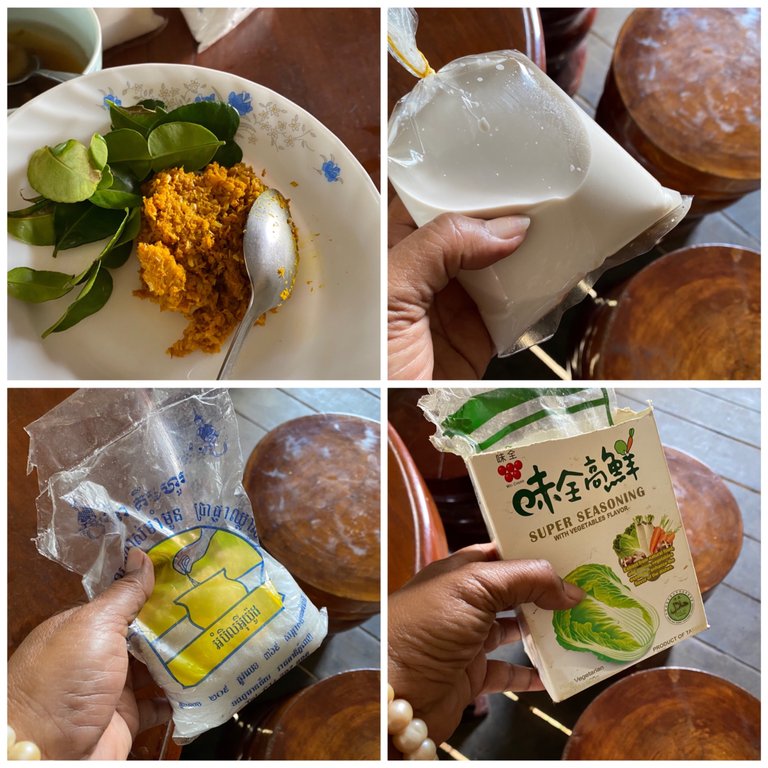 Instructions
#Step 1
Before we marinate the fish, I clean the whole fish with clean water for at least three times before we let it dry. You can cut it to big pieces or small piece as you prefer.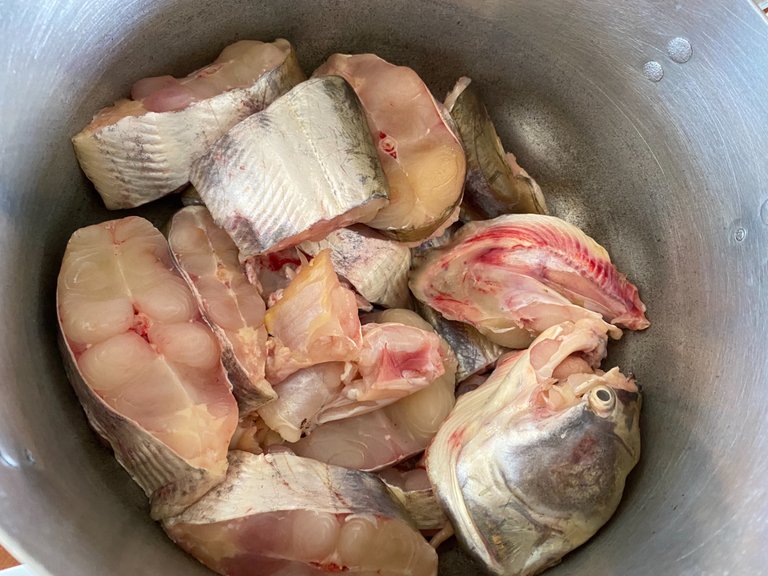 #Step 2
Now, I like to put kaffir lime leaf and lemongrass paste for 2 tablespoon into the fish pot. We are not going to mix it yet.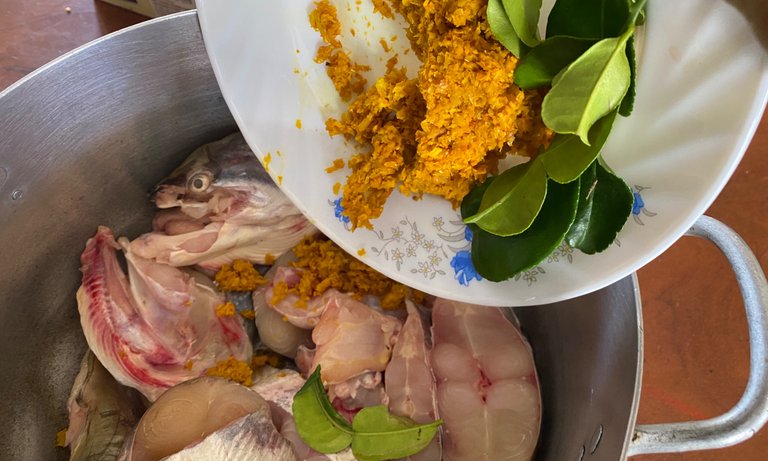 Then, add the peanut 🥜. I add about three tablespoon of peanut.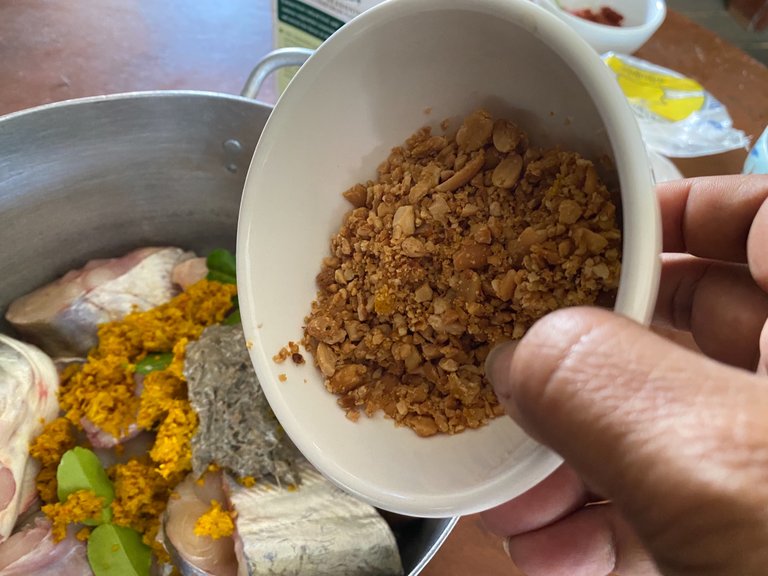 #Step 3
I transfer the chili paste into the pot. Actually, when we think of chili we might aware that it is going to be spicy, but you can avoid chili paste since it isn't the main ingredients in this recipe. This part I add about 1 and a half tablespoon of chili paste.
For eggplants, I cut it a piece like this and clean it twice.
#Step 4
Here, I used about 1 tablespoon of tamarind. I add the tamarind paste into one plate and add a half glass of water so we mix it together to get the tamarind juice.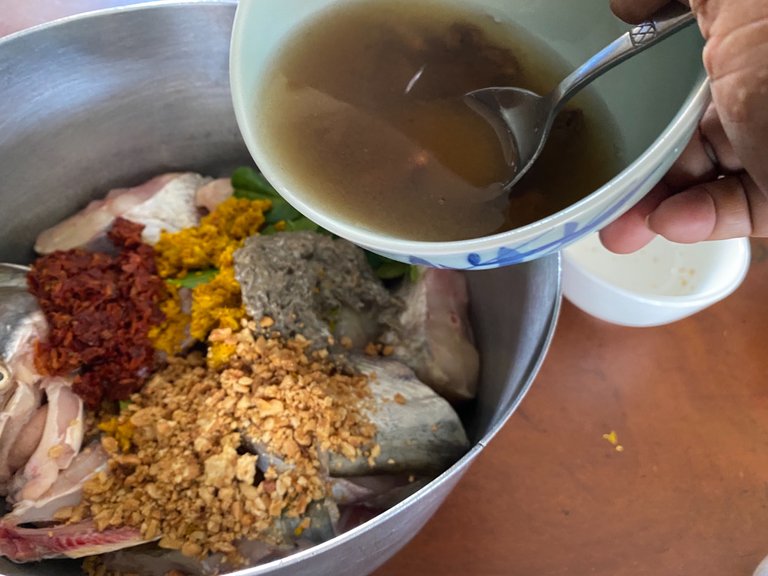 #Step 5
Now, adding the seasoning 🧂. I add about 1 tablespoon of salt, 1/2 tablespoon of sugar, and soup powder about 1/2 of tablespoon.
#Step 6
This time after we combine all the ingredients over the fish, I like to mix it together, we used hand to mix it so make sure we need to clean our hand nicely. I mix it from the left to the right and do it over again until the ingredients goes well together with fish.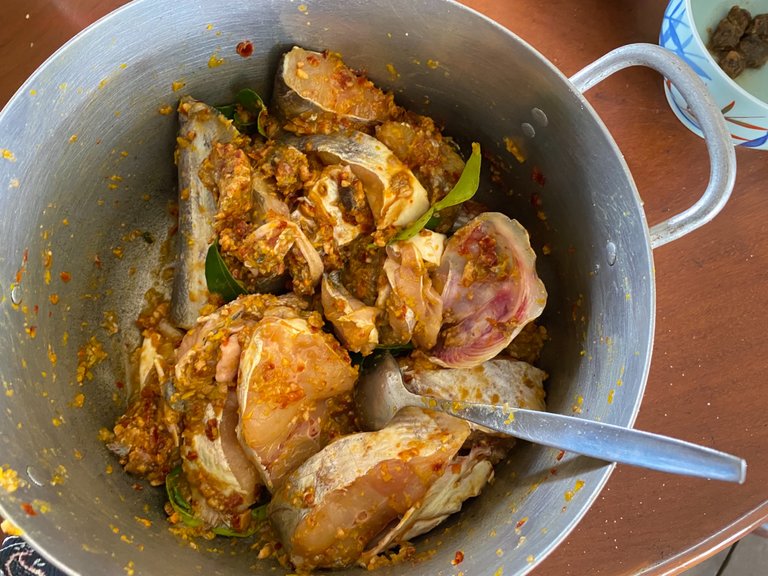 #Step 7
Pour some water, when we only combine with the seasoning and ingredients, our marinated is become dry so we need to add some water into it as to make it moist. I add about 2 glass of water.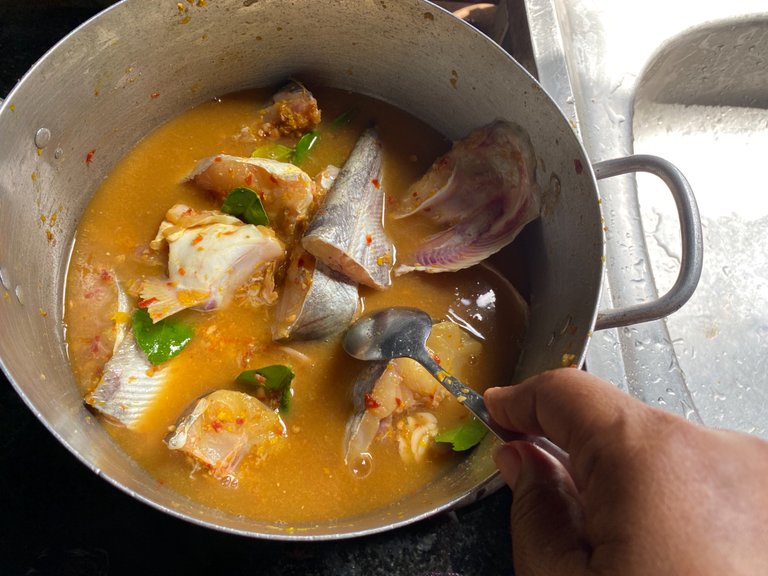 #Step 8
This is the step that we are waiting. We bring our mixture to boil on the heat.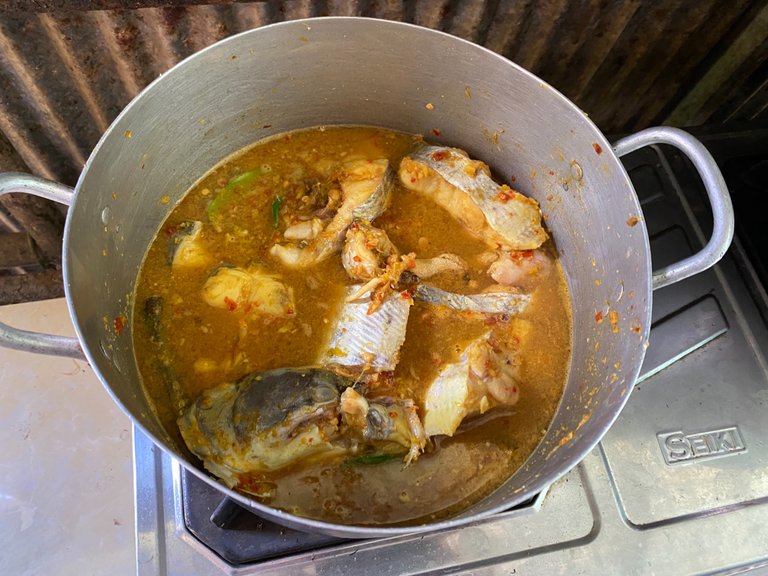 #Step 9
When it boiled about 5 minutes, let's transfer the eggplant that we are already prepared into the boiling pot. You can also add more as much as you prefer. For me , I used 3 eggplants.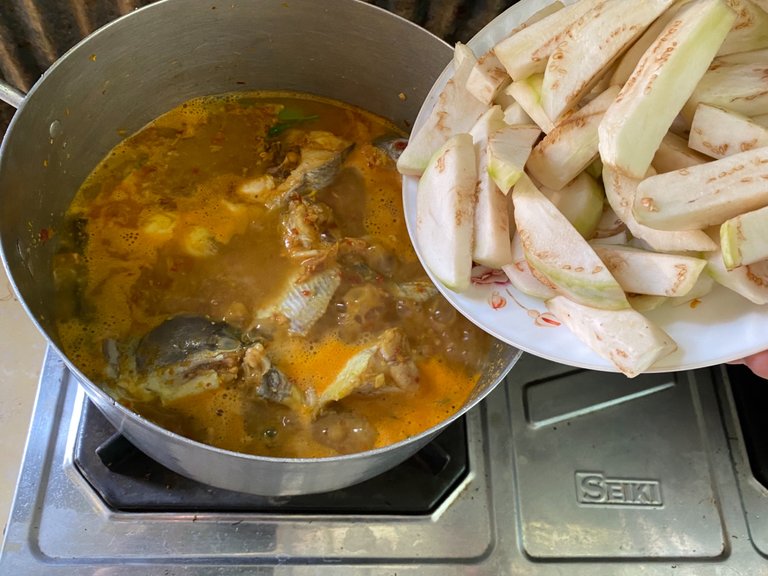 #Step 10
We waited the eggplant to turn soft and the purple part turn brown. After that we add the coconut milk into the pot about 2 glass. We stir it well together and let's it boil again.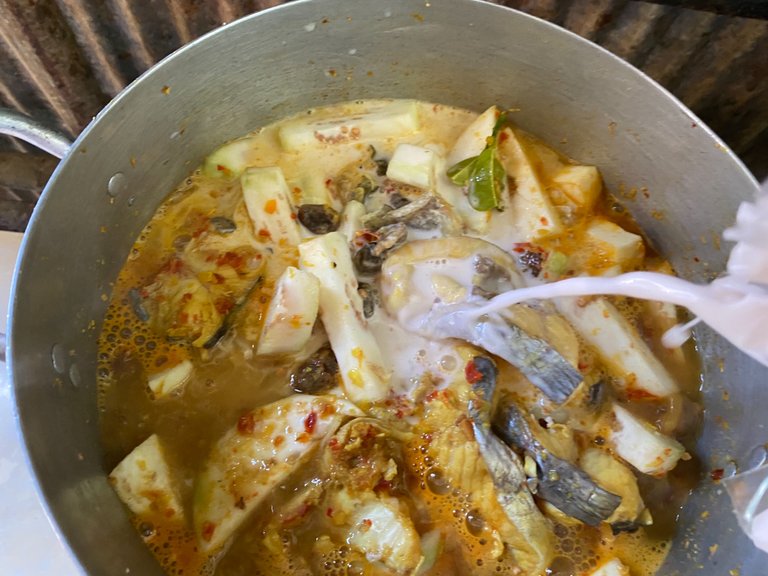 #Step 11
Next, turn into lower heat and let it simmer more about 3-5 minutes. This time we no need to stir it.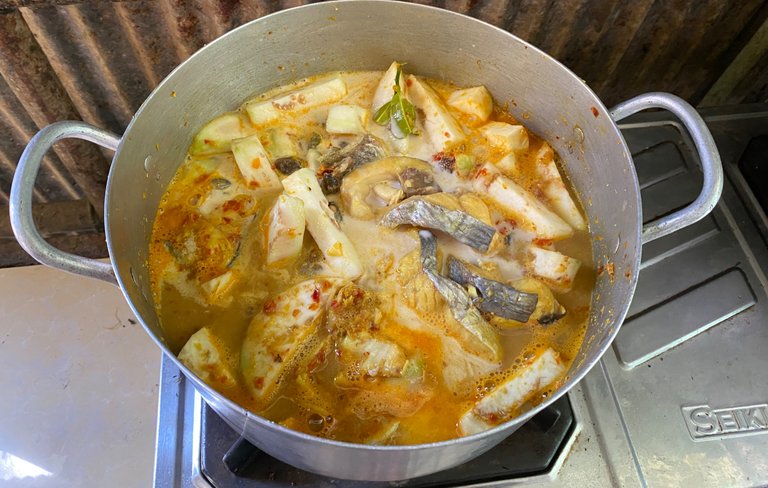 #Step 12
The soup is cooked so let's place it on the plate.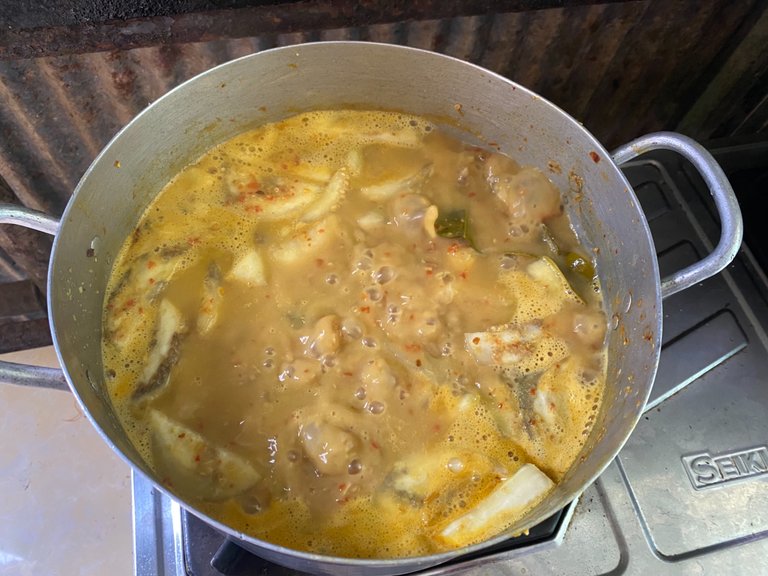 Cook's note 📝 : You can make your own fish stock using 1 pound fish heads and bones, water, onion and garlic. Cook for about 30 minutes and strain the broth.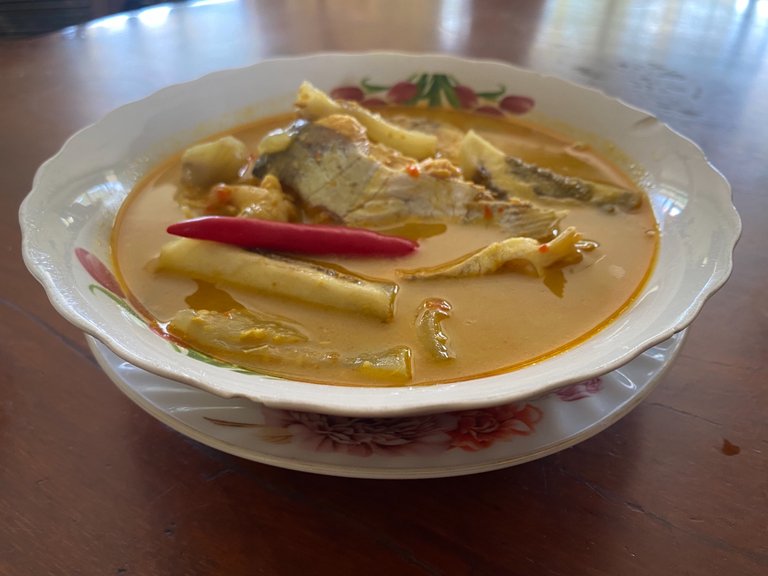 This Fish and Coconut Soup is thick, almost a stew, and the combination of flavors is wonderful. I love this dish and make it often. The fish balances out the sweetness of the coconut milk perfectly.
---
---
---
---
---
---